This easy recipe is perfect to serve as part of an appetizer, on top of a salad or as a side. These roasted tomatoes with balsamic are simple to make and bursting with flavor.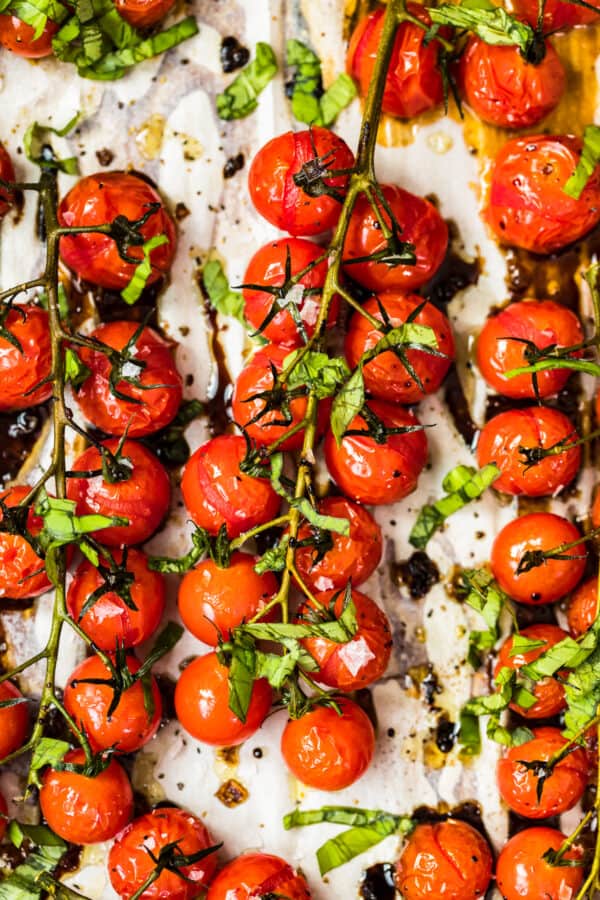 Have you roasted tomatoes before? They are one of my favorite things!
Roasting them brings out their sweetness and when drizzled with balsamic vinegar they really come alive! They are quite literally bursting with flavor!
Serve them as an appetizer with crostini or as a side with skillet steak.
Why you will love these roasted tomatoes
5 ingredients: You need just a few simple ingredients, most of which you will already have in your cupboard!
Easy: It takes just 5 minutes to prep these tomatoes and the cooking time is hands off.
Versatile: It's so easy to pair these tomatoes with all of your favorite mains, from chicken, to fish to steak.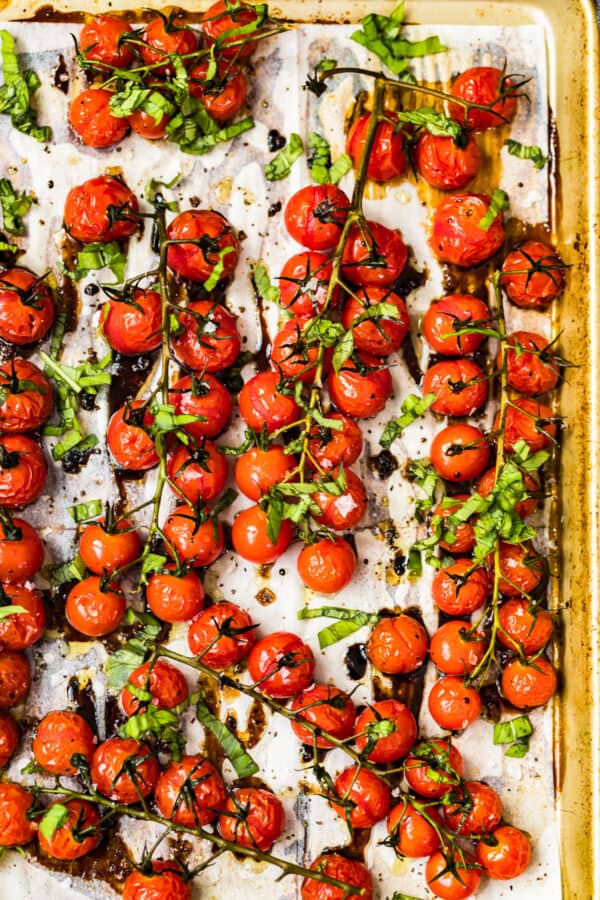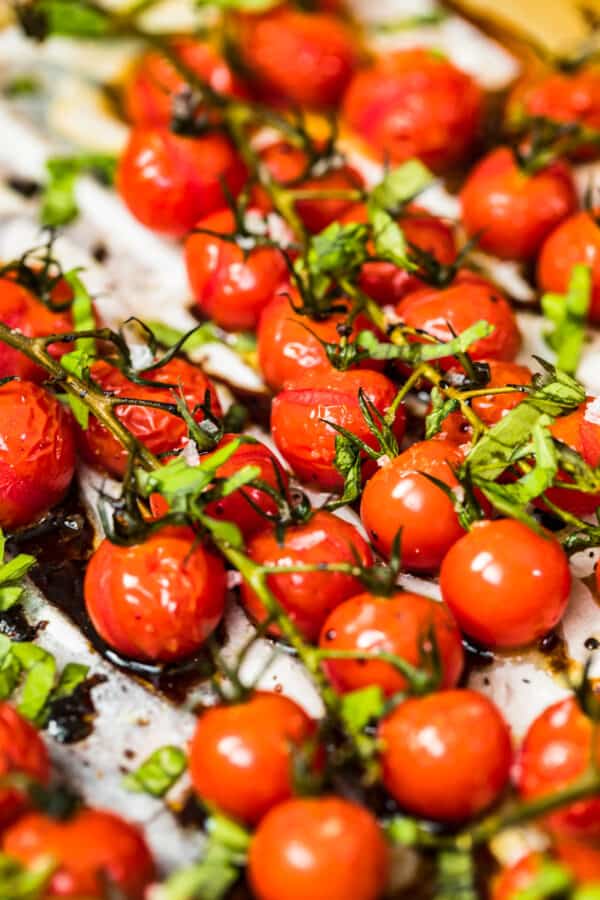 How to make roasted tomatoes with balsamic
Be sure to scroll down for the full recipe!
Prep: Preheat the oven and line a baking sheet with parchment.
Make: Brush the tomatoes with oil, sprinkle with salt and pepper and drizzle over the balsamic.
Bake: Cook until tender.
Serve: Garnish with fresh basil leaves.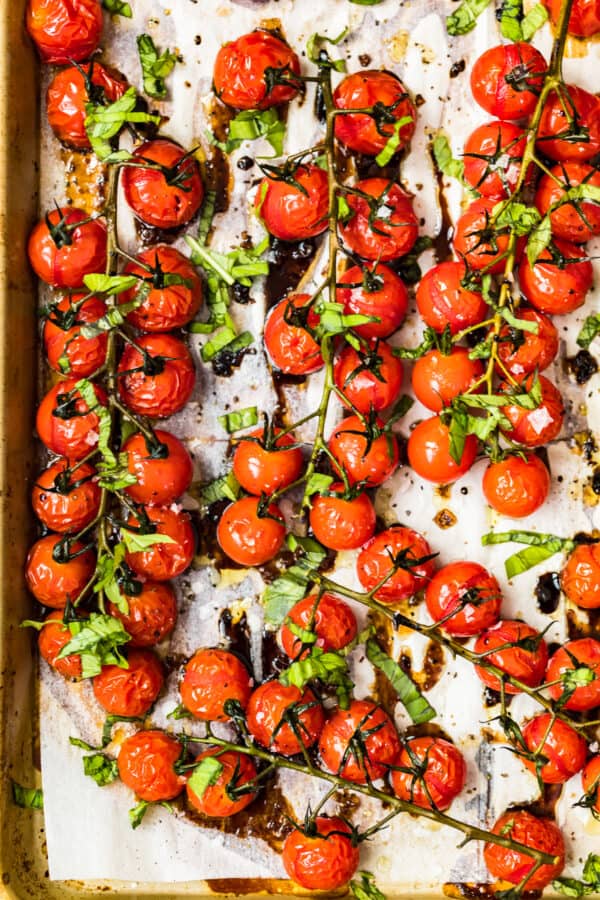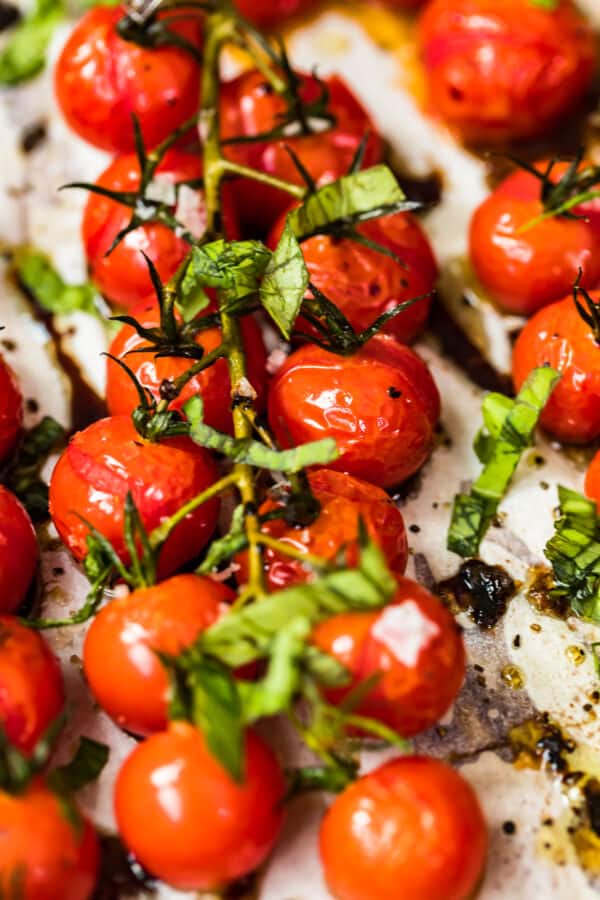 Can you roast tomatoes ahead of time?
I like to serve these tomatoes when they are still warm, but you can also enjoy them cold. Let them cool and kepp them in an airtight container in the fridge. They will keep well for up to 5 days and added to salads cold or gently reheated in the oven.
What are the best tomatoes to use?
I like to use cherry tomatoes on the vine, but you can also use tomatoes off the vine. Using loose cherry tomatoes or glory tomatoes will work just as well and the recipe remains the same.
What to do with roasted tomatoes
These tomatoes don't simply have to be served as they are. Their strong flavors make them ideal for adding into lots of other recipes. Try them in: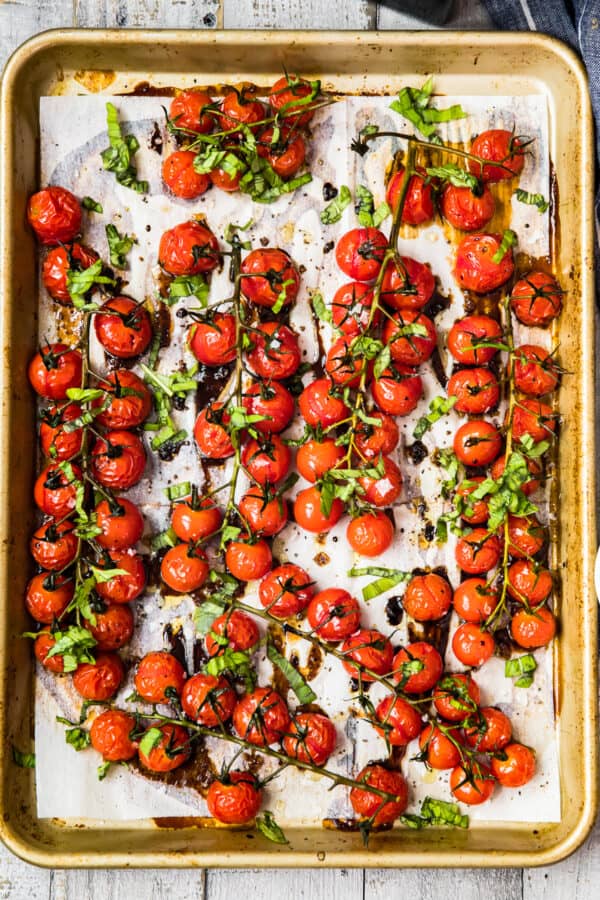 Recipe Notes and Tips
Use ripe tomatoes for the sweetest flavors.
Roast the tomatoes in a pre-heated oven so that they cook evenly.
The tomatoes will be very hot inside, so let them sit for a few minutes before serving.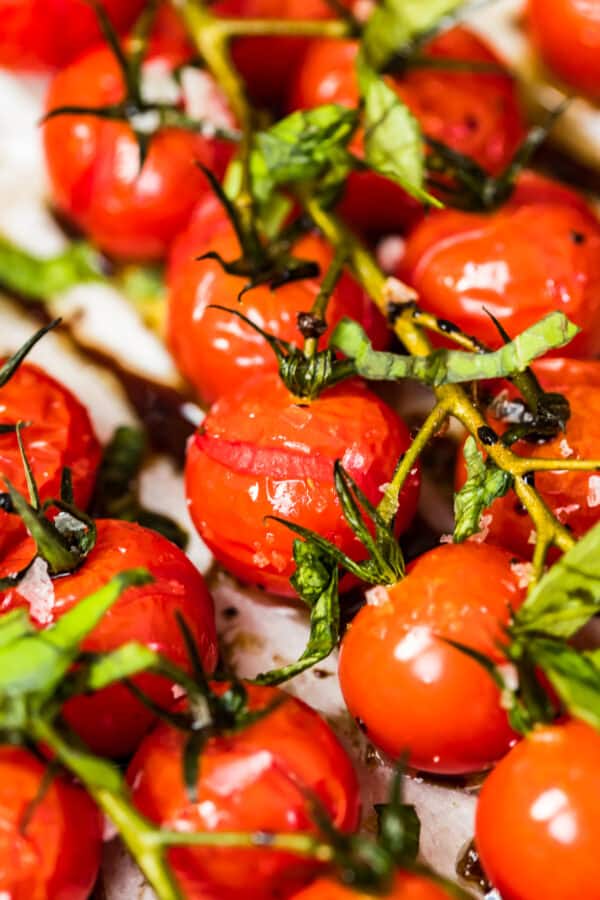 More Easy Tomato Recipes
Did you make this recipe?
Use the tag #thecookierookie when posting a photo of your recipe, and make sure to follow The Cookie Rookie on Instagram!
Becky woke up on her 30th birthday and realized she didn't know how to cook, ANYTHING! She started The Cookie Rookie as a way to document her journey to learn how to cook, one recipe at a time! The Cookie Rookie is a place to find easy recipes that anyone can make, and everyone will love!