This post may contain affiliate links. Please read my disclosure policy.
This Saucy Thai Curried Peanut Noodles is made with the yummiest creamy coconut curry peanut sauce and your choice of noodles, veggies and protein. One of my favorite quick weeknight noodle recipes!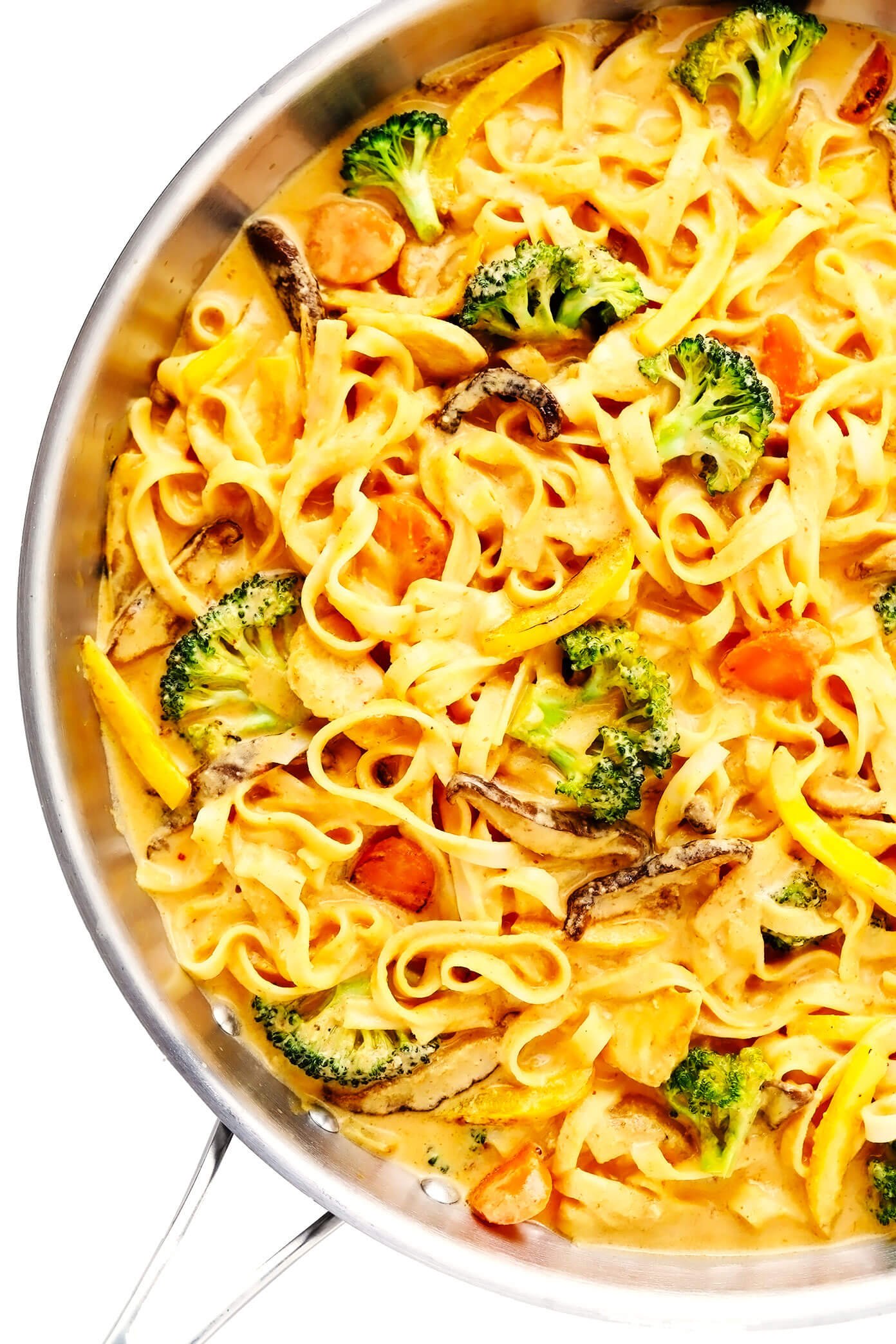 Say hello to your new favorite weeknight noodle stir-fry! ♡
If you've followed this blog for awhile, you know that my husband and I have a slight obsession with making some sort of Thai curry noodles at least once a week. But this latest version with some extra peanut butter stirred into the coconut curry sauce — plus some crunchy peanut sprinkled on top — is definitely a new favorite in our house. It features an irresistible blend of rich, savory, sweet, and slightly spicy flavors. And best of all, the whole dish comes together in a snap!
As with any noodle stir-fry recipe, the type of noodles, protein and veggies that you use here are up to you. So it's a great way to clean out any leftover veggies in your crisper drawer. And it's completely up to you whether you would like to add meat or seafood, or keep the recipe totally vegetarian or vegan. If you happen to have any peanut allergies in your house, I've also tested this recipe using various kinds of other nut butters or seed butters which work great as a peanut alternative too.
Let's make some noodles!
Thai Curried Peanut Noodles Ingredients:
Before we get to the full recipe below, here are a few quick notes about the ingredients you will need to make this Thai curried peanut noodles recipe:
Noodles: I prefer to use rice noodles (any width) for this recipe, but feel free to use whatever type of noodles you prefer or have on hand.
Protein: The protein in this recipe here is up to you. I added in some thinly-sliced chicken, but beef, pork, shrimp, scallops, tofu, or any other protein that you love best would work too. OR you can skip the added protein entirely, and just stick with noodles and veggies.
Veggies: Likewise, the veggies included are up to you too. I cleaned out my crisper drawer and used broccoli, yellow bell peppers, carrots, shiitake and mushrooms in the batch photographed above. But any stir-fry-friendly veggies will work here! I recommend adding about 4 to 6 cups of sliced veggies total.
Garlic and ginger: I also recommend adding some fresh garlic and ginger to the stir-fry for the best flavors. But if you don't happen to have either on hand, you are welcome to add in some garlic powder and/or ground ginger instead, to taste.
Curried peanut sauce: This simple sauce is easy to whip up with coconut milk (I highly recommend using full-fat coconut milk for the creamiest texture/flavor), veggie stock (or chicken stock), creamy peanut butter (I used natural PB), Thai red curry paste (add your desired amount, to taste), fresh lime juice (however much you prefer), and fish sauce (this is my favorite brand).
Toppings: Finally, be generous with your toppings! This curry shines when garnished with

lots

of chopped fresh cilantro and/or Thai basil. I also like to sprinkle on some chopped peanuts for extra crunch, and usually serve the curry with extra fresh lime wedges so that people can make their individual servings as citrusy as they prefer.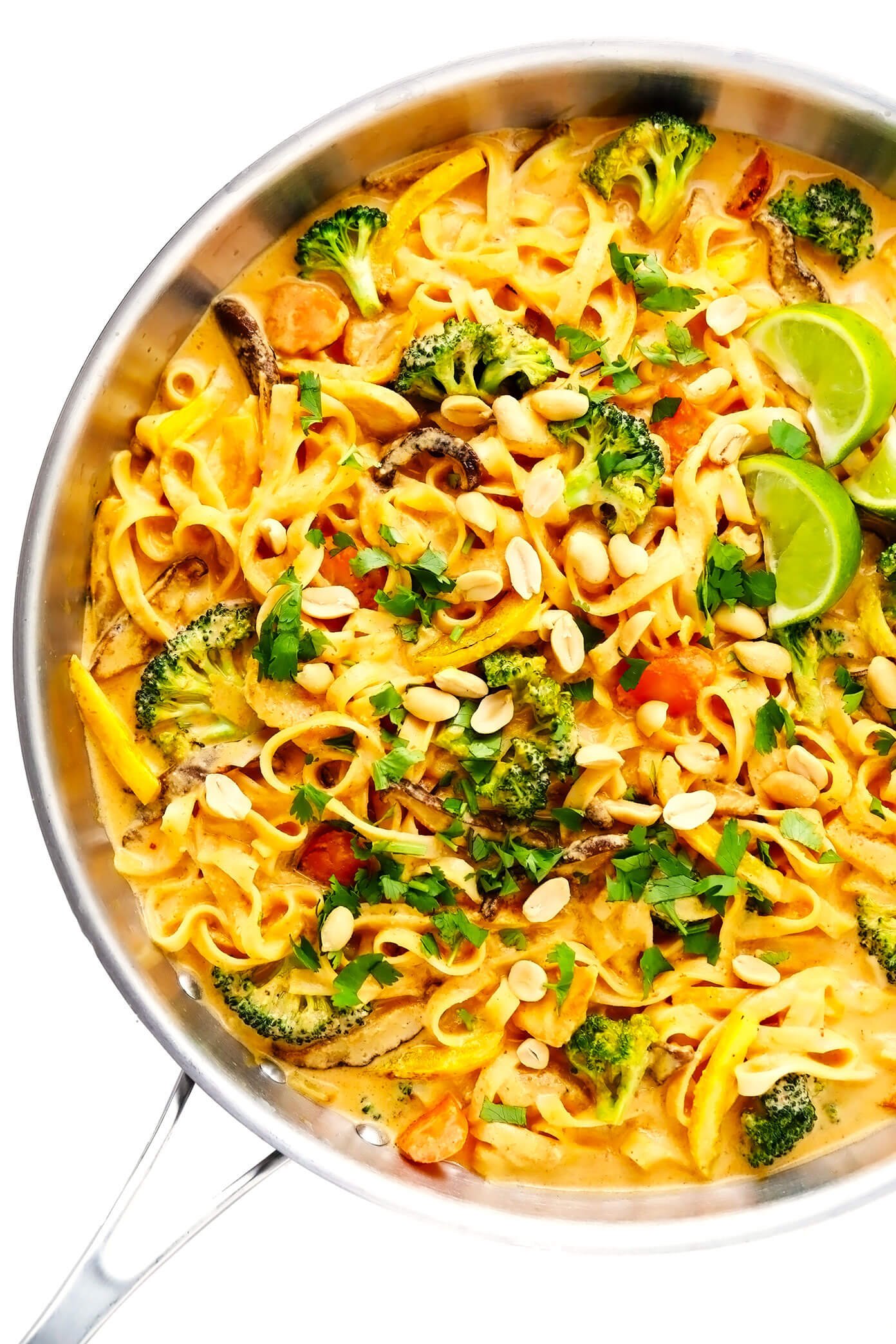 Possible Recipe Variations:
Want to customize this peanut noodle stir fry a bit? Feel free to…
Make it gluten-free: This recipe is already naturally gluten-free if you use rice noodles (and all other ingredients) that are certified gluten-free.
Make it vegan: This recipe can also be made vegan if you choose to use a vegan protein, such as tofu, seitan, tempeh, etc.
Make it spicy: Feel free to add in some thinly-sliced fresh chiles (such as Thai bird chiles or serrano peppers), crushed red pepper flakes, or cayenne powder to kick up the heat in this curry.
Make it milder: If you are averse to spice, I recommend starting with just 1.5 tablespoons of Thai curry paste in the sauce, and then you can always add more if you'd like.
Add some extras to your sauce: Other ingredients that would taste delicious in this sauce could include fresh lemongrass (or lemongrass paste), coconut sugar (to make the sauce sweeter), or makrut lime leaves (for a deliciously different lime-y flavor).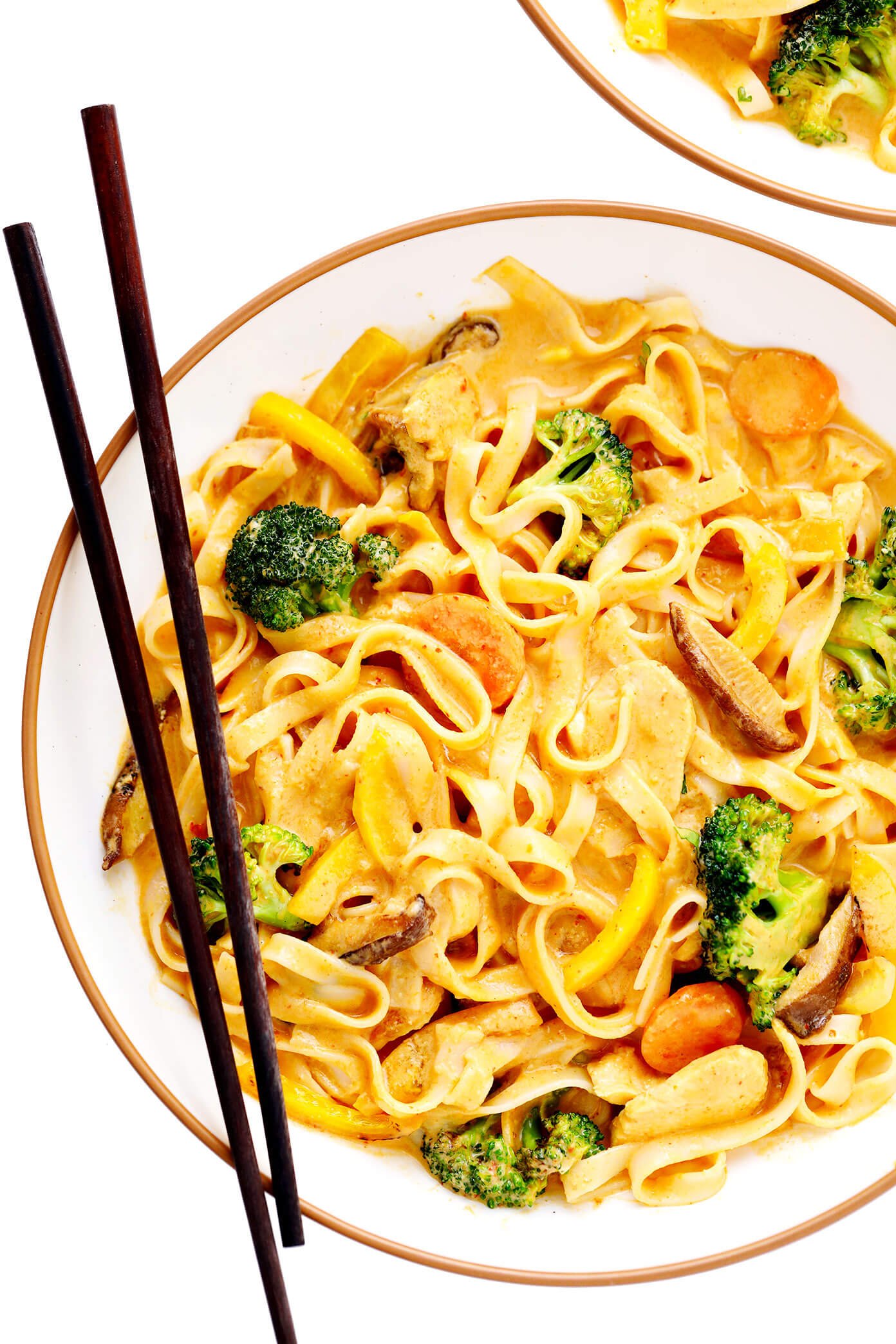 More Favorite Noodle Stir Fry Recipes:
Looking for more delicious noodle stir fry recipes to try? Here are a few of my faves: