Shrimp and enchiladas? Yep, they are a thing! These delicious, creamy, cheesy, white sauce shrimp enchiladas are special occasion-worthy but also easy enough for a weeknight!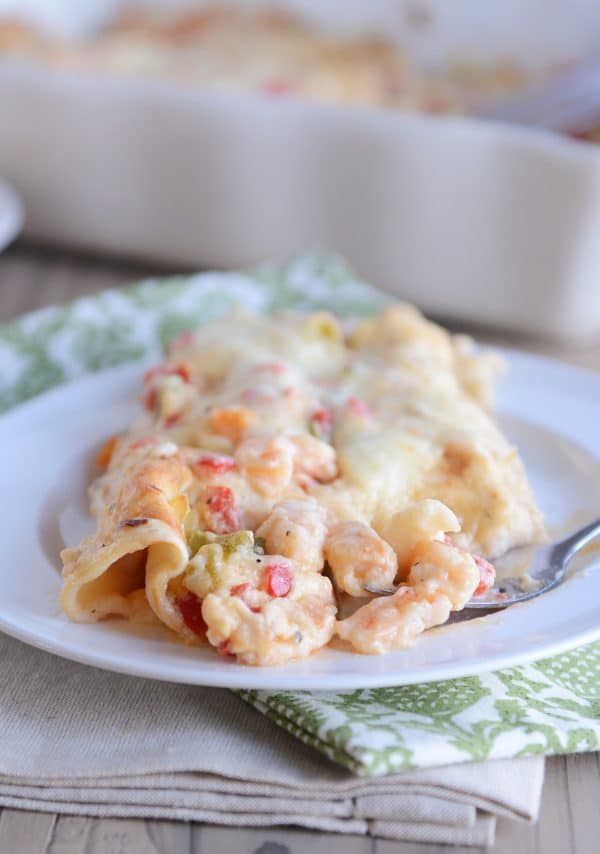 If you've never thought to combine shrimp + enchiladas, I have to say (without overtly trying to make you feel bad): you've been missing out.
I know shrimp can be a polarizing topic. It seems you either love it or you hate it.
I happen to be firmly in the love-shrimp-so-much-I-wanna-cry camp, but I still try and lovingly associate with those friends and family who don't.
The great news is, this recipe is so popular, many have swapped the shrimp out for chicken with delicious results. So keep that in mind if you just can't figure out why or how shrimp ever found their way into your enchiladas.
Have you made these enchiladas? 
They've been in the archives of my site since 2008! I posted them just a few months into blogging, because at that time, I was frantic to get all of my tried-and-true, family favorite recipes posted ASAP.
If they made the cut that quickly after I started my blog, you know they have to be good! Amazing, really.
My Aunt Marilyn (who has provided me AND you with so many fabulous recipes over the years) passed this recipe on to me, and I think Brian and I will be forever grateful.
While I admittedly have a few members of my posterity who are not exactly shrimp lovers, Brian and I trade off requesting this meal for our birthday dinners.
We both love it so much. Brian, who doesn't emote quite as much excitement as I do over food (or good jeans), has been known to do a little hop of excitement when he knows these shrimp enchiladas are happening.
And a hop of excitement for him basically translates into a full-on jumping up and down, fevered happiness tantrum for the rest of us.
The creamy white sauce is flavorful and simple – complimenting the tender shrimp perfectly without overpowering their somewhat delicate flavor. Bonus: you can alter the amount of heat in the recipe to be as spicy or as mild as you like.
This is a fantastic recipe. Perfect for a special occasion dinner, these shrimp enchiladas are also easy enough for a weeknight dinner when you just can't live a day longer without their deliciousness in your life.
Get out of your enchilada comfort zone and make them!

Steamed Broccoli
Pao de Queijo
Fresh Fruit
Yield: 6 servings
Shrimp Enchiladas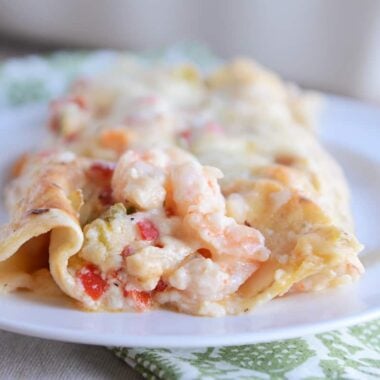 Ingredients:
Cheese Sauce:
2 tablespoons butter
1/2 cup chopped red bell pepper
1/2 cup chopped green bell pepper
1/2 cup chopped yellow or white onion
1/2 teaspoon salt
1/2 teaspoon oregano
1/4 teaspoon garlic powder
1/4 teaspoon cayenne pepper (add more for a spicier sauce)
1/4 teaspoon black pepper
1 tablespoon all-purpose flour
3/4 cup cream or milk (I almost always use 2% milk)
1 cup shredded Monterey Jack or Pepper Jack cheese
1/2 cup sour cream, light or regular
Shrimp Mixture:
1 tablespoon butter, canola oil, coconut oil or olive oil
1/2 cup chopped onion
1 1/2 to 2 pounds shrimp, peeled, deveined and chopped into bite-size pieces
2 cups ripe tomatoes, chopped
1 1/2 cups shredded Monterey Jack or Pepper Jack cheese
8 (9-inch) flour tortillas
Directions:
Preheat the oven to 350 degrees. Lightly grease a 9X13-inch dish and set aside.
For the sauce, in a large, 12-inch nonstick skillet, melt the butter, and add the bell peppers and onion. Cook, stirring often, until crisp-tender.
Add the salt, oregano, garlic powder, pepper, cayenne pepper, and flour; blend well and cook, stirring constantly for about a minute. Whisk in the cream or milk and continue cooking for 3 minutes or until slightly thickened. Add the cheese; stir until melted. Add sour cream, stir to blend. Set aside.
For the shrimp, in another skillet, heat 1 tablespoon butter or oil over medium heat. Add the onion and cook until translucent and soft, 3-5 minutes. Add the shrimp and cook until the shrimp just turn pink, 1-2 minutes (don't overcook or the shrimp will be tough).
Add the chopped tomatoes and 1/2 of the cheese sauce; stir to combine.
Spoon about 1/3 cup of the shrimp mixture into each tortilla. Sprinkle cheese on top and roll the enchiladas up tightly. Arrange seam side down in the prepared baking dish. Spoon the remaining cheese sauce over tortillas and sprinkle with remaining cheese.
Bake at 350 degrees for 30 to 35 minutes until hot and bubbly. Let the enchiladas rest for 5-10 minutes before serving.
Notes:
I've used many different types and brands of tortillas over the years for these enchiladas. I really love the corn + wheat tortillas from Trader Joe's, but regular flour tortillas or basic corn tortillas work great, too! The cook-your-own tortillas are tasty as well if you want to go to that extra step (and they seem to hold up better in terms of sogginess, if that's a motivating factor for you). 
These enchiladas aren't overly sauce (I'm one of those aforementioned soggy-haters), so if you like more sauce to your enchiladas, consider doubling the sauce (or maybe double the flour, seasonings, milk and cheese and leave the peppers the same?).
All images and text ©Mel's Kitchen Cafe.
Recipe Source: adapted from a recipe A. Marilyn sent me
Recipe originally published March 2008; updated with new photos, commentary, and recipe notes.