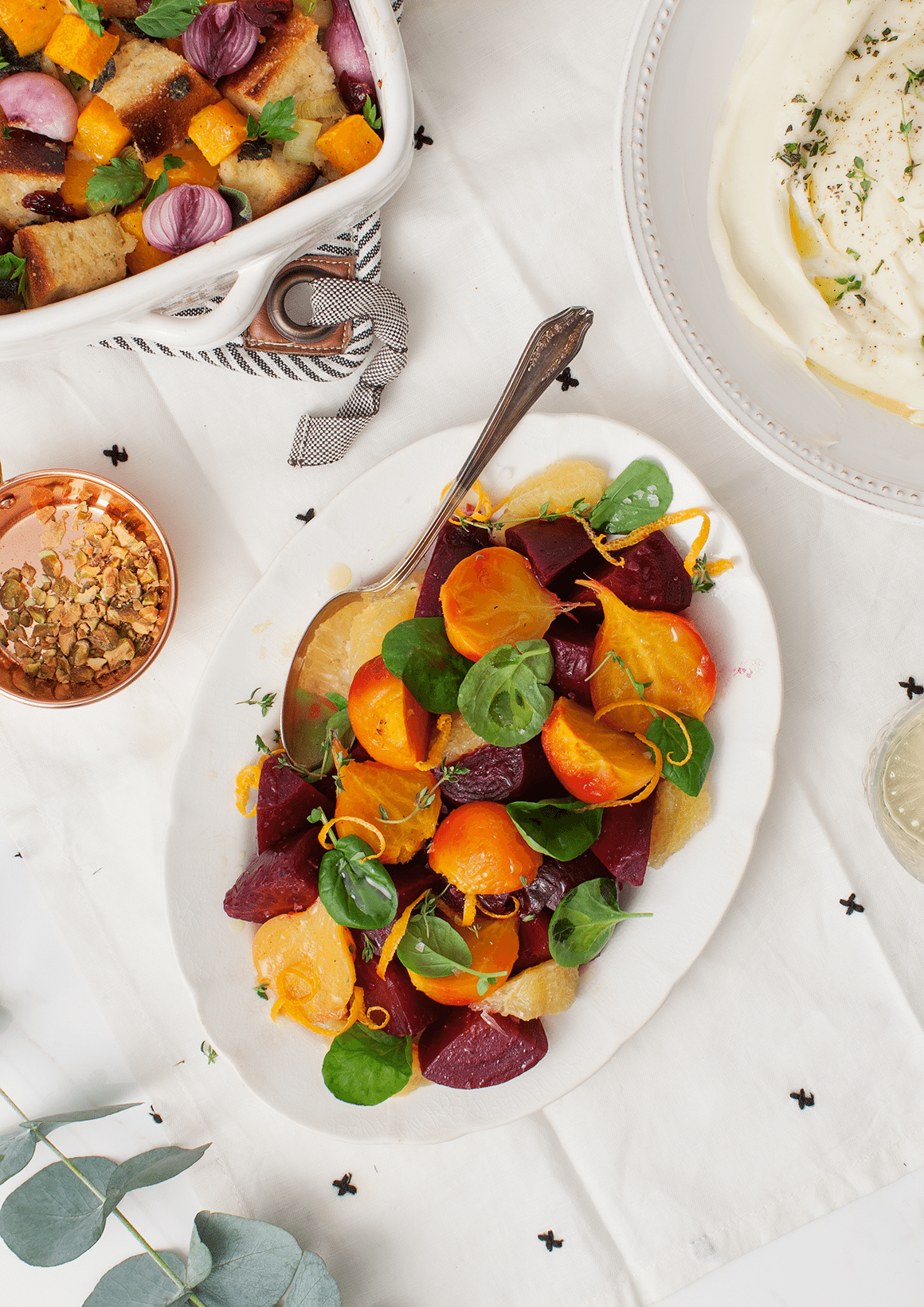 By now you probably know who's bringing the stuffing, the mashed potatoes, the gravy, and the pumpkin pie. Well at least I do. I know if I'm going to add anything else to my Thanksgiving menu, it's going to have to be something super easy to put together. It can't take up reheating space in the oven, and it's best if it can be made a few days in advance.
These beets check all of those boxes and they're such a bright, tangy, citrusy holiday dish!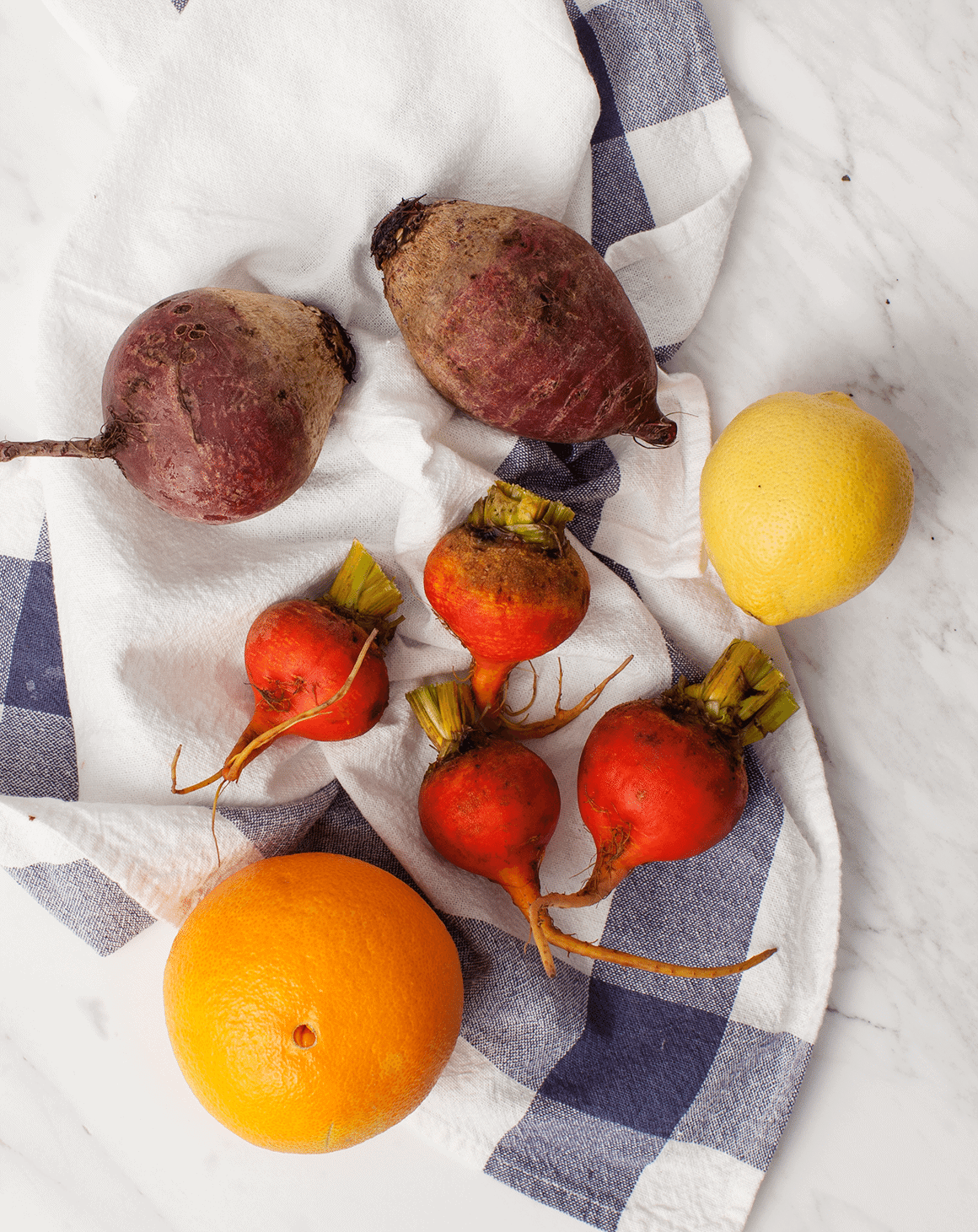 Pictured above – the main ingredients – I told you this one would be simple!

Roast the beets, toss them with splashes of sherry (or balsamic) vinegar, juice from part of the orange, lemon juice, and a few pinches of salt and pepper. Do this a few days ahead of time, and when you're ready to serve, assemble the plate with orange segments, zest peels, and a few sprigs of watercress or arugula. To make it especially delicious, top with a little flaky Maldon Sea salt.
If you want to jazz it up even more, add some crushed, toasted pistachios and some feta or goat cheese. Or just keep it simple because it's so good just like this :):

Oh – I almost forgot – I made a little button over there on the sidebar called Vegetarian Holiday Recipes. If you're looking for holiday recipe ideas, click here (or the button on the sidebar), to see a list of recipes that I've chosen as good holiday options!
Simple Roasted Beets with Citrus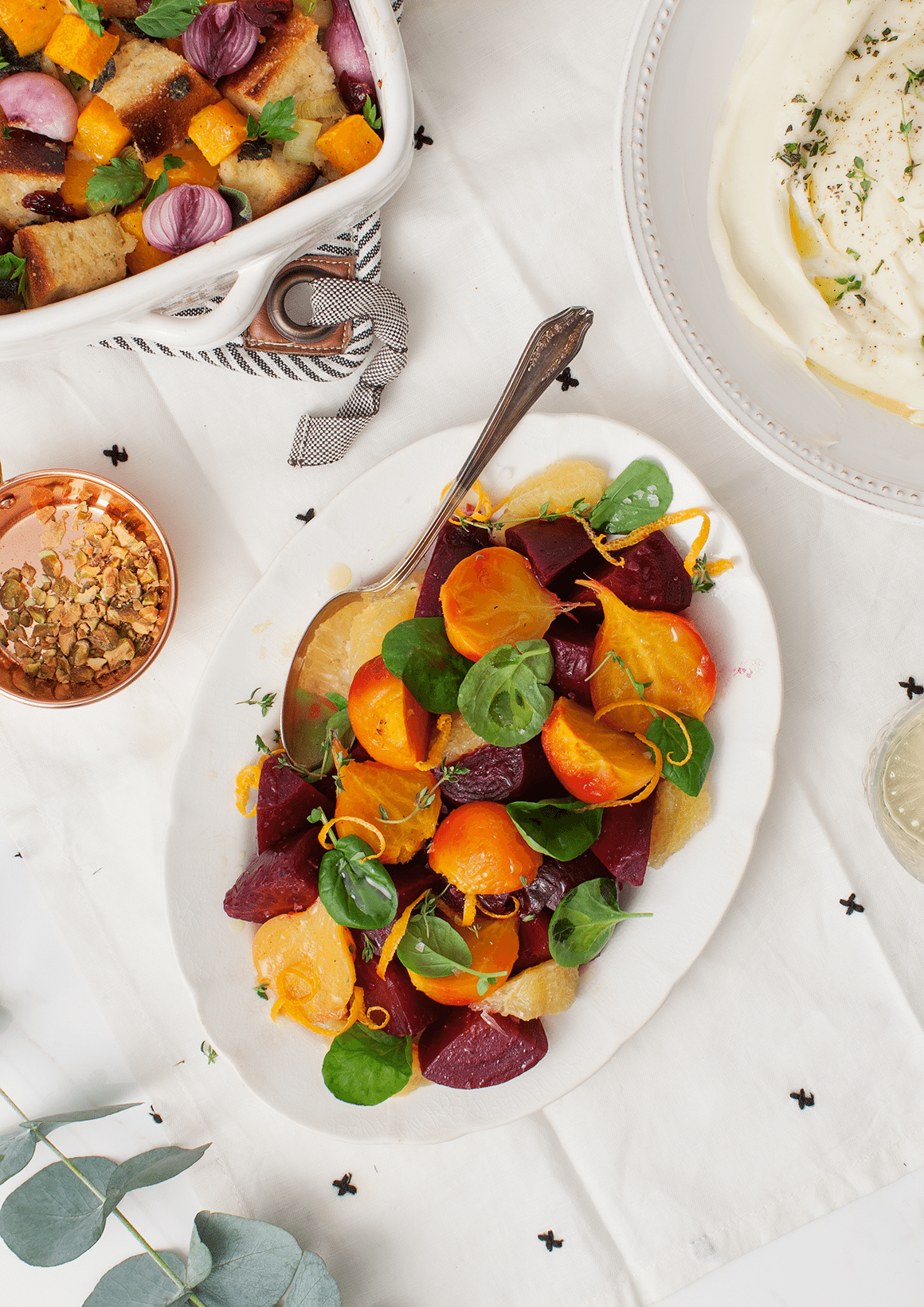 6 to 8 small-to-medium red and/or yellow beets
Extra-virgin olive oil, for drizzling
1 large navel orange
Sherry vinegar or balsamic vinegar, for drizzling
Juice of ½ lemon, or to taste
Handful of watercress leaves (or arugula or microgreens)
Sea salt and freshly ground black pepper
Few pinches of flaky sea salt, such as Maldon, optional
Goat or feta cheese
Chopped walnuts or pistachios
Preheat the oven to 400°F.
Place each beet on a piece of foil and drizzle generously with olive oil and pinches of sea salt and freshly ground black pepper. Wrap the beets in the foil and roast on a baking sheet for 35 to 60 minutes, or until soft and fork-tender. The time will depend on the size and freshness of the beets. Remove the beets from the oven, remove the foil, and set aside to cool. When they are cool to the touch, peel the skins. I like to hold them under running water and slide the skins off with my hands.
Use a citrus peeler to peel long strips around the orange, avoiding the white pith. Grated zest would work here also. Slice ¾ of the orange into segments and reserve the remaining ¼ wedge for squeezing.
Slice the beets into 1" wedges or chunks and place them in a bowl. If you're using red and yellow beets, place each color into separate bowls so the red beets don't stain the yellow beets.
Drizzle with olive oil and sherry vinegar, then add the lemon juice, orange juice squeezed from the remaining wedge, and a few pinches of salt and pepper and toss. Chill until ready to serve.
Taste before serving and season with more salt (flaky sea salt, if using) and pepper or more vinegar (for more tang), orange, or lemon juice, as desired.
Serve on a platter with the orange segments, watercress, and citrus curls.
3.4.3177