Slow Cooker Chicken and Dumplings is an amazingly easy crock pot recipe! It's a warm, cozy chicken soup made with simple ingredients and a few shortcuts!
Looking for more Hearty Soup Recipes? Try my Cheeseburger Soup or my Sloppy Joe Stew!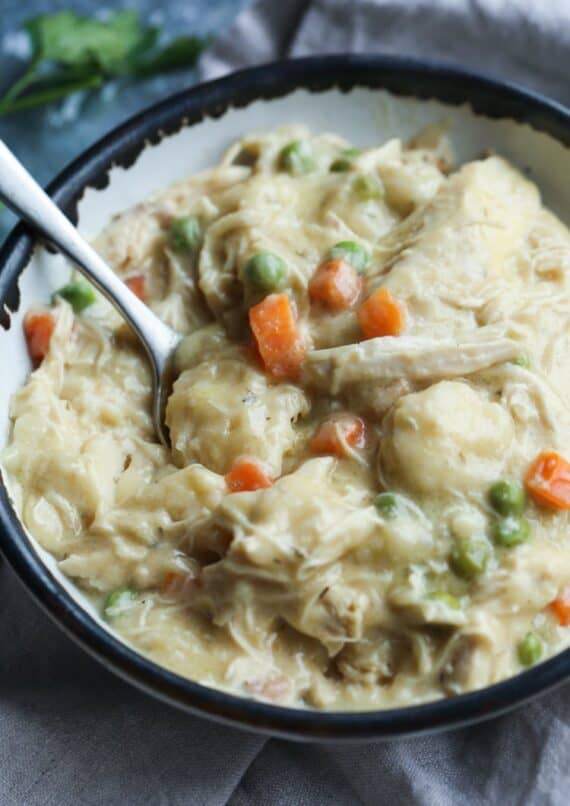 It's that time of the year where I feel like my Slow Cooker is on permanent rotation! Of course I use it all year round, but when the kids go back to school in the fall is when my Crock Pot really gets a work out. And today's recipe is one I know you will be making all year long!
Easy Slow Cooker Chicken and Dumplings is a Family Favorite!
I'll be the first to admit this recipe definitely uses some shortcuts, but I won't apologize for them! I have made Chicken and Dumplings from scratch TONS of times, and it's fantastic, but there is also a place in my life for time savers on busy nights. And since my family loves this version of classic chicken and dumplings so much I thought I would share it with you too!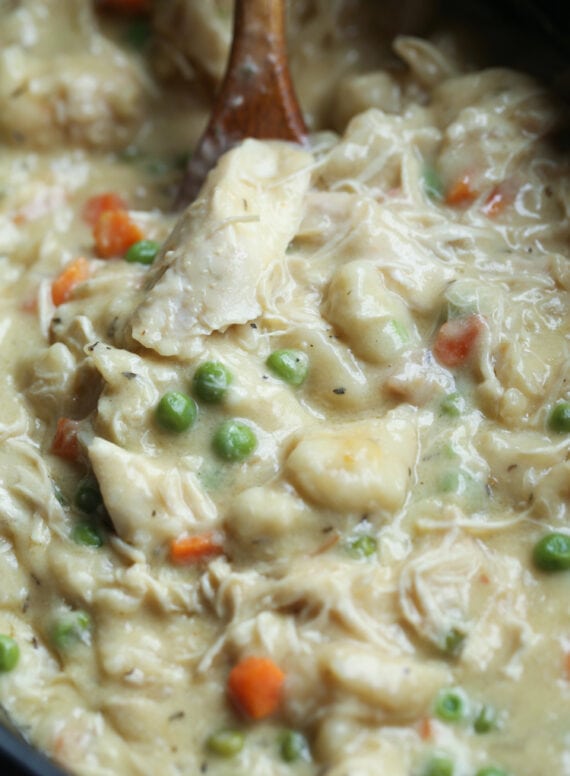 Crock Pot Recipes Are Time Savers!
Not only is this recipe delicious, the prep time is super quick! Slow Cookers can really come in handy when you know you won't have a lot of time to get dinner on the table in the evening. And with this chicken and dumplings recipe you really only need a few everyday ingredients.
How Do You Make Chicken and Dumplings in the Slow Cooker?
This is truly an easy chicken recipe from start to finish. There are just a few quick steps you need to do before you turn your slow cooker on.
What Kind of Chicken Do You Use?
I use boneless, skinless, chicken breasts in this recipe. They are lean and shred beautifully after being slow cooked.
You certainly COULD use boneless chicken thighs as well, but they typically have more fat to trim, and this recipe really doesn't need additional fat to make it delicious. But yes, you could use them if you wanted!
And yes, of course you could use bone-in chicken and then pull the meat from the bone…but why would you want to? ha!
Why Does the Recipe Say To Microwave the Onions?
Ok, so the first step in my recipe is to microwave diced onions. You CAN skip this if you really want to, but I just like to get the onions cooking a little bit…soften them up…before placing them in the slow cooker.
Onions don't always soften up in the slow cooker, and I really, REALLY dislike crunchy onions in soups and stews. So cooking them in the microwave gets the process started. It's a lot like if you were to sauté them…it just gets that crunch gone!
Do You Have To Use Canned Biscuits?
You can absolutely make your own homemade biscuit dough and use that in this recipe. I just like using canned biscuits in this recipe because it's a time saver!
What Vegetables Do You Use in Chicken and Dumplings?
I like the combo of peas and carrots in my chicken and dumplings, but you can honestly use just about any type of veggies you prefer!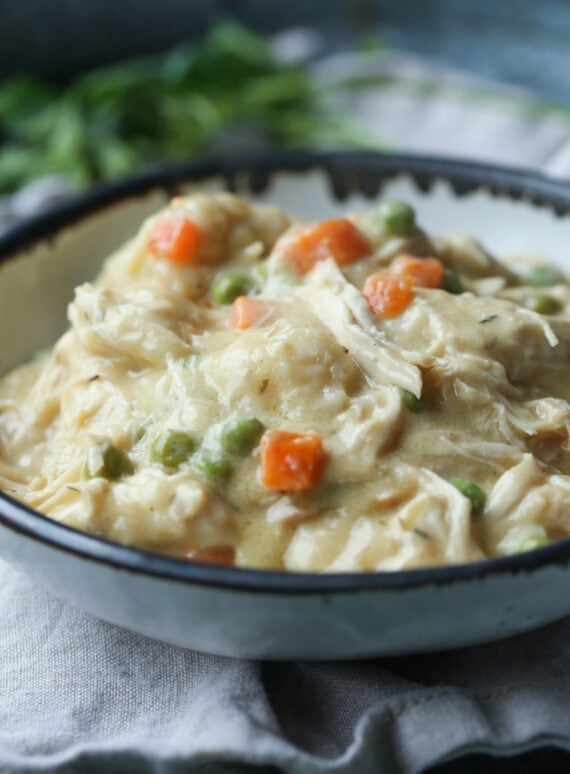 Do You Have To Use Condensed Soup In This Recipe?
For this recipe I believe that you condensed soup is the best option, as they hold up and keep their consistency well in the heat. Dairy can curdle and separate in the slow cooker, and you want this to be as creamy as possible.
You can absolutely use low-sodium condensed soup if are trying to watch your sodium intake!
Looking For More Slow Cooker Recipes? Try These:
Slow Cooker Chicken and Dumplings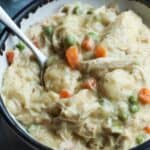 ---
Description:
This easy slow cooker chicken and dumplings recipe is quick to prep and the perfect comfort food for busy evenings!
---
Ingredients:
3/4 cup

diced yellow onion (about

1/2

medium onion)

2

pounds boneless, skinless chicken breasts

1 teaspoon

ground black pepper

1 teaspoon

dried thyme

2

(10.75- ounce) cans cream of chicken soup

2

cloves garlic, minced

1 1/2 cup

s chicken broth

2 cup

s frozen peas and carrots (alternately

1 cup

of each)

1

(16- ounce) can buttermilk biscuits
---
Instructions:
Place the diced onions in a medium microwave safe bowl. Heat on high for 1 minute. Stir and heat for another 30 seconds, or until the onions are softened and slightly translucent.
Place the onions in the bottom of your slow cooker. Arrange the chicken breasts on top of the onions. Sprinkle with pepper and thyme. Spread the 2 cans of condensed chicken soup evenly on top of the chicken and add in the chicken broth and garlic.
Cover and cook on high for 4 hours or until the chicken is tender.
Using two forks, shred the chicken in the slow cooker and stir in the frozen peas and carrots. Alternately you can remove the chicken to shred and place it back in.
Tear or cut the biscuits into 1- inch pieces and drop into the slow cooker. When all the biscuits are added, stir to coat them evenly in the soup mixture, making sure they are all pressed into the liquid.
Replace the lid and cook for 1 more hour, or until the biscuits are cooked through, stirring once halfway through.
Serve warm.
---
Notes:
Store airtight for up to 3 days in the refrigerator. If you prefer a more soup texture, as opposed to thick stew add in 1/2 – 3/4 cup more chicken broth.
Keywords:: cookies and cups, slow cooker, chicken and dumplings, crock pot recipe, soup recipe, crock pot soup
Want To Save This Recipe?
PIN for later!