Get the best of two amazing worlds with these snickerdoodle brookie bars. Rich, decadent brownies dotted with bites of soft and chewy snickerdoodles. YUM!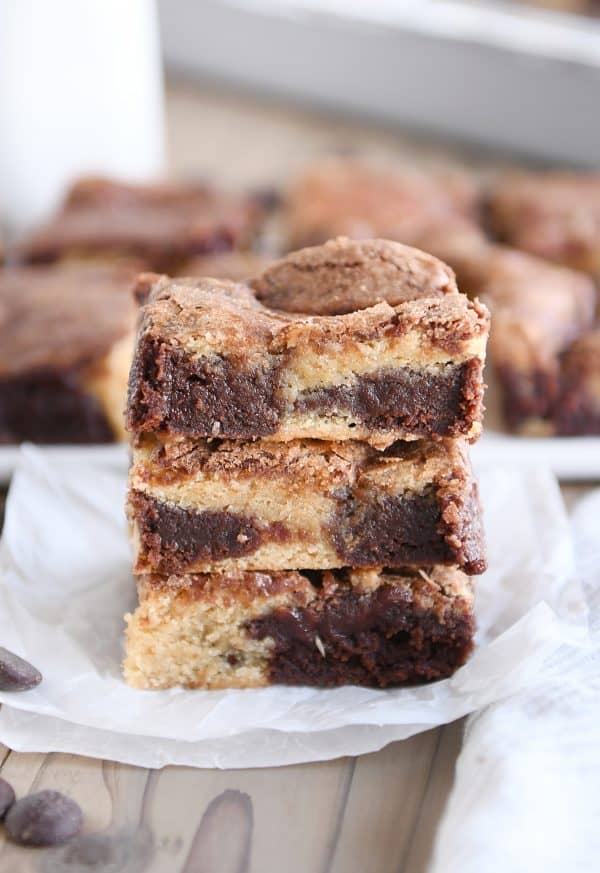 I know, I know, after teasing you on Instagram with a picture of these incredible snickerdoodle brookie bars, it took me forever to test them a couple more times and finally get the recipe posted. 
But here they are. Just in time for you to put them on your weekend (ahem, or anytime) baking list ASAP. 
They are definitely one of the best baked goods to ever come out of my kitchen, and judging by the reaction they get every time I've served them or pawned them off on friends, I'd say they are definitely a total showstopper, rock star level dessert.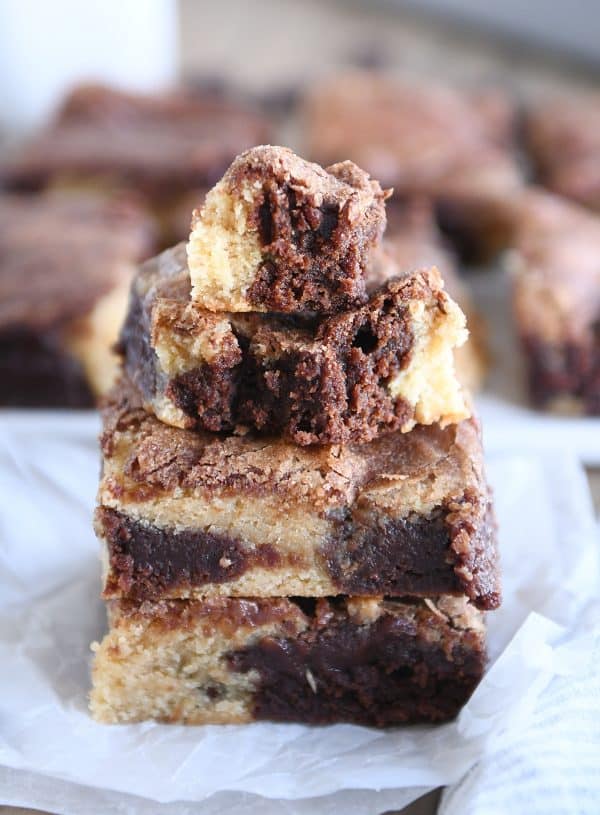 What is a brookie?
The name basically says it all. 
These bars are a combination of rich, decadent brownie batter dotted with bites of sweet, cinnamony snickerdoodle cookie dough. The mashup is epic. 
And that's coming from someone who generally will choose ANY cookie over a snickerdoodle if given the choice. They just aren't my favorites (I hope we can still be friends). But in these bars? Snickerdoodles shine.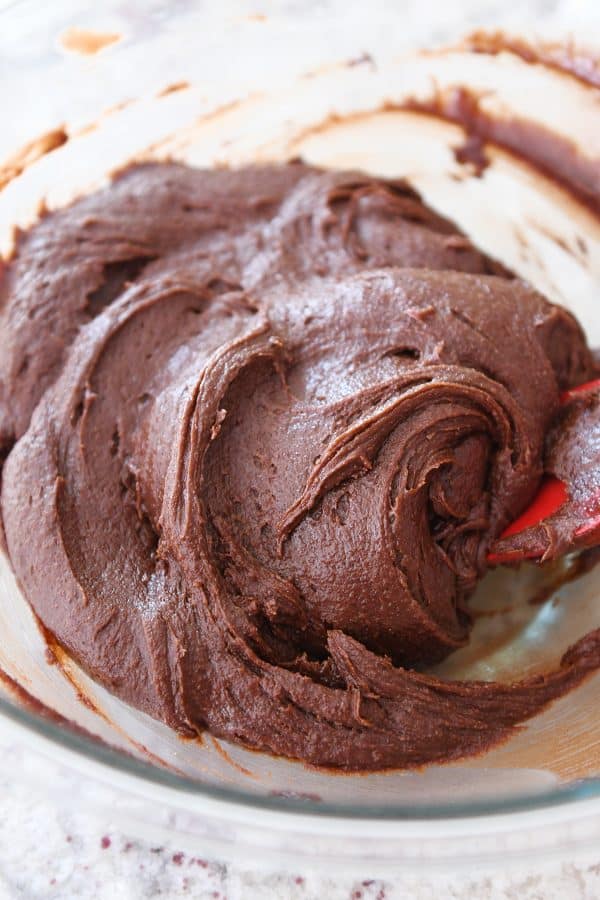 A tale of two batters
The brownie batter is gloriously classic. It's what every good brownie should be: fudgy and very, very chocolatey. 
The snickerdoodle batter, once baked, is soft and just a little bit chewy, and really, really, really delicious. 
The great news is they are both one bowl recipes that are extremely easy to mix up. Yes, you'll have to wash two bowls. But I promise that'll be the least of your problems once these bars are baked and staring you in the face. 
The biggest problem will be how to get them out of your house ASAP before all self-control is lost forever.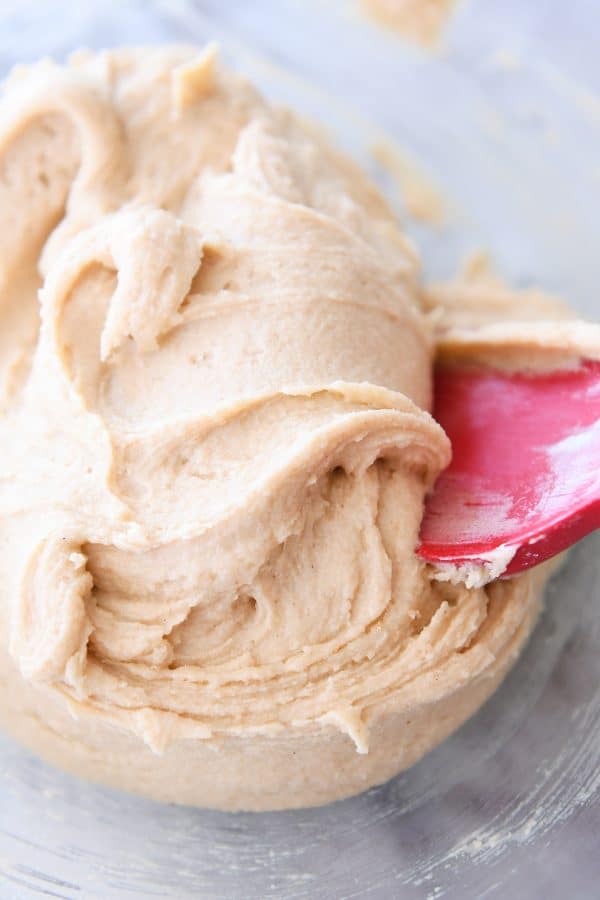 How to get the brookie effect
To get the delightful marbled look of a good brookie bar, you just need to take two seconds and do some scooping. 
First up, the brownie batter. About 2/3 of the batter gets scooped onto the bottom of the pan. It doesn't have to be precisely measured and spaced apart. Just eyeball it. The key is to leave some space between each spoonful. 
Then scoop all of the snickerdoodle cookie dough into those cute little spaces. 
And follow it up with the remaining brownie batter. 
It's going to look a mess. But it also looks kind of artistic in a way, too. The contrast of those two batters has me wanting to print out that last picture, frame it, and put it up on a wall of my house.
You have a choice
At this point, you can leave the batter and cookie dough all jumbly rumbly in the pan. As it bakes, it'll melt and smooth out just a bit (although not completely, so the bars will definitely be more rustic looking). 
OR
You can grab a spatula or knife and smooth out the top of the batter just a bit. You don't want to smash and press the dough to smithereens, just smooth it into a mostly even layer. It's ok if there are some bumps and little holes here and there.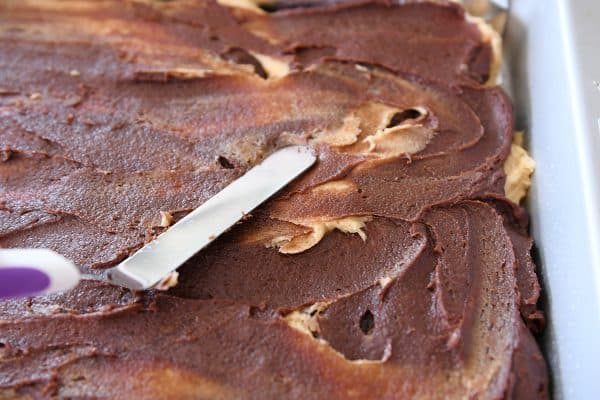 Sprinkle the top of the bars with cinnamon and sugar (oh yes, we are tying ALL those flavors together!) and pop the snickerdoodle brookie bars in the oven.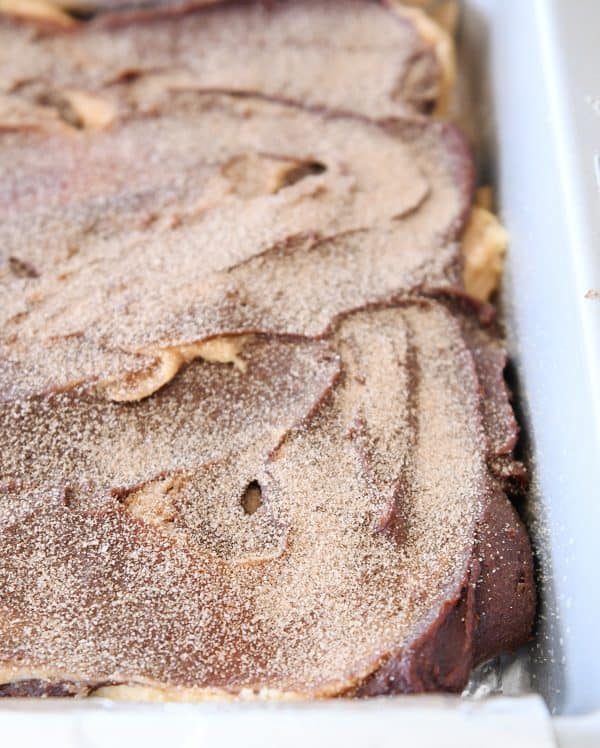 The bars are done when they are puffed and there are a few crackly crackles on the edges. 
A toothpick inserted in the center may come out with moist crumbs, but there shouldn't be any streaks of ooey gooey batter. 
I always use a metal pan for baking bar cookie recipes. If using a glass pan, the bars may not cook as evenly and may take longer (I usually suggest reducing the oven temperature by 25 degrees if using a glass pan and adding time as needed). 
As tempting as it may be, try to let the bars cool before cutting into squares. I prefer chilling them for maximum deliciousness (and it makes cutting the bars much easier). 
They can be served chilled or at room temperature. And if we're being totally honest, our "experiments" digging into them warm with a scoop of ice cream were not terrible. Not terrible at all. 
I've made these snickerdoodle brookie bars several times, and I don't know why the excitement of seeing the contrasting brookie effect when we cut into them hasn't gotten old yet. They are so pretty and fun! 
You can tell by the picture below that I also have a tendency to under bake all things brownie-related. Even left a bit gooey in the middle, these bars are outrageously delicious. 
There's a bit more brownie batter to snickerdoodle ratio (I did that deliberately – my recipe tests using equal amounts of batter weren't great for a lot of reasons). It makes those treasured snickerdoodle bites even more delicious and prized. 
This is one of those recipes I can't wait for you to make. They've made me so happy I'm already playing around with different flavor combinations. And…I may never post another recipe that isn't somehow related to brookies. #brookiesforlife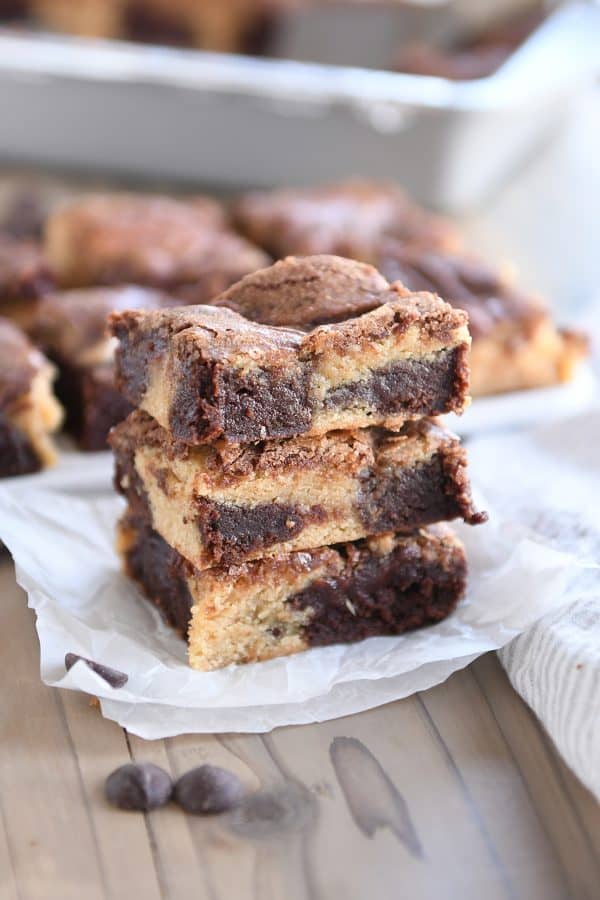 One Year Ago: Sheet Pan Sweet and Sour Meatballs with Roasted Potatoes and Broccoli 
Two Years Ago: Easy Chicken Shawarma
Three Years Ago: Lemon Cream Cheese Crumb Muffins
Four Years Ago: Doubletree Hotel Copycat Chocolate Chip Cookies
Five Years Ago: Fudgy Chocolate Chip Yogurt Cake
Six Years Ago: Chicken Cordon Bleu Lasagna 
Seven Years Ago: Thai-Style Chicken and Quinoa Salad
Eight Years Ago: Creamy Fettuccine with Ham and Peas 
Yield: 12-15 bars
Prep Time: 25 minutes
Cook Time: 35 minutes
Total Time: 1 hour
Ingredients
Brownie Batter:
1 1/2 cups (9 ounces) semisweet chocolate chips (see note)
3/4 cup (12 tablespoons, 6 ounces) butter (I use salted)
1 1/2 cups (9.25 ounces) granulated sugar
3 large eggs
1 teaspoon vanilla extract
1 cup (5 ounces) all-purpose flour
1/4 cup (.75 ounces) natural, unsweetened cocoa powder
1/4 teaspoon salt
Snickerdoodle Batter:
1/2 cup (8 tablespoons, 4 ounces) butter, softened (I use salted)
3/4 cup (5.5 ounces) granulated sugar
1/4 cup (1.75 ounces) lightly packed brown sugar
2 large eggs
1 teaspoon vanilla extract
1 1/3 cup (6.5 ounces) all-purpose flour
1 teaspoon ground cinnamon
1/2 teaspoon salt
1/2 teaspoon baking powder
Cinnamon + Sugar:
2 tablespoons granulated sugar
1/4 teaspoon ground cinnamon
Instructions
Preheat the oven to 350 degrees F. Line a 9X13-inch pan with foil for easier cleanup (I use metal; glass will bake differently and you may want to decrease oven temp to 325 degrees). Lightly grease foil and sides of pan with nonstick cooking spray. Set aside.
For the brownie batter, in a large microwave-safe bowl, combine the chocolate chips and butter and microwave in 1-minute increments, stirring in between, until melted and smooth. Don't over heat!
Stir in the sugar and whisk until smooth. Add the eggs and vanilla and mix until well-combined. Stir in the flour, cocoa and salt until no dry streaks remain and batter is smooth. Set aside. Making the brownie batter first gives it a chance to firm up a bit while you make the snickerdoodle batter.
For the snickerdoodle batter, in a large bowl, add the softened butter, granulated sugar and brown sugar. Mix with an electric mixer (stand mixer or handheld) until smooth and creamy, 1-2 minutes. Add the eggs and vanilla and mix until well-combined.
Add the flour, cinnamon, salt and baking powder and mix until evenly combined and no dry streaks remain.
Scoop heaping spoonfuls (about 2-3 tablespoons in size) of brownie batter onto the bottom of the prepared baking dish, leaving space in between. Use about half or 2/3 of the brownie batter; set the remaining batter aside.
Scoop spoonfuls of the snickerdoodle cookie batter in between the brownie batter. Use all of the snickerdoodle dough.
Spoon the rest of the brownie batter over the top in small streaks or spoonfuls.
Leave the batter as is OR lightly spread with a spatula (don't press on the dough – just lightly spread so the top is evened out a bit).
Combine the sugar and cinnamon for the topping and sprinkle it evenly on top of the bars.
Bake for 30-35 minutes until the bars are puffed (the top of the bars may be bumpy and splotchy and uneven – that's perfect!). A toothpick inserted in the center may come out with moist crumbs but shouldn't have gooey batter. Add time as needed.
Let cool completely on a wire rack. Refrigerate for an hour or so to completely chill if possible (this will make cutting the bars a lot easier). Cut into squares and serve chilled or at room temperature. Bars freeze well.
Notes
Chocolate Chips: you can use bittersweet chocolate chips in place of the semisweet but I wouldn't recommend using milk chocolate. The best chocolate chips, in my opinion, for melting and flavor are Guittard or Ghirardelli.
Recommended Products
As an Amazon Associate and member of other affiliate programs, I earn from qualifying purchases.
Recipe Source: from Mel's Kitchen Cafe (inspired by a recipe in the last issue of the Baked magazine – converted it to a 9X13-inch pan and basically messed with any and all ingredients along the way ?