Yes, you are at the right blog. Today, I'm veering outside of my vegetable comfort zone with some super fun, delectable, iced puffy cookies! These are the perfect fun summer treat to make with your kids. Or, if you're like me (without kids), they're a fun crafty baking project to make while pretending to be a kid on summer break.
This marks my first ever "sprinkled" recipe post. I know funfetti has been quite the internet craze for awhile now but I could never get behind the ingredients that are in artificially colored baking products. If you're also not a fan of Yellow Number 5 in your food, you have to check out these super cute Supernatural Starfetti sprinkles and their natural food colorings. They're plant based, vegan, gluten free, soy free, etc, etc… and SO CUTE.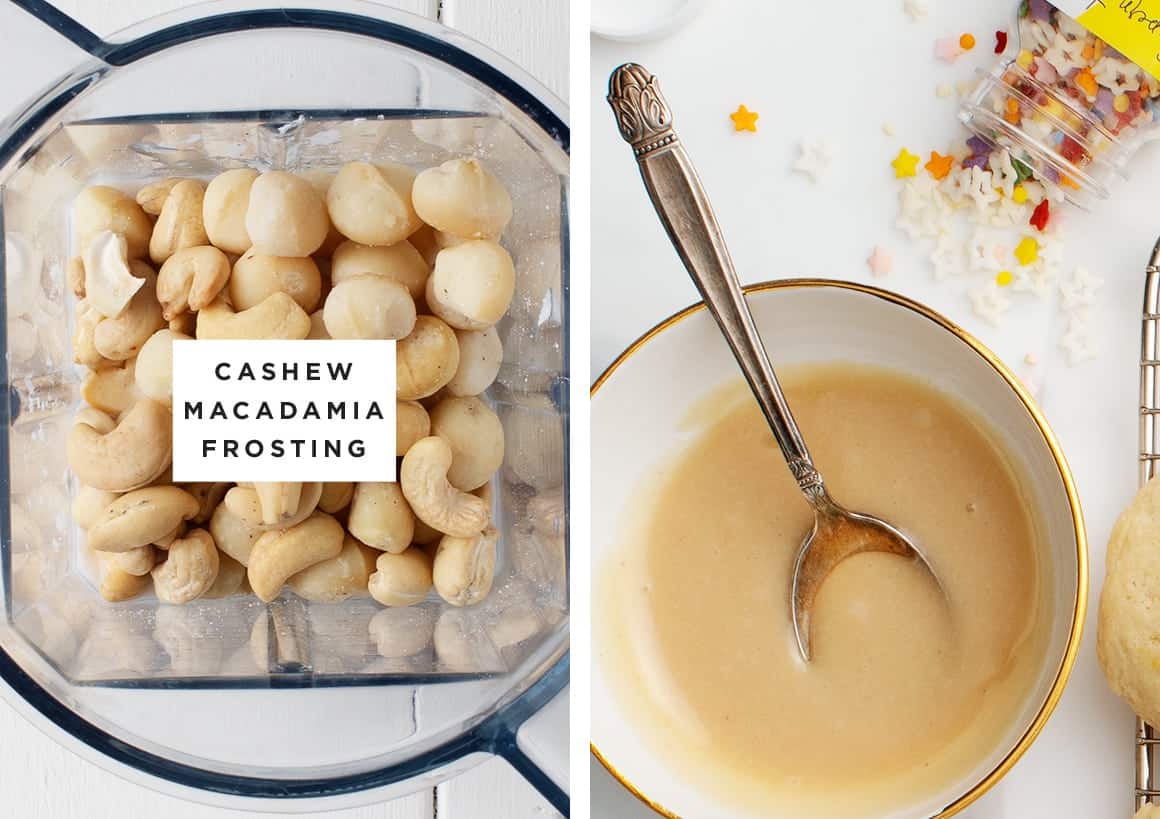 These cookies are made a little bit differently than normal cookies. As you'll see in the recipe instructions, the dough is more like pastry dough, and it's rolled into balls versus scooped into mounds. Why? Because this recipe was initially a scone attempt. About a year ago, I tried to make lemon scones with almond flour. The result was SO delicious and I loved them, however they did not quite resemble scones and the lemon flavor was too subtle. Not subtle was Jack, who just said "they're really good, but they're not scones." They were more like puffy sugar cookies (although with WAY less sugar than actual sugar cookies). So I kept this recipe in my back pocket until I got these cute sprinkles and thought – it's time for the puffy cookies!

The frosting here is similar to the macadamia frosting I make for my carrot cake. It has a delicious, nutty, maple flavor and I love it as a gooey topping on these cookies. These are best frosted and eaten right away, but see below for my notes about freezing and transporting them.

Soft-Baked Vegan Sugar Cookies with Cashew Icing
½ cup raw macadamia nuts*
½ cup raw cashews*
2 to 4 tablespoons almond milk
¼ cup maple syrup
2 tablespoons coconut oil
1 teaspoon vanilla
2 teaspoons fresh lemon juice
½ teaspoon salt
1½ cups all-purpose flour
1 cup almond flour
¼ cup plus 2 tablespoons cane sugar
1 tablespoon aluminum-free baking powder
scant 1 teaspoon sea salt
¼ cup + 2 tablespoons chilled coconut oil
½ cup cold almond milk
1½ tablespoons lemon zest
Supernatural sprinkles, for decorating
Make the frosting: In a high-speed blender, combine the macadamia nuts, cashews, 2 tablespoons of almond milk, maple syrup, coconut oil, vanilla, lemon juice, and salt. Blend until smooth, adding up to 2 tablespoons more almond milk, if necessary, to blend. Use the blender baton to help blend. Chill for at least 2 hours. (Frosting can be made ahead and stored in the fridge for up to 6 days.)
Preheat the oven to 350°F and line a large baking sheet with parchment paper. Use a food processor to combine the all-purpose flour, almond flour, sugar, baking powder, and salt. Add the coconut oil and pulse until combined. Add the almond milk and lemon zest, and pulse until combined.
Scoop the dough out of the food processor and knead gently to form a ball. Divide the dough into 12 equal pieces and roll each into a smooth ball. Place the balls onto the baking sheet and gently press each down to form small disks.
Bake for 12 to 15 minutes or until very slightly browned. Remove from the oven and cool on the pan for 10 minutes before transferring to a wire rack to finish cooling. Let the cookies cool completely before frosting.
*If using a high-speed blender, such as a Vitamix, the nuts do not need to be soaked. If using a weaker blender, soak the nuts in water for at least 2 hours. Drain and rinse before using.
Note: this icing is very messy, these are best eaten just after they're iced. To make ahead and/or transport them, freeze the iced cookies (place them on a plate in the freezer until icing is set, then transfer to freezer baggies) and let thaw at room temp for 20 minutes. The un-iced cookies also freeze well.
3.4.3177