Spaghetti with Chickpeas & Kale-This easy vegetarian pasta is super satisfying and made made with pantry ingredients! You can have this healthy dinner on the table in 30 minutes!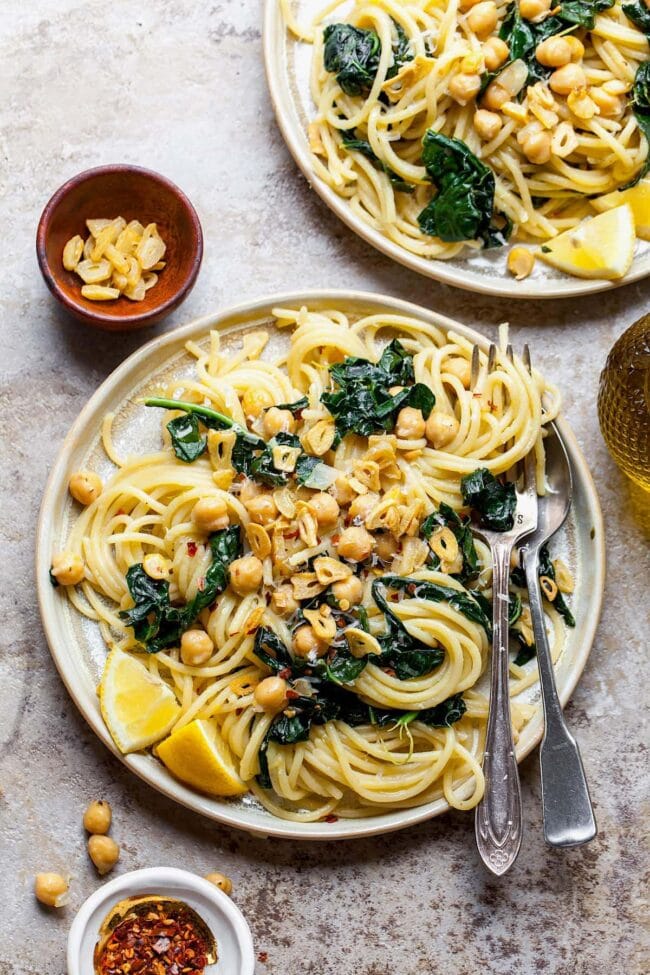 Spaghetti with Chickpeas & Kale
My family LOVES a spaghetti night, and I've got to be honest, I do too! Spaghetti is easy to make, budget friendly, and so, so yummy. One of my favorite spaghetti recipes is this simple Spaghetti with Chickpeas and Kale.
Adding chickpeas and kale steps the nutrition up a little bit and adds some really satisfying texture to the spaghetti. The boys love to slurp the spaghetti noodles up, and I love that they're getting some healthy greens in their dinner, too!
I also add crunchy garlic chips on top for flavor and texture and of course lots of Parmesan cheese!
Ingredients For this Pasta Dish
This pasta recipe is made with mostly pantry staples! A package of spaghetti, a can of chickpeas, some spices, and a little fresh kale, garlic, and lemon. Ingredients we always hav on hand!
Garlic cloves– You need 8 cloves of garlic. That may sound like a lot, but you are going to make garlic chips that are SO good on top of this pasta. Trust me!
Olive oil– Use your favorite brand.
Spaghetti– You can use regular, whole wheat, or gluten-free spaghetti. If you prefer a different pasta shape, go for it!
Shallot– Adds great flavor!
Crushed red pepper flakes– If you want a little heat!
Chickpeas– Rinse and drain the chickpeas. I love the boost of protein!
Kale– I like to use dinosaur kale or Tuscan kale. If you don't like kale, use spinach. It works well in this recipe too.
Lemon– Lemon really brightens up this pasta dish.
Shredded Parmesan cheese– Use the good stuff. If you need the dish to be vegan, you can use nutritional yeast.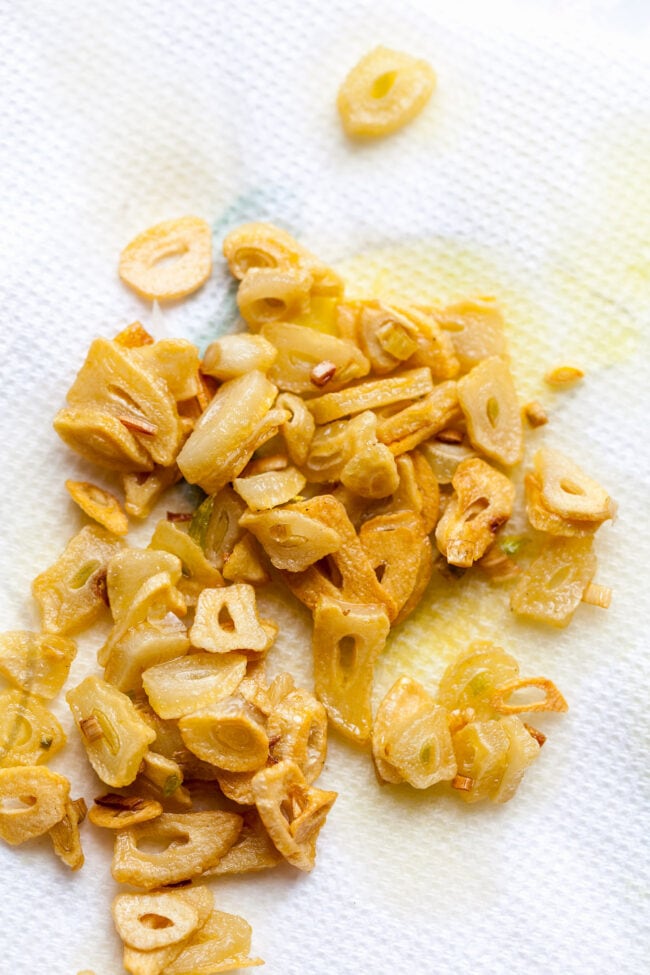 How to Make Garlic Chips
The garlic chips only take a few minutes to make and are SO good on top of this pasta dish. The flavor is incredible, plus your kitchen will smell AMAZING! I love a garlicky start to any meal.
Heat olive oil in a large skillet over medium heat. The garlic slices should sizzle a bit when you put them in the hot oil. Use a heatproof spatula to spread them out in a thin, even layer. 
Reduce the heat to medium-low and continue cooking the garlic, stirring continuously and turning the slices often, making sure they don't stick together.
Cook for about 2-3 minutes. The garlic slices will become golden brown in color.
Turn off the heat and quickly remove the garlic slices from the pan with the spatula or a slotted spoon and place on the paper towel lined plate. Spread them out so they aren't sticking together. Set them aside for garnishing the finished pasta!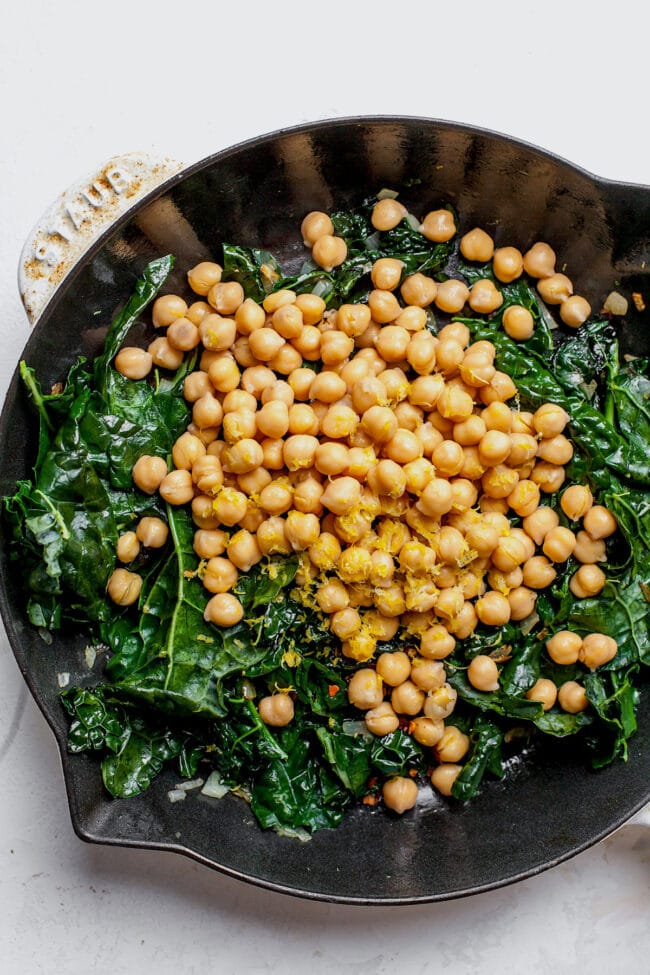 Easy Spaghetti Recipe
This is a basic spaghetti recipe, but it has a few healthy additions and amazing texture and flavor that make it extra special. Let's get this pasta party started!
Bring a large pot of salty water to a boil and cook spaghetti according to package instructions. Save 1 cup of the pasta water before draining, and use a colander to drain well.
While the spaghetti is in the water, finely chop two garlic cloves and heat the skillet. Add shallot and chopped garlic and cook for 2 minutes, then add crushed red pepper flakes, chickpeas, chopped kale, and lemon zest. Season with salt and pepper, to taste. Cook, stirring occasionally, until the kale is wilted, about 3 minutes. 
Add the drained spaghetti into the skillet, then the lemon juice, and stir with tongs until everything is well combined. Add half of the pasta water and toss again. Add the shredded Parmesan cheese and toss. If the pasta is sticking together, you can add more pasta water until the consistency looks good.
Garnishing the Pasta
Let's dress it up! Garnishes take a meal to the next level and make it feel a little extra special. A few things you can sprinkle on top of your spaghetti…
Freshly chopped basil
Parmesan cheese or nutritional yeast
Garlic chips
Red pepper flakes
Extra squeeze of fresh lemon juice
Serving Suggestions
For sides, you can't go wrong with Italian favorites. A little garlic bread, a side salad, and everyone at the table is happy! Our favorite spaghetti sides:
More Pasta Recipes
8

cloves

garlic,

divided

3

tablespoons

olive oil

12

ounces

spaghetti

1

large shallot,

finely chopped

¼

teaspoon

crushed red pepper flakes

15

oz

chickpeas,

rinsed and drained

1

bunch dinosaur kale,

ribs and stems removed, chopped

Zest of 1 large lemon

Kosher salt and black pepper,

to taste

Juice of 1 large lemon

½

cup

shredded Parmesan cheese

Chopped fresh basil,

extra parmesan cheese, and lemon wedges, for serving, optional
To make the recipe vegan, use nutritional yeast instead of the shredded Parmesan cheese.
Nutrition Facts
Spaghetti with Chickpeas & Kale
Amount Per Serving
Calories 435 Calories from Fat 108
% Daily Value*
Fat 12g18%
Saturated Fat 3g15%
Cholesterol 6mg2%
Sodium 147mg6%
Potassium 417mg12%
Carbohydrates 65g22%
Fiber 7g28%
Sugar 5g6%
Protein 17g34%
Vitamin A 1033IU21%
Vitamin C 14mg17%
Calcium 167mg17%
Iron 3mg17%
* Percent Daily Values are based on a 2000 calorie diet.
Photos by Dishing Out Health