Easy5 minsQuick
This 5-Minute Spicy Greek Feta Dip (Tirokafteri) is quick and easy to make and irresistibly delicious.  Feel free to serve it with bread, veggies, or any other favorite dippers.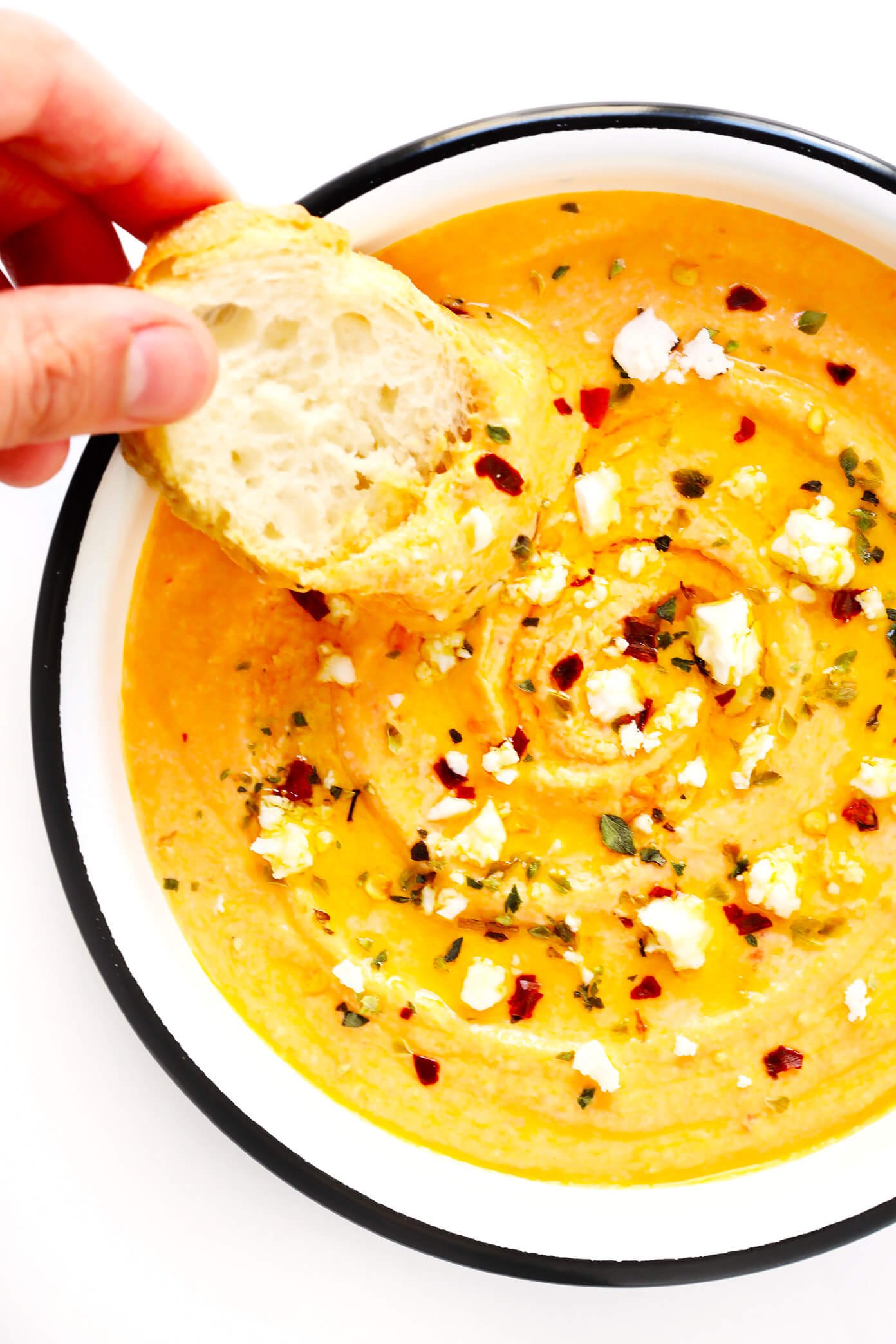 The first morning that we arrived in Santorini, we were admittedly exhausted.  An unexpected mistake by my accountant had kept us up working well past midnight the night before we left, which was followed much too soon by an alarm waking us back up in time for the 5am cheap flight we had snagged, which was then followed by a crazy taxi ride to the airport that left me reeling with an unexpected bout of motion sickness.  So by the time that we finally stumbled in Greece — bleary eyed, toting our haphazardly-packed bags, and clutching the largest coffees we could find — I have to say, all we really wanted to do was take a nap.
Not exactly the easy-breeze start to a dream vacation that I had imagined.
Thankfully, the greeter at our hotel seemed to sense that we were in need of some reviving, and walked outside to point us in the direction of the bay for lunch.  And sure enough, the moment we made our way down those dozens and dozens of stairs and walked out next to that impossibly-blue sparkling water — we took a deep breath and looked at one another in complete awe.
Now this was what we had been waiting for.  ♡
We walked over to the Sunset Tavern and settled in to a tiny little table by the sea (like, the table leg was literally a foot from the sea), ordered our very first Greek salad of the trip, spicy feta dip, a loaf of crusty bread, a big bowl of Kalamata olives, and two crisp whites, and then sat out there in that warm sunshine for hours talking and taking our time and savoring every last bite of our first Greek meal — and it was perfect.  Just the reset we needed.  And a lunch I will never forget.
Back to this spicy feta dip, though.  I got excited and impulsively ordered it simply because it included the word "spicy", which you'll never see on a menu in Spain, but wasn't sure exactly what to expect.  Turns out that Greek spicy feta dip — or tirokafteri — is the dip of my dreams.  It was a simple roasted red pepper cheese dip that I could have sworn was the Southern pimento dip of my childhood — creamy, tangy, savory, with just a hint of spice, and downright irresistible.  We became instant fans and proceeded to order it a half dozen more times on the trip, anytime we saw it on a menu.  And then, of course, came home to Barcelona and immediately had to figure out how to make it for ourselves.
I have a feeling you are going to love it.
Let's make some. ♡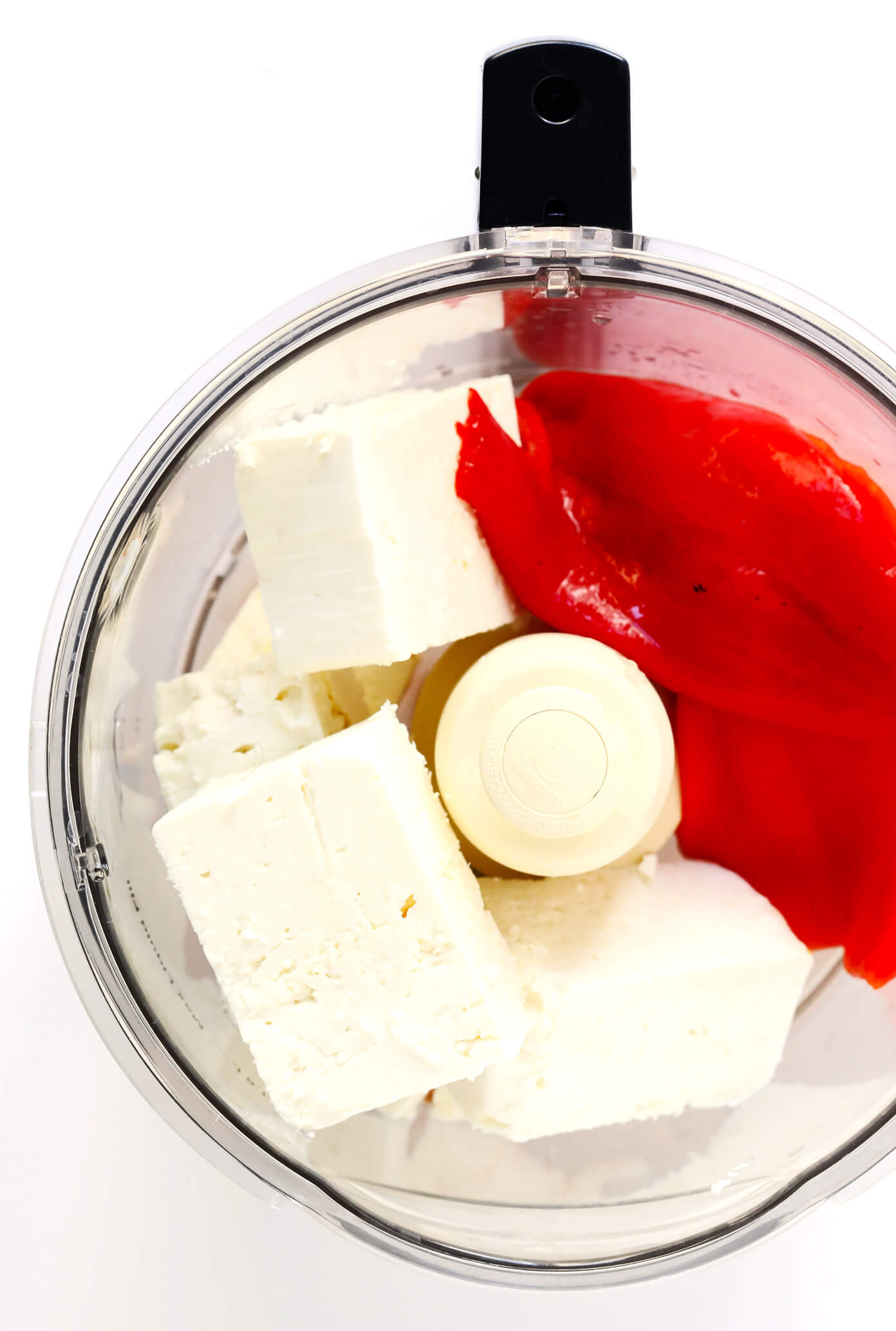 Feta Cheese Dip Ingredients:
Fair warning, this cheese dip is rich.  A generous portion of feta is where we begin, but the amounts of the remaining ingredients are totally up to you.  If you would like a smokier, sweeter dip, feel free to add in more roasted red peppers.  If you would like a spicier dip, keep adding in the crushed red pepper flakes.  If you would like a more herb-y dip, feel free to also add in some oregano (or sprinkle it on top).  It's all up to you.
To make it, you'll need:
Feta Cheese: The star of the show.  Sheep's milk feta cheese is traditional in Greece, but whatever feta you can find will do, either in a block or crumbled.
Roasted Red Peppers: Either homemade or (I recommend) store-bought in a jar
Olive Oil and Red Wine Vinegar: Both traditionally used in this dip.
Garlic: Just one clove of raw garlic.
Crushed Red Pepper Flakes: The traditional Greek dip is sometimes made with fresh spicy peppers, sometimes dried.  But for the recipe below, I went with a simple pinch of crushed red pepper flakes.  Feel free to add more or less to taste.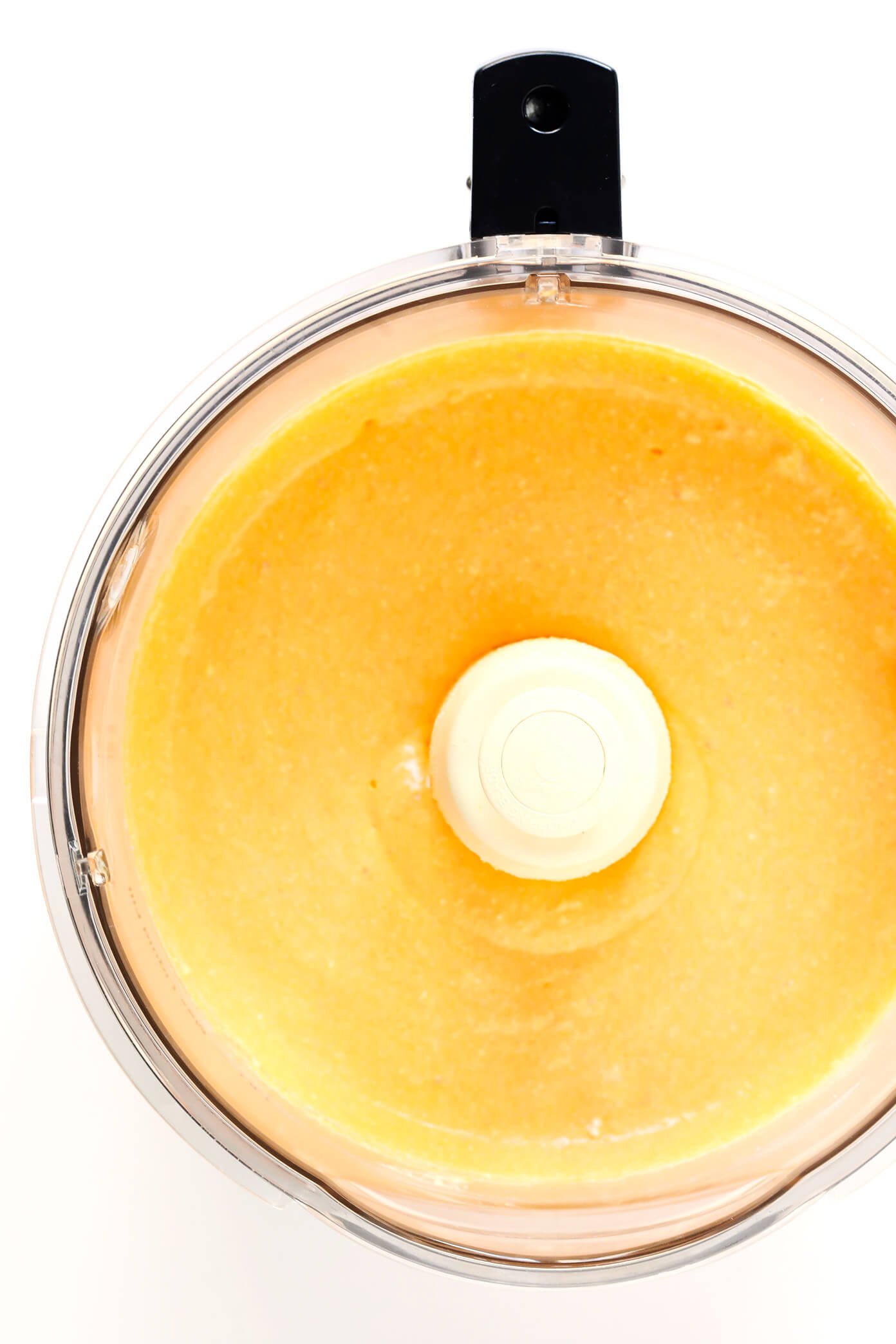 How To Make Feta Dip:
To make this feta dip, simply combine all ingredients in a blender and process until smooth.  It only takes a few minutes — so easy!  If you'd like a thinner dip, feel free to add in a splash of water.  Then sprinkle with your desired garnishes (I like to add some extra crushed red pepper flakes, feta and a pinch of oregano).  And…serve!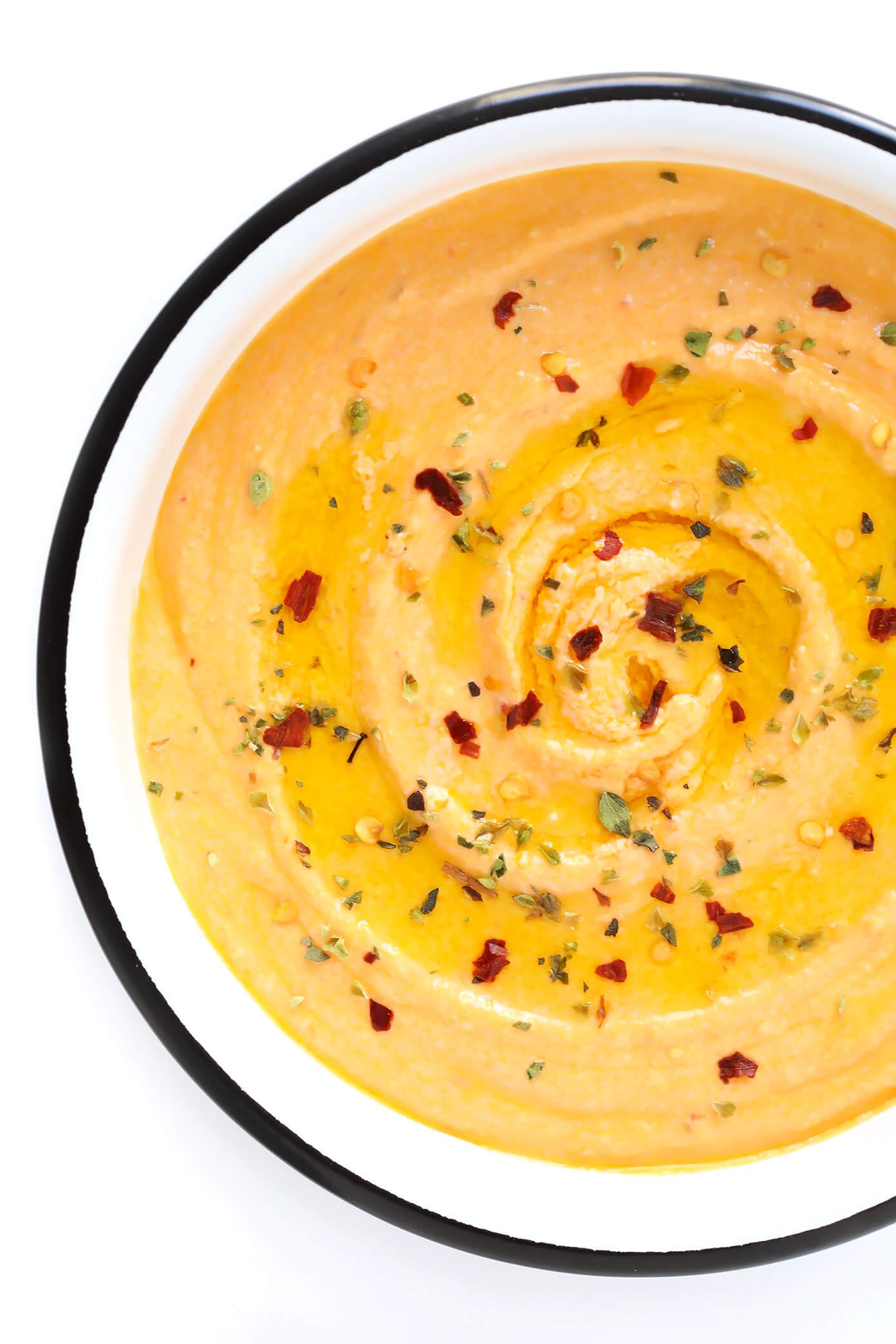 What To Serve With This Feta Dip:
Want to make a full Greek meal with this dip?  I'd recommend making some:
Pita sandwiches, such as:
A big, fresh, authentic Greek Salad
A big loaf of crusty bread served with dip, such as: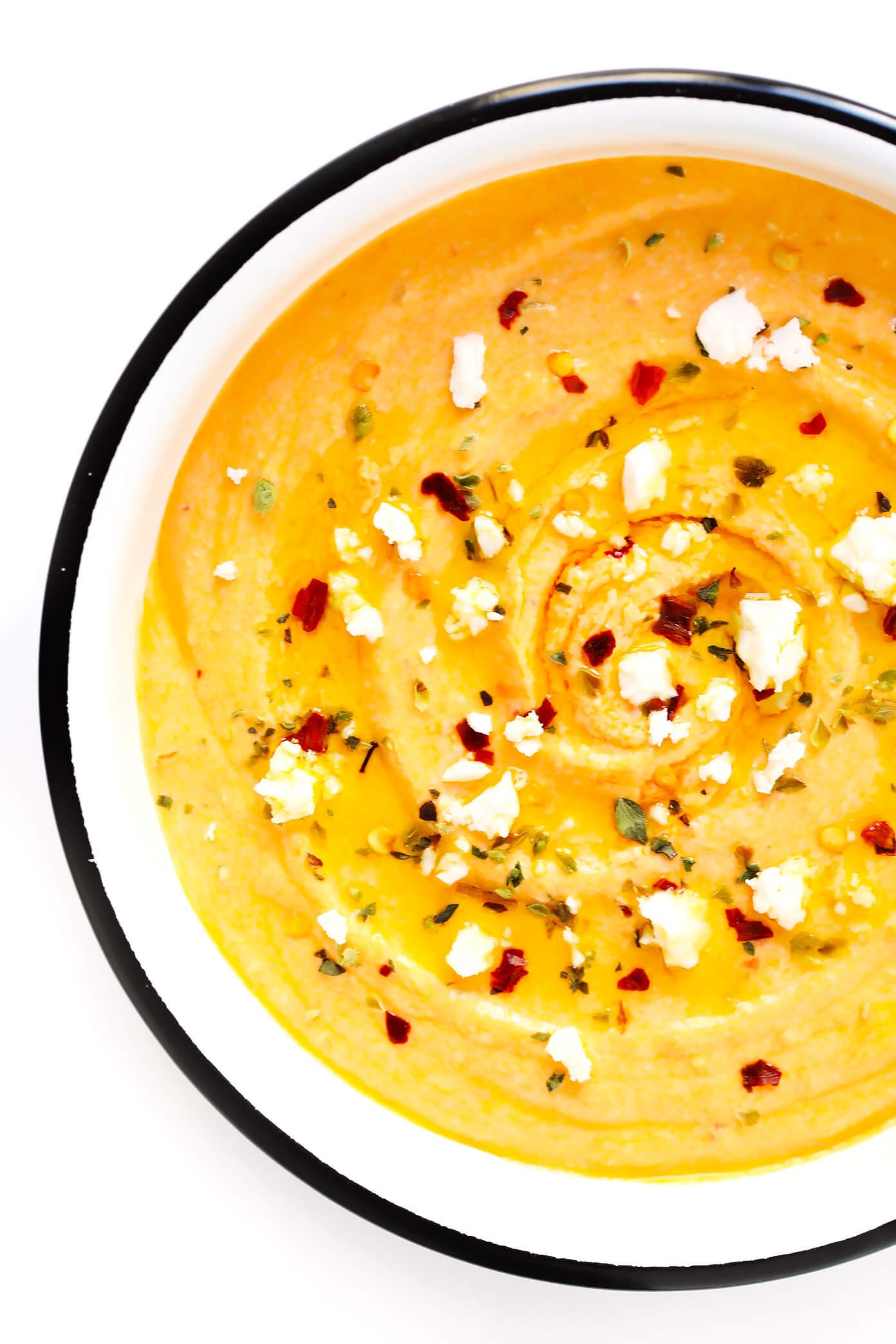 Enjoy, friends!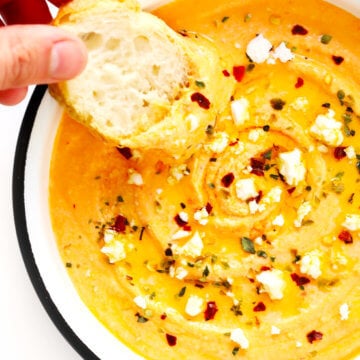 Yield: 8-10 servings
Spicy Greek Feta Dip (Tirokafteri)
This 5-Minute Spicy Greek Feta Dip (Tirokafteri) is quick and easy to make and irresistibly delicious.  Feel free to serve it with bread, veggies, or any other favorite dippers.
Ingredients:
10 ounces feta
2 medium roasted red peppers*
2 tablespoons olive oil
1 tablespoon red wine vinegar
1 small clove garlic
1/4 teaspoon crushed red pepper flakes (or more, to taste)
optional garnishes: extra crumbled feta, extra crushed red pepper flakes, dried oregano, and/or Kalamata olives
Directions:
Combine all ingredients in a food processor and puree until smooth.
Transfer to a serving bowl, and top with your desired garnishes.  Or refrigerate in a sealed container for up to 3 days.
*You are welcome to either core and roast your own red peppers in the oven, or (shortcut!) use store-bought roasted red peppers from the jar.
Difficulty: EasyCategory: Quick


All images and text ©Gimme Some Oven
If you make this recipe, be sure to snap a photo and hashtag it #gimmesomeoven. I'd love to see what you cook!