This is a salad you'll crave every day. A radiant, color-flecked tangle of noodles, cabbage, shredded carrots, pickled sushi ginger, and an abundance of cilantro, basil, and scallions. It has tofu and peanuts, coconut, ginger, avocado, and hemp seeds. The dressing(!) – it's simple but strong, and steps in with an assertive spicy sriracha-lime punch. This is one of those near-perfect one dish meals. You might not want to prep this many ingredients every day, but you'll forget about that detail the minute you take a bite. And you can see exactly how it comes together in the video below. xx! -h
A couple of tips – you can make the dressing a few days in advance. You can also do much of the chopping and grating a day or two in advance. Cook the noodles to order, though.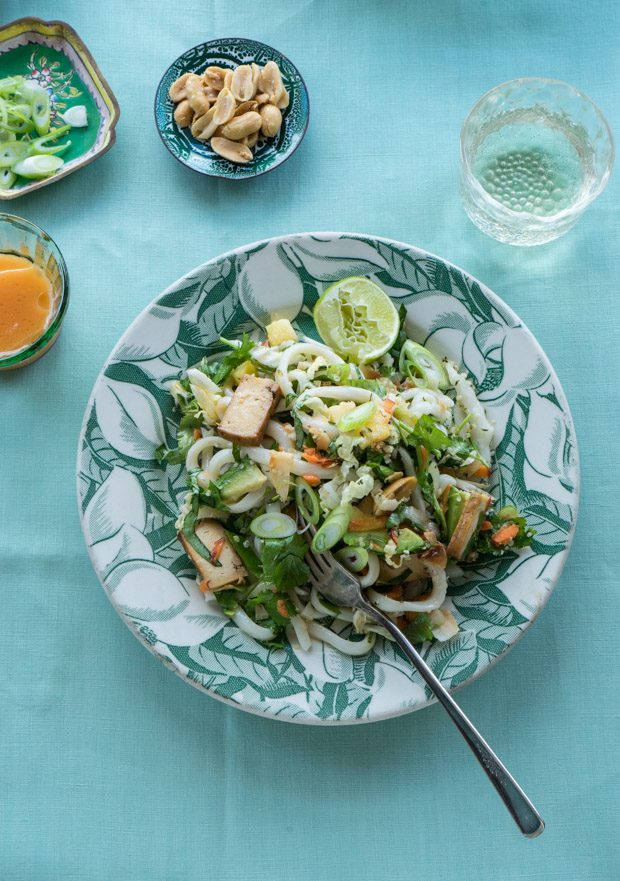 Let me know if you try it, and please report back if you land on any seasonal adaptations that you are particularly excited about.
Enjoy the salad! To make it gluten free, use rice noodles. You can make the tofu and the dressing ahead of time. Don't skimp on the cilantro! 🙂
DRESSING:
2 medium cloves garlic, grated
1/3 cup sunflower oil
a few drops of toasted sesame oil
1/3 cup fresh lime juice
sweetener to taste, liquid stevia / brown sugar / coconut nectar
1 – 2 tablespoons sriracha sauce

12 ounces firm tofu, sliced into bite-sized slabs
toasted sesame oil
fine grain sea salt

8 ounces fresh udon noodles, or 4 ounces dried
1 teaspoon toasted sesame oil
2/3 cup sliced scallions / green onion
2 cups cilantro leaves and stems, lightly chopped
a big handful of shredded basil
1 1/2 cups very finely shredded cabbage
1 cup chopped pineapple (or mango, or peaches!)
1/3 cup toasted unsweetened coconut
1/2 cup salted peanuts
3 tablespoons pickled sushi ginger, chopped
2/3 cup grated carrots
1 medium avocado, sliced
3 tablespoons hemp seeds
First off, make the dressing. Combine the garlic, sunflower oil, toasted sesame oil, and lime juice in a jar. Add your preferred sweetener to taste, a bit at a time, and then add the sriracha until it reaches the desired amount of spicy. Set aside.
Rub the tofu with a bit of toasted sesame oil and sprinkle with a bit of salt and either grill or bake at 350F until nice and golden, ten minutes or so. Set aside. You can do this ahead of time a day ahead if you like.
Cook the noodles in a medium saucepan of salted water. Drain, run under cold water, shaking off any excess, and transfer to a large serving bowl. Toss the noodles with the toasted sesame oil and then add the scallions, cilantro, basil, cabbage, pineapple, and most of the coconut and peanuts. Pour about 2/3 of the dressing over the top, and give it all a nice toss. Add the tofu, sushi ginger, carrots, and avocado, decide if you need anymore dressing (and, if so, add it), and gently toss again. Adding the carrots at this point keeps them from tinting the rest of the salad orange. Serve topped with the remaining peanuts and coconut, with a generous sprinkling of hemp seeds.
Serves 4-6.
Prep time: 25 min –
Cook time: 10 min
Print Recipe