These Steak Burrito Bowls were inspired by Taco Bell, but they taste way better when made at home, from scratch, with fresh ingredients. These Steak Burrito Bowls take minutes to throw together and are seriously so yummy.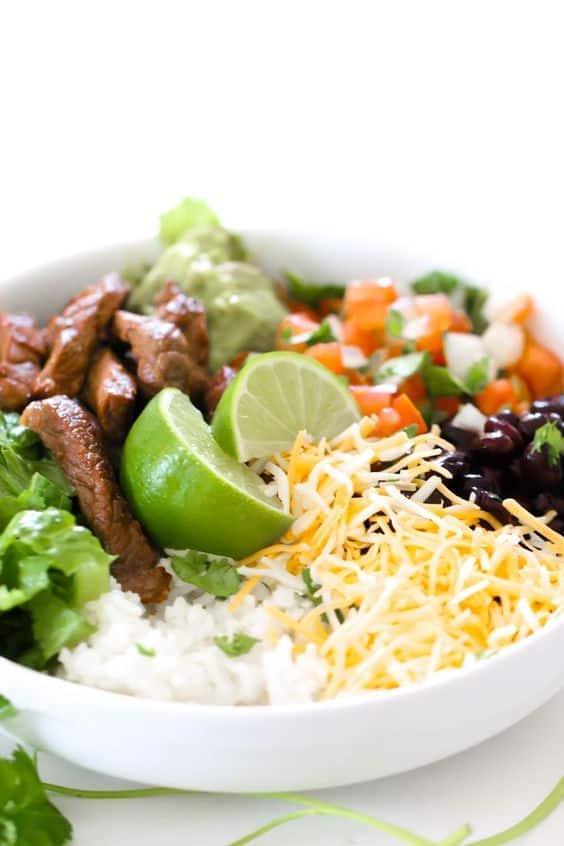 To be honest, I have a serious addiction to Taco Bell. I know, I know, it sounds horrible – but it is my go-to on busy nights, especially their Steak Burrito Bowl!
In an effort to try and make more food at home, I replicated one of my favorite things they have on their menu. It's super easy to throw together, and quickly is becoming a family favorite.
My husband is also a huge steak lover, and loves these Steak Taco Bowls. Its also one of the only recipes my kids will eat these days, so this recipe is a total mom and wife win.
They are so delicious with all the fresh ingredients, and the fresh steak. You will love this simple spin, on a copycat recipe, from Taco Bell.
What other meat would be good in this burrito bowl?
I am a huge steak fan. I went through a phase when I was pregnant where it did not agree with me, but now that I am out of that phase, it is all I want.
I love a deliciously marinated steak.
For this recipe, you could easily switch out the steak for really any meat. However, this recipe is delicious with just about any meat. I prefer it with steak, but here are a few other of my favorites:
grilled chicken
shredded chicken
ground beef
ground turkey
ground chicken
pulled pork
turkey
We also recommend seasoning or marinating your meat. To season you could use taco seasoning, or fajita seasoning.
I also love this recipe, because it's a quick and easy way to add more vegetables without any kids noticing.
These bowls are so delicious and full of flavor that the kids (or husband) won't notice all the extra greens. Here are a few vegetables I recommend adding:
Cut them up small enough, and they will never know.