Summer Caprese Salad made with tomatoes, peaches, cucumber, fresh mozzarella cheese, red onion, basil, and a simple balsamic glaze. This easy summer salad is the BEST!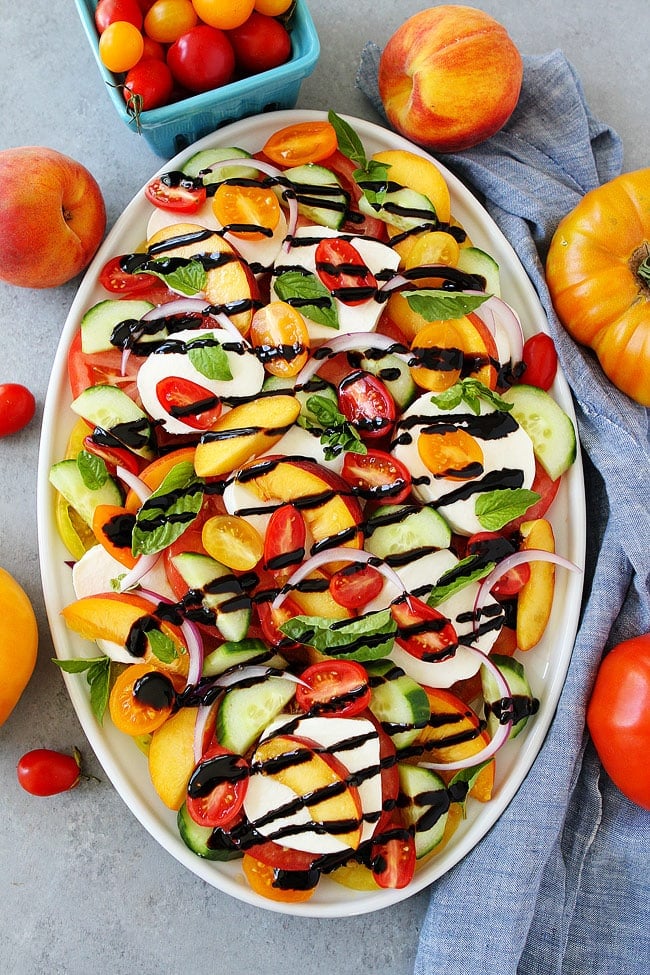 It isn't summer until you've enjoyed a Caprese Salad. Who's with me? Caprese Salad is a summer MUST!
Traditionally, Caprese Salad is a simple Italian salad made with sliced fresh mozzarella cheese, tomatoes, basil, olive oil and/or balsamic. I love a good classic Caprese Salad, but you know me, I am all about mixing things up. Remember our Caprese Garlic Bread and Caprese Avocado Toast?
I recently made an epic Summer Caprese Salad that has all of my summer favorites. It takes the traditional caprese salad to a whole new level and it only takes 15 minutes to make!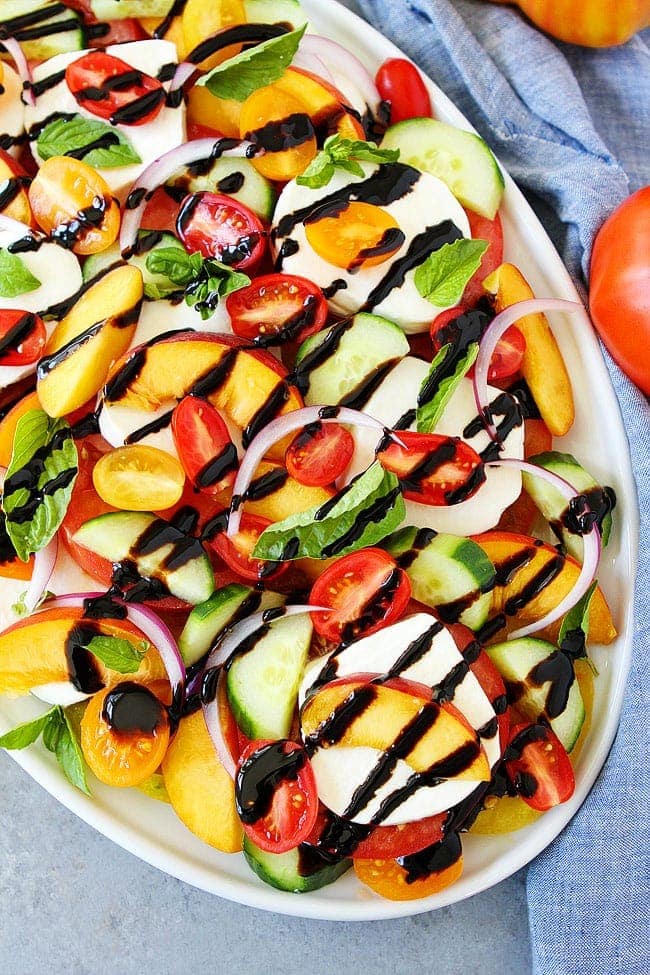 So what makes my Summer Caprese Salad so special? For my salad, I used these caprese salad ingredients:
tomatoes
peaches
cucumber
fresh mozzarella
red onion
basil
balsamic glaze
Why stop at tomatoes when peaches and cucumbers are so good in the summertime? The peaches add a nice sweetness to the salad and the cucumbers add a nice, fresh crunch. I used heirloom red tomatoes, heirloom yellow tomatoes, and a mixture of grape and cherry tomatoes. You can use whatever you have in our garden or whatever you find at the farmers market.
The salad colorful and so beautiful! This easy summer salad is a showstopper and goes great with any summer meal.
I served this easy caprese salad at a dinner party and our guests couldn't stop raving about it. It was the talk of the dinner and it only took me 15 minutes to make! SCORE! If you want to impress your friends and family this summer, make this easy and fresh Summer Caprese Salad. Everyone will love it!
If you like this Summer Caprese Salad, you might also like: