Take snack time outside this summer with a Picnic Snack Tray! An easy, fun and yummy way to make summer extra special!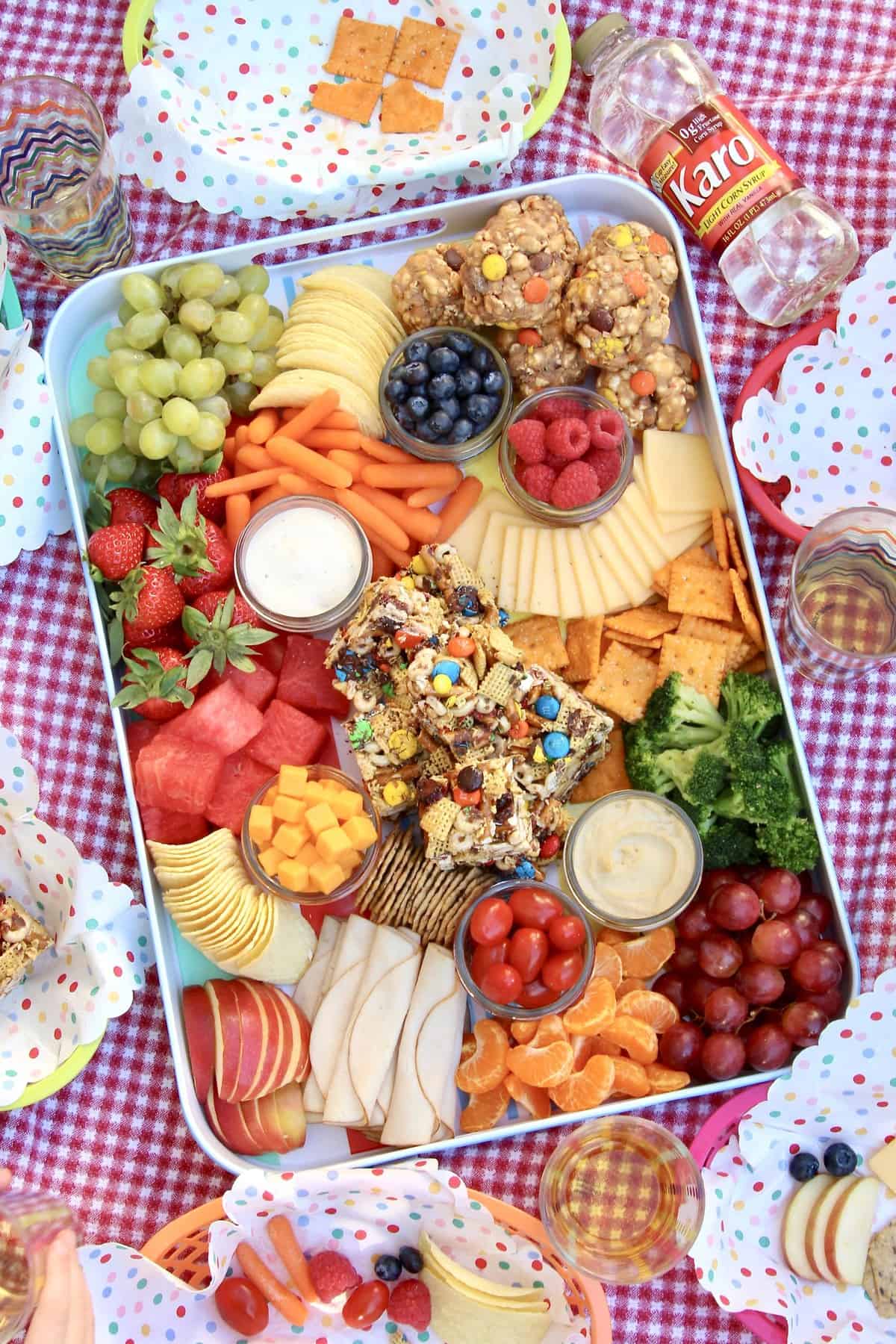 Summer is the perfect time to picnic! When the sun is shining and our schedules are less hectic, we really enjoy spending as much of the day outside as possible. Whether we're playing in the yard, going on bike rides around the neighborhood or just laying on a blanket and reading under a shade tree, it feels so good to be out in the fresh air and sunshine. And for us, food is always factored into our summertime fun. We love preparing picnics to enjoy in our backyard under a shade tree. So much more fun than eating in the house and such a simple way to make summer more memorable.
I'm so excited to be partnering with my friends at Karo® Corn Syrup to share this beautiful and delicious Picnic Snack Tray! Whether it's for lunch, snack or dinner, it's the perfect picnic spread for summer. This tray is filled with a great selection of foods to satisfy everyone. And let's be honest, the tasty no-bake treats are everyone's favorite!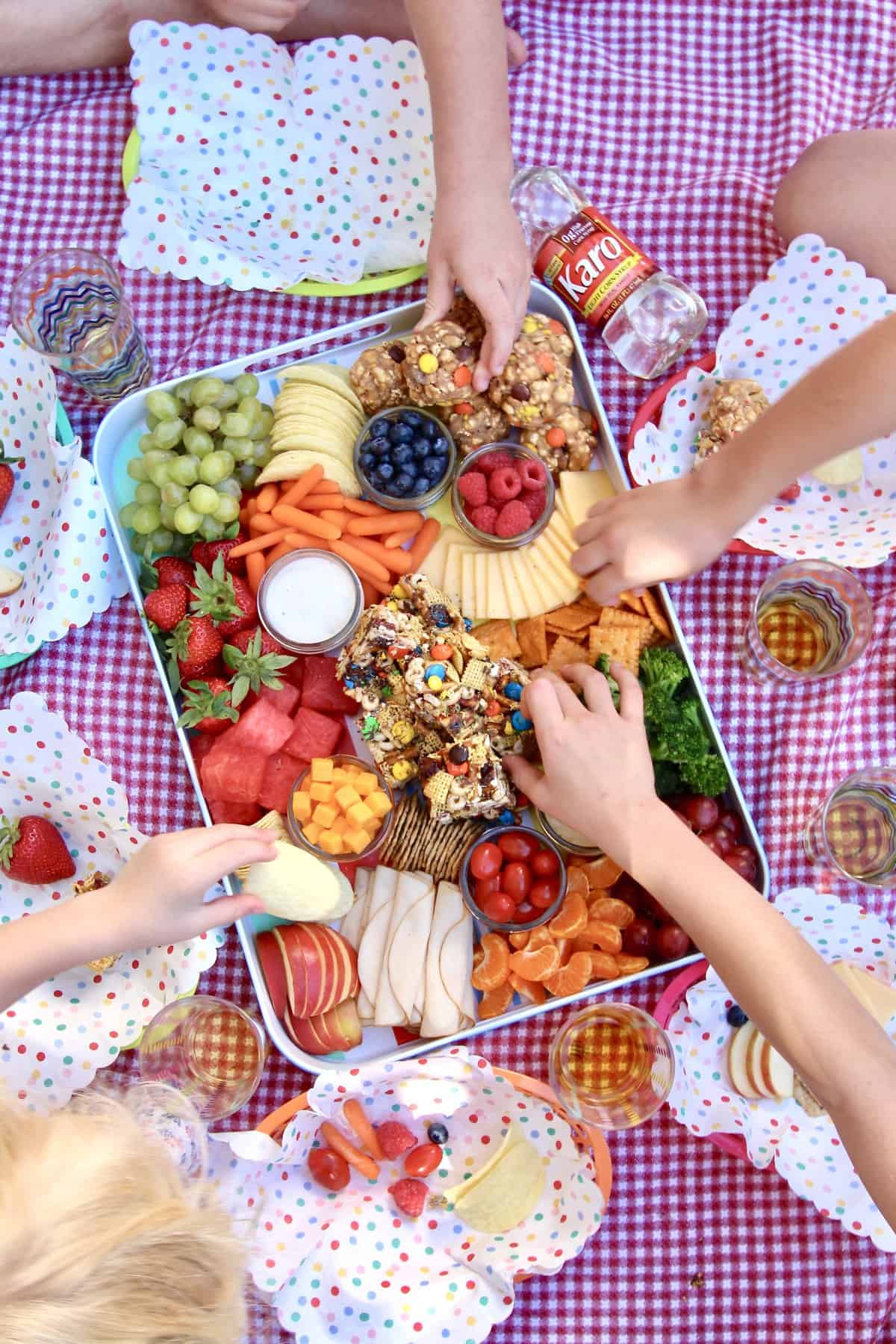 No-bake treats are the perfect treats for summer because the last thing you want to do is heat up the house when it's hot outside. I love using Karo® Corn Syrup for my no-bake treats because I always have it in the pantry and it's essential to keeping the treats held together. It's smooth and sweet ability to bind all of the ingredients without overpowering them, like in these No-Bake Snack Mix Bars and the N0-Bake Popcorn Balls is amazing. The corn syrup makes the treats gooey and chewy while still being able to taste the great textures and flavors of the goodies within.
Another great thing about summer no-bake treats is they're so easy to make that the whole family can help. Such a great activity to do with the kids while they're out of school!
And just like no-bake treats are a summer tradition for us, so are snack trays! Snacking is what summer is all about. When preparing a picnic snack tray like this one, I always incorporate lots of fresh and seasonal fruits and veggies along with some cheeses, meat, crackers, chips and, of course, sweet treats! They're simple to build and so exciting to snack on…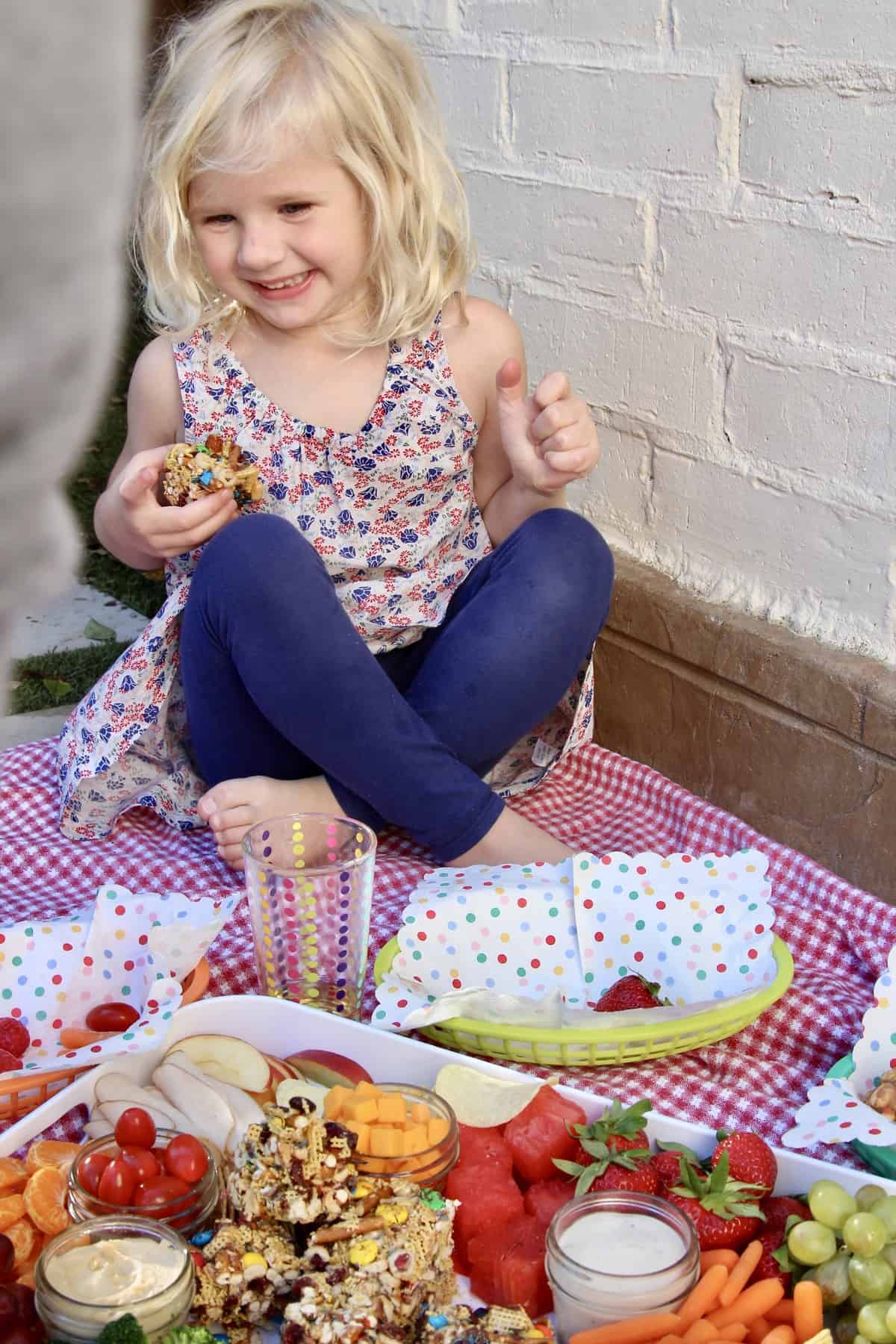 Let's talk about all the yummy snacks I put on this tray! It's all about keeping it simple and using what your loved ones will enjoy most. If your family and friends have a sweet tooth, you'll definitely want to make these No-Bake Snack Mix Bars and No-Bake Peanut Butter Popcorn Balls to have on the kitchen counter all summer long and to include on your picnic snack trays. They're both so easy to make and such a treat to eat! Both recipes are at the bottom of this blog post.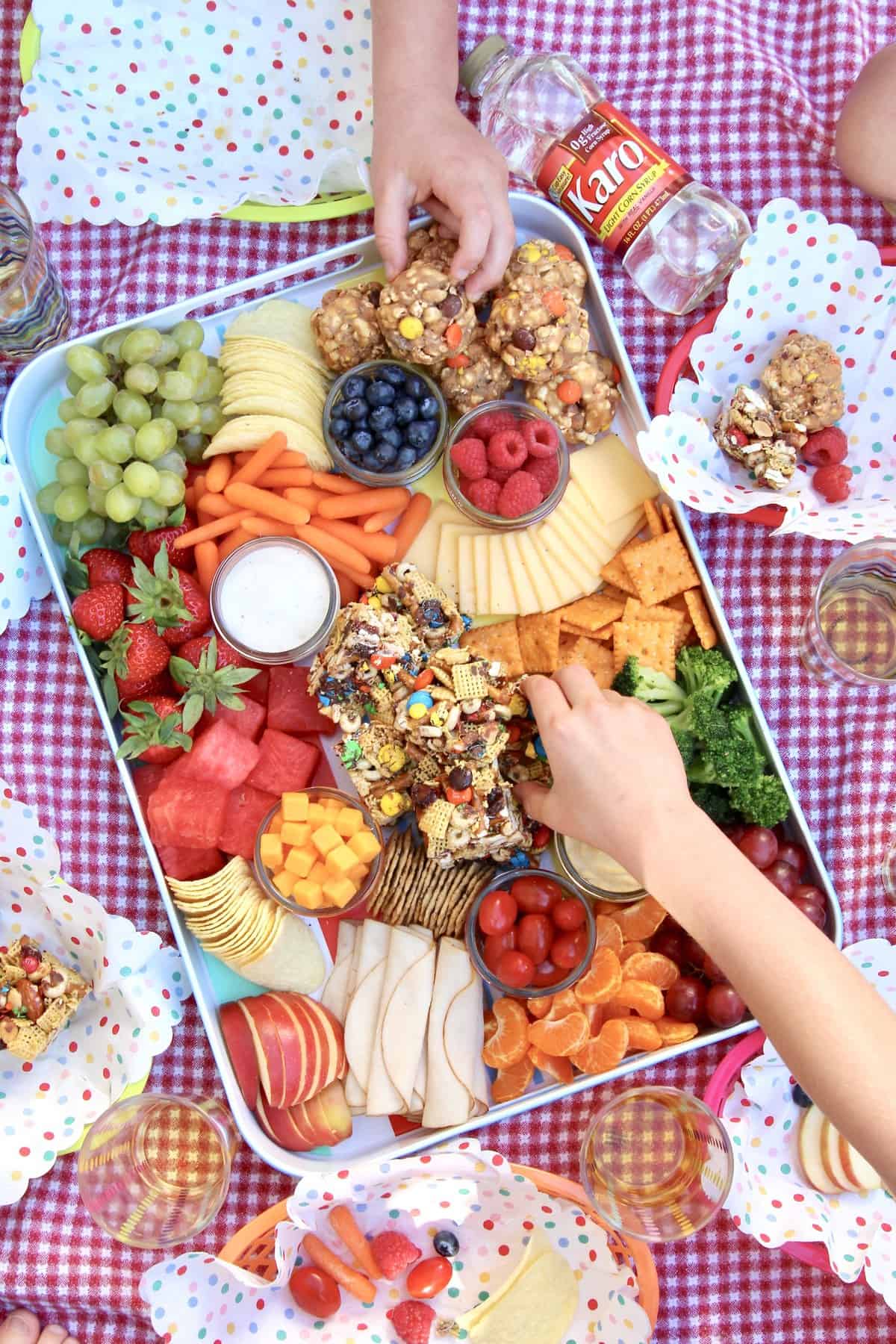 The No-Bake Snack Mix Bars are made with cereals, pretzels, nuts, dried fruits and chocolate candies. They're the perfect balance of sweet to salty and chewy to crunchy. So yummy!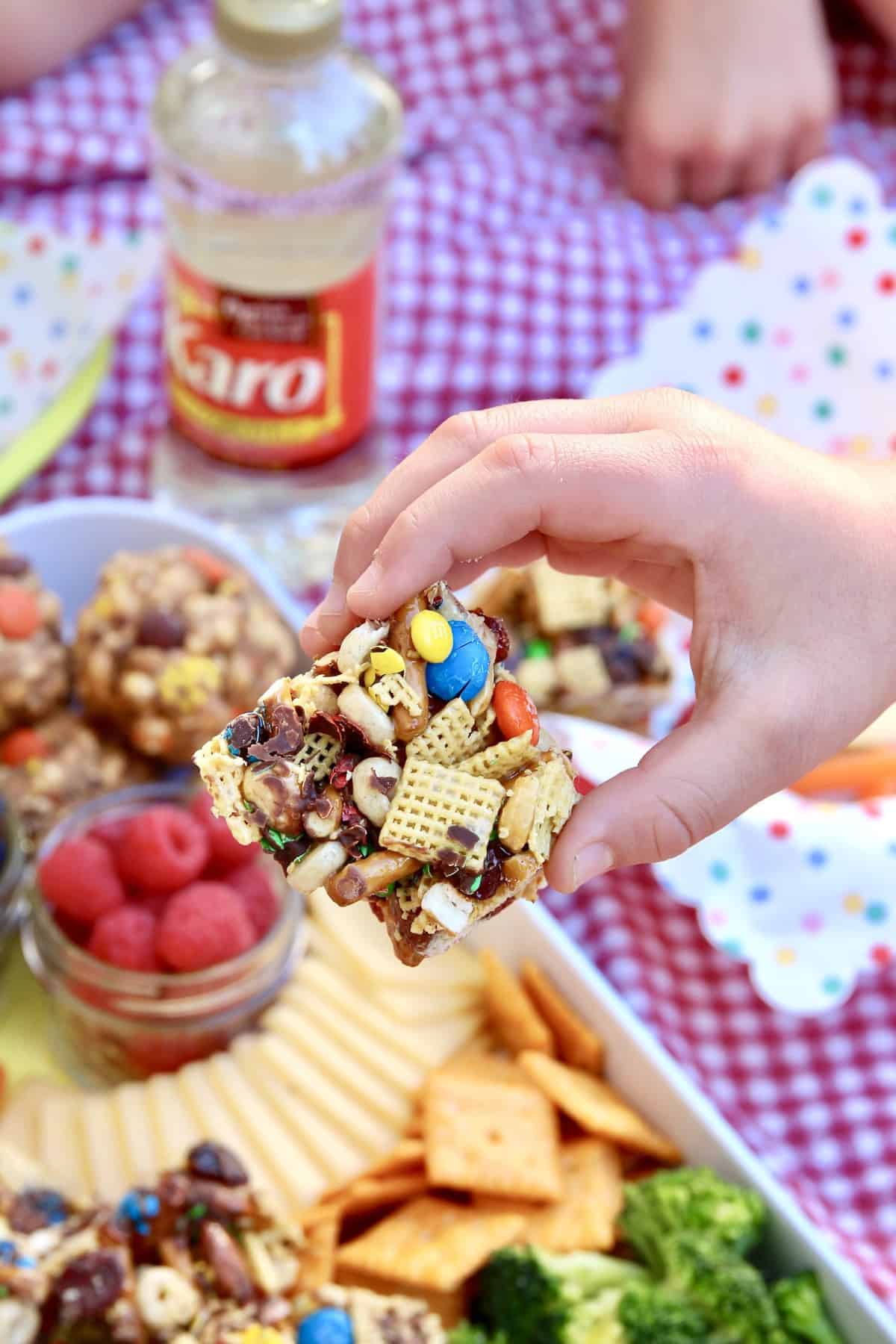 The No-Bake Peanut Butter Popcorn Balls are a peanut butter lovers dream come true. Popcorn is combined with peanuts and a selection of peanut butter candies with a sweet peanut butter syrup binding it all together to create these chewy, chocolaty, peanut butter popcorn balls for the ultimate snacking treat!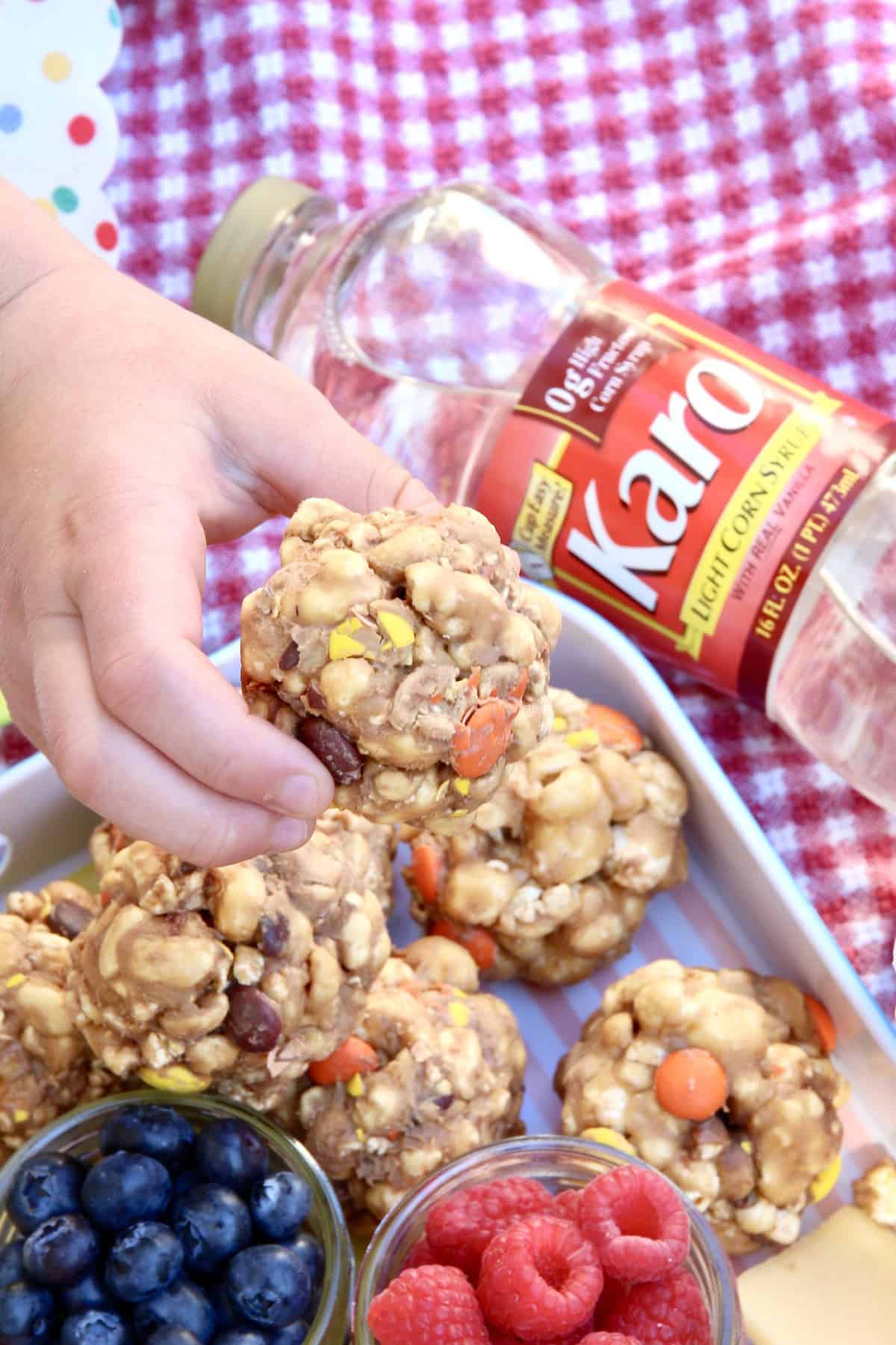 These two treats, along with lots of fresh fruits and veggies, hummus and ranch for dipping, cheeses and sliced turkey, crackers and chips, make for the most snackable tray that your crew is sure to go crazy over! My family enjoys it so much that we look for every opportunity throughout the summer to have a picnic snack tray!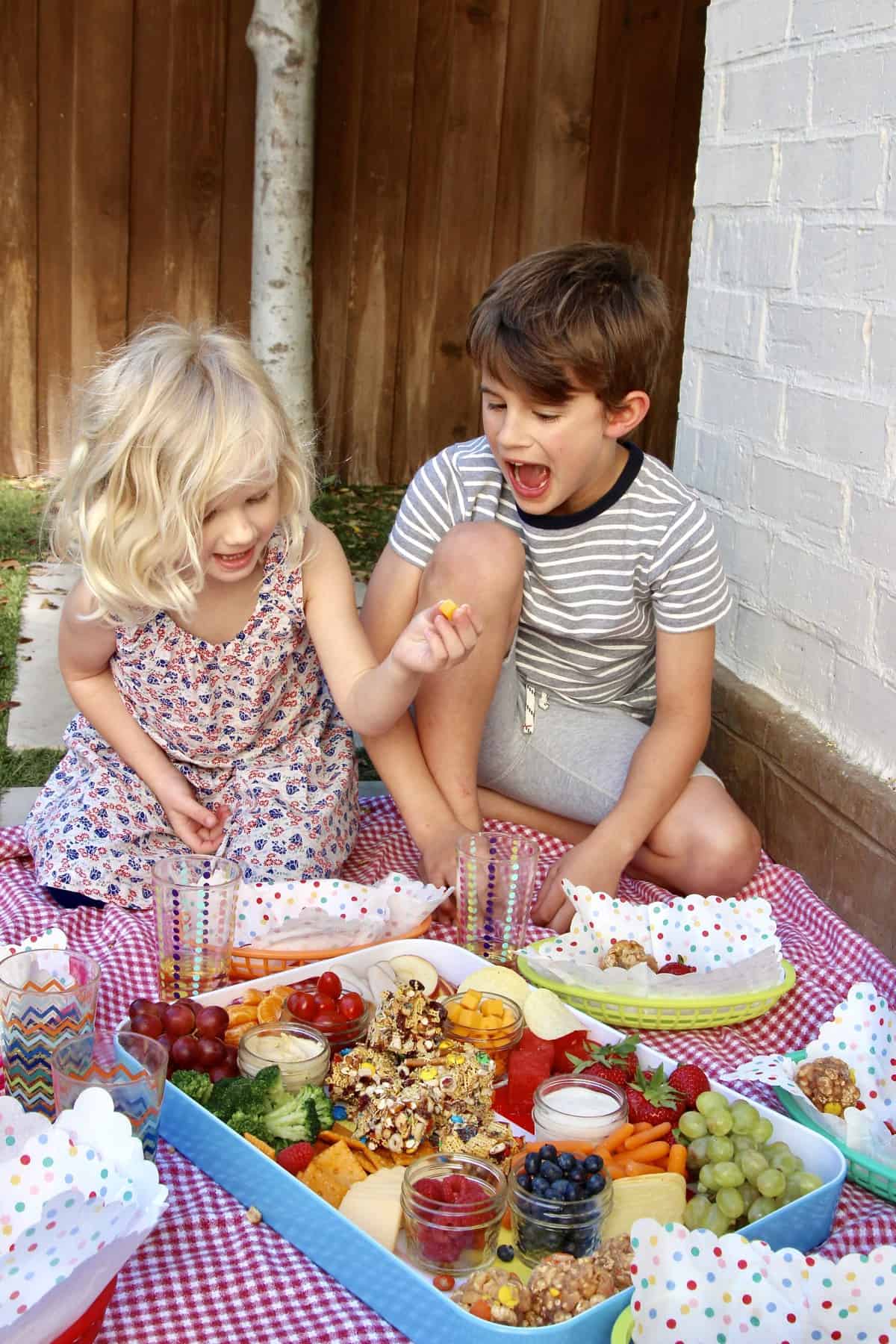 Let's make the no-bake treats and build the picnic tray!
Watch this video to see how the No-Bake Snack Mix Bars are made…
To make the No-Bake Snack Mix Bars with Karo® Light Corn Syrup, combine all of the snack mix ingredients in a large mixing bowl, except for the candy-coated milk chocolate pieces. Bring the brown sugar, corn syrup and butter to a full boil over medium heat, stirring occasionally. After it comes to a boil, remove it from the heat and pour over the snack mix in the mixing bowl.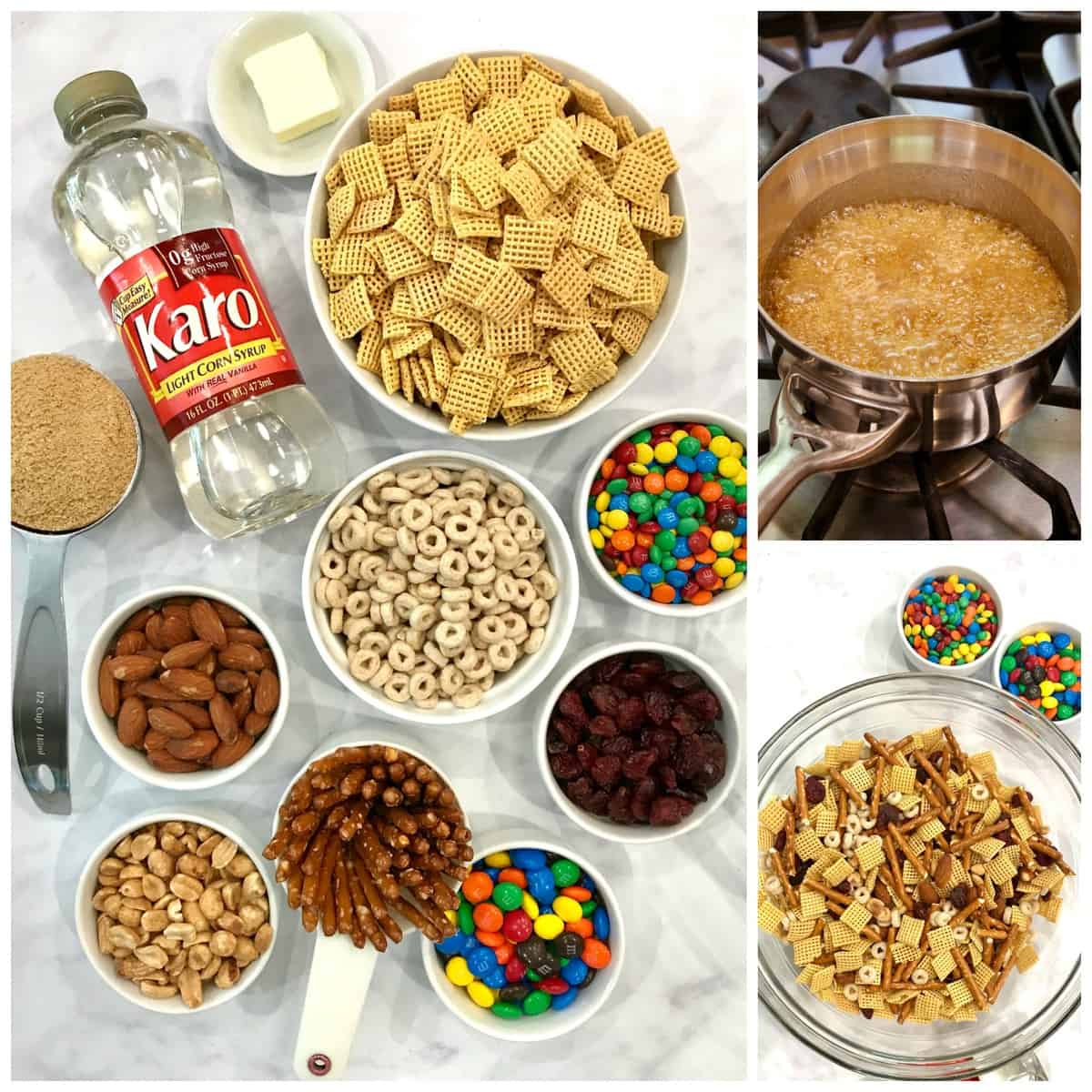 Toss to coat and then gently stir in the candy-coated milk chocolate pieces. Press the mixture into a prepared 8×8-inch pan. Let set in the refrigerator for about 30 minutes before cutting into bars.
For thinner bars, press the mixture into a 13×9-inch pan. For a snack mix, pour mixture evenly out onto a large parchment-lined sheet pan. Once cooled, break the snack mix into bite-sized clusters. Store in an airtight container.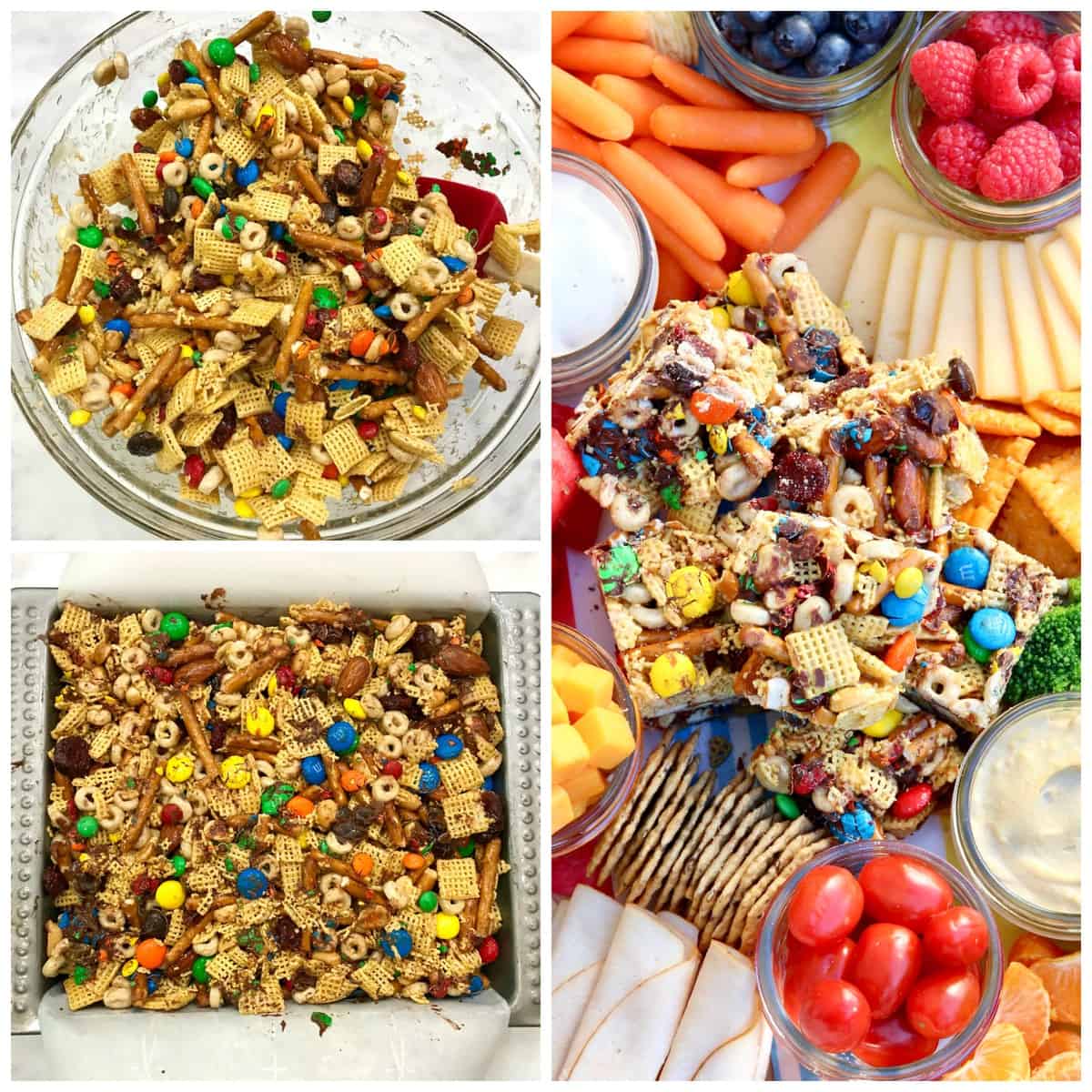 Watch this video to see how the No-Bake Peanut Butter Popcorn Balls are made…
For the No-Bake Peanut Butter Popcorn Balls, cook the Karo® Light Corn Syrup and sugar over medium heat, stirring occasionally, until mixture comes to a full boil. Remove from heat and stir in the peanut butter. Combine the popcorn and peanuts in a large mixing bowl. Immediately, pour the corn syrup mixture over the popcorn peanut mixture and stir to coat. Add the chilled candy-coated peanut butter pieces, mini chocolate peanut butter cups and peanut butter morsel chips. Toss gently to mix the candies throughout the popcorn mixture.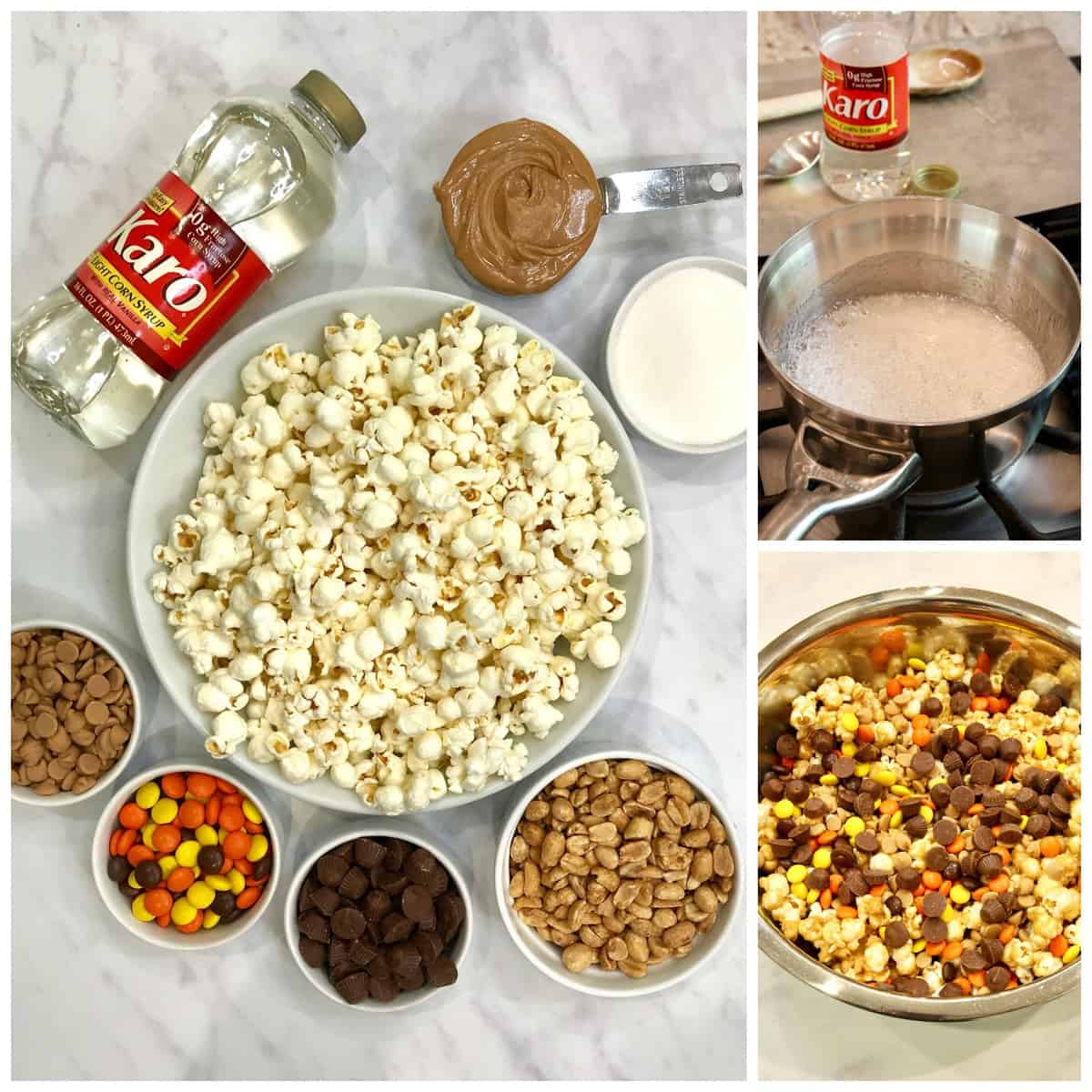 Spray your hands with non-stick cooking spray and shape the popcorn mixture firmly into small balls with your hands. You should get about 15 (2.5 inch) balls. Place them on parchment paper to cool completely. Popcorn balls are best enjoyed the day you make them, but can be stored in an airtight container for several days.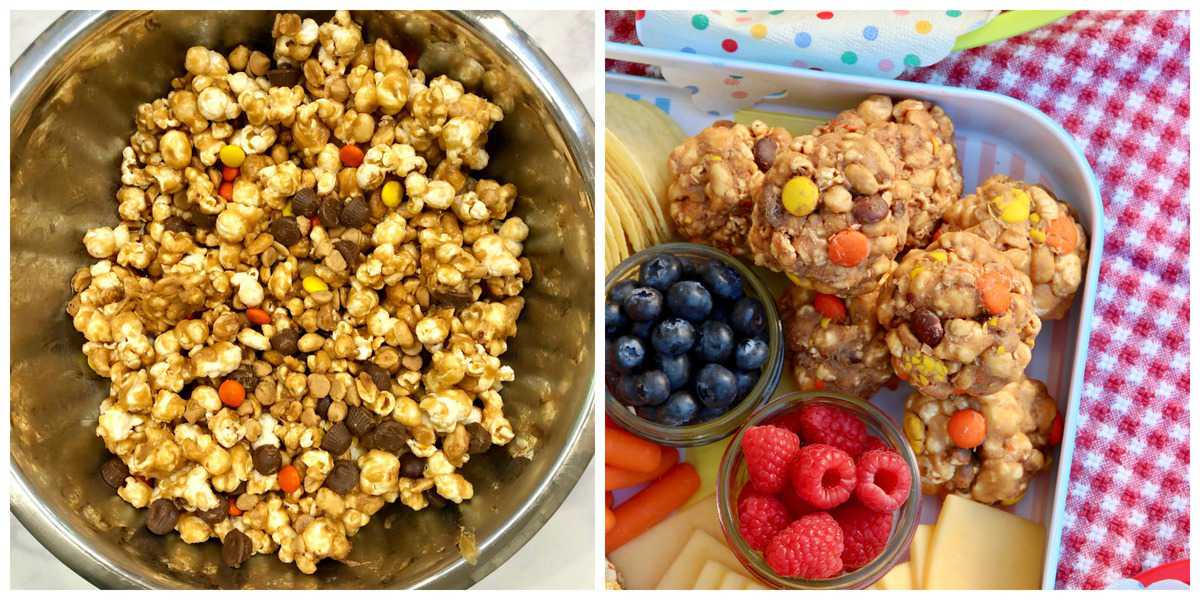 Now that you have the yummy no-bake treats made with Karo® Light Corn Syrup, you can add them to your picnic snack tray for a sweet addition that will make it all the more enjoyable!
Watch this video to see how the Summer Picnic Snack Tray comes together…
To build the snack tray, I like to use a rimmed tray with handles so it's easy to carry to the yard or transport to the car, if necessary. I place the dips (ranch and hummus), some of the smaller fruits and veggies (blueberries, raspberries, cherry tomatoes) and mini cheese cubes in small jars or serving bowls on the tray first. Next, I place the other snacks like cheese, sliced meats, crackers, chips, veggies and fruits across the tray, leaving spaces for the No-Bake Snack Mix Bars and No-Bake Peanut Butter Popcorn Balls.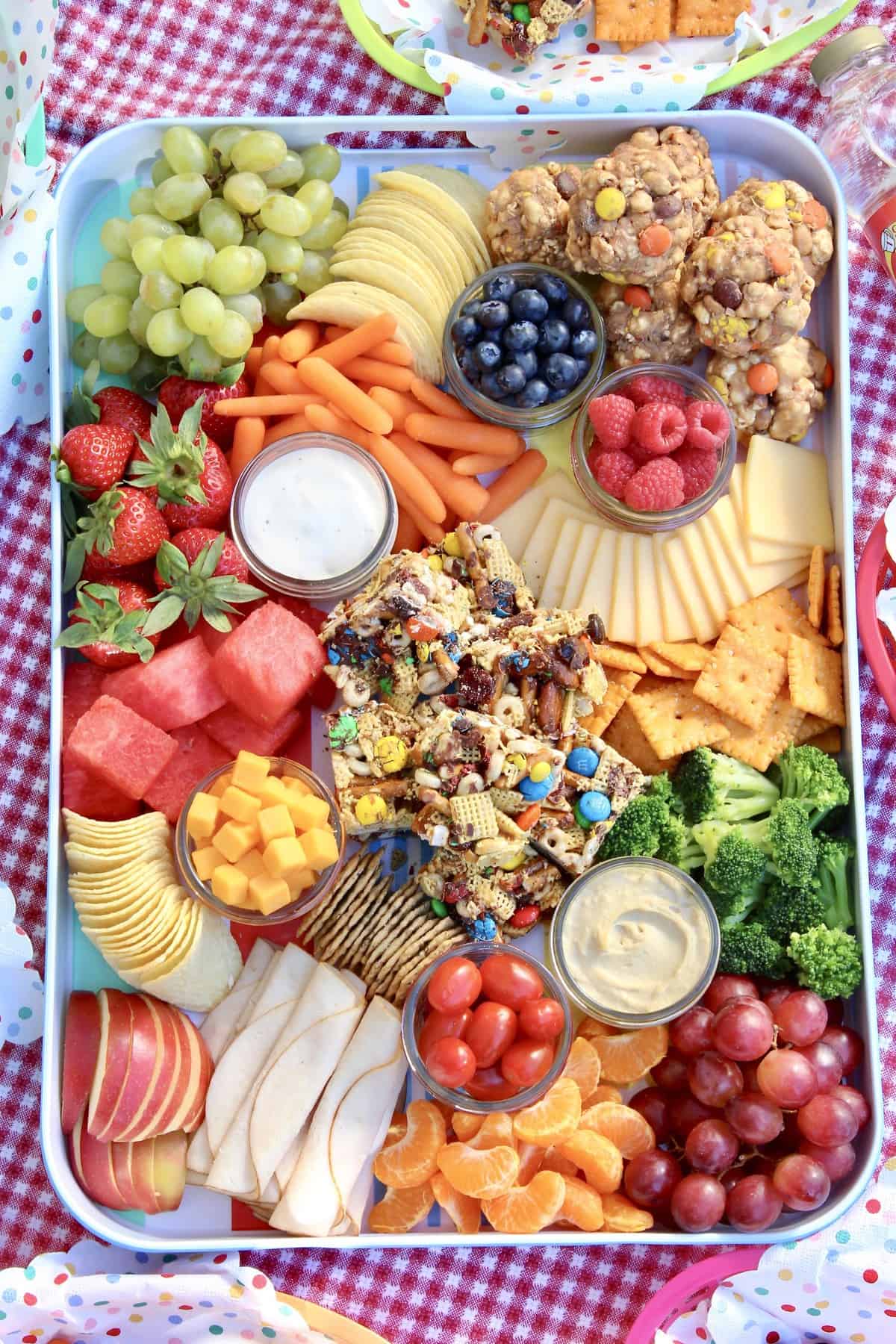 And that's all there is to it, my friends! So much deliciousness to choose from on this picnic snack tray. Everyone is sure to find several foods that they will enjoy snacking on. I encourage you to use the snacks you have on hand in your fridge and pantry when building a picnic snack tray and definitely include some of these no-bake treats as they're a summer must-make and always a crowd favorite!
Here's to a fun and yummy summer!
xoxo,

This post was created as part of my partnership with Karo® Corn Syrups however thoughts and opinions are certainly my own. Thank you for supporting the brands that make The BakerMama possible.