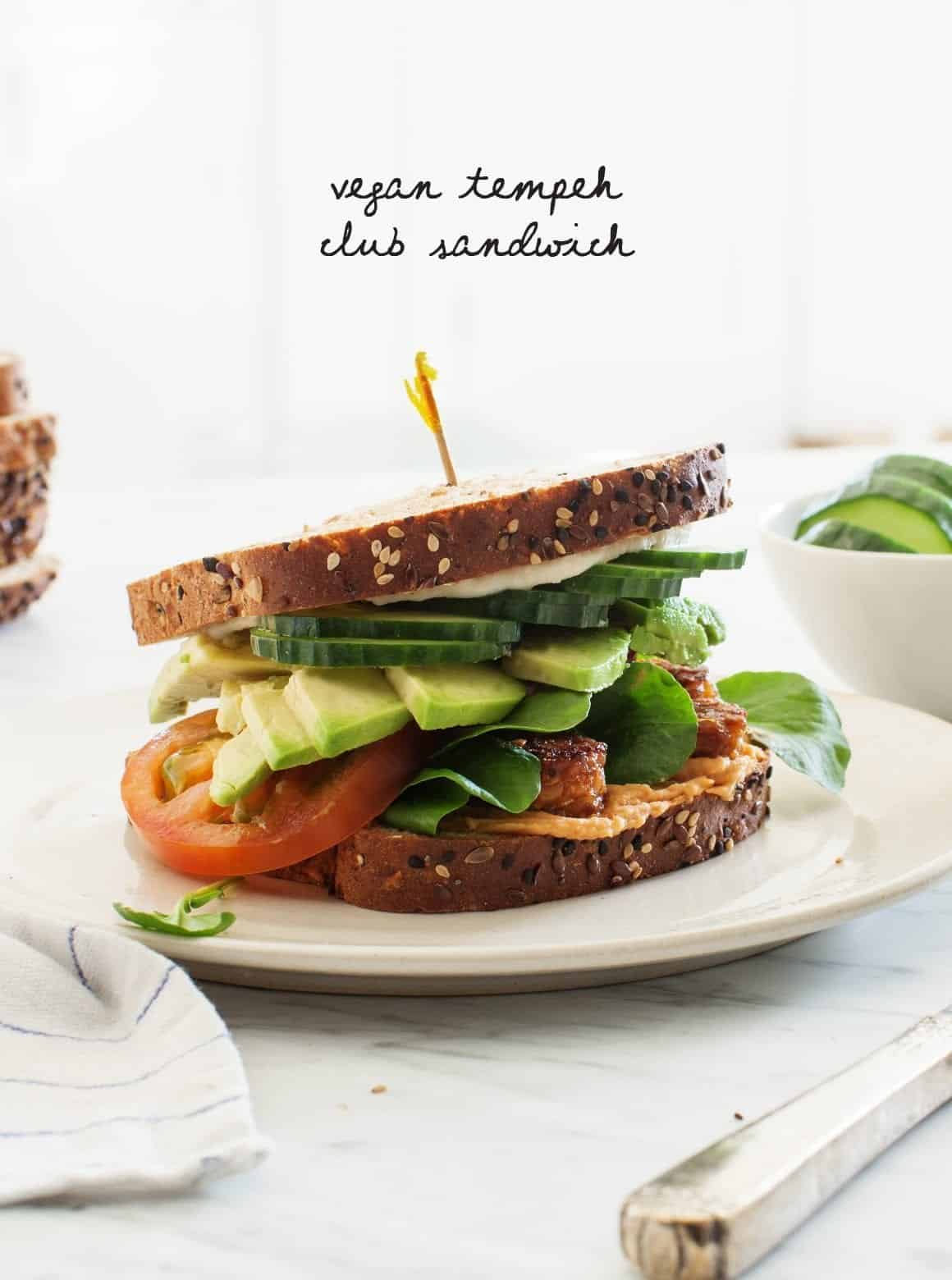 Someone recently asked me – when do you use tempeh? I responded with, "when I'm tired of tofu and chickpeas… that's when it's tempeh time :)" To be honest, no one really knocks down my door begging for more tempeh recipes, but since that interview, I've had tempeh on the brain. Its texture is so wonderfully meat-like but it only tastes as good as what's around it. Time to marinade!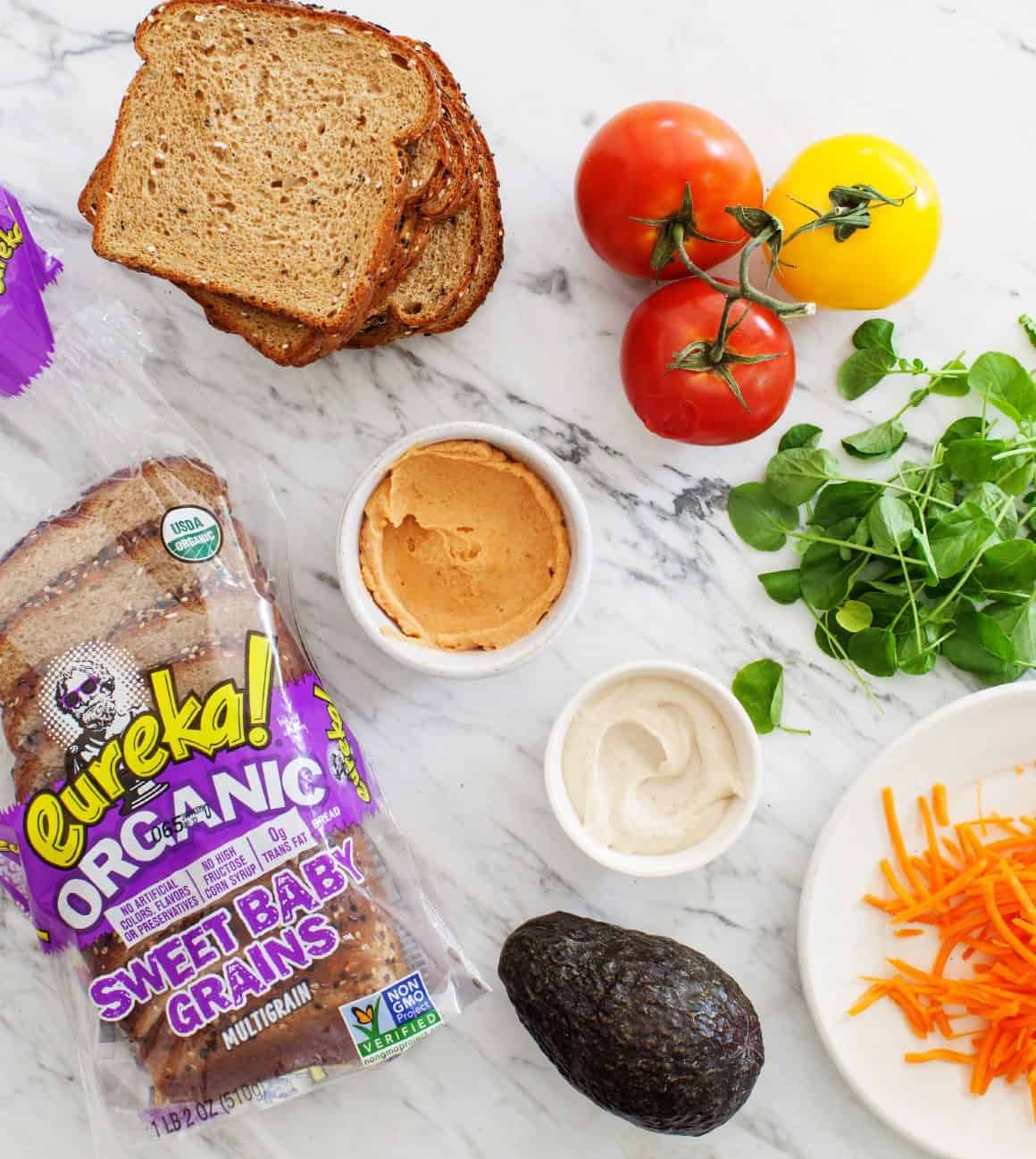 The marinade I created is a smoky mixture that includes tamari, maple syrup, ground cumin, and smoked paprika. When you first mix this together, the flavor is going to be very (very) salty and pungent, but since plain tempeh starts out with literally ZERO flavor, it'll all balance out in the end. I bake the tempeh with most of the marinade, while reserving the excess to pour onto the strips post-bake for extra flavor. Since we're not dealing with raw meat, it's ok to reuse your marinade like this.
Speaking of things that aren't bland, we're partnering with eureka!® Organic Bread on this post. (You might remember this springy edamame sandwich from last year!). Their bread is seriously tasty. It's vegan, non GMO, and full of good-for-you grains and seeds. Most importantly, it's soft, chewy and delicious. Whenever I used to bring home other "healthy" breads, Jack would always give me a sideways glance because so many of them often taste like cardboard. But we both really love the taste and texture of eureka! Organic's Breads – their Top Seed® and their Sweet Baby Grains® (pictured in this post), are our favorites.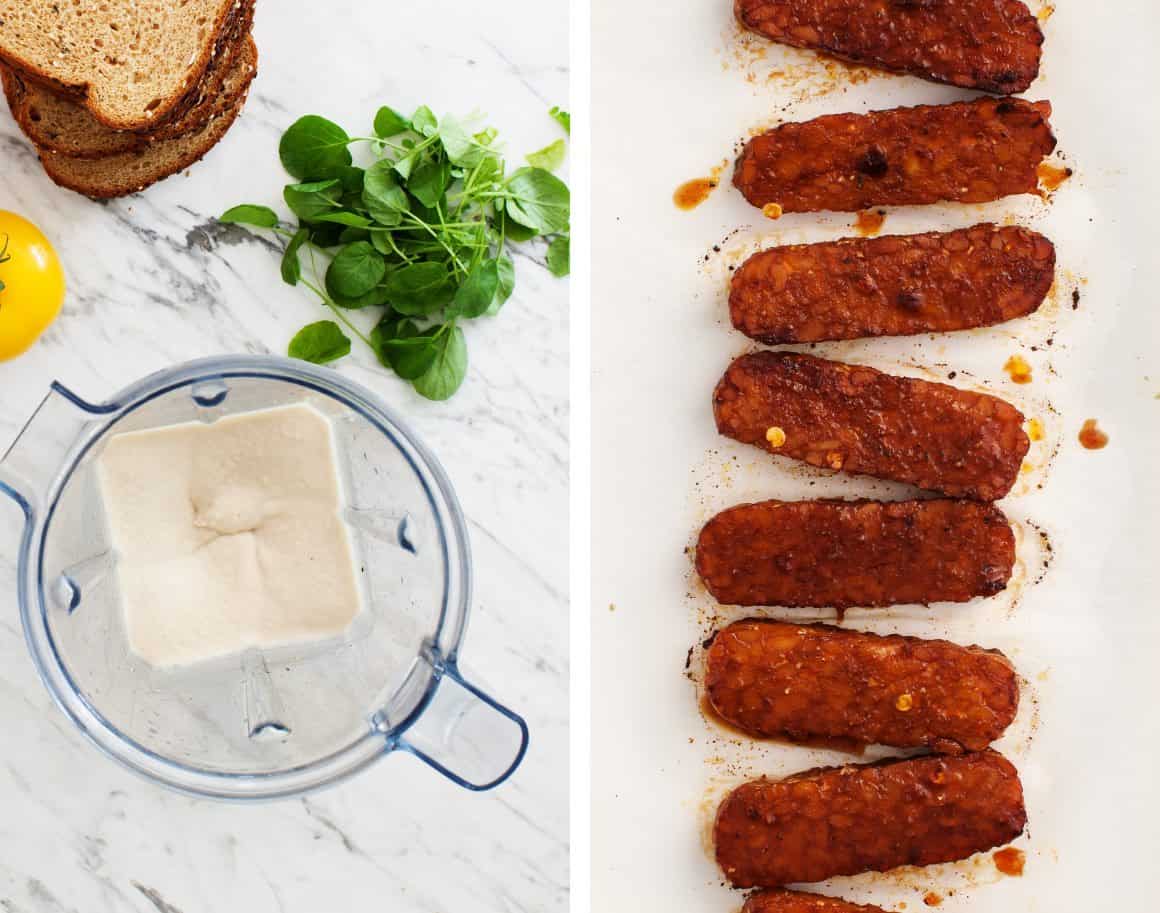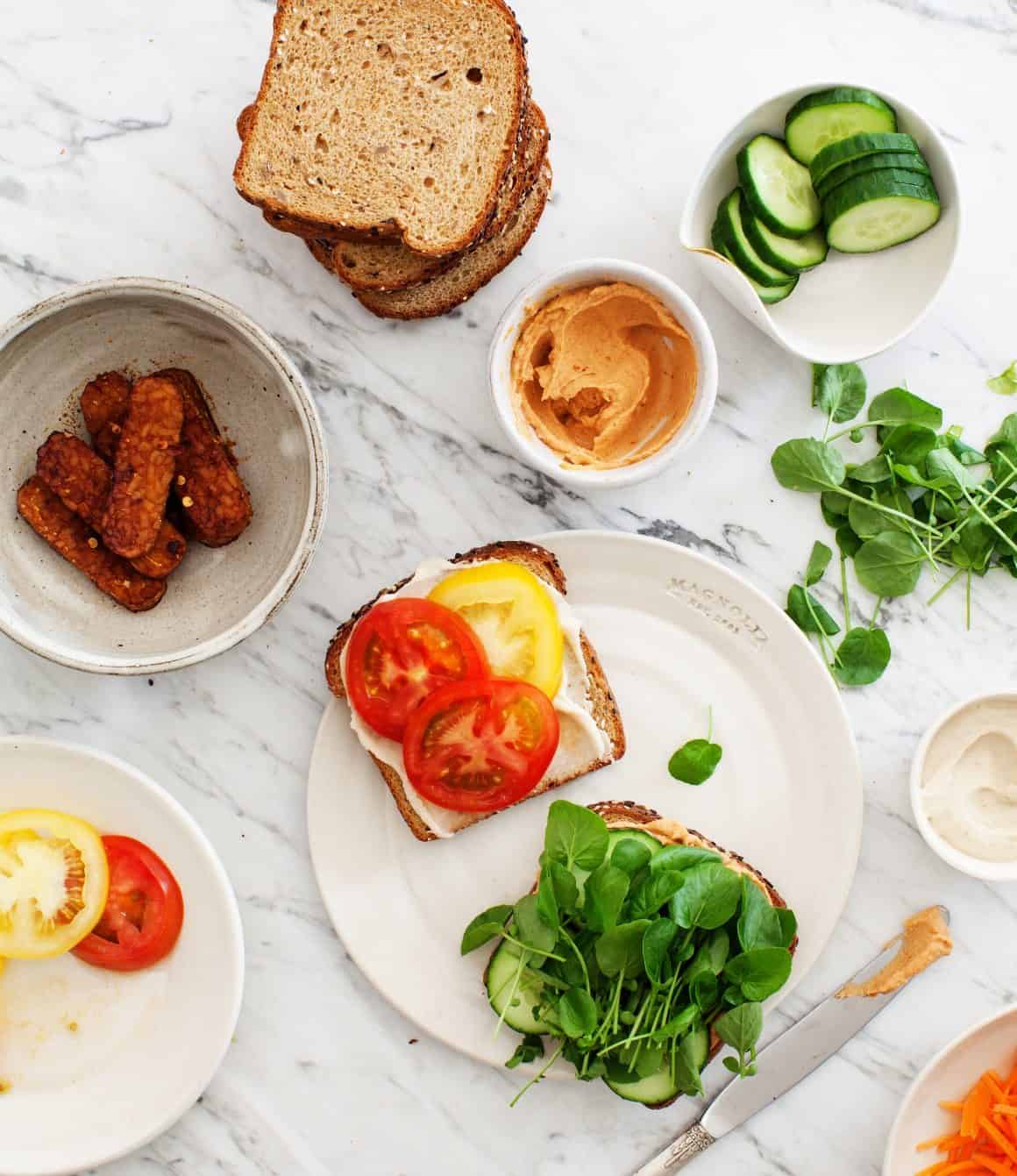 Instead of mayo, I slathered this sandwich with 2 flavorful spreads. The first is a lemony garlic white bean spread. The second is a sun dried tomato spread that I made by blending half of the original white bean spread with a few sun dried tomatoes.
I stacked my sandwiches with peppery watercress, crisp cucumber slices, and ripe avocado slices. You can see that there are some carrots up there in my prep photos but once I started building my sandwich since I got a little carried away with avocado slices and they didn't fit. Obviously, feel free to build your sandwiches however you like!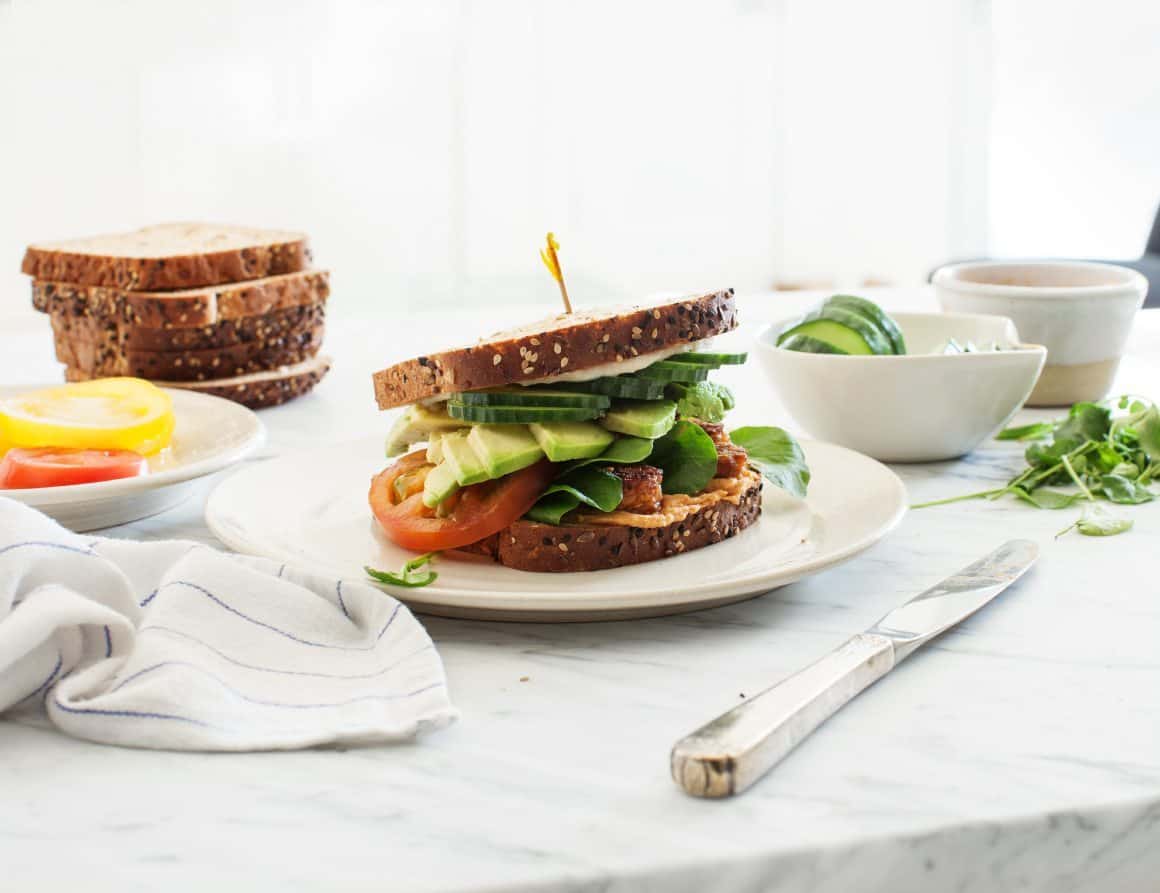 Tempeh Vegan Club Sandwiches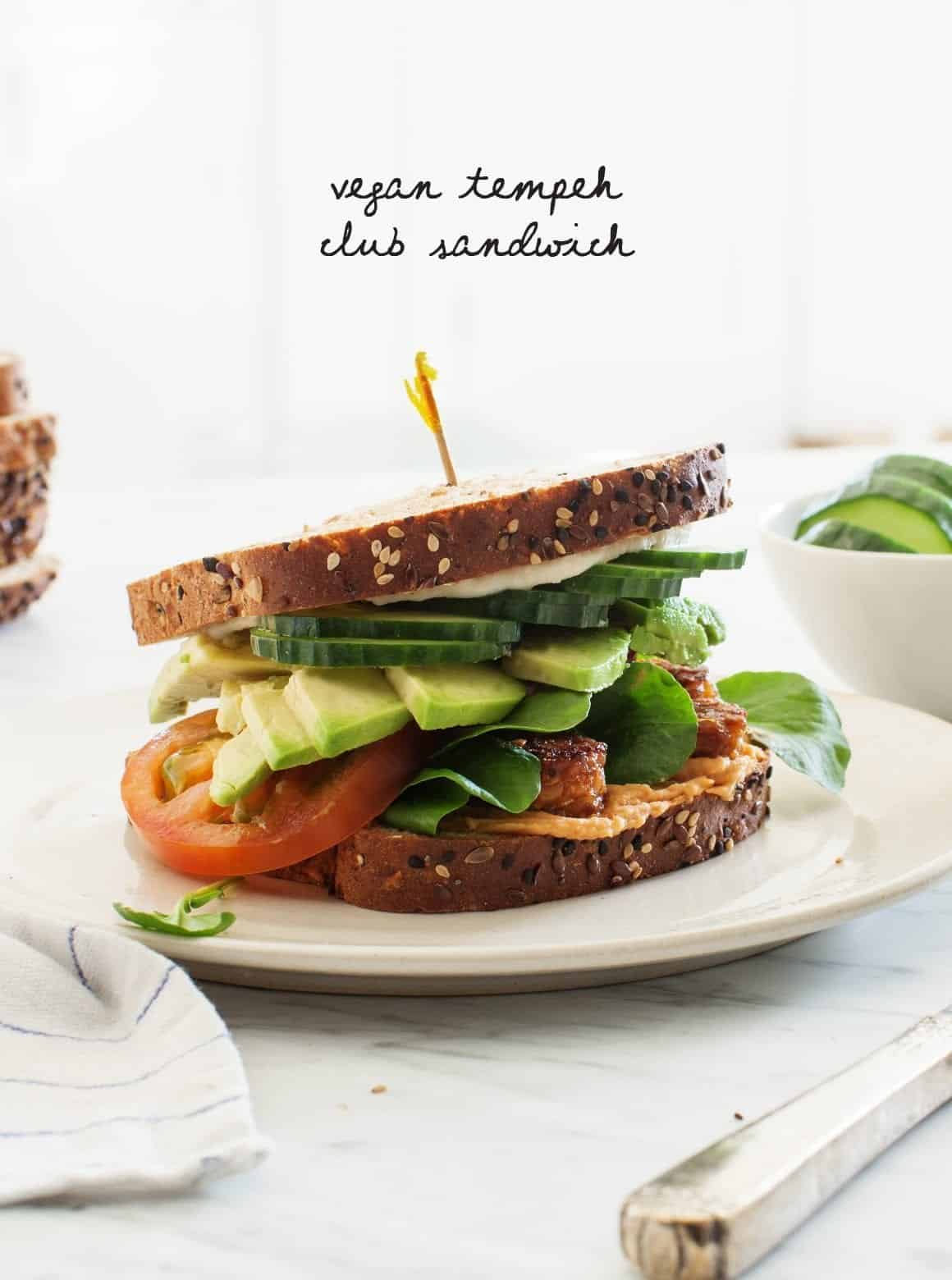 1 (8-ounce) package tempeh, sliced into about 15 slices
¼ cup tamari
2 tablespoons extra-virgin olive oil
2 tablespoon rice vinegar
2 tablespoon maple syrup
½ teaspoon ground cumin
½ teaspoon smoked paprika
Freshly ground black pepper
1 (15-ounce) can white beans
2 tablespoons extra-virgin olive oil
Juice of 1 medium lemon
2 garlic cloves
¼ teaspoon salt
Freshly ground black pepper
3 to 4 sun-dried tomatoes
Make the tempeh marinade. In a small bowl, whisk together the tamari, olive oil, rice vinegar, maple syrup, cumin, paprika, and several grinds of pepper. Place the tempeh in a shallow dish and pour the marinade on top. Gently flip the tempeh pieces to make sure all sides are coated with the marinade. Marinate in the fridge for at least 30 minutes.
Make the sandwich spreads. In a blender or small food processor, make the White Bean spread by pureeing the white beans, olive oil, lemon juice, garlic, salt and pepper. Blend until smooth, adding 1 to 2 tablespoons of water if necessary to blend. Set aside half of the puree. Make the Sun-Dried Tomato spread by adding the sun-dried tomatoes. Blend again, adding 1 to 2 tablespoons of water if necessary to blend. Chill the spreads until ready to use. Alternatively, just make 1 spread by pureeing everything at once, including or omitting the sun-dried tomatoes, as desired. Chill until ready to use.
Preheat the oven to 425°F and line a baking sheet with parchment paper. Remove the tempeh from the fridge and place the strips on the baking sheet, reserving the remaining marinade. Bake for 20 minutes. Remove from the oven and drizzle the remaining marinade onto the tempeh slices.
Assemble 4 sandwiches with the bread (toasted if you like), spreads, tempeh, watercress, tomato, cucumber, and avocado.
3.4.3177
This post is sponsored by eureka! Organic Bread. All opinions, images and words are my own. CLICK HERE to find a store that carries their breads near you.