I'm obsessed with this THAI STYLE INSTANT POT BRISKET! The flavor is incredible and the pressure cooker makes things so quick and easy. This is a winning recipe that our family will make again and again.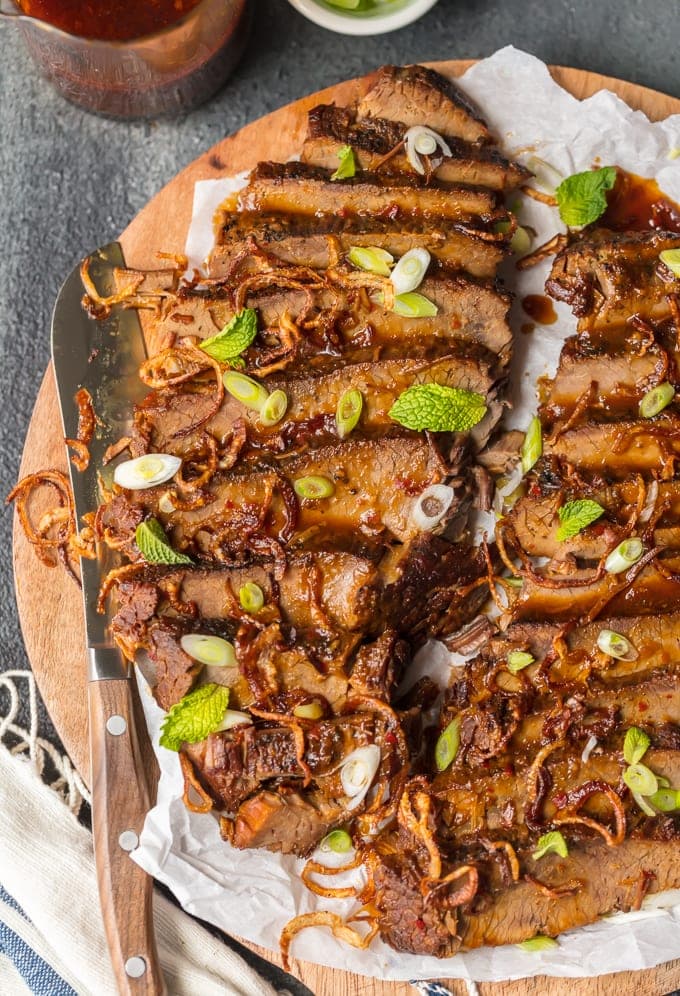 You guys, I have been LOVING my Instant Pot (click for my favorite, or see my two favorites below in the Shop This Post section!). We have made everything from Spiral Ham to Zuppa Tuscana and we are just getting started. The pressure cooker is an incredible tool for making cooking easier, ESPECIALLY for meats that typically take a long time to cook. This Instant Pot Thai Style Brisket is so full of flavor, unique, and DELICIOUS. It's a stunner and if you're just getting used to your IP, it's an awesome recipe to get your feet wet. What are you waiting for?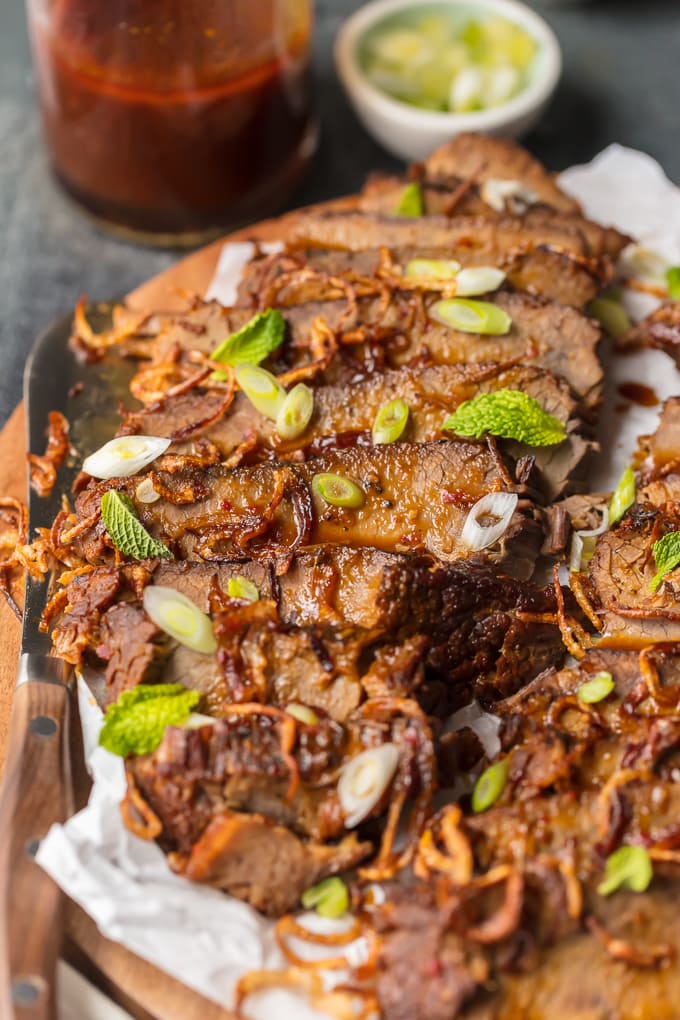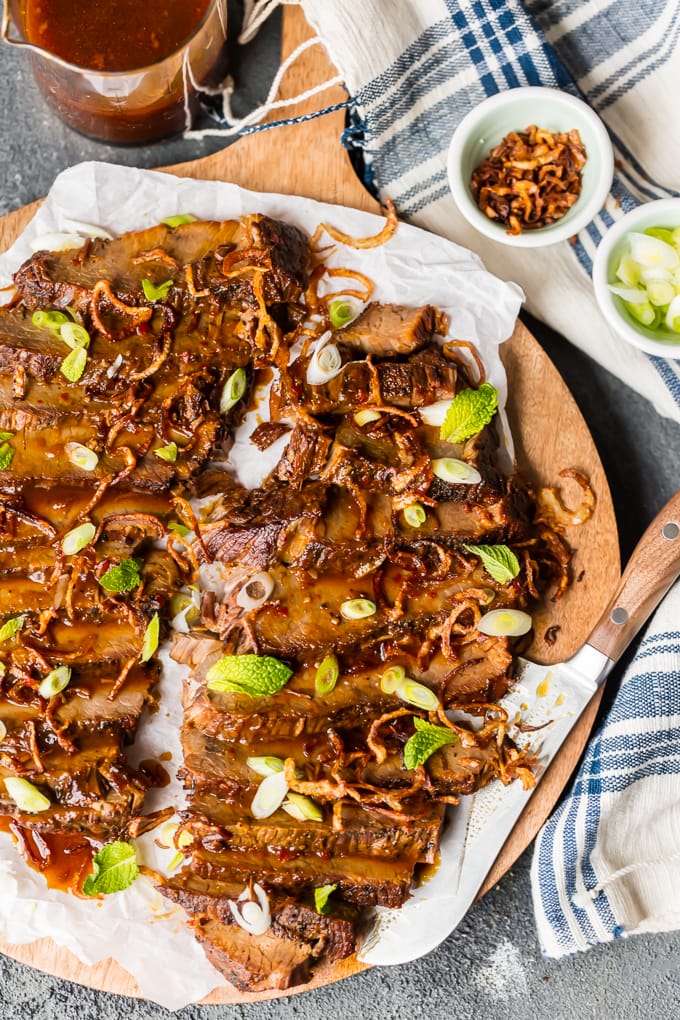 I was so blown away by the flavors in this Thai Brisket. It's great with the fried shallots and sauce, but the fresh mint completely kicks it up a notch. Flavor explosion! It would be awesome in tacos, on sliders, on its own with mashed potatoes, or even on nachos! The great thing about making brisket is you're sure to have leftovers and can get creative. The sky is the limit with this special recipe. I can't wait to see what you come up with.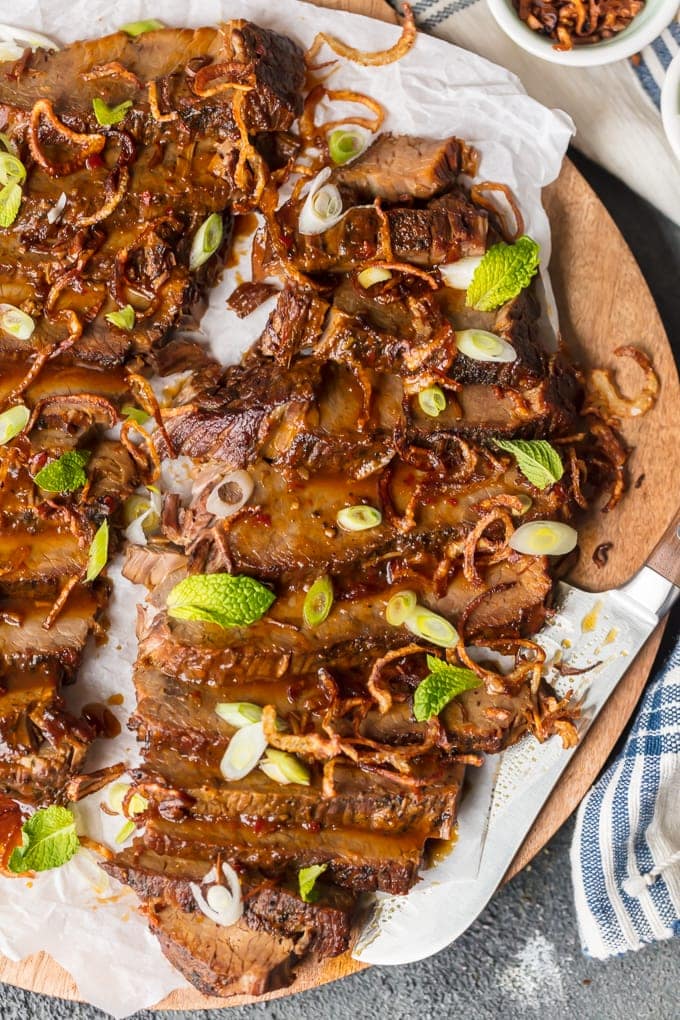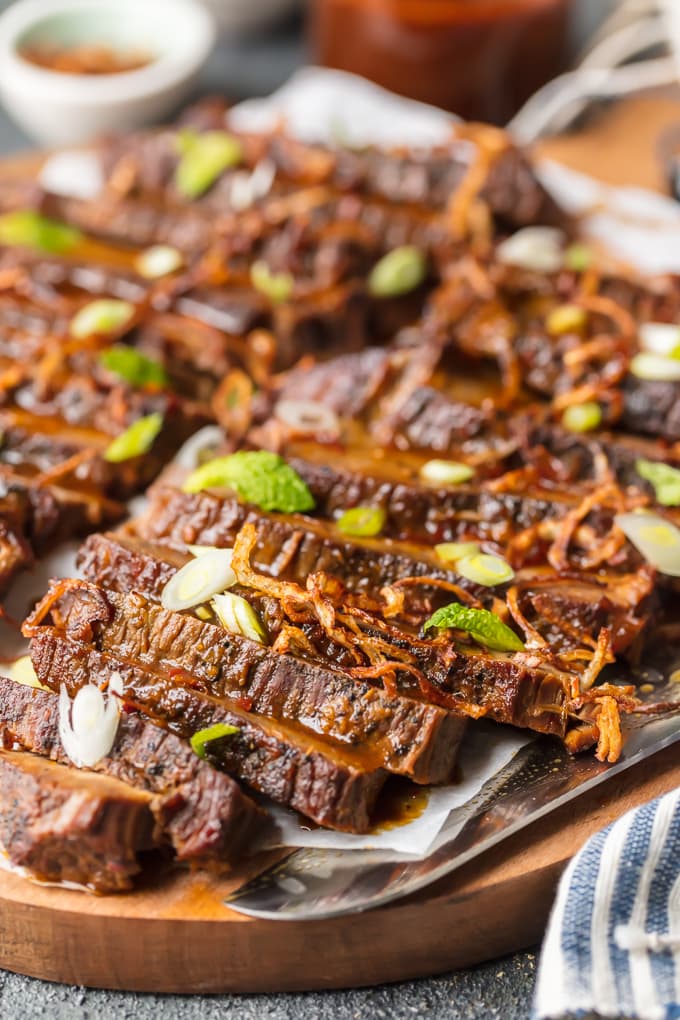 If you're looking for unique and amazing Instant Pot recipes, you've come to the right place! Be sure to check out all of our other options, but this Instant Pot Brisket is definitely a front runner. THE SAUCE! You have to try it. Such an easy option for feeding your family or friends. You're gonna love it, I just know it. And don't skip the fresh mint. We almost didn't add that in and we would truly be missing out. You've gotta taste it all together to really enjoy it to its full potential.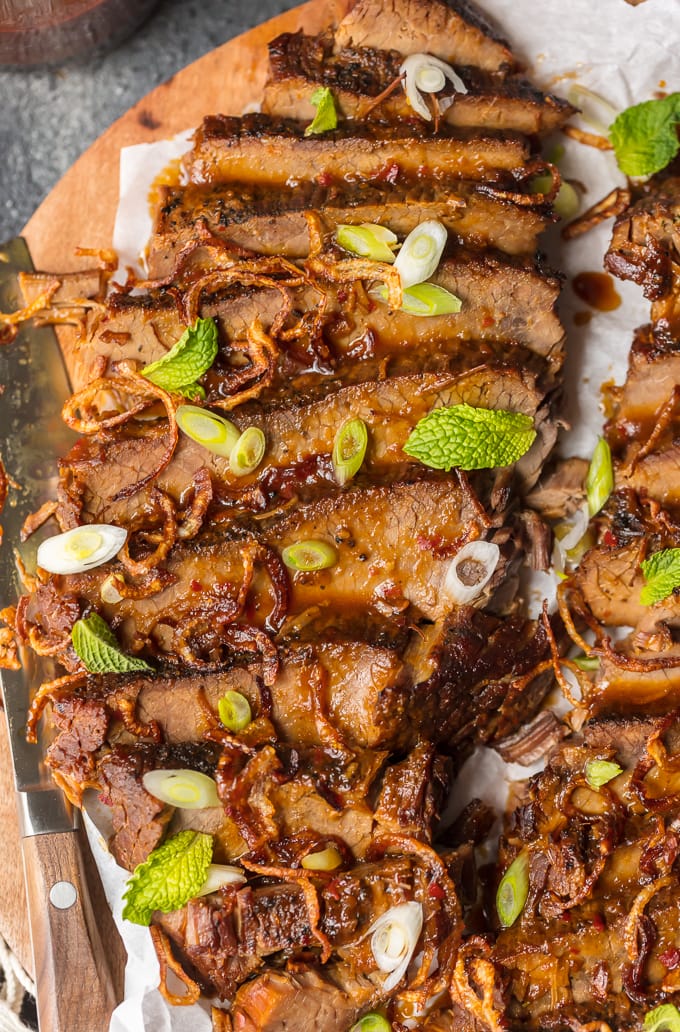 Enjoy!
Thai Style Instant Pot Brisket
I'm obsessed with this THAI STYLE INSTANT POT BRISKET! The flavor is incredible and the pressure cooker makes things so quick and easy. This is a winning recipe that our family will make again and again.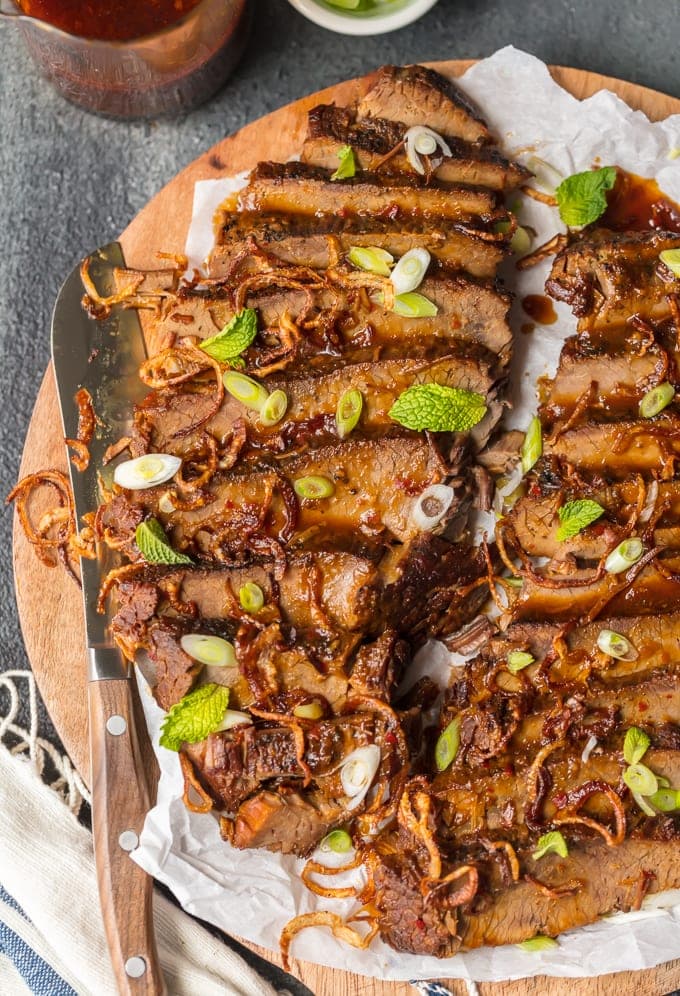 5 based on 1 review(s)
Ingredients
For the Brisket & Marinade:

3 pound trimmed beef brisket
Kosher salt & freshly ground black pepper
1 tablespoon rice or cider vinegar
1 tablespoons ginger paste or 2 teaspoons grated fresh ginger
1 teaspoon fish sauce, optional
1 (6.57 ounce) bottle Thai Sweet Red Chili sauce
2 tablespoons brown sugar
2 tablespoons soy sauce
1 teaspoon crushed red pepper flakes
¼ cup fresh mint leaves, chopped
¼ cup water
2 tablespoons vegetable or peanut oil
1 tablespoon butter
1 medium yellow onion, peeled & chopped
4 garlic cloves, peeled & chopped

For the Fried Shallots: (optional garnish, but oh. so. good!)

2 shallots, ends trimmed & thinly sliced
2 cups vegetable oil
kosher salt

Garnishes:

Fried shallots
Chopped unsalted roasted peanuts
Chopped fresh mint leaves (a fragrant and crazy-delicious garnish)
Green onions sliced diagonally
Chopped fresh cilantro leaves (if mint isn't available)
Instructions
For the Brisket:

Season beef on all sides with kosher salt & pepper and cut the beef in half across the grain.
In a medium bowl, combine the rice vinegar, ginger paste, fish sauce, Thai chili sauce, brown sugar, soy sauce, red pepper flakes, mint leaves and water. Mix well.
Place the beef in a gallon-size, resealable bag and pour the marinade over the beef. Seal the bag, squeeze the marinade into the beef (through the bag) and and lay the beef flat so the marinade covers it. Place the beef in the fridge 30 minutes, then flip the bag over to ensure all the beef is marinated. Marinate an additional 30 minutes. *See note.
While the beef marinades, chop the onion and garlic and fry the shallots.

To fry the shallots:

Peel and slice the shallots very thinly. Place a plate covered with three, stacked, paper towels and set it next to the stove. Heat 2 cups of oil in a medium, heavy-bottom stovetop pan until it tests 350°F with a food thermometer. Divide the sliced shallots into separate rings (as much as possible) and carefully place the sliced shallots in the hot oil. Stir and fry until the shallots are light golden brown. Transfer shallots to the paper towel-lined plate to drain. Season with kosher salt and set aside to dry and until ready to use.
After beef has marinated, remove it from the fridge.
Set the Instant Pot to sauté and, after one minute, add 2 tablespoons oil and 1 tablespoon butter. Add the chopped onions and cook until onions are translucent. Add the chopped garlic and cook 30 seconds.
Turn Instant Pot to Keep warm/Cancel, and place the Instant Pot trivet over the onion/garlic mixture.
Set one portion of the beef, fat side up, on the trivet and pour half the marinade over the beef. Set the other half, fat side up, on top of the first half and pour on the rest of the marinade.
Set Instant Pot to Manual and set the timer to 50 minutes. After 20 minutes of natural release, cover the valve with a dishcloth and turn the valve to quick release. When the red button (float valve) on the lid goes down, the lid is safe to open.
Open the lid and transfer the meat to a plate. Remove the trivet.
Use an immersion (hand) blender, to purée the remaining sauce while it is still in the pot. This is the sauce served with the beef. (If you don't own an immersion blender, carefully pour half the liquid to a regular blender and purée it. Repeat with the remaining liquid.)
If serving immediately, pull the beef apart, into chunks, using two forks. If wanting sliced beef, cool the beef about 30 minutes then transfer to the fridge. When the beef is cold, slice it into 1/2 -inch slices.
Serve the beef over a plate of jasmine or white rice and garnish with sliced green onions, fried shallots and small mint leaves. A perfect side is roasted broccoli.
Enjoy!
*Note: If marinating only 30 minutes, flip the beef over after 15 minutes.
Notes
***Marinate the beef 30-60 minutes before cooking.
7.6.7
2538
https://www.thecookierookie.com/thai-style-instant-pot-brisket/
Did you make this recipe?
Shop This Post

Becky woke up on her 30th birthday and realized she didn't know how to cook, ANYTHING! She started The Cookie Rookie as a way to document her journey to learn how to cook, one recipe at a time! The Cookie Rookie is a place to find easy recipes that anyone can make, and everyone will love!