These are the best Cinnamon Buns you'll ever make! They are soft, fluffy cinnamon rolls, and have the best gooey caramel sauce in the bottom of the pan. They're easy to make ahead and freezer friendly!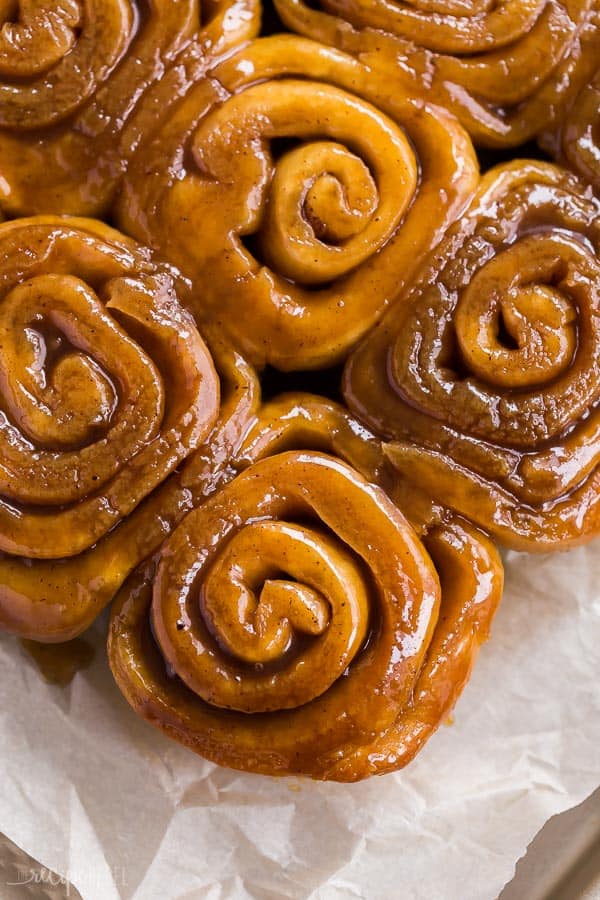 Cinnamon buns, cinnamon rolls, cinnamon roll bites…. these are a few of my favorite things.
A few of my favorite things that I rarely ever make, because I know all too well what happens when they're in my house. I could sit down and eat a dangerous amount of these Cinnamon Buns!
They are perfectly soft and fluffy, and my family's top secret (not really) cinnamon bun sauce coats the bottom of the pan, taking them over the edge. The sauce really is the key to making these the best cinnamon buns you've ever had!
I've made some cinnamon roll recipes that have a simple butter and sugar mixture in the pan, and the end result is just sticky, and it firms up as it cools and it sticks all over your teeth and is, dare I say, almost an unpleasant experience.
This sauce is not like that. I know it's an extra step, but let's face it — you're already spending a few hours committed to making cinnamon buns. Don't start cutting corners now!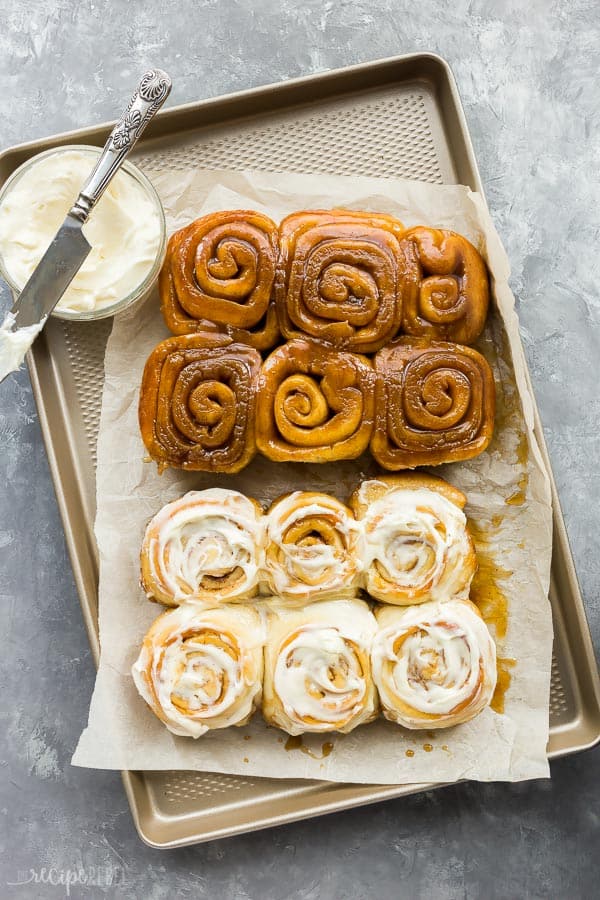 How to make Cinnamon Buns:
Start with your dough: take your time, and read through the instructions carefully. You want to make sure that your water isn't too warm or too cold, or it won't activate the yeast. Thankfully, you can see if your yeast is blooming before you add it to your dough. If it doesn't bubble and froth, then you may want to start again with a fresh packet of yeast.
Let it rise: you don't want to skimp on the rise time, as this is what makes your Cinnamon Buns fluffy and soft. I like to place my dough, covered, in the oven with the light on. It provides a warm, draft-free environment that is optimal for proofing dough.
Roll it up tight: You want to try to keep the dough tight when you're rolling so that alllllll of that sugary cinnamony goodness will stay inside and not leak out.
Use the right knife: I prefer to use a serrated knife for slicing cinnamon rolls as there will be less squishing and your rolls will be rounder and hold in more of that cinnamon sugar filling.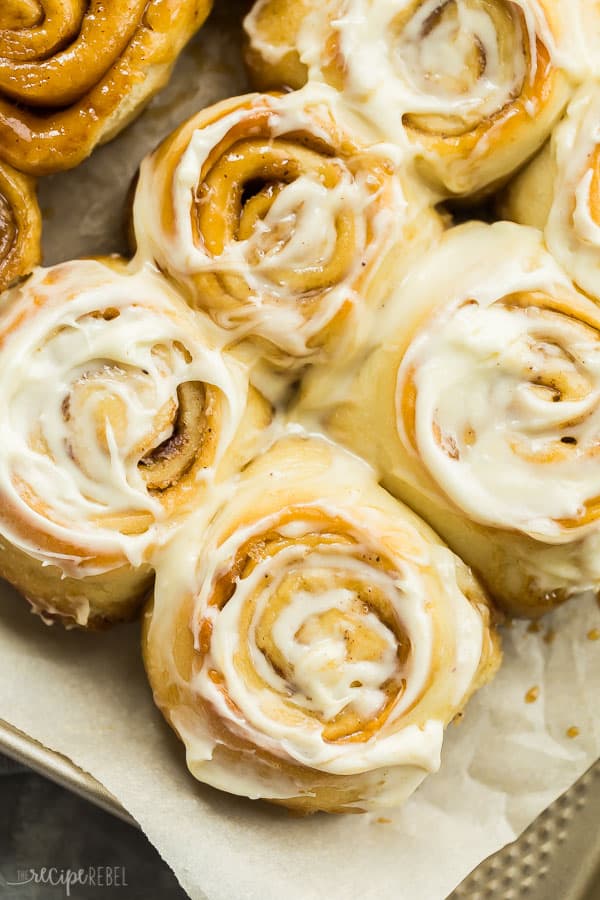 How to store Cinnamon Buns:
On the counter:
The baked Cinnamon Rolls can be stored on the counter for 3-4 days without frosting. Because I use a cream cheese frosting, that can't be left out. If you want to store them at room temperature, simply leave the frosting in a container in the fridge and frost them only when serving.
In the refrigerator:
You can place your pan of rolled, unbaked cinnamon buns in the fridge, covered in plastic wrap, up to 24 hours before baking. When ready to bake, simply leave on the counter for 20-30 minutes while your oven preheats, then bake as directed.
You can refrigerate the baked cinnamon buns up to 1 week with frosting in the fridge. But I bet they won't last that long 😉
How to freeze Cinnamon Buns:
You can freeze the prepared pan of unbaked cinnamon buns for up to 3 months, but I actually don't recommend this because I've never found them as fluffy as baking them right away.
You can freeze the baked cinnamon rolls, with frosting, covered tightly, up to 3 months. This is the way I prefer to freeze them! You can also leave the frosting off, and reheat them gently in the oven at 225 degrees F for 20 minutes, and they will taste fresh out of the oven!
Frosting for Cinnamon Rolls or Cinnamon Buns:
There is really only one answer here: it's gotta be cream cheese. The way the tanginess of the cream cheese complements the sweet, sticky, gooey sauce…. it's just unreal. Crazy good.
If you want it to sink into all of those crevices, be sure to spread it on while the cinnamon buns are still warm and let it get a little melty all up on those rolls.
Since these are so ridiculously good, you can skip the frosting and just eat them as is, and I'm pretty sure you'll have no complaints 😉