These soft and chewy oatmeal raisin cookies are a family-favorite! This classic cookie recipe is easy to make and goes great with a glass of milk. Seriously one of the best oatmeal raisin cookie recipes you'll ever make.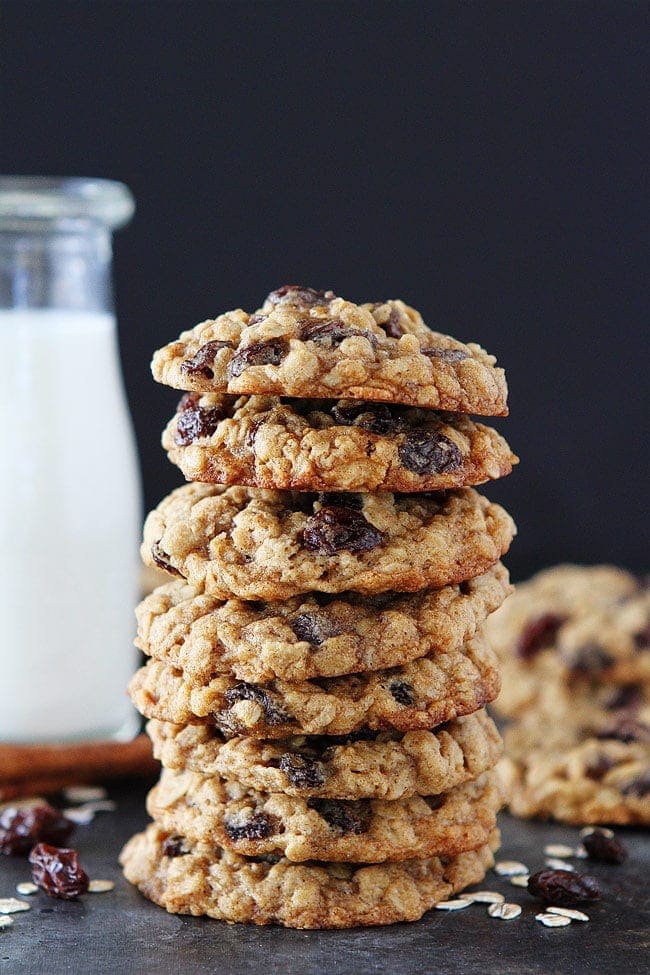 Classic Oatmeal Raisin Cookies
We went on a road trip and I made a batch of Chewy Oatmeal Raisin Cookies to take with us. Cookies are a necessity for road trips, especially these soft and chewy oatmeal raisin cookies. They are PERFECTION! They are the BEST oatmeal raisin cookies out there. I have tried a lot so trust me on this one.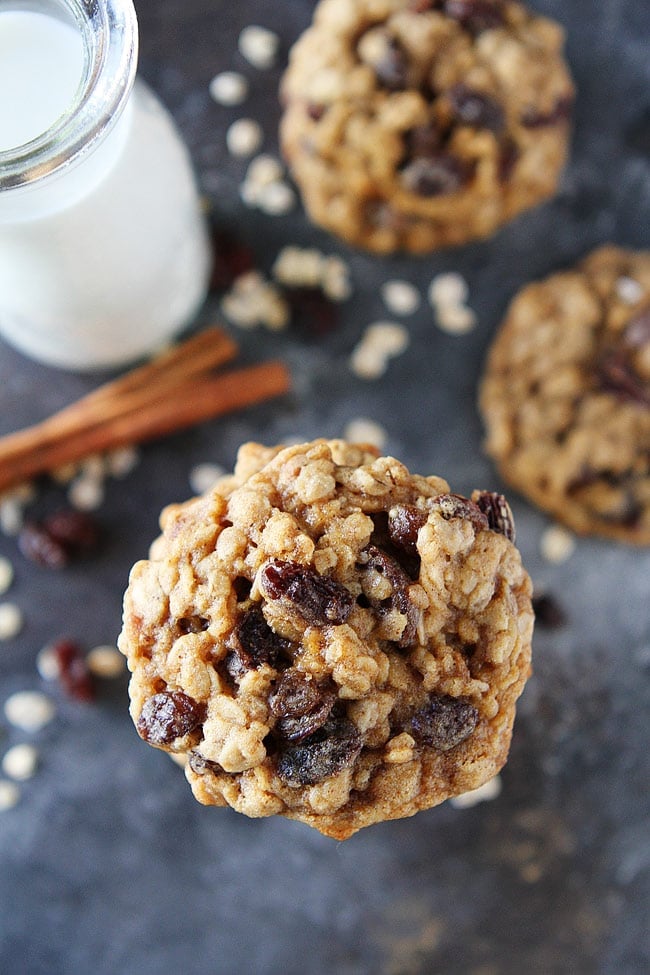 A Family Favorite!
I grew up loving oatmeal raisin cookies because my dad LOVES raisins. Oatmeal raisin cookies are a classic cookie. My dad would always make homemade cookies for us and oatmeal raisin were always one of our favorites. I grew up eating these cookies and they are for sure a family favorite!

OTHER RECIPES
How do you make oatmeal cookies with raisins?
It's SO easy! We start with a chewy oatmeal cookie recipe. I really like this cookie recipe because it is so soft and chewy. The butter, brown sugar, and oats make the cookies super chewy. This recipe has ALL brown sugar and no granulated sugar creating a super chewy cookie.
To plump up the raisins, soak them in hot water before adding them to the cookie dough. Just make sure you drain then well and dry them on a paper towel so they don't add too much moisture to the cookies.
I use old fashioned oats for this recipe, not quick oats. I like the bigger, chewy oats!
Good oatmeal raisin cookies need to have cinnamon and a little pinch of nutmeg. The spices give the cookies so much flavor.
If you don't like raisins in your cookies, I am sorry:) You can use chocolate chips instead of raisins if you must:)
This is the PERFECT recipe for Oatmeal Raisin Cookies! They are a classic and I hope you enjoy them as much as we do!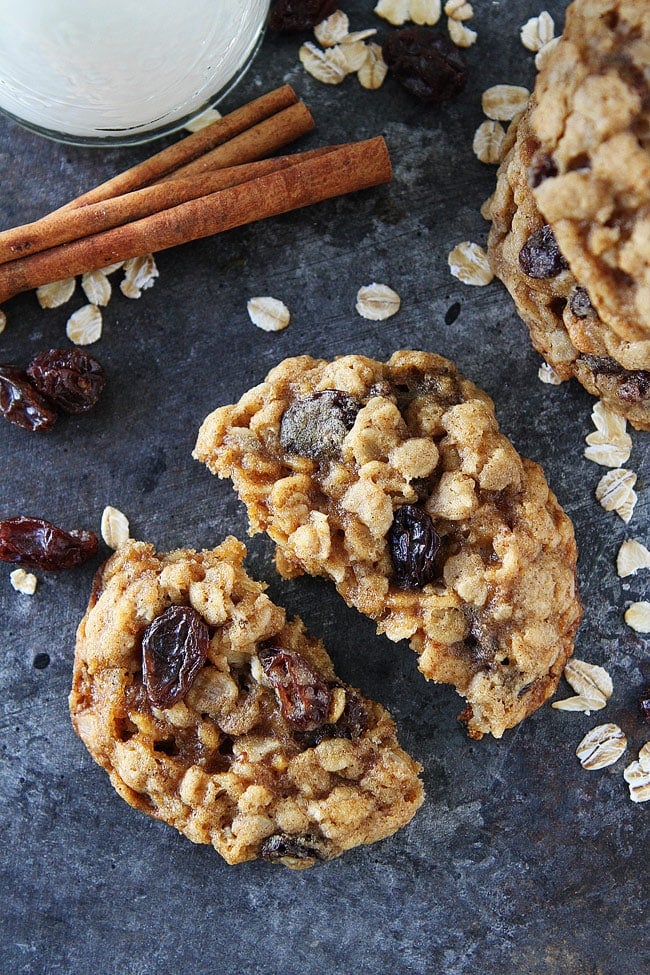 Other Oatmeal Cookie Recipes To Try:
Oatmeal Raisin Cookie Recipe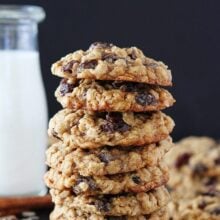 These soft and chewy oatmeal raisin cookies are the BEST!
Yield: 2 1/2 dozen cookies
Prep Time: 15 minutes
Cook Time: 12 minutes
Ingredients:
1/2 cup unsalted butter, softened
2/3 cup light brown sugar
1 large egg
1 teaspoon vanilla extract
3/4 cup all-purpose flour
1/2 teaspoon baking soda
3/4 teaspoon ground cinnamon
1/8 teaspoon ground nutmeg
1/4 teaspoon salt
1 1/2 cups old fashioned oats
3/4 cup of raisins
Directions:
Preheat oven to 350°F. Line a large baking sheet with parchment paper or a Silpat baking mat. Set aside.
In a small bowl add the raisins and cover with water. Let them sit for five minutes. This will help plump them up. Make sure you drain them well and let them dry out on a paper towel.
In a large bowl, cream together the butter, brown sugar, egg and vanilla until smooth and creamy. In a separate small bowl, whisk together the flour, baking soda, cinnamon, nutmeg, and salt. Add the dry ingredients to the butter/sugar mixture. Blend until combined. Stir in the oats and raisins.
Spoon about a tablespoon of dough into a round ball and place on prepared baking sheet, leaving about 2-inches between each cookie. Bake them for 10 to 12 minutes. Take them out when they are golden at the edges but still a little under baked in the middle. Let them sit on the hot baking sheet for five minutes before transferring them to cooling rack.


All images and text ©Two Peas & Their Pod.




Follow twopeasandpod on Instagram and show us what recipes you are making from our blog! Use the hashtag #twopeasandtheirpod! We want to see what you are making in your kitchen!