Easy1 hour 15 minsVegan
This Baked Sweet Potato Fries recipe is legit-crispy, easy to make, perfectly seasoned, and guaranteed to disappear pretty much…immediately.  🙂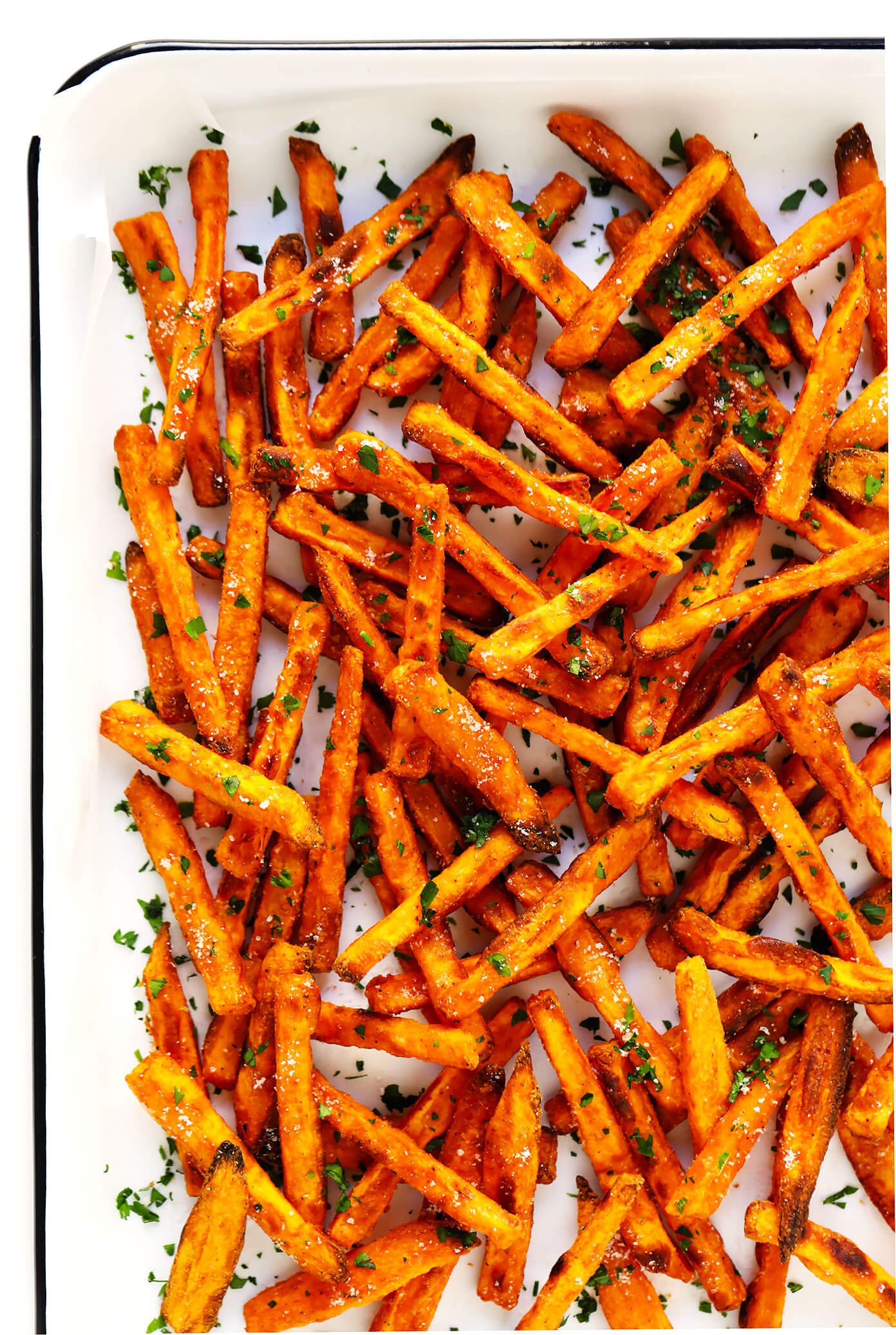 Craving some ultra-crispy baked sweet potato fries to go with those ultra-crispy chicken nuggets we talked about on Monday?
I've been experimenting with a variety of different methods for making homemade sweet potato fries all month, and I now feel like I can confidently stand by my title here — guys, this baked sweet potato fries recipe really is the best!
First off, they are legit crispy.  As in, there's not a soggy fry in sight here even though they're baked instead of fried, thanks to a few easy tricks.  Second, they have a light garlicky seasoning, which achieves that irresistible salty-sweet-salty-sweet balance that'll keep you reaching back for more.  Third, they're naturally gluten-free and vegetarian and vegan, yay.  But mainly?!  They are totally do-able in your very own kitchen, which is great news for sweet potato fry lovers everywhere.
Let's make a batch!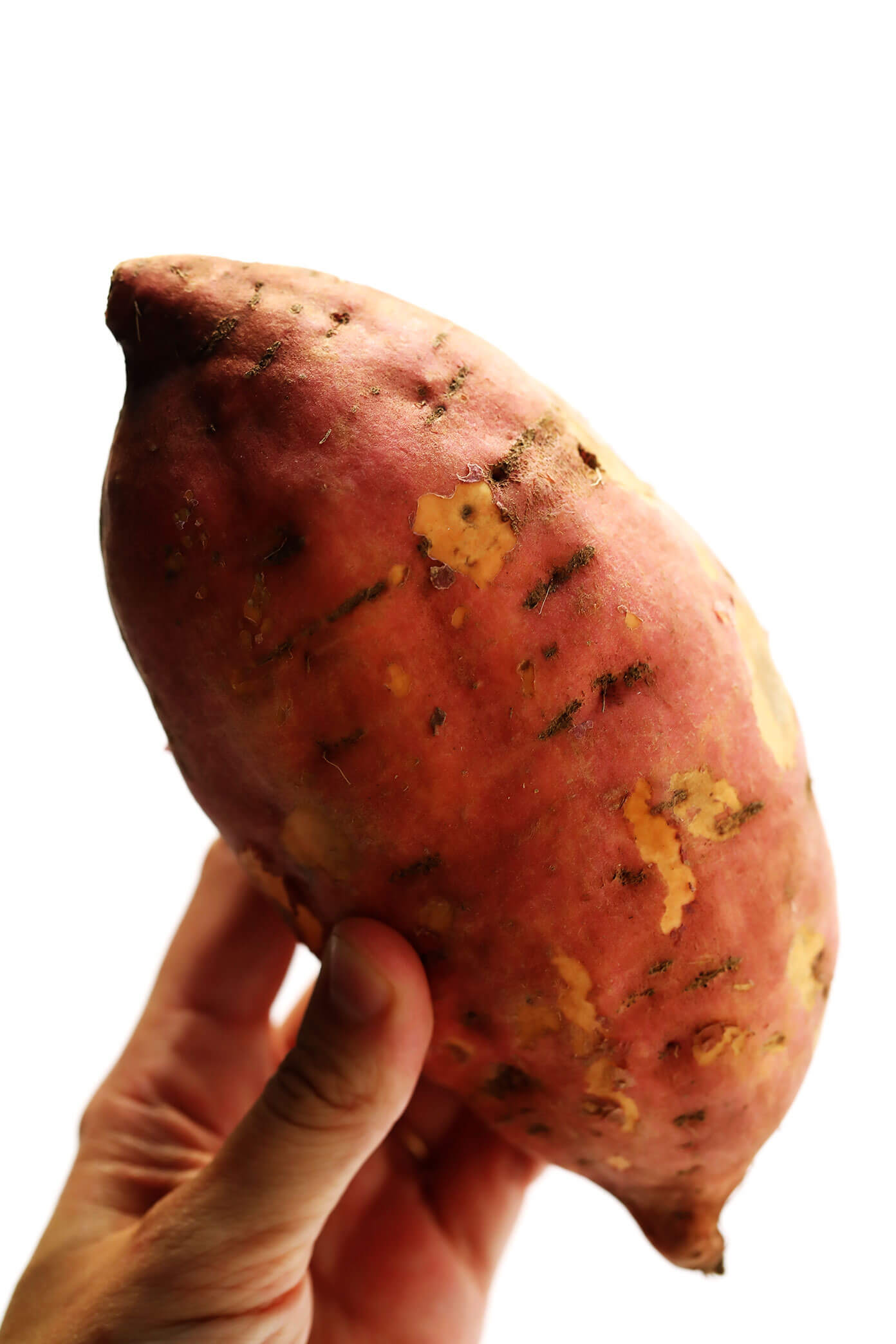 10 Essentials for Actually Crispy Fries:
Ok, let's talk about technique here for a minute.  Because there are a few things you need to know to make your sweet potato fries actually crispy.  (And thus avoid the saddest thing in the world — soggy fries.  Always a tragedy.)
The good news here?  Crispy fries are easy to make.  The honest news?  They are going to take a little extra time to make, versus just chopping and tossing some potatoes in the oven.  But trust me, these few extra steps are totally worth it.  Here are the essentials:
1. Cut evenly-sized fries: Your first step here is one that will make the biggest difference — take the time to evenly cut your fries.  About 1/4-inch thick, to be exact.  This will help avoid having fries that are over- or under-cooked, and will help them be the proper size to get nice and crispy.
2. Give them a cold water bath: Once your fries are chopped, toss them into a large bowl.  Then cover the fries completely with cold water and let them soak for at least 30 minutes (or up to overnight).  This will help to rinse off the excess starch and help the potatoes crisp up beautifully in the oven.  Once the potatoes have soaked, rinse and drain them.  Then — also very important — use a towel to pat them down until they are nice and dry before moving onto the next step.
3. Coat with cornstarch: The next key to crispy fries?  Cornstarch.  Yep, it's the secret ingredient that helps achieve that perfectly crispy exterior on a variety of baked recipes, and it's essential with baked fries.  Whisk together the cornstarch and dry seasonings (garlic powder, smoked paprika and black pepper) and toss them with the fries, after they have been coated in oil.  But be sure to…
4. Wait on the salt: We'll add it on at the very end, which will also help reduce the soggy factor and allow you to salt to taste.  Win-win.
5: Use parchment paper: This will help prevent the fries from sticking and help them crisp up nicely.  Just be sure, though, that you use a brand of parchment paper that can withstand 400°F cooking temperatures.  If not, you can also just bake these on a greased cooking sheet.
6. Don't crowd the pan: Once you add your fries to the baking sheet — very important — be sure that they are laying in an even, single layer.  If they are overlapping on top of each other, the fries on the bottom won't have the chance to get as crispy.  So go for an even layer and try not to completely crowd the pan.  (If the fries are overlapping, use a larger pan or two smaller pans.)
7. Bake at high heat: This will help the fries to get nice and crispy.
8. Take the time to flip all of the fries:  Once the fries have baked halfway through, you need to give them a good flip.  Which — I will be the first to admit — isn't the most graceful or speedy of processes.  But it's worth it.  So grab a spatula, and even if it takes an extra few minutes, be sure that each of those fries has made a 180 flip.
9. Wait just 5 more minutes: Once the fries are nice and crispy and ready to go, remove the pan from the oven and transfer it to a cooling rack.  Then resist the urge to take a bite and let the fries rest on the baking sheet for 5 more minutes.  It will help them crisp up a bit more and be ready to serve.
10: Then dig in!  Then once your french fries are ready to go…enjoy immediately!  Fries are definitely best fresh outta the oven, and they will start to get soggy (as any fries will) once they sit out for too long.  So go for it!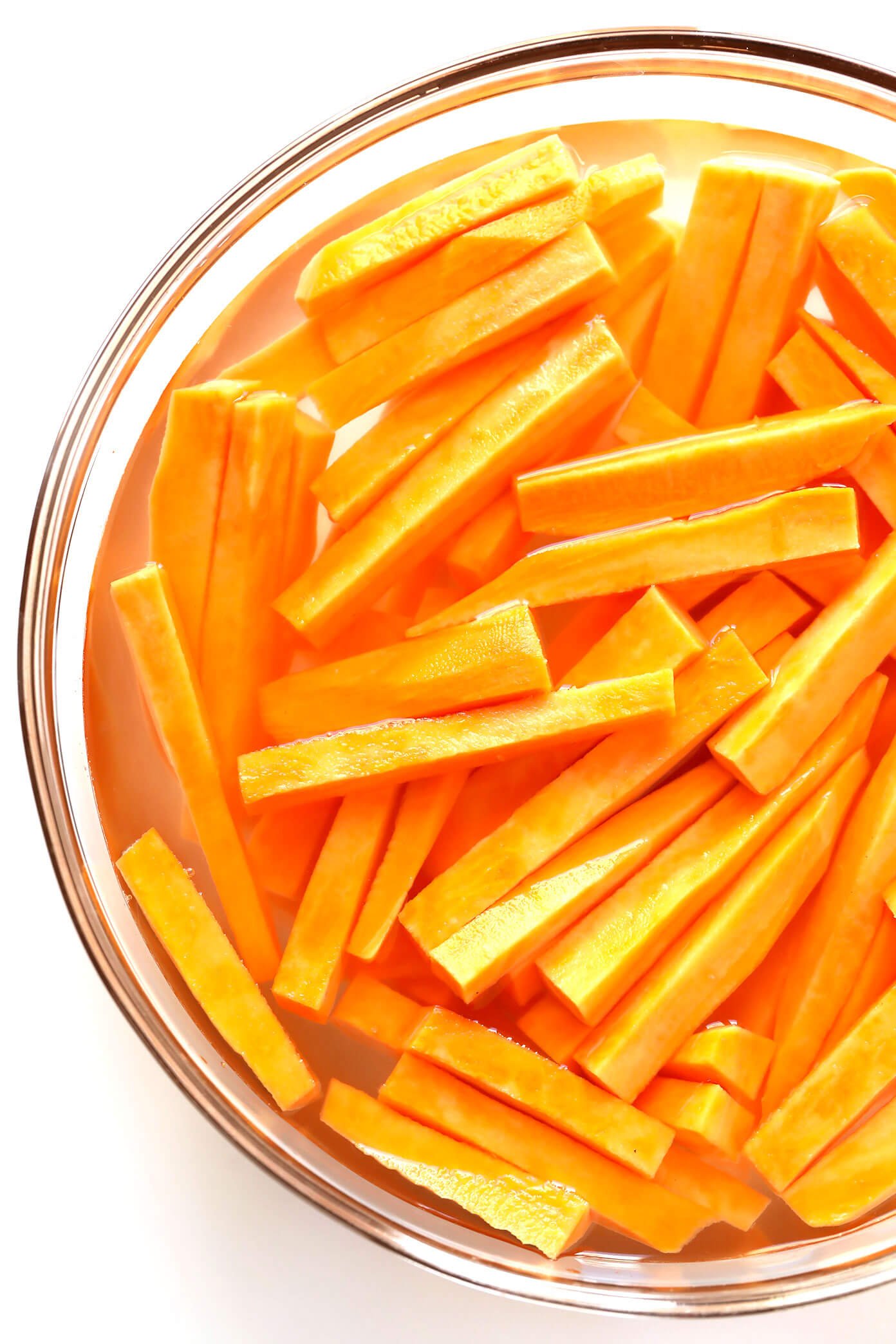 Baked Sweet Potato Fries Ingredients:
Alright, let's talk ingredients! To make these homemade sweet potato fries, you will need:
Sweet potatoes: Organic, if possible.  I also like to peel my sweet potatoes, but you're welcome to leave the skins on if you prefer.  Just be sure to give them a nice good scrub beforehand.
Olive oil: Or any cooking oil that you prefer.
Cornstarch: As mentioned above, to help the potatoes crisp up
Seasonings: I like a simple mixture of garlic powder, smoked paprika and black pepper.  But feel free to use whatever seasonings you love.
Sea salt: Nice and fine, which we will sprinkle on at the very end.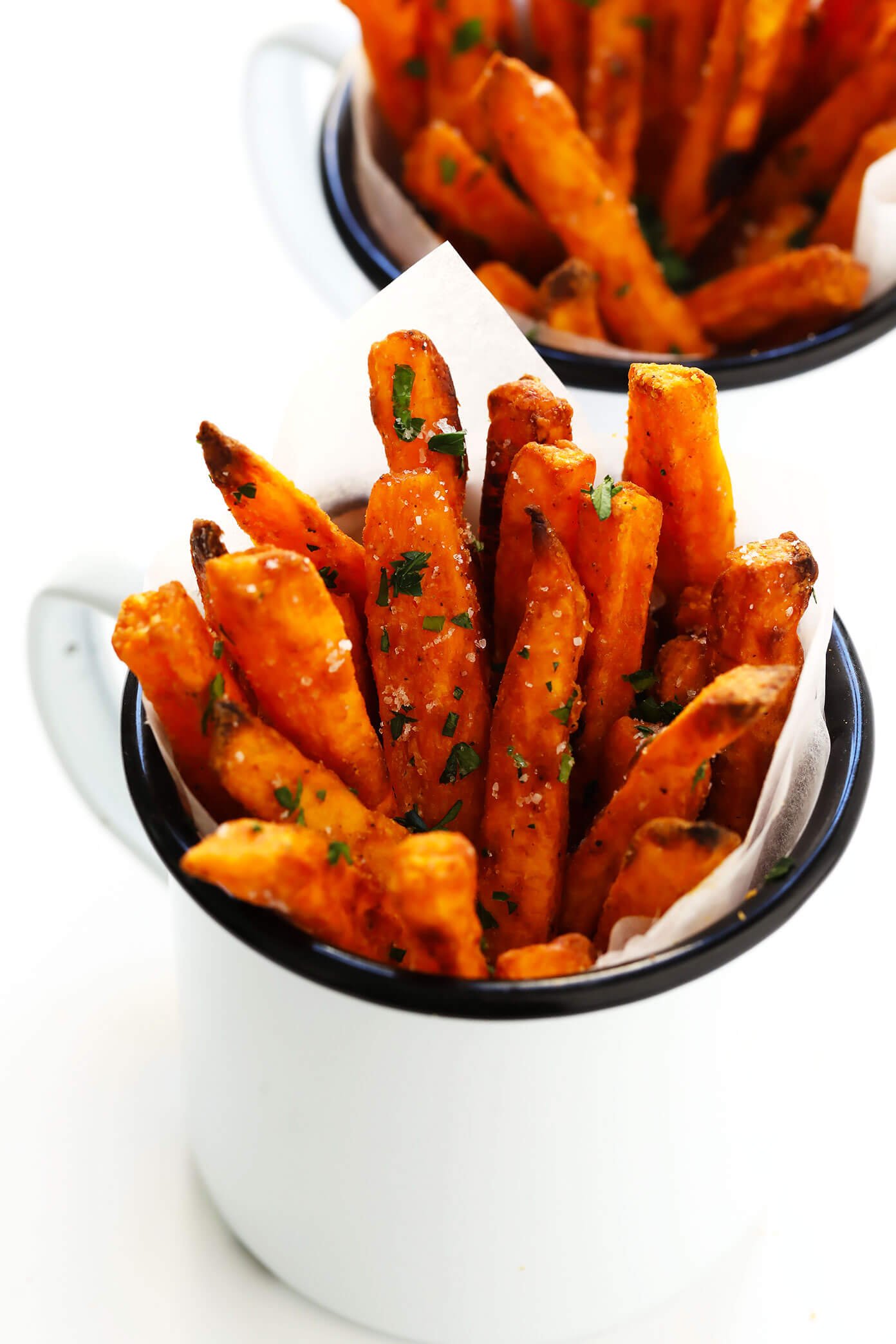 How To Make Sweet Potato Fries:
To make these oven-roasted sweet potato fries, simply:
Cut your fries: Evenly-sized matchsticks, about 1/4-inch wide.
Soak in cold water: Soak the fries in cold water for at least 30 minutes.  Then rinse, drain and pat dry.
Toss with oil: Transfer fries to a dry bowl or ziplock bag, and toss evenly with oil.
Toss with cornstarch and seasonings: Then toss the fries with your cornstarch/seasoning mixture.
Transfer to parchment-covered baking sheet: And spread out the fries in a nice even layer.
Bake until crispy: Being sure to remove the pan and flip the fries halfway through.
Let cool: Remove the baking sheet and let the fries rest on it for 5 more minutes.
ENJOY! Then serve and enjoy immediately!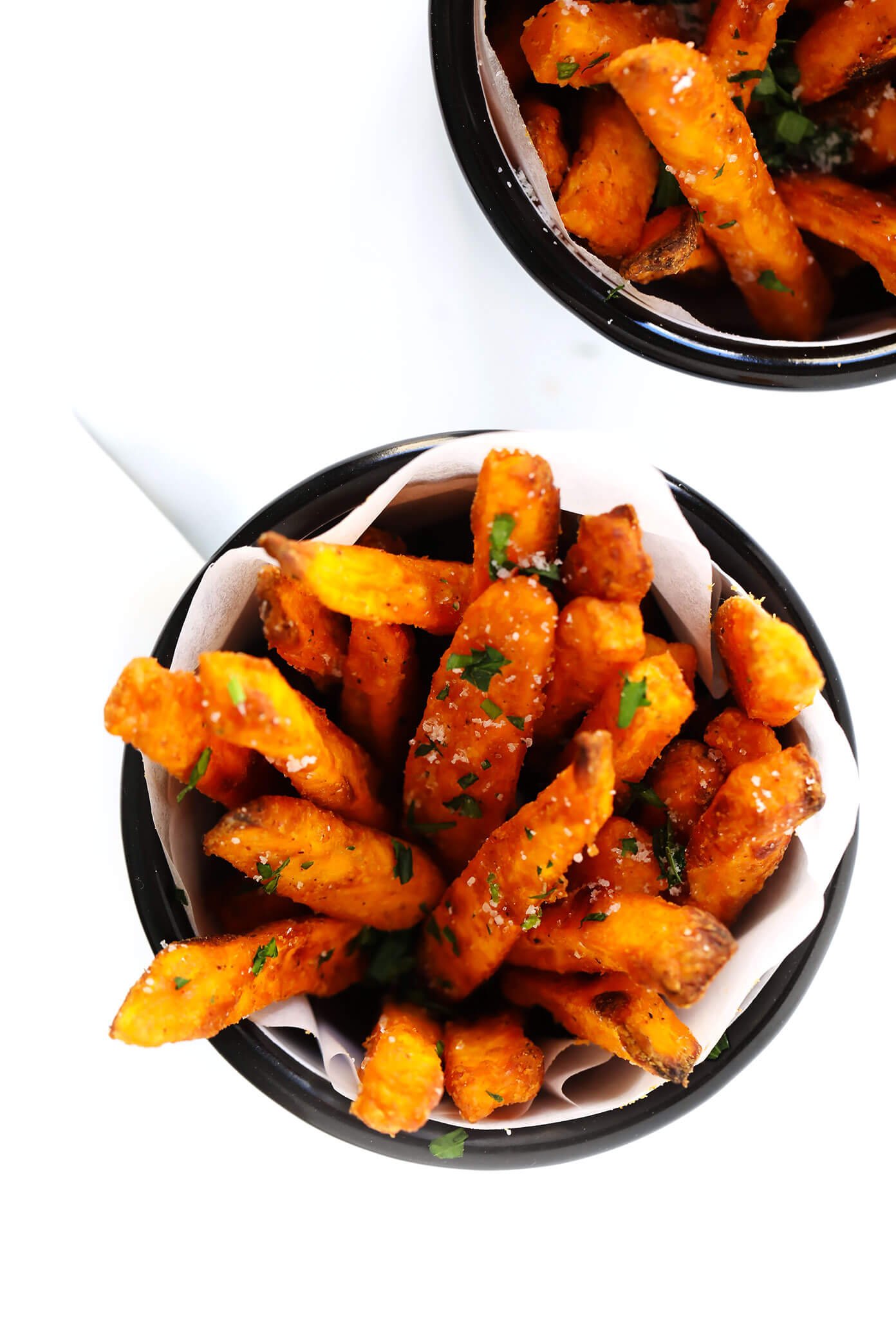 How To Customize Your Sweet Potato Fries:
Enjoy customizing your fries?  Feel free to:
Add cheese: I'm a big fan of sprinkling on some fresh Parmesan right outta the oven, or any other kind of shredded cheese that you might enjoy.  (Feel free to add it in the last few minutes of baking, if you would prefer it to be melted.)
Add some heat: Cayenne is a great addition to your seasoning mix, if you would like these to have a bit of heat.
Add other dry seasonings: In place of the garlic-paprika-black-pepper mix, feel free to sub in any of your favorite dry seasoning mixes, such as: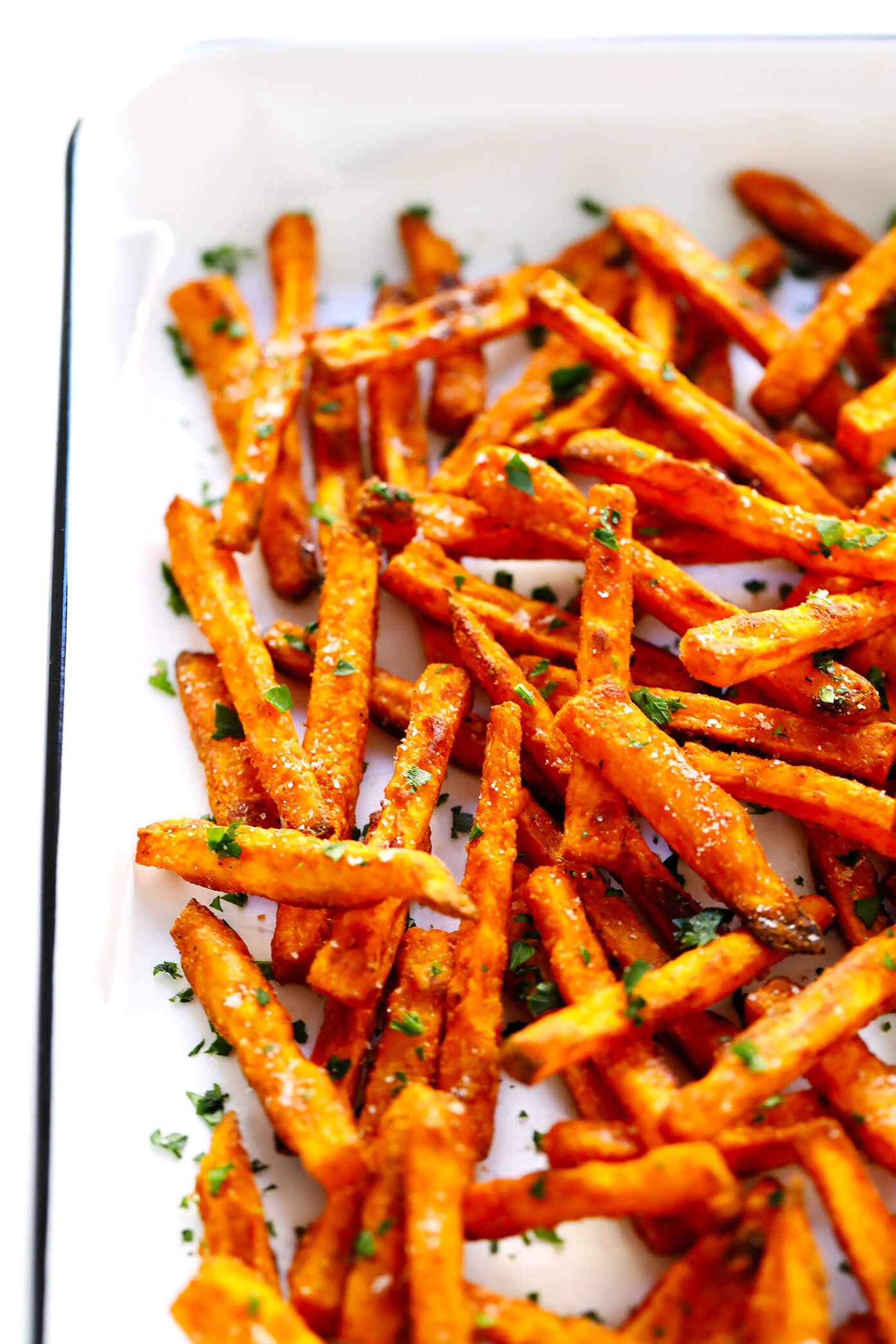 What To Serve With Sweet Potato Fries:
Always a delicious question.  Some ideas could include: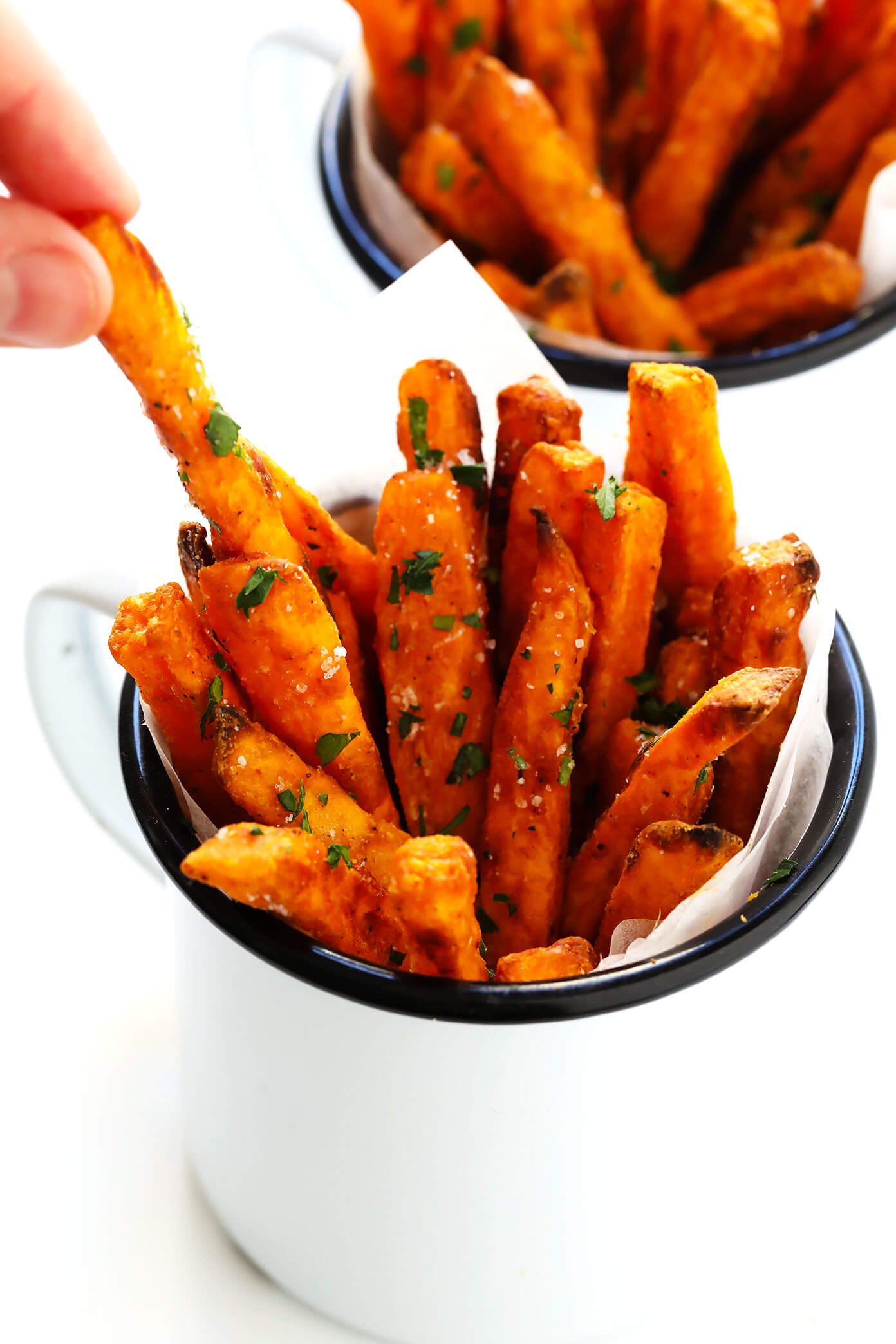 Enjoy, everyone!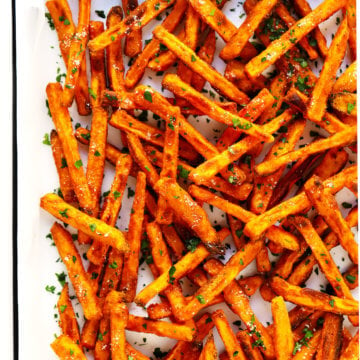 Yield: 4 servings
The BEST Baked Sweet Potato Fries
This Baked Sweet Potato Fries recipe is legit-crispy, easy to make, perfectly seasoned, and guaranteed to disappear pretty much…immediately.
Ingredients:
1 pound sweet potatoes, peeled
2 tablespoons olive oil
2 tablespoons cornstarch
1/2 teaspoon garlic powder
1/2 teaspoon smoked paprika
1/2 teaspoon freshly-cracked black pepper
fine sea salt, to taste
Directions:
Slice your sweet potatoes into long, thin strips, about 1/4-inch wide.  It's important that the fries are uniformly sized for even cooking.  Add the fries to a large bowl of cold water and soak for at least 30 minutes (or up to overnight).
Preheat the oven to 425°F.  Line a large baking sheet (or two medium baking sheets*) with parchment paper, or mist with cooking spray.  Set aside.
Drain the fries, rinse out and dry your bowl of water, then blot dry the fries with a clean towel.
Add the fries back to the clean bowl**.  Then drizzle evenly with the olive oil, and toss until they are evenly coated.
In a separate small bowl, whisk together the cornstarch, garlic powder, smoked paprika and black pepper until combined.  Sprinkle the mixture evenly over the bowl of fries, then toss until the fries are evenly coated and the cornstarch has soaked into the oil.
Spread the fries out in an even layer on the prepared baking sheet.  Be sure that the fries aren't overlapping, or else they will not cook evenly.
Bake for 15 minutes.  Then remove pan from oven, and take the time to flip each fry with a spatula.  Rearrange so that the fries are evenly spaced and not overlapping again.  Then bake for 10-15 more minutes, or until the fries are crispy and have begun to brown a bit on the tips.
Transfer the baking sheet to a cooling rack and let the fries rest for 5 minutes.  Then sprinkle with your desired amount of salt and serve warm.
*If you need to spread the fries out between two baking sheets, be sure to switch their positions on the top and bottom oven shelves at the halfway point when you flip the fries.
**Or you can do this step in a large ziplock bag, if you prefer, which makes the fries a bit easier to toss with the cornstarch mixture.
Difficulty: EasyCategory: Vegan


All images and text ©Gimme Some Oven
If you make this recipe, be sure to snap a photo and hashtag it #gimmesomeoven. I'd love to see what you cook!