I have strong opinions about egg salad sandwiches. Usually I take a pass. Like, if I see one on a menu, or at a deli, I choose another sandwich. Egg salad tends to be so gloppy, or too much mayo, soggy bread (yuck), or the trifecta of all three. But it doesn't have to be this way! When I make egg salad sandwiches at home it's heart emojis all around. I like to use well-toasted bread rubbed with garlic. The egg mixture I make isn't much of a departure from the classic, but the devil is in the details and ratios. There's crunch from chopped celery and onions, a dollop of wholegrain mustard, and just the right amount of yogurt in place of mayo.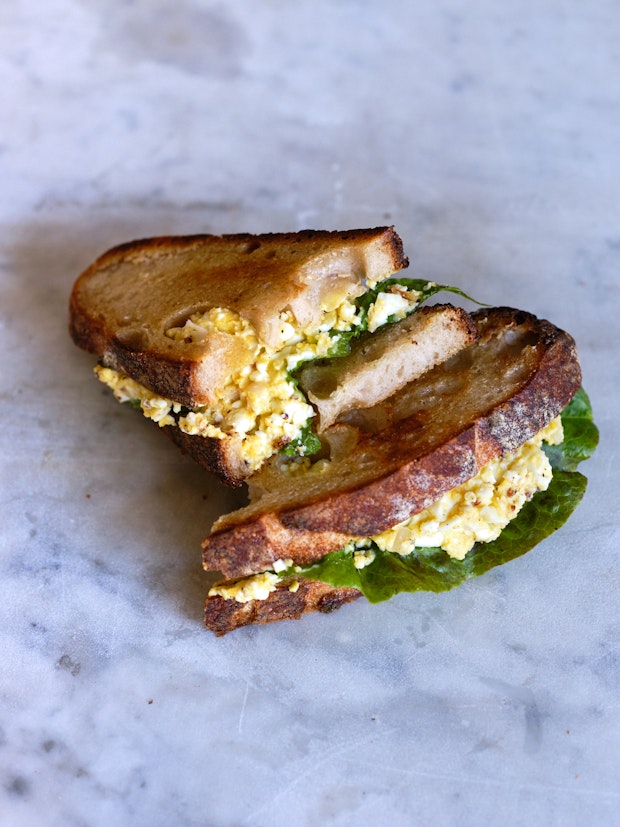 A Couple Egg Salad Tricks
There are some tricks I like to deploy when constructing an egg salad sandwich. The eggs are a soft component, so I like to introduce crunch and structure wherever possible, for contrast. So, in this recipe you have crunch celery and onions. Good quality, extra toasty slices of bread bring more crunch and structure. And I like to add a few sturdy, fresh lettuce leaves between thread and the egg salad to keep the bread from going soft.
Invest in Good Eggs
You want to use really great eggs if you're making egg salad. The ones where the yolks are rich and bright yellow. Eggs from pastured hens. Peeling really fresh eggs can be challenging, so I tend to use good eggs, but the ones that have been in my refrigerator longest are the ones to use here. For easy peeling.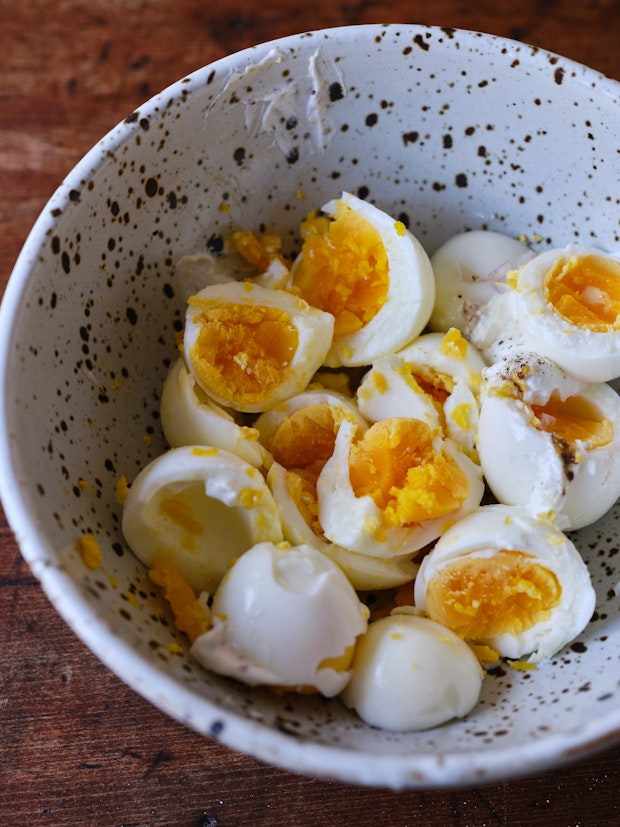 Getting the Eggs Cooked Just Right
I've realized that 90% of the challenge here is properly boiling the egg. You need to boil them so the centers set yet stay moist. You also need to avoid the dreaded grey ring that surrounds the yolk in many hard boiled eggs. I use a strict technique that works flawlessly for me every time. Basically, you need to avoid over-cooking. To do that you simply move the eggs into a bowl of icy water after removing them from the water they were boiled in.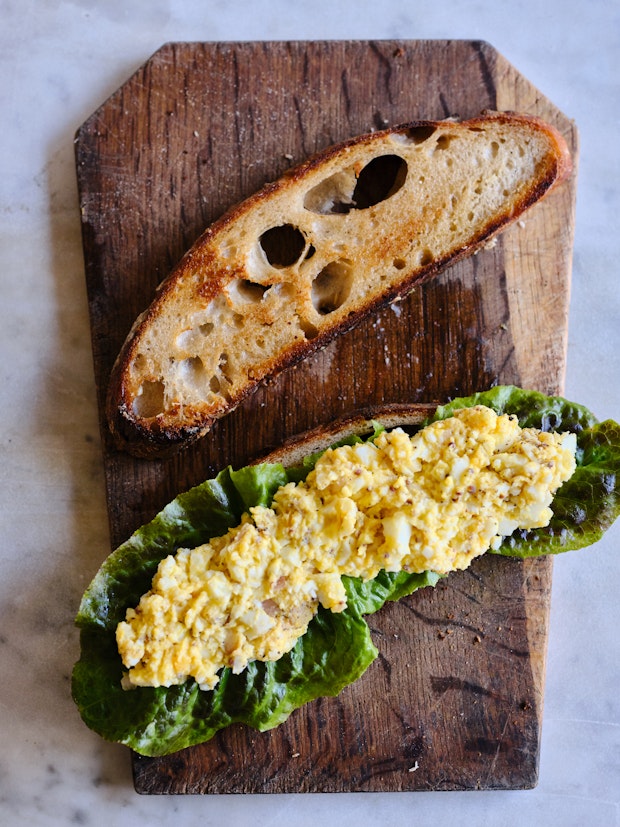 Egg Salad Sandwich Variations
Once you get your sandwich the way you like it, it's fun to play around with variations. Here are a few faves.
– Egg Salad with Broiled Gruyere: Broil some thinly sliced gruyere cheese onto your toast, top with the egg salad mixture, sprinkle with fried shallots, and serve open-faced. Inspired by a version I would eat on occasion at Il Cane Rosso in San Francisco.
– Curried Egg  Salad Sandwich: This is so good!  I think of it as a wintery version where you add curry powder, chopped apple, toasted pecans, and onion.
– Chickpea Salad Sandwich: You can use the same general idea for a vegan version. Pulse a couple of cups of cooked chickpeas in a food processor and proceed with the recipe, adding more yogurt if needed to bring the ingredients together.

More Ideas and Tips from You
There are so many great ideas from you down in the comments. I wanted to highlight a few here!
Lirion says, "Don't freak out, but my egg salad uses eggs and a mango relish. Yup, that's it. After assembling and before adding the second piece of bread, a shot of fresh cracked pepper and all of 5 grains of salt."
I love a secret ingredient, and Quinn says, "I keep my egg salad ingredients to a minimum, eggs, shallots, chopped pickle, mustard, a lil mayo, and salt and pepper. oh, and I add Old Bay too."
Or listen to this variation from Shawn! "I just made some delicious Japanese flavored egg salad with homemade wasabi mayo. For the mayo I used two egg yolks, 500 mL of olive oil, and two tsp of rice wine vinegar. After the yolk had accepted all of the oil I added fresh dill, lemon juice, salt & pepper, and a sizable squirt of wasabi paste. For those of you who like a little crunch I suggest chopped water chestnuts drained and briefly pan fried. Eat it on bread as dark as pumpernickel or as white as wonder; it's all about the mayonnaise." Genius!
Kate lends some technical insight, "I've found the best tool for mashing up eggs for egg salad is a grid-style potato masher. Those square holes make the perfect sized bits of egg white. More consistent, yet chunkier than the results you get with a fork. "