The Ultimate Chocolate Cupcake recipe -make chocolate cupcakes with silky chocolate ganache and the BEST chocolate buttercream frosting. Chocolate lovers, these chocolate cupcakes are for you!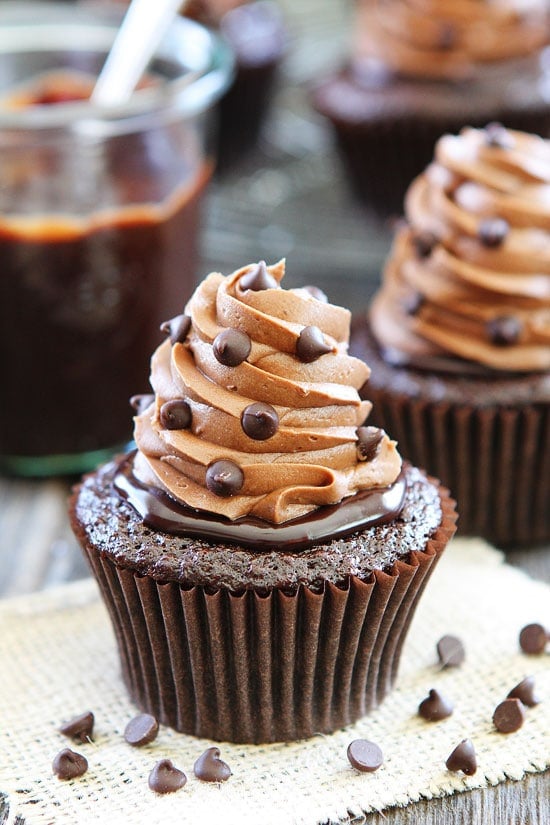 Chocolate, Chocolate, Chocolate Cupcakes
If you like chocolate, you are in for a real treat today! I created the Ultimate Chocolate Cupcake Recipe. I've sampled a lot of chocolate cupcakes from bakeries around the country and I have to say that my Ultimate Chocolate Cupcakes are the best. I don't mean to brag, but it's true. I am so in love with these chocolate cupcakes.
Bring on the chocolate! In 4 easy chocolate steps, you have the Ultimate Chocolate Cupcakes:

LATEST VIDEOS
Start with chocolate cupcakes
Add a layer of silky chocolate ganache
Top with the BEST chocolate buttercream frosting.
Add mini chocolate chips because they are cute and the more chocolate the better, right?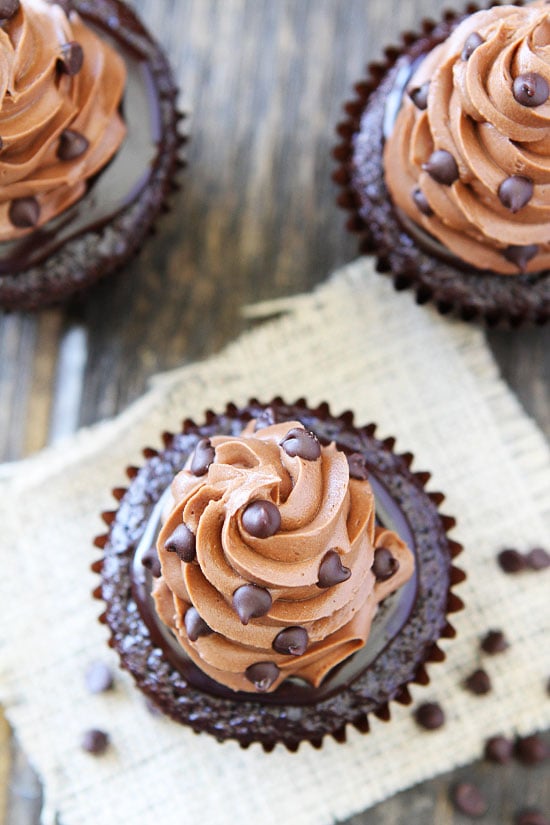 The basic chocolate cupcake recipe is simple. Super moist and super chocolaty! After the cupcakes have cooled completely, I spoon the chocolate ganache on top. It is silky, smooth, and the cupcakes would be good if I stopped here, but to have the ultimate chocolate cupcake, you need chocolate buttercream frosting.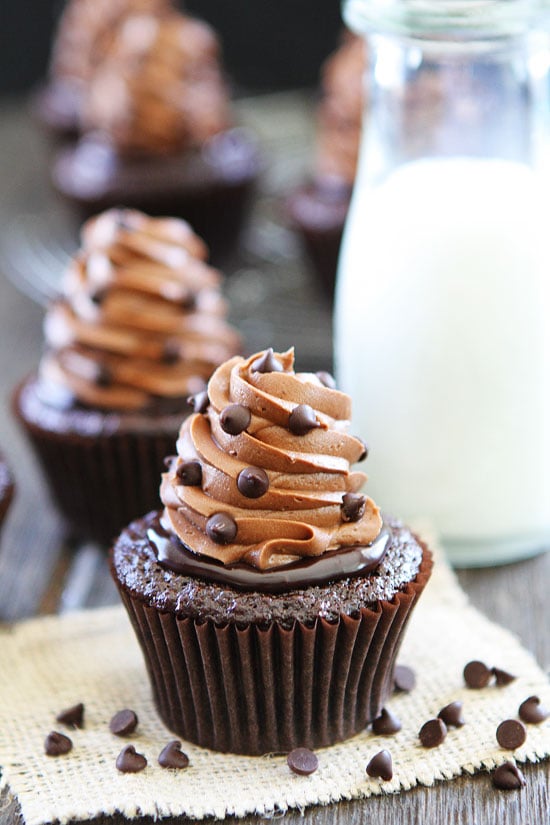 I am normally not a big frosting fan. I like a little, but usually scrape most of it off. Not with this chocolate buttercream though. It is hands down the best chocolate frosting I've ever tasted. I could eat it by the spoonful! It is the perfect finish to my chocolate cupcakes! I like to pipe a big swirl on top of the cupcakes.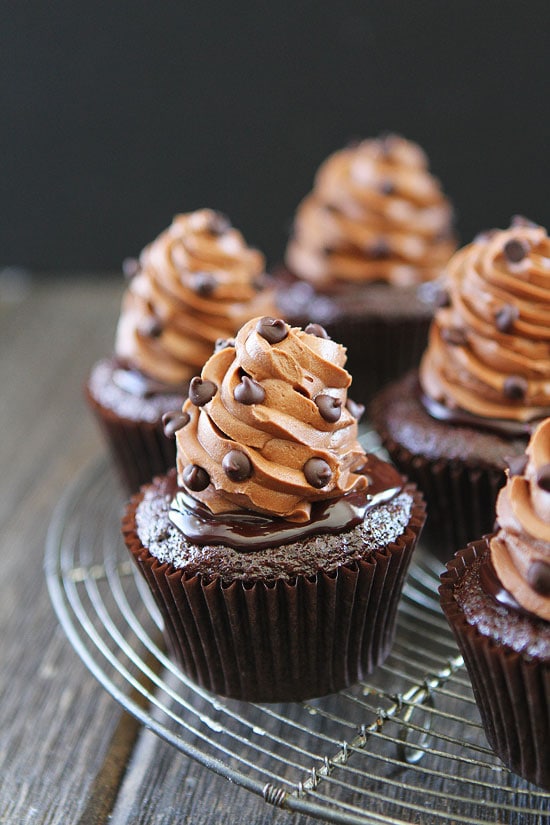 The mini chocolate chips just add a nice little decoration. Chocolate sprinkles would also be fun! Look at that puddle of chocolate ganache! Mmmmm!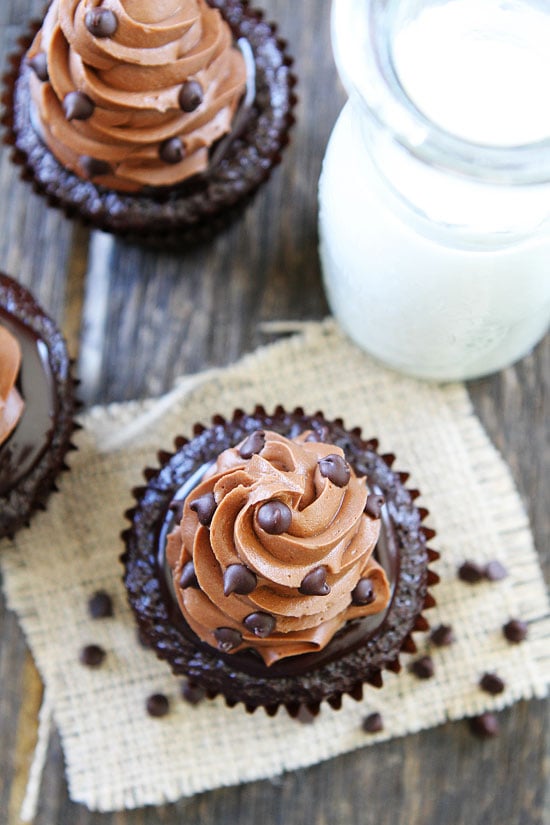 Rich and Delicious Chocolate Cupcakes
Make sure you grab a glass of milk to go with these cupcakes. They are RICH! I didn't think I would be able to eat an entire cupcake by myself. I told Caleb I would share with him, but I ended up eating every last crumb. He had to get his own:) They are rich, but not too rich. I could devour one any day!
This Ultimate Chocolate Cupcake recipe is perfect for any celebration. I will be requesting these chocolate cupcakes for my birthday! And if you don't have anything to celebrate, think again. Every day is a celebration, especially when you have Ultimate Chocolate Cupcakes. They are the BEST cupcakes. Enjoy!
If you like this chocolate cupcake recipe, you might also like: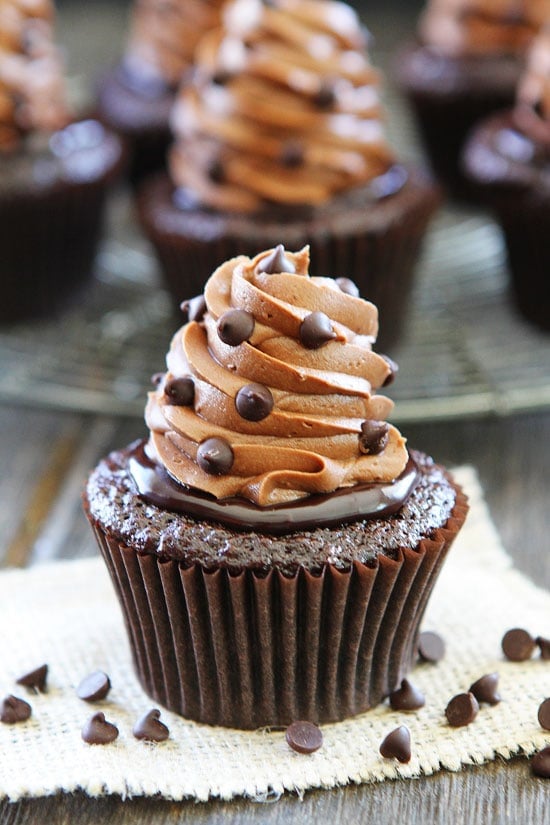 Ultimate Chocolate Cupcakes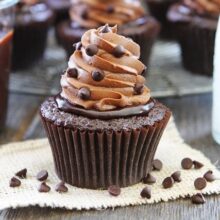 The BEST chocolate cupcakes you will ever eat.
Yield: 28 cupcakes
Prep Time: 20 minutes
Cook Time: 18 minutes
Total Time: 40 minutes
Ingredients:
For the cupcakes:
2 cups granulated sugar
1 3/4 cups all-purpose flour
3/4 cup Dutch processed cocoa
1 1/2 teaspoons baking powder
1 1/2 teaspoons baking soda
1 teaspoon salt
2 large eggs
1 cup whole milk
1/2 cup canola or vegetable oil
2 teaspoons vanilla extract
1 cup boiling water
For the chocolate ganache:
1 cup semi-sweet chocolate chips
1/2 cup heavy cream
For the chocolate buttercream frosting:
1 cup unsalted butter, at room temperature
2 cups powdered sugar
1 teaspoon vanilla extract
1 cup semi-sweet chocolate chips, melted and cooled to room temperature
1 1/2 cups mini chocolate chips, for decorating, optional
Directions:
Preheat oven to 350 degrees F. Line muffin tins with paper liners. Set aside.
In the bowl of a stand mixer, stir together sugar, flour, cocoa, baking powder, baking soda and salt.
Add eggs, milk, oil and vanilla. Beat on medium speed for one minute or until batter is smooth. Slowly pour in boiling water and mix until batter is smooth. Don't over mix.
Fill liners about 1/2 full with batter. Bake cupcakes for 18-22 minutes or until a toothpick inserted in the center comes out clean. Remove from oven and cool completely on wire rack before frosting.
While the cupcakes are cooling, make the frosting. In the bowl of stand mixer, beat the butter on medium speed until light and fluffy, about 2-3 minutes. Gradually add the powdered sugar and mix until the frosting is smooth, about 3-4 minutes. Mix in the vanilla. Drizzle in the cooled melted chocolate and beat on medium speed until the frosting is smooth and creamy.
To make the chocolate ganache, add the chocolate chips to a medium bowl. Heat the cream in a small saucepan over medium heat just until it bubbles around the edges or you can heat it in the microwave. Pour cream over the chocolate chips. Let the mixture stand for 30 seconds, then stir until the chocolate melts and a smooth ganache comes together, about 1-2 minutes.
Place the frosting in a pastry bag. Spoon the ganache onto the center of the cupcake. Spread to the edge of the cupcake. Let the cupcakes sit until the ganache firms up, about 5 minutes. Pipe chocolate buttercream frosting over the ganache. Decorate with mini chocolate chips, if desired.
Note-if you want to pipe a high frosting swirl on the cupcakes, you might need to double the frosting recipe. It just depends on how high you go with the frosting.
Cupcake recipe from Hershey's
All images and text ©Two Peas & Their Pod.




Follow twopeasandpod on Instagram and show us what recipes you are making from our blog! Use the hashtag #twopeasandtheirpod! We want to see what you are making in your kitchen!