Tomato Parmesan Stuffed Eggplant is an easy main dish that's fresh, nutritious, and delicious! Made with tender eggplant, crushed tomatoes, fresh garlic, and plenty of herbs, this wholesome vegetarian dinner option is full-flavored and utterly satisfying.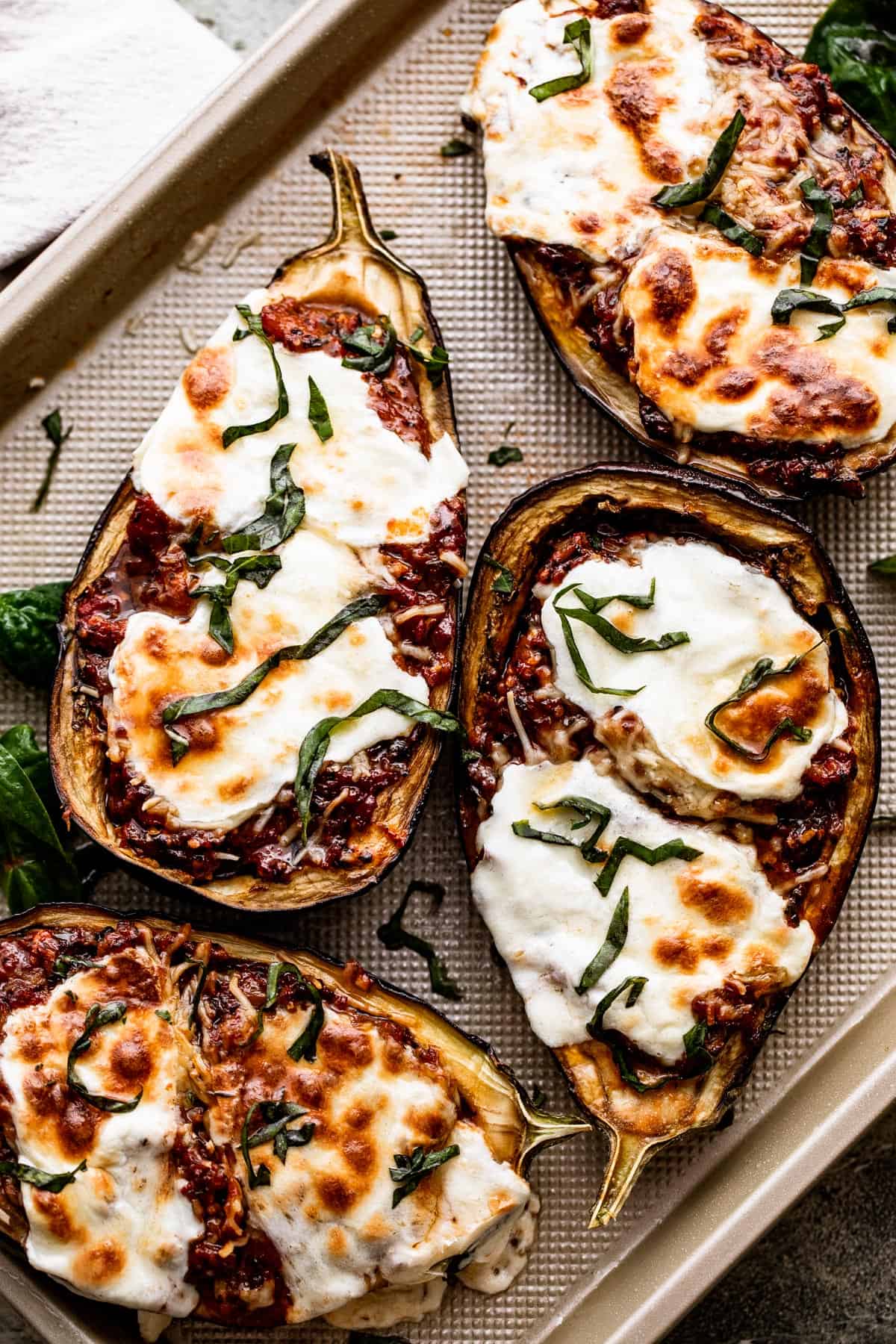 An Easy and Healthy Vegetarian Main Course
Are meatless meals an important part of your menus? I love to pivot to meatless meals now and then, focusing on the amazing produce options out there and letting them take center stage. As much as I love a good steak, there's nothing quite like a meal that's loaded with fresh vegetables, healthy olive oil, and topped with a sprinkling of feta or mozzarella. Definitely a moment of YUM for me. 👍
This recipe is all about the eggplant, which is a silky-smooth veggie when roasted or baked correctly, with a mild and wholesome flavor similar to zucchini or squash. It plays well with garlic, onions, and spices, taking on those flavors and providing a warm, sunny taste of its own.
And, while this might sound like a complicated recipe, it's really not! Making the stuffing mixture is a snap, and from there, all you have to do is bake the stuffed eggplant until done. Easy peasy! 💃 Those that have made my Sausage Stuffed Eggplant can attest to the easiness of these recipes.
What's in This Stuffed Eggplant Recipe?
Great question! Let's dive into the mouthwatering ingredients. Just reading through this list makes me hungry!
Eggplant: This recipe makes four eggplant halves, if you're using large eggplants.
Oil: I always use olive oil in this recipe. Extra-virgin olive oil has the boldest flavor, but medium and light oils are also fine.
Onion: Dice up your onion. I typically choose yellow onions, but any onion is fine.
Parsley: Finely chopped fresh parsley brings a burst of freshness – if you must, swap in dried parsley, but if at all possible, use fresh.
Salt and Pepper
Garlic: Minced, fresh garlic gives the brightest flavor, but you can substitute dried or powdered garlic in a pinch.
Dried Herbs: A mix of dried basil, thyme, and oregano give this dish a heavenly fragrance and depth of flavor.
Tomatoes: Canned, boxed, or jarred tomatoes are fine; you'll want crushed tomatoes for this recipe.
Pesto: A bit of basil pesto is the perfect way to add pungent flavor and richness.
Cheese: I used sliced fresh mozzarella for a gooey, pizza-like result, and grated parmesan for that classic taste.
Water: To roast the eggplants, you'll want a little bit of hot water for the baking sheet. This will help to soften the eggplants shells.
Garnish: Chopped fresh basil makes an attractive optional garnish.