UGLY DIP has quickly become a party favorite! It's the perfect low-carb, make ahead, flavor packed,CRAZY GOOD dip!

Full disclosure – This recipe was given to me from one of my Instagram followers. Here's the story…right before the Super Bowl I was in a bit of an appetizer rut. I knew I was making my Tuscan Sausage Dip, but beyong that I was out of fresh ideas! We always do nachos, queso, shrimp, wings…standard stuff. So I asked my Instagram people what they were making and I got tons of responses. You guys all know your appetizers! Anyhow, one follower told me she made this thing called Ugly Dip. Of course, I was intrigued by the name, so I asked her what it was! She sent me this screen shot…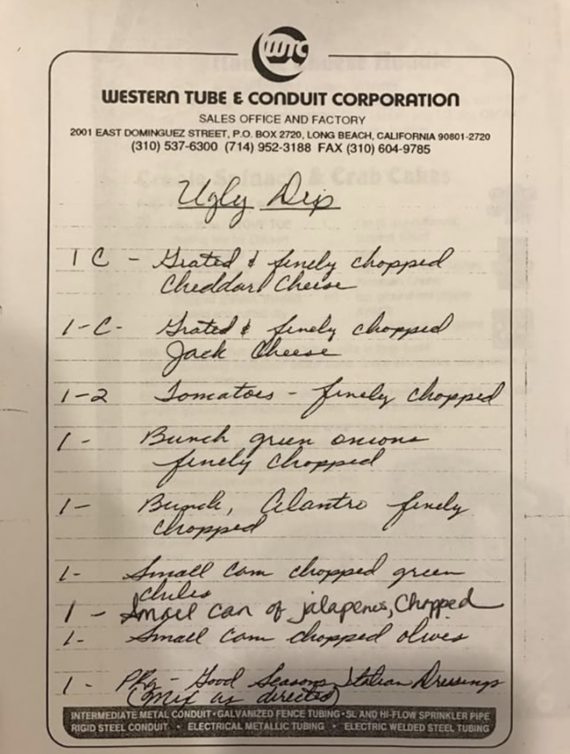 I love everything listed, and I can never resist an old fashioned, hand-written recipe, so I went ahead and made it for the big game. And since then I have made it multiple times, because as strange as it is, IT JUST WORKS! And basically anything covered in Good Seasonings dressing is gonna be good. I mean…

MY OTHER RECIPES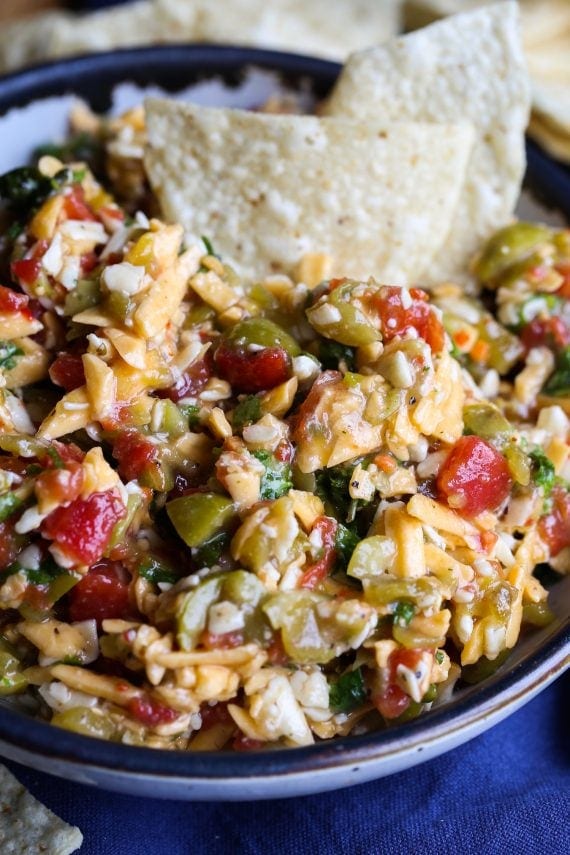 I made a few tweaks to the recipe, for ease and taste preference. I actually hate onions, which the original recipe calls for. I know, I'm a toddler…but unless they are cooked within an inch of their life, I always avoid them. And tomatoes are woefully out of season here in New Jersey, so I used a can of Ro-Tel tomatoes, which always get the job done…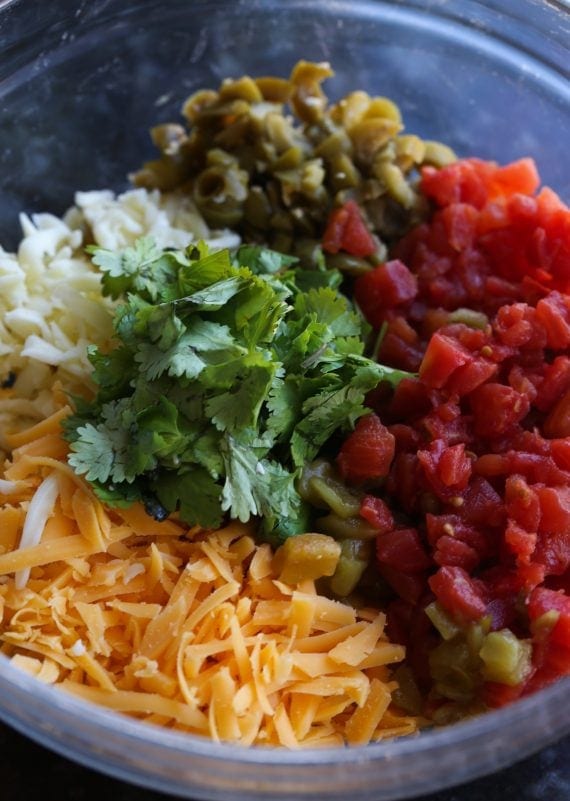 The beauty if this dip is you can really adjust it to your own taste preference. And did I mention it's easy? You literally put all the ingredients in a bowl, stir and let the flavors combine. It's definitely best if you give it a full overnight to marinate.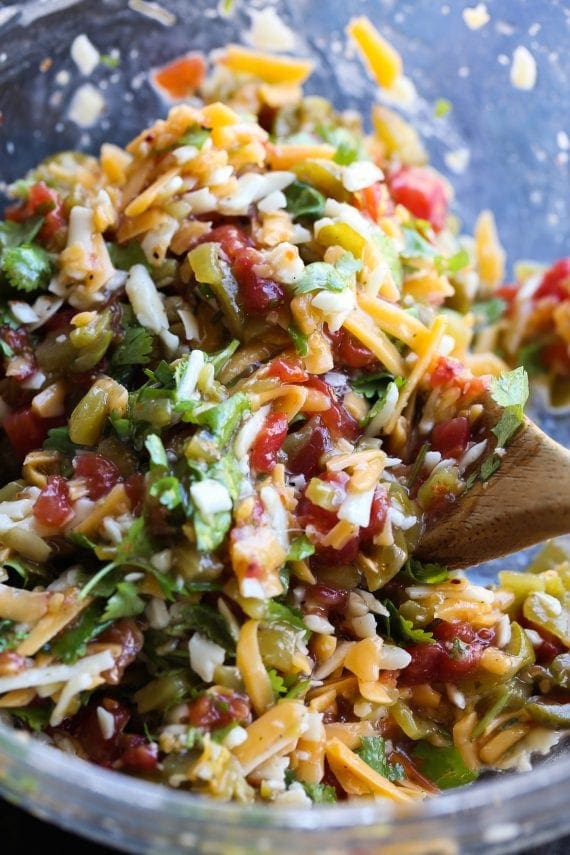 And you can serve it with so may things! To keep it a low-carb situation you can serve it with veggies. If carbs are your jam, tortilla chips are the obvious choice!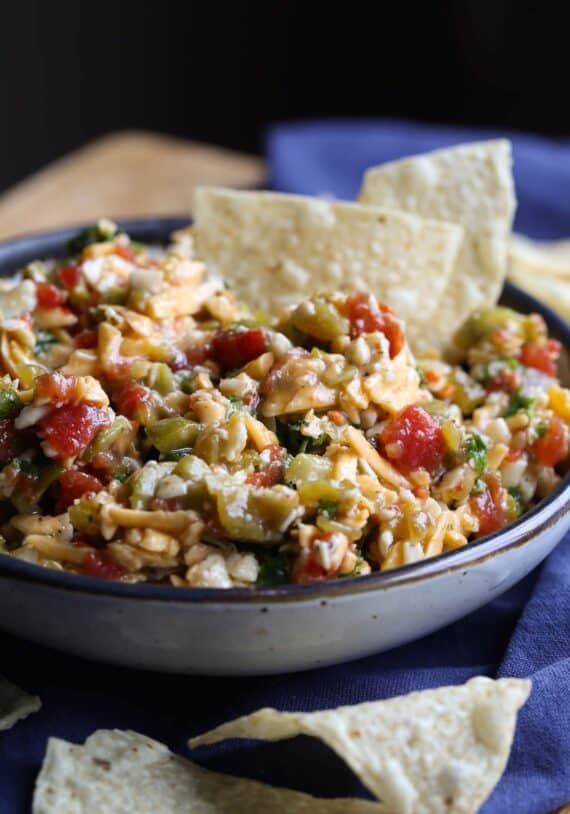 Such an easy appetizer to take to a party! I do recommend that you grate your own cheese, as opposed to using the pre-grated cheese. You and I both know it's better ?
---
Description
This was a dip recipe given to me from a follower. It's low carb, packed with flavor and a crowd pleaser! Love this so much!
---
Ingredients
1 cup grated sharp cheddar cheese
1 cup grated pepper jack cheese
1 (10- ounce) can Ro-tel diced tomatoes & green chilis
1 cup chopped cilantro
1 (4.5- ounce) can chopped green chilis
1/2 cup chopped olives (green or black)
1 package Good Seasonings Italian Dressing seasoning mix, prepared with oil, vinegar, and water according to package directions.
---
Instructions
In a medium bowl combine all the ingredients. Pour the salad dressing on top and stir to combine.
Cover and refrigerate for at least 3 hours, but overnight is better.
Serve with tortilla chips, crackers, crusty bread, or celery.
---
Notes
Store airtight in the refrigerator for up to 5 days.
Related