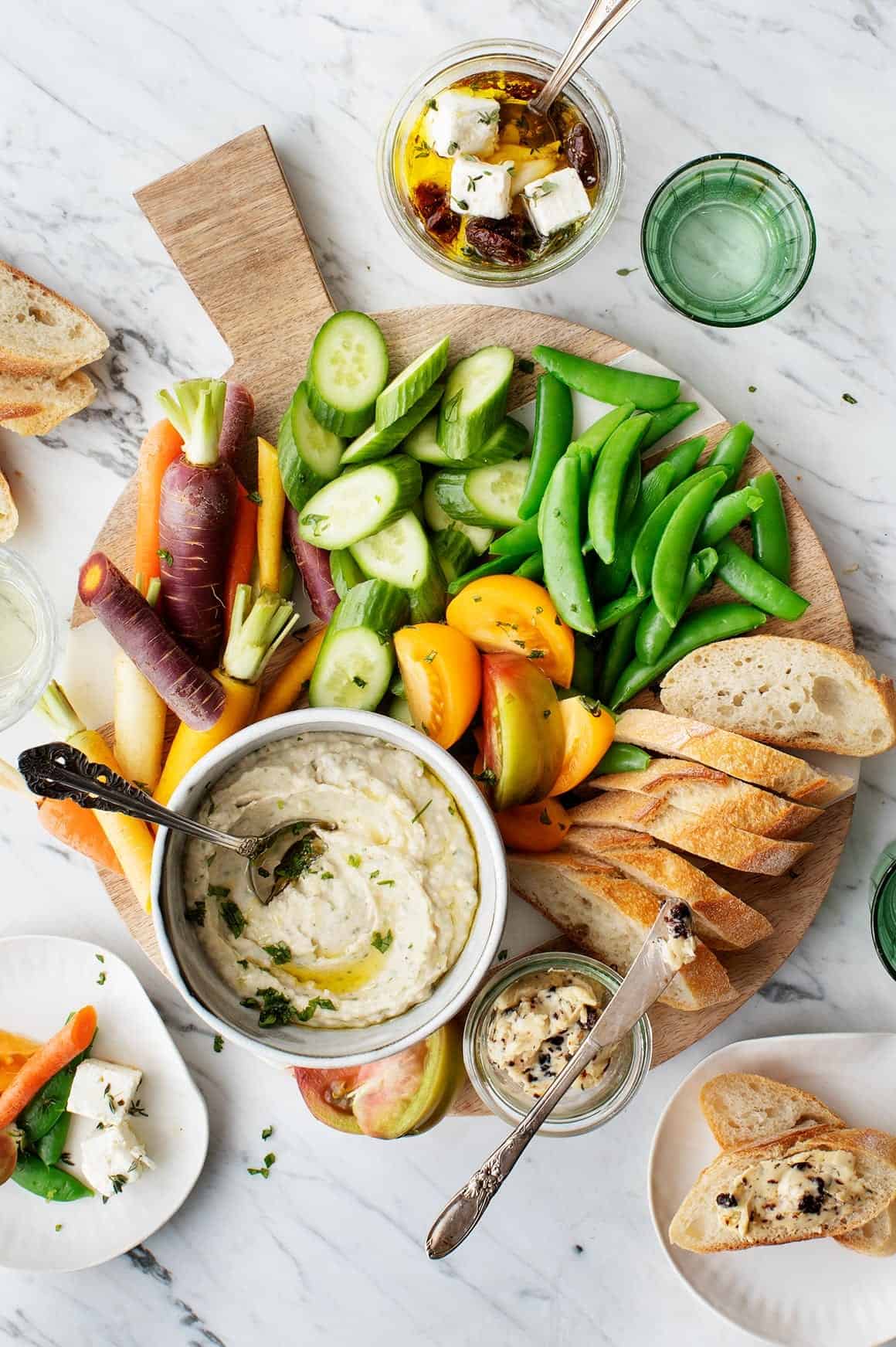 I love a good crudité board. I feel like they get a bad rap because the grocery store versions with the sad celery, raw cauliflower, and grubby carrots are never the most exciting appetizer at a party, but this board fixes that by being bright, fun, and delicious! It's a yummy mix of fresh things, salty/savory bites, and even a sweet element from the delectable Tart Cherry Thyme Compound Butter.
Each little recipe is made up of super simple combinations of creative ingredients that together, make a really unique appetizer board! I brought this platter to my family's father's day gathering a few weeks ago and it got gobbled up in minutes.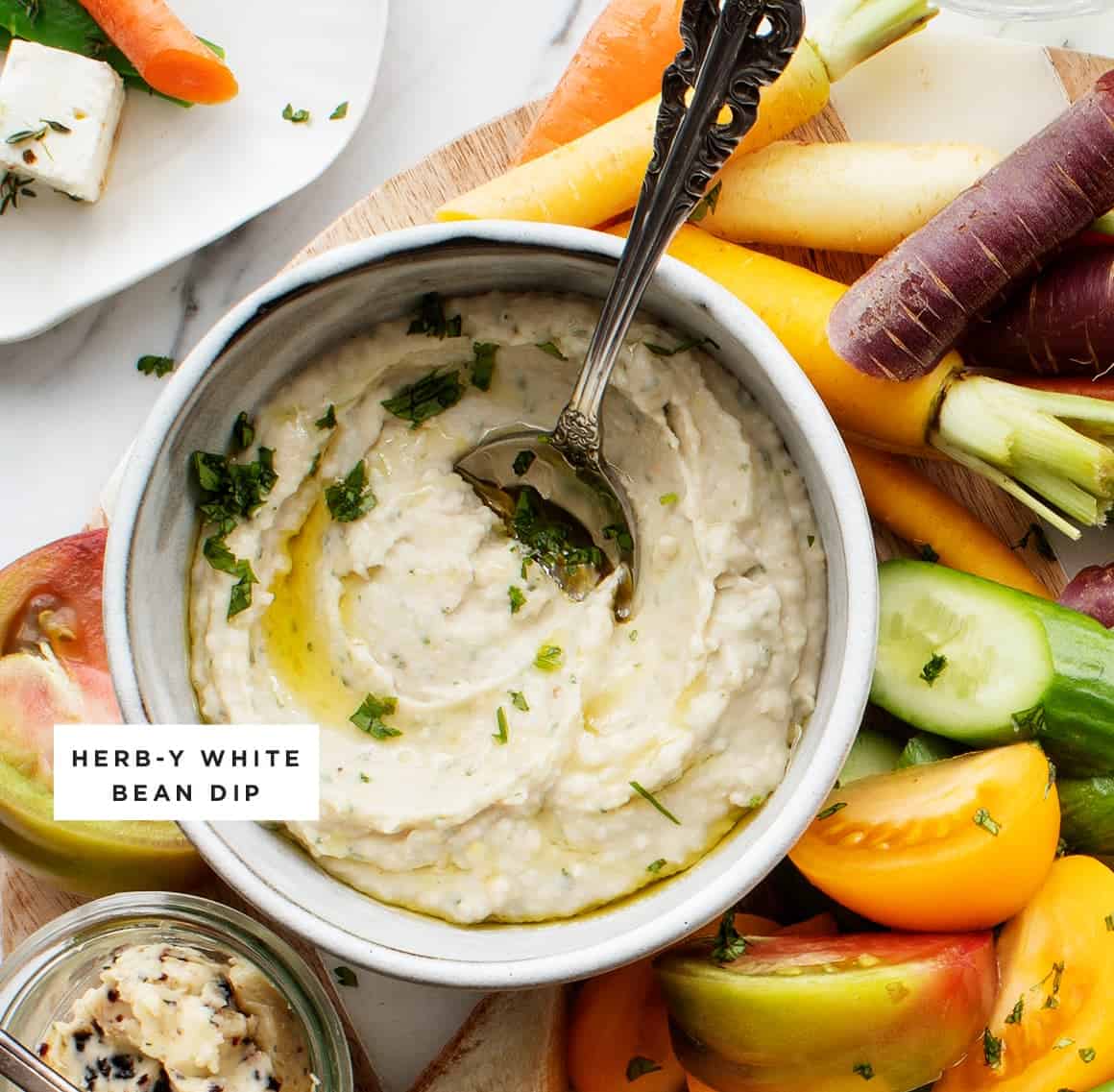 This recipe comes from the gorgeous book Platters and Boards by Shelly Westerhausen of the blog Vegetarian Ventures. It's filled with recipes to create fun, beautiful, yet very doable spreads for any occasion. There's everything from a Beach Board, to a Holiday Hosting Spread, to a Lazy Sunday Brunch Board.
What I love most is the part where Shelly talks about how a board can be blank canvas for your creativity… or your leftovers. "It's a great way to use up whatever vegetables, cheeses, jams, or meats you have hanging around your refrigerator, or use it as an opportunity to try new foods. Take a trip to that new cheese shop you've been meaning to visit or spend some time in the bulk section of your grocery store."

While my wheels are turning about what other types of boards I can create, let's turn back to this one and talk about this marinated feta. I'm SO OBSESSED with this Marinated Feta with Sun Dried Tomato, Thyme, and Garlic. It added a wonderful pop of flavor to this board, and to the salad that I made later with the leftovers. It's tangy, briny, and so fresh with the addition of the thyme leaves. I think thyme is such an underrated herb – it's time to start using more thyme!

The crowd pleaser on this board was this Tart Cherry Thyme Butter (again with the thyme – so delicious!). Shelly's recipe calls for dried blueberries, which I couldn't find, but dried tart cherries offered a bright, sweet element. I would have never thought of adding compound butter to a veggie board, but it was a wonderful, fancy addition that was easy to make!

For more fun board inspo, get the book, Platters and Boards!
Veg Out Platter (i.e. the Ultimate Crudité Board)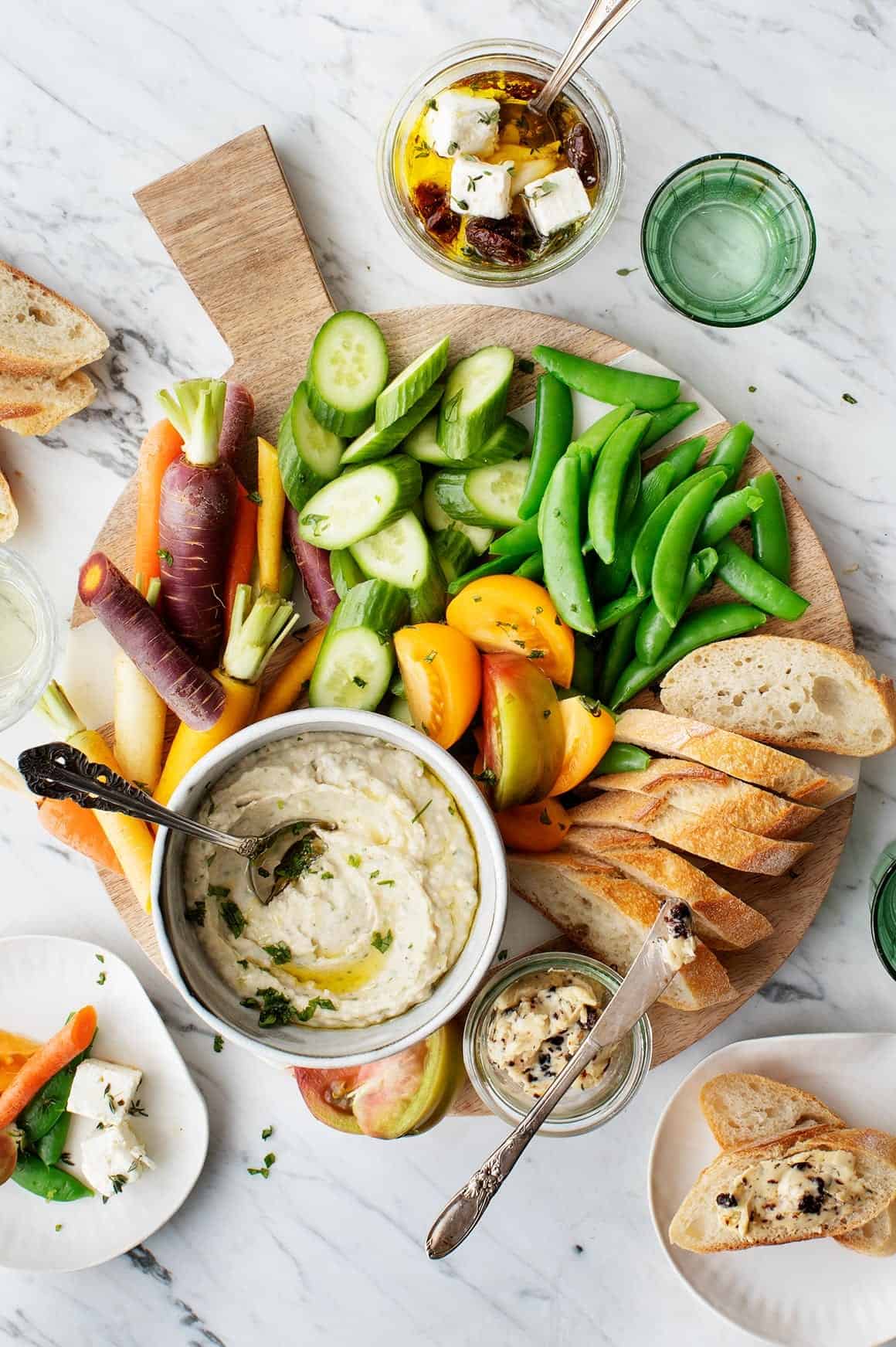 6 sprigs fresh thyme
7 ounces feta, cubed
2 garlic cloves
4 sun-dried tomatoes, halved
8 peppercorns
1¼ cups extra-virgin olive oil
½ cup unsalted butter at room temperature
1½ tablespoons dried tart cherries
1½ teaspoon freshy thume
1½ teaspoon honey or pure maple syrup
1 (15-ounce) can canellini beans, rinsed and drained
2 tablespoons olive oil
2 tablespoons torn fresh basil leaves
2 teaspoons fresh rosemary leaves
2 tablespoons fresh lemon juice
½ teaspoon lemon zest
½ teaspoon sea salt
freshly ground black pepper
¼ cup water
2 Persian cucumbers, sliced
1½ cups blanched snap peas
3 rainbow carrots, chopped
2 heirloom tomatoes, sliced into wedges
1 baguette, thinly sliced
Make the Marinated Feta. Layer the thyme, feta, garlic, sun-dried tomatoes, and peppercorns into a 16-ounce jar. Top with enough olive oil so that the ingredients are submerged. Chill until ready to use. (If the olive oil thickens in the fridge, let it sit at room temp until liquid.).
Make the Cherry Thyme Butter. Combine the butter, dried cherries, thyme, honey, and salt in a food processor and process until the butter is smooth and the ingredients are incorporated. Transfer to a serving dish or store chilled, wrapped in parchment paper.
Make the Herb-y White Bean Dip. In a food processor, pulse the cannellini beans, olive oil, basil, thyme, rosemary, lemon juice and zest, salt, and pepper until combined. With the food processor running, slowly add the water and process until smooth. Transfer to a serving bowl.
Assemble the platter with the cucumbers, snap peas, carrots, tomatoes, baguette, the marinated feta, the cherry compound butter, and the herb-y white bean dip.
3.4.3177