Love asparagus? Then you'll adore this collection of 12 Simple Asparagus Recipes! Each one is easy to make, full of flavor, and ultra-fresh. Whether you need a healthy pasta bowl or an elegant asparagus tart, you'll find it here – and lots more!
Everyone's Favorite Spring Veggie!
As Spring approaches, my thoughts turn to all the beautiful fresh produce that comes along with it – especially fresh, jade-green asparagus spears! This robust, yet delicately flavored vegetable is a springtime favorite. 
Plus, it's so good for you! Asparagus is a good source of lots of antioxidants, including vitamin C, vitamin E, and zinc. It's also known for helping your body cleanse itself of toxins, and contains high levels of vitamin K (good for your heart, among other things) and B vitamins (great for energy, and much more!).
On top of all of that, asparagus is so easy to cook with, and can be made in lots of healthy, easy, and super-tasty recipes. Perfection!
Should You Soak Asparagus Before Cooking?
You do not have to soak fresh asparagus before cooking, but it can be helpful for removing any dirt or grit from the stalks. Just let them sit for a few minutes in a bowl of water, to loosen the dirt. Then rinse them under cool running water. 
If you choose not to soak fresh asparagus, that's fine – but do be sure to wash the stalks briefly under running water, as you would any other produce.
For frozen or canned asparagus, there's no need to wash or soak.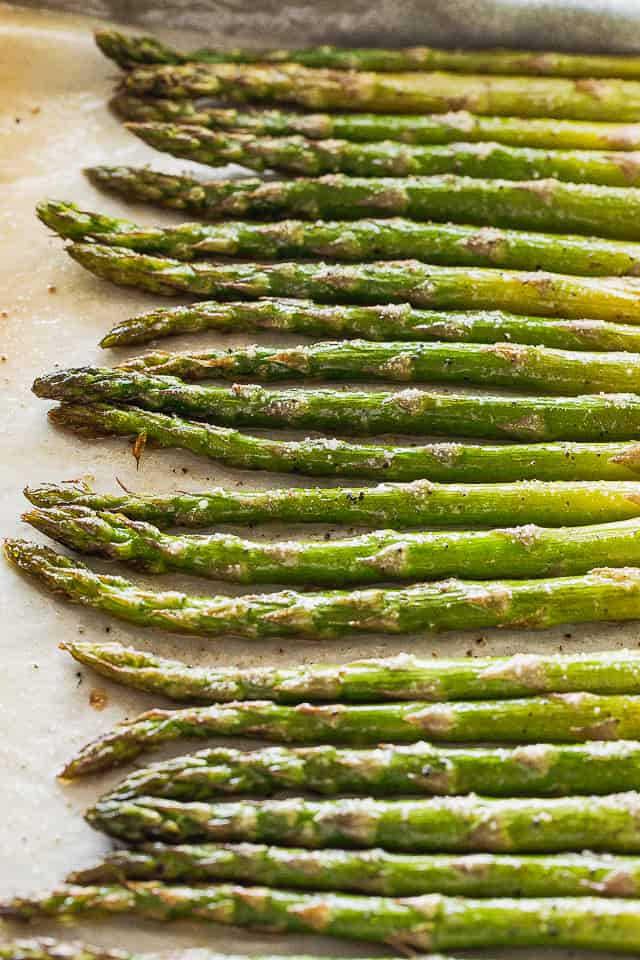 How Do You Cut Asparagus?
Cutting asparagus is important, because the base of the stem is usually tough and inedible. You can use a sharp knife to trim off the ends, or snap them off by hand. You may have heard that if you snap the ends off of each piece, the asparagus will naturally snap at just the right point, leaving you with only the tender part of the asparagus… but unfortunately, this isn't true. 
It can be difficult to pinpoint just where to snap or cut the asparagus, but usually, the bottom two inches are tough, while the remaining portion is tender. I recommend cutting the asparagus there, so you don't accidentally cut off portions of the asparagus that are tender and edible. If, during your meal, you realize that some of the stalks still have a little bit of the tough end attached, just cut those off and leave them on the plate as you would a shrimp tail or similar.
Finally, do you need to peel your asparagus? While some cooks recommend this, I have never found it necessary. Asparagus tends to cook up beautifully without peeling, so I say leave the peel alone and enjoy more asparagus!
What's the Best Way to Store Asparagus?
Okay, this definitely makes asparagus the spring-iest vegetable out there – to store, you need to trim the ends and place them in a glass of water, like flowers in a vase! From there, cover the tops loosely with a bag (a zip-top bag works well for this) and store in the fridge. Use as soon as possible; when the tips of the asparagus loosen and begin to "bloom" or wilt, the asparagus is no longer fresh.
12 Easy Asparagus Recipes to Try
Are you excited to start whipping up all of your asparagus favorites? Me too! I hope that as you look through this list, you'll find inspiration for new and different ways to enjoy this super veggie. From classic Asparagus Soup to Cheesy Asparagus Frittata, Asparagus Phyllo Bundles to Fluffy Couscous with Asparagus and Golden Raisins, these recipes have something to offer any family, diet, and lifestyle!
This low-carb recipe is literally a winning chicken dinner! Each chicken breast is seasoned to perfection, stuffed with mozzarella and tender asparagus, and seared in a cast-iron skillet before baking until done. The entire cooking process only takes about 30 minutes, meaning you can make this fancy little dish any night of the week!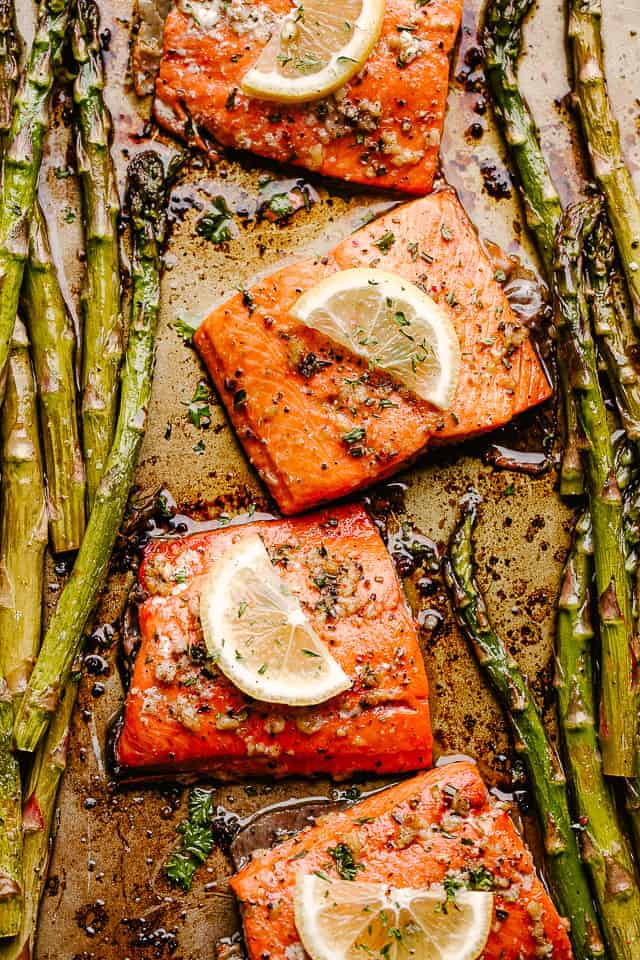 Lemon and garlic go beautifully with asparagus. Lemon and garlic go beautifully with salmon. So when you put them together… I think you see where I'm going with this! And this fresh, healthy combination gets even better when you add parsley, thyme, olive oil, and black pepper, and cook everything to perfection on a sheet pan. So easy!
This recipe is perfect for using very thin asparagus spears, and the savory results work beautifully for lunch, dinner, brunch, appetizers… you name it! Frozen puff pastry makes an easy, buttery base for the cheesy tart.
Delicate thin asparagus are bundled up in crispy phyllo pastry here, along with crumbles of tangy feta. Garnished with cracked black pepper and served with homemade honey mustard sauce, they are a simple, but complex appetizer you won't be able to resist!
If you like bacon-wrapped green beans, you are sure to adore bacon-wrapped asparagus! The sharp and savory glaze made with balsamic vinegar is the ultimate contrast with mild asparagus and sweet, smoky bacon.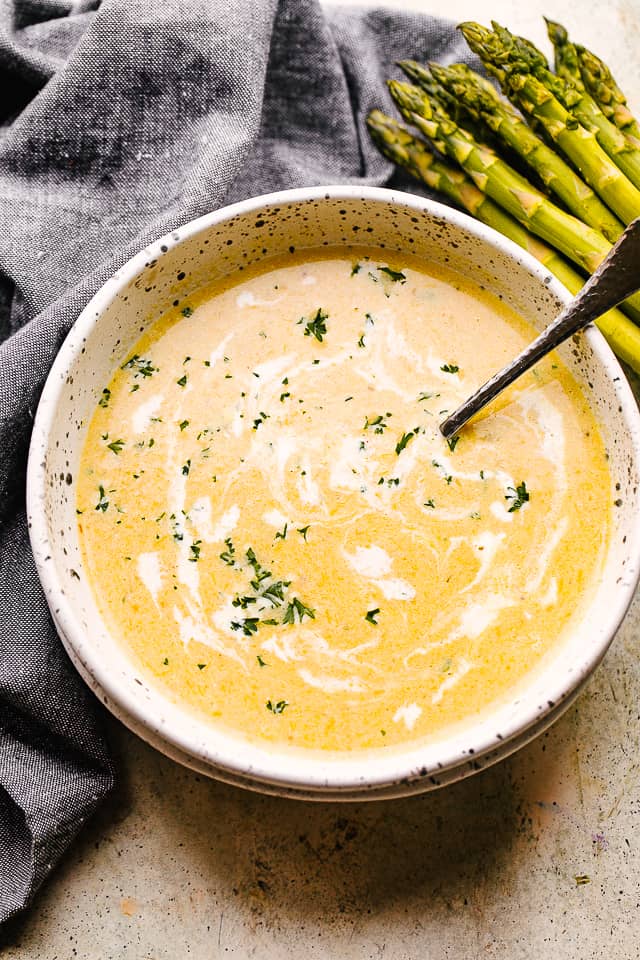 Onions and fresh asparagus are sautéed to bring out their flavors, and then simmered in veggie broth until tender. From there, sumptuous heavy cream and a bright splash of lemon get puréed in for a satisfying soup that's light, savory, creamy, and lush. Yum!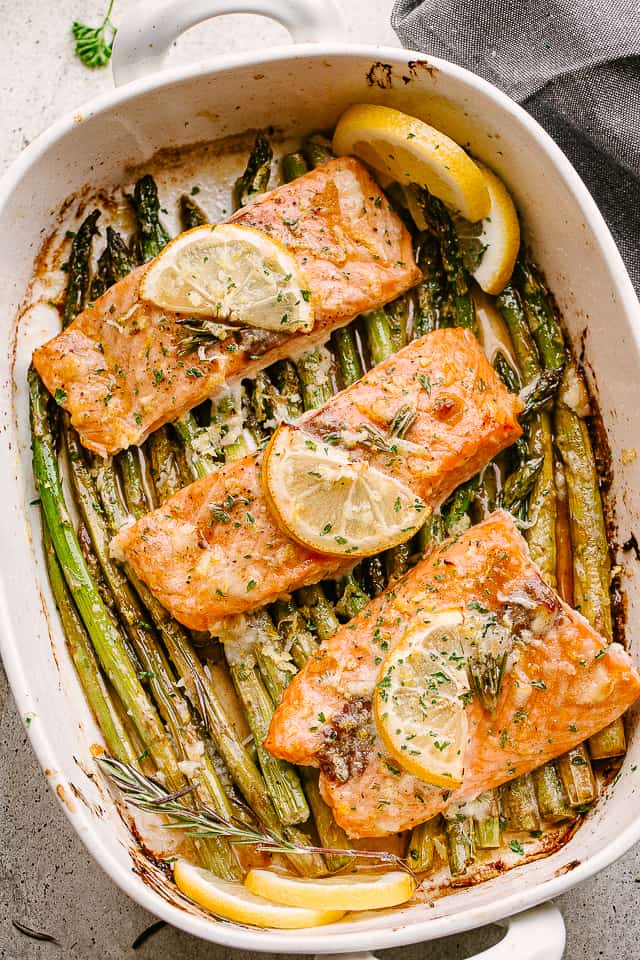 This Oven Baked Salmon Recipe makes tender, flaky salmon in a delicious lemon garlic butter sauce. Roasted with asparagus spears, this low-carb dinner idea is packed with flavor and comes together in just one pan. 
Salt, pepper, and a little olive oil are all you need to turn fresh asparagus spears into sweet, browned perfection! Topped with lemony, creamy, buttery hollandaise sauce, they're a timeless favorite that complements any meal. I could devour them all right off the pan!
You know those pilaf-style dishes that are so delicious, but have so many steps (looking at you, kedgeree) that you just hardly ever have the time to make them? Well, this easy couscous is full of subtlety and studded with a rainbow of colors and textures, from the golden raisins to the fresh asparagus – but it's also incredibly easy to make! Just simmer the veggies, stir in the couscous and raisins, and five minutes later, you've got a bowl full of AMAZING.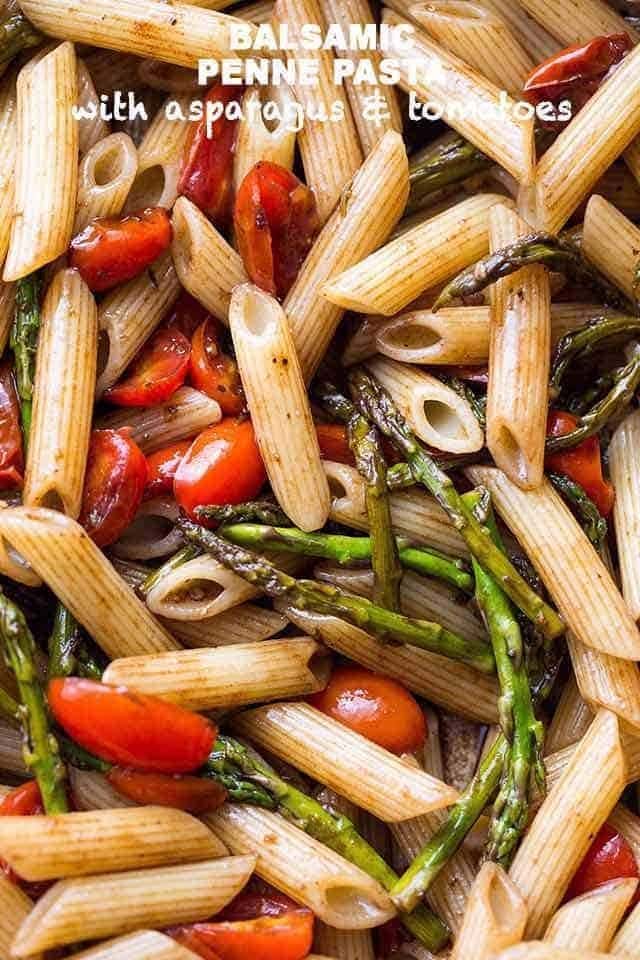 It doesn't get much simpler (or yummier) than the sweet balsamic pasta sauce in this quick dish! Balsamic vinegar is heated with a little brown sugar and a touch of butter for a shiny, flavorful dressing-like sauce that's sheer perfection on crisp-tender asparagus, juicy cherry tomatoes, and warm penne pasta. Garnish with Parmesan, and you've got a fabulous pasta bowl!
Do you know how to grill asparagus? Before you get started on that summertime grilling magic, take a look at this quick tutorial for grilling up a healthy side dish, too! All you need are salt, pepper, olive oil, and a little bit of Parmesan cheese. 
The base of this easy egg dish is so simple! Eggs, flour, cheese and herbs – that's all you need! From there, lay spear after spear of delectable asparagus right in there, and bake until the eggs are fluffy and the asparagus are perfectly tender. It's the breakfast (or lunch, or dinner!) of your dreams!