This cold 3 bean salad is so easy to make and is dressed in a zingy and sweet vinaigrette. Make it days ahead of time for an easy holiday side dish that everyone will love.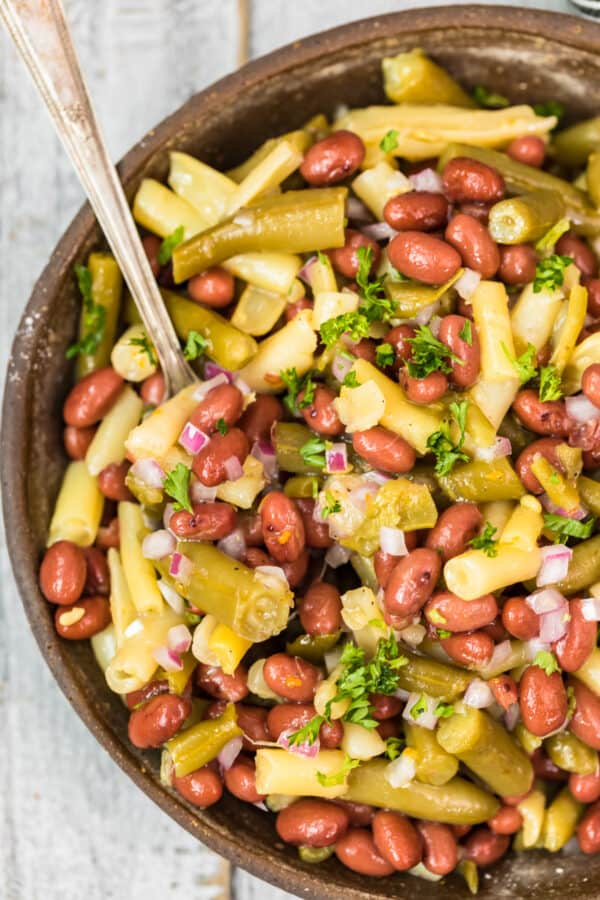 This classic 3 bean salad recipe is a must for any holiday table this year! So easy to make, and you can make it several days in advance, making it perfect if you are planning a big feast.
This side dish is made with simple ingredients and takes just 5 minutes to prep. Did I mention it's delicious?!
Why this 3 bean salad is so good!
So quick and easy! You just need 5 minutes and a few simple ingredients and you have the most yummy side dish ready to serve.
Make ahead. You can make this salad up to 7 days before you serve it! Perfect to get ahead with things!
It's a classic for a reason! A version of this salad has always been on my holiday table, in fact, it's expected! It's super delicious and everyone always wants seconds!
How to make a 3 bean salad from scratch
Combine all of the ingredients in a bowl.
Refrigerate.
Yep! It's really that easy!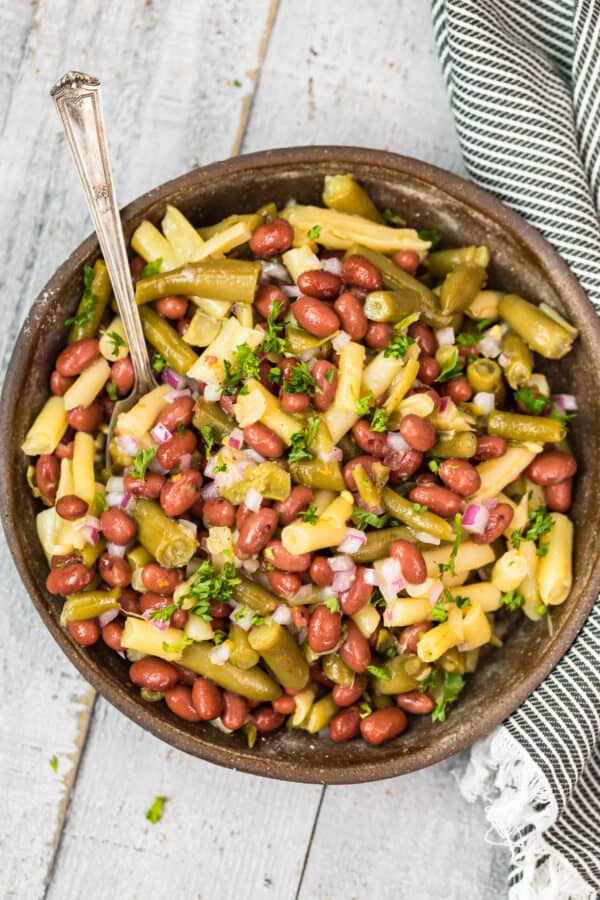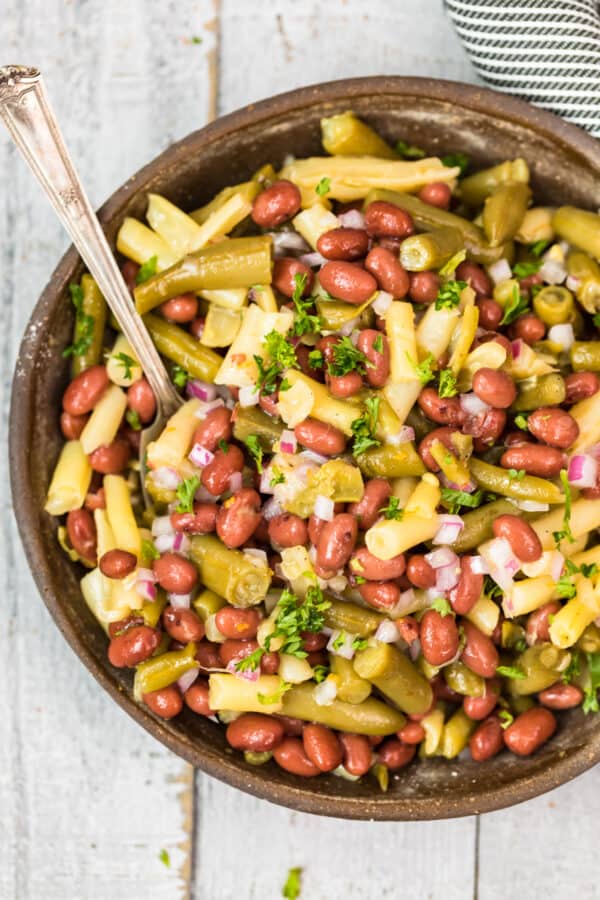 How to store this bean salad
One of the reasons this dish always gets made is because it has a great shelf life. It will keep for up to a week when stored covered in the fridge. Stir the salad each day to help the flavours blend and develop.
What beans are in a 3 bean salad?
The three beans that make up this salad are:
Green beans
Wax beans
Red beans
The beans are all canned so there's no cooking required and the prep time is minimal. Just drain and rinse the beans and you are good to go!
What do you serve with it?
This bean salad is a super versatile side. It's great with all your holiday favorites. Try it with: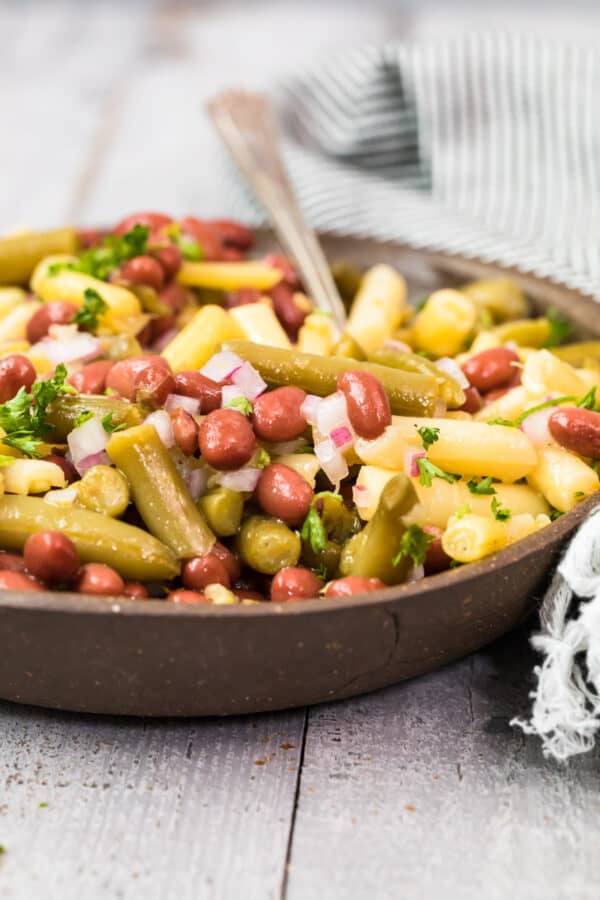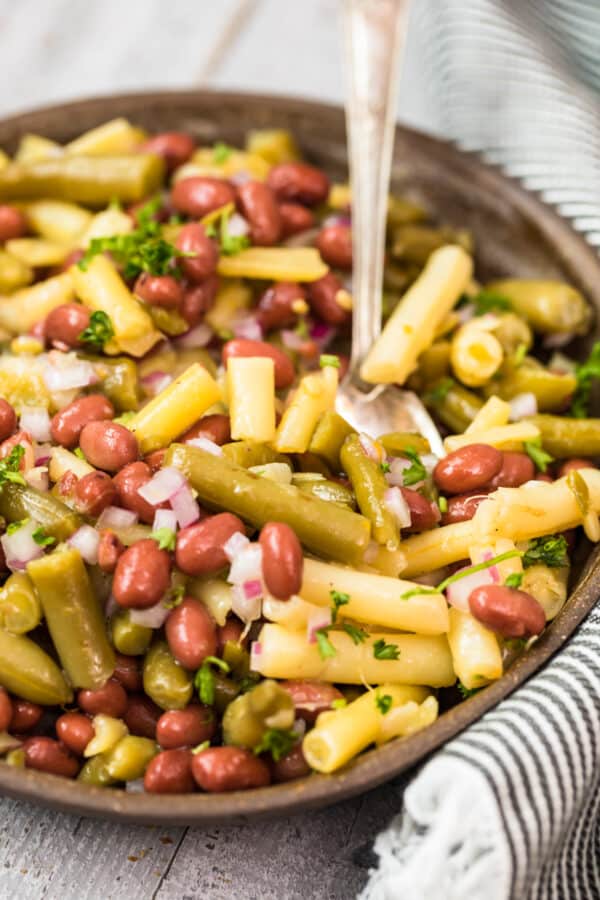 Recipe notes and tips
If Cut Green & Wax Beans (in one can) aren't available, substitute 1 can Cut Green Beans and 1 can Cut Wax Beans.
Be sure to rinse the beans well as they can be quite salty straight out of the can.
Let the salad sit for at least 8 hours before serving to let the flavors develop.
Don't forget to garnish with fresh cilantro or parsley, it adds a wonderful freshness to the dish.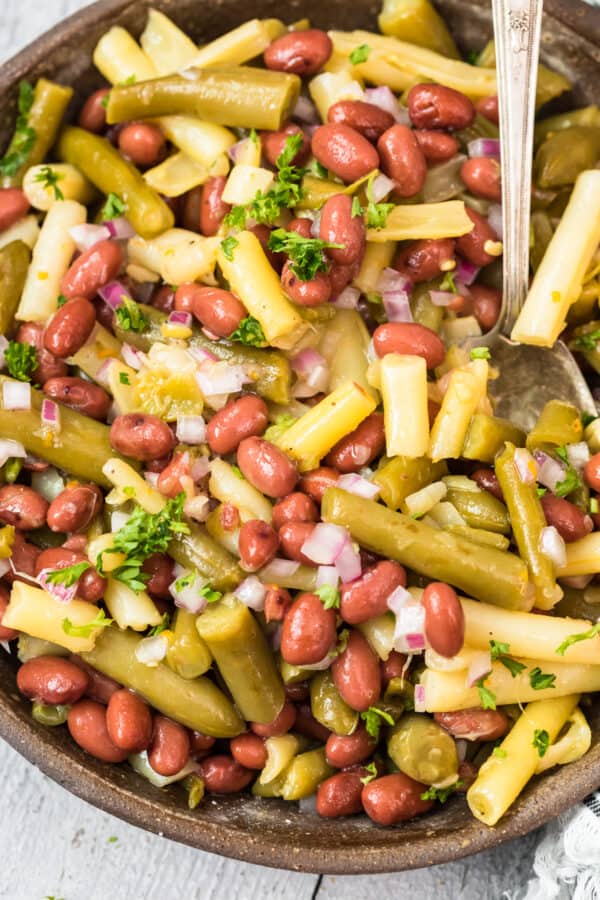 More Easy Holiday Sides
Did you make this recipe?
Use the tag #thecookierookie when posting a photo of your recipe, and make sure to follow The Cookie Rookie on Instagram!
Becky woke up on her 30th birthday and realized she didn't know how to cook, ANYTHING! She started The Cookie Rookie as a way to document her journey to learn how to cook, one recipe at a time! The Cookie Rookie is a place to find easy recipes that anyone can make, and everyone will love!