This easy Beef Zucchini Casserole is a tasty and enjoyable pasta bake, loaded with garlicky beef, tender veggies, hearty orzo, and three kinds of melty cheese. The perfect dinner for colder weather!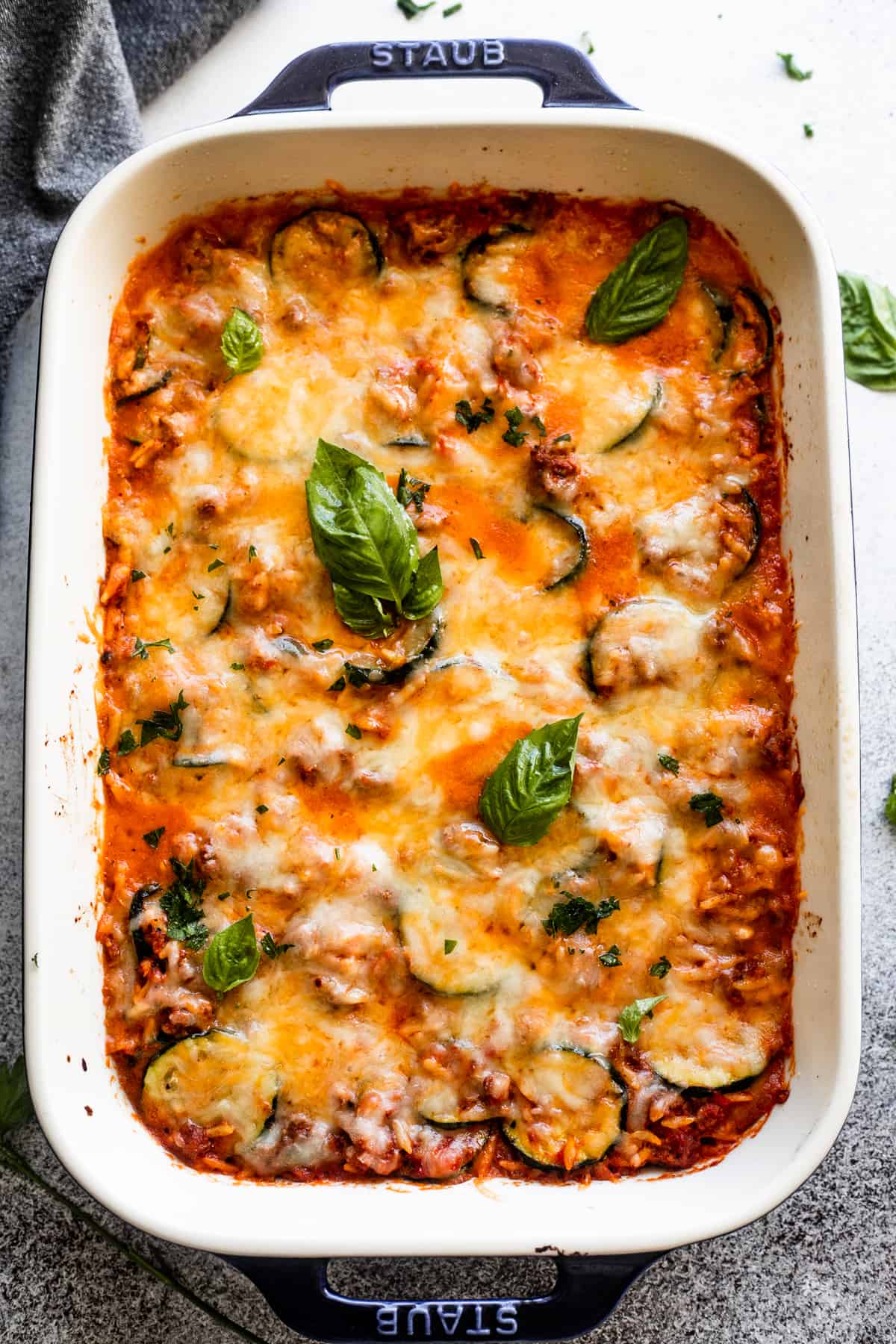 A Garlicky, Beefy Pasta Bake with Plenty of Melted Cheese
Casserole season is here! It's official. ? And, I'm kicking us off with this garlicky, beefy, cheesy pasta bake, a.k.a. beef zucchini casserole. This recipe is just the ticket to ease us into cozy Fall dinners!
With all its comforting flavor and warm, melty deliciousness, my meaty zucchini casserole is going to be on regular rotation from now until spring. I can almost guarantee it! ?
I make this easy casserole with ground beef, tender-cooked orzo pasta, and veggies, plus tons of cheese (naturally). It's hearty, it's filling. It's everything I dream about in a Sunday dinner. All the ingredients get sautéed in one pan, and then the oven does the rest.
What You'll Need
Let's go over what you'll need to make this delectable beef zucchini casserole. Below is a roundup of the ingredients, with the full amounts available in the recipe card:
Orzo: This is a type of small pasta you can find in most grocery stores. It looks a bit like rice, but it's not a grain! See below.
Olive Oil: For sautéeing the ingredients. 
Zucchini: You'll need about 1 pound of zucchini (sizes may vary), sliced into thin rounds. I used 2 large zucchini.
Seasoning: Italian Seasoning, salt, and freshly cracked black pepper. 
Onion: Yellow onion, diced
Garlic: Fresh cloves, minced.
Ground Beef: Lean ground beef
Crushed Tomatoes: Canned crushed tomatoes.
Cheese: Shredded mozzarella cheese, part-skim ricotta cheese, and shredded parmesan cheese.
Herbs: Dried basil, dried thyme for additional seasoning, plus chopped fresh basil for garnish.
Does Orzo Taste Like Rice?
Though it looks like large grains of rice, orzo is actually an Italian pasta made from semolina flour. So it tastes like pasta! Orzo is tender, chewy, and firm, a bit like a larger version of couscous (which is also made from wheat semolina). 
How to Make Beef Zucchini Casserole
While the oven heats to 375˚F, take out and grease a 9×13 casserole dish. Set this aside and get your orzo boiling according to the directions on the package. Meanwhile, start on the other casserole ingredients:
Cook the Zucchini: Sauté the zucchini slices in a hot skillet with Italian seasoning, salt, and pepper in a bit of oil. After a few minutes, transfer the zucchini to a large bowl.
Add Orzo: Once cooked, drain the orzo pasta and mix it into the bowl with the zucchini. Set aside.
Cook the Beef: Set your skillet back on the stove with more olive oil. Sauté the diced onions, then stir in the garlic before adding the ground beef. Break up and stir the beef with a wooden spoon while it browns, tossing in another pinch of salt. Continue to sear the beef until it's cooked through.
Combine: Make sure to drain the cooked beef of any excess fat, then add it to the bowl with the orzo and zucchini. Next, add the crushed tomatoes to the orzo mixture, followed by the mozzarella, ricotta, and parmesan. Give the mixture a sprinkle with the dried herbs, and toss to combine before spreading the mixture into your prepped baking dish.
Bake: Top the beef casserole with another layer of mozzarella cheese and bake for 20 to 25 minutes, or until the casserole is bubbling and cheese is melted. When the casserole is out of the oven, leave it to sit for about 10 to 15 minutes before garnishing and serving.
Tips, Tricks, and Variations 
How do you make an amazing beef zucchini casserole even MORE of a success? Let's discuss:
Drain the Beef: Ground beef tends to leak a lot of liquid as it browns. Be sure to drain this off, along with any excess grease, to avoid an overly-oily casserole.
Make It In a Skillet: This casserole recipe can be made entirely in a heavy-bottomed skillet! Sauté the ingredients as directed. Instead of adding the beef to the zucchini and orzo, drain the ground beef and then add the orzo mixture, tomatoes, and cheese into the skillet with the beef. Stir to combine and then cook until bubbly. Add the mozzarella and then place the lid over the skillet to melt the cheese.
Use Ground Turkey: For a leaner casserole, you can make this recipe using ground turkey or ground chicken instead. 
Different Pasta: If you can't get your hands on orzo pasta, feel free to sub in another small pasta shape.
More Veggies: Feel free to change up or add even more veggies to this beefy casserole! Try diced carrots, celery, broccoli, or bell peppers.
Fire-Roasted Tomatoes: This is one way to really up the flavor of the tomatoes in this recipe! Use canned fire-roasted tomatoes in place of regular crushed tomatoes.
Yummy Serving Suggestions
This casserole checks all the boxes as a tasty meal all on its own. Protein? Check. Veggies? Yep. Pasta? You've got it. But, in case you want to "beef" up your next dinner even further (pun intended), here are some easy serving suggestions for beef zucchini casserole:
Storing and Reheating Guidelines
What sort of casserole would this be if it didn't reheat like a dream? This zucchini bake is great to make ahead to keep in the fridge or freezer (see below), or to store for leftovers during the week. 
Once it's cooled off, wrap the baked casserole in plastic wrap or foil to refrigerate for up to 5 days.
I recommend reheating this casserole whole or in portions, in the oven, covered with foil. Preheat the oven to 350ºF and then bake until the casserole is heated through once more. You can also zap platefuls in the microwave as a faster option.
Can I Freeze This?
Yes! Cheesy beef zucchini casserole freezes beautifully. Wrap the cooled casserole in a layer of plastic wrap, followed by an extra layer of foil, and freeze it for up to 3 months.
Thaw the casserole in the fridge overnight and then reheat as usual.
ENJOY!
Preheat oven to 375˚F. Lightly grease a 9×13 baking dish with cooking spray and set aside.

Cook the orzo according to the directions on the package.

Meanwhile, heat 1 tablespoon olive oil in a large skillet set over medium heat.

Add the zucchini to the heated oil and season with Italian seasoning, ¼ teaspoon salt, and pepper. Cook for 5 minutes, or until zucchini is crisp-tender.

Remove zucchini from the pan and transfer to a large mixing bowl. To the same bowl, add the drained cooked orzo; stir and set aside.

Return skillet to the burner and heat remaining olive oil over medium-high heat. Add in the onions and cook for 1 minute. Stir in the garlic and cook for 20 seconds.

Stir in the ground beef, breaking it up with a wooden spoon. Season with remaining salt and cook for about 6 to 7 minutes, or until the ground beef is completely browned and cooked through.

Drain fat, if any, then add the beef to the large bowl with the orzo and zucchini.

Stir in the crushed tomatoes, ½-cup mozzarella cheese, ricotta cheese, parmesan cheese, basil, and thyme. Stir until everything is well combined and cheeses are melted.

Transfer the mixture to previously prepared baking dish and top with remaining mozzarella cheese.

Bake for 20 to 25 minutes, or until casserole is bubbly and cheese is melted.

Remove from oven and let stand 10 to 15 minutes.

Garnish with basil and serve.
Calories: 272 kcal | Carbohydrates: 15 g | Protein: 23 g | Fat: 14 g | Saturated Fat: 6 g | Polyunsaturated Fat: 1 g | Monounsaturated Fat: 6 g | Trans Fat: 0.2 g | Cholesterol: 59 mg | Sodium: 455 mg | Potassium: 573 mg | Fiber: 2 g | Sugar: 5 g | Vitamin A: 454 IU | Vitamin C: 16 mg | Calcium: 230 mg | Iron: 3 mg | Net Carbs: 13 g
Nutritional info is an estimate and provided as courtesy. Values may vary according to the ingredients and tools used. Please use your preferred nutritional calculator for more detailed info.
More Healthy Recipes with Ground Beef