This is the Best Guacamole recipe! It's fresh, full of flavor, and SO easy to make. Serve with tortilla chips, tacos, burritos, and more! This will be your GO-TO Guacamole!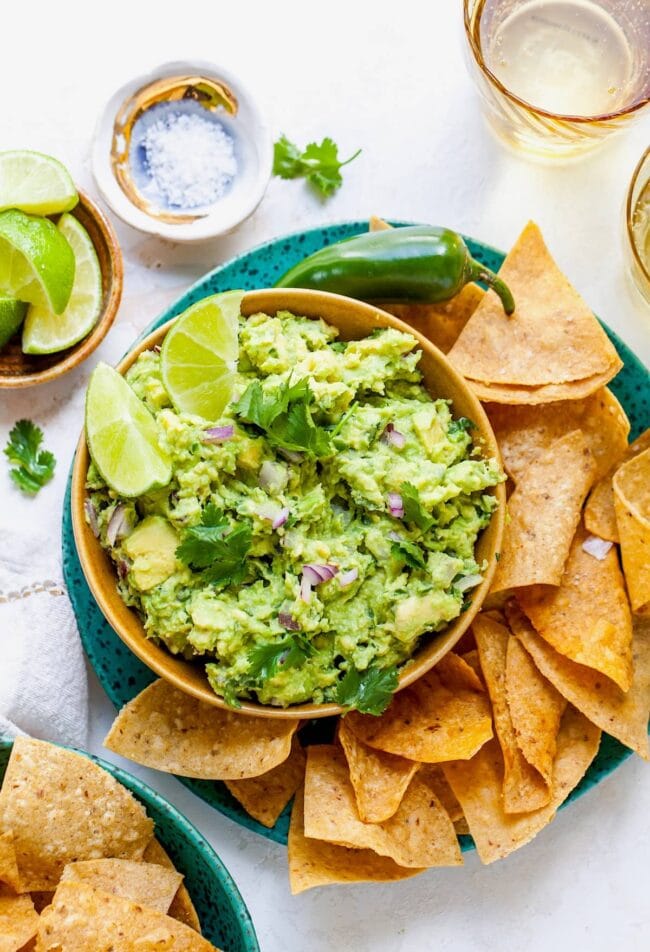 Guacamole
Guacamole is one of my all-time favorite foods. I'd say it's in my top 10 foods of all time! I LOVE guacamole and we make it ALL of the time, probably at least once a week. If I have avocados, you better believe I am making guacamole!
We love eating guacamole with tortilla chips for a snack or as an appetizer, but it's also perfect with all of our favorite Mexican dishes! This guacamole recipe is classic and made with simple and fresh ingredients. It only takes about 10 minutes to make and turns out perfect every time. Everyone always raves about this guacamole recipe because it really is the BEST!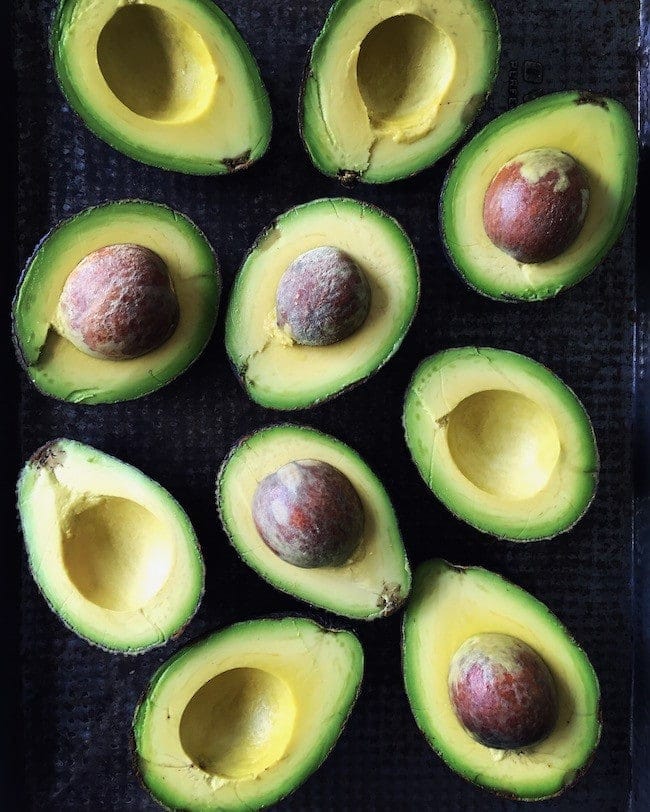 Picking the Best Avocados
To make the best guacamole, you have to start with the best avocados. I have a couple tried-and-true tips for picking avocados for perfect guacamole! Here's how I find the best avocados at the grocery store.
Look for avocados with darker colors! Dark green to a purple or brown color is ideal.
Peel back the little stem at the top of the avocado. If it pops right off and you see green underneath, that avocado is ready to eat! Brown underneath means it's overripe. If the stem doesn't come off the avocado isn't yet ripe and you'll want to wait a bit before eating it.
A ripe avocado has a bit of give when squeezed. Press with your thumb and test for firmness. A rock solid avocado isn't yet ripe. A little give means it's ready to eat, while a squishy or mushy feel is overripe.
If you're ready for guacamole and your avocados aren't, speed up the process! Place the avocados in a brown paper bag with bananas and close the bag. Stored at room temperature, this will speed up the ripening process! Give them about 2 days and they'll be just right.
Avocados that are ripening too quickly can be stored in the refrigerator to slow things down a bit.
Removing Avocado Pits
Avocado pits can be sticky little guys and hard to remove! One you've halved your avocados, you can carefully whack a sharp knife into the pit, twist it, and gently lift it out. Always practice knife safety and make sure your thumbs and fingers holding the avocado are out of the way!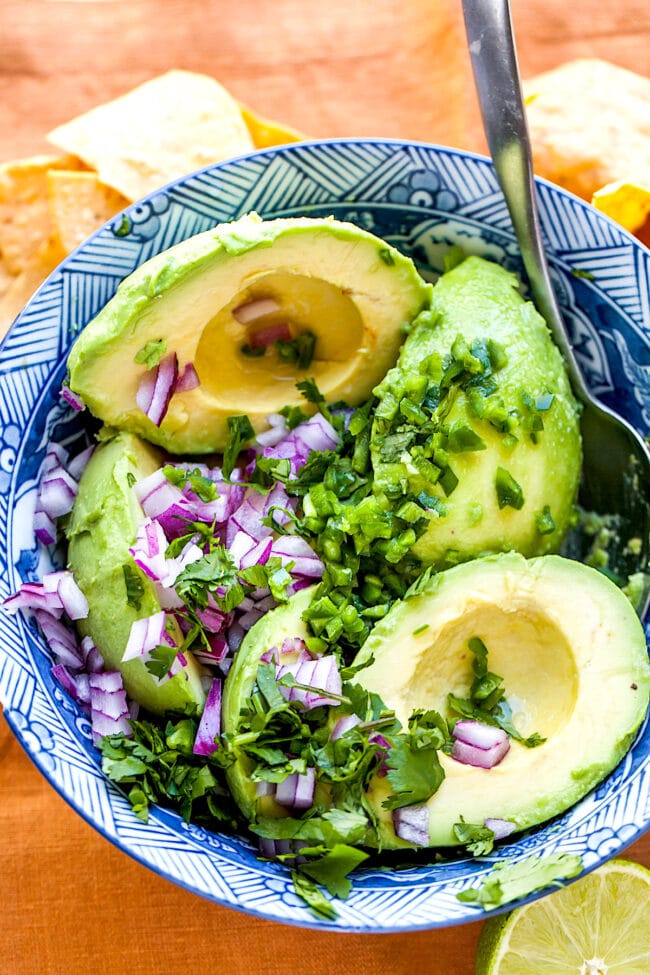 Guacamole Ingredients
Avocados-use my tips above to pick out the best avocados!
Red onion-I love the flavor and pop of color from red onion.
Jalapeño-Jalapeño gives the guacamole a little kick. If you don't want a super spicy guacamole, use a small jalapeño or use half of a jalapeño. I always remove the seeds because that is where the hot, hot, hot comes from! You can also omit the jalapeño if you want a completely mild guacamole.
Cilantro-I love cilantro and think it is a MUST for guacamole. If you think cilantro tastes like soap or don't like it, you can leave it out, but it adds SO much good flavor!
Lime juice-FRESH lime juice is a must for flavor and for keeping the guacamole from browning.
Kosher Salt and Black Pepper-I like to use coarse kosher salt and freshly ground black pepper.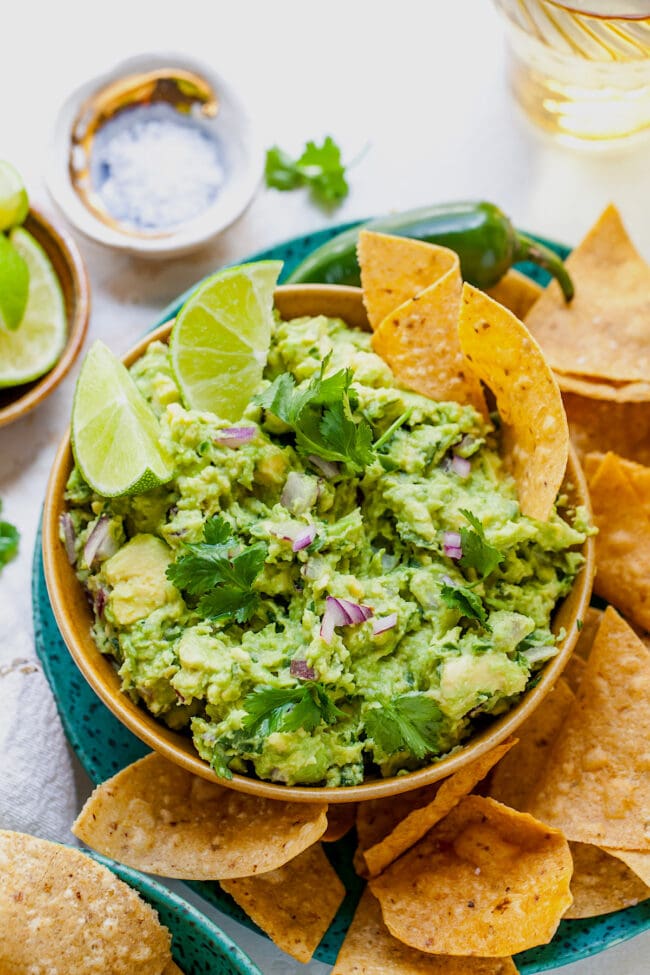 How to Make Guacamole
Guacamole is easy to make once you have all of your ingredients ready to go!
Cut avocados in half lengthwise. Remove the pits from the avocados. Squeeze the avocado flesh into a medium bowl or scoop the flesh out with a spoon and discard the skins.
Add the onion, jalapeño, and lime juice. Mash with a fork, until desired consistency is reached. I like a slightly chunky guacamole, but if you want a smooth texture, mash awaay! Season with salt and pepper. Taste and adjust seasonings, if necessary.
This is a really fun recipe to get little ones involved in the kitchen! The boys love helping me mash avocados with a fork!
Storing Guacamole
The hardest part about working with avocados is how fast they turn brown! If you aren't careful you'll have brown avocados and guac within a couple hours. I've got a couple little tricks to lengthen the life of your guac, though!
My guacamole is made with fresh lime juice and the acidity in the citrus helps keep the avocados bright and green a little longer. You could also use lemon juice. The lemon and lime combo is tasty, but I prefer classic lime.
Press plastic wrap directly against prepared guacamole to help prevent oxygen exposure. This will slow the browning process.
You can also do the water trick! Yes, water! I know it sounds weird, but it works. Put guacamole in an airtight container. Use a spoon to flatten the surface. Pour a little bit of water over the top of the guacamole, about half inch, so the water completely covers the guacamole. Put the lid on the container and refrigerate for up to 2 days.
If you do get a little browning on your guacamole, don't toss it! You can scoop or scrape the browned parts off and you'll find that gorgeous bright green underneath.
I think guacamole is best the day it is made, but you can keep guacamole in the refrigerator for 1 to 2 days.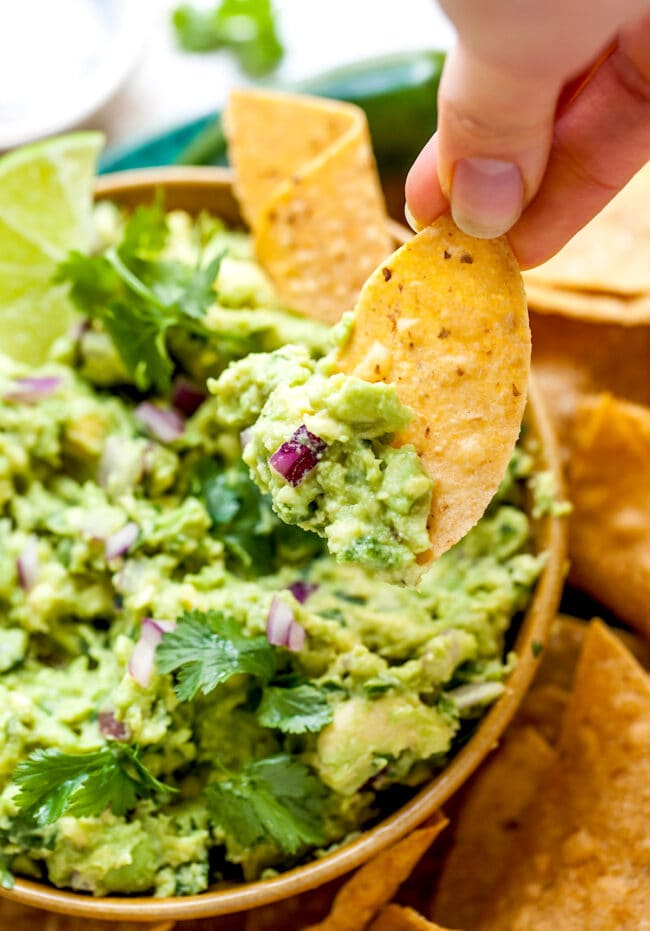 Guacamole Mix-Ins
I love getting creative with guacamole and adding tons of fun mix ins. It's all SO GOOD and fun to have variety, but at the end of the day, plain old guacamole is always my very favorite! For some variety, try:
Garlic
Tomatoes
Diced mango
Roasted corn
Chipotle peppers
Shredded cheese or crumbled queso fresco
Pistachios or almonds
Pomegranate arils
The options are endless! Get creative and stir in your favorite flavors!
What to Serve with Guacamole
Chips and guacamole are a match made in heaven, but guacamole is good with SO many things. I mean, what ISN'T tastier with a spoonful of guacamole on top? Here are a few of our favorite dishes that are made even better with a big scoop of guacamole: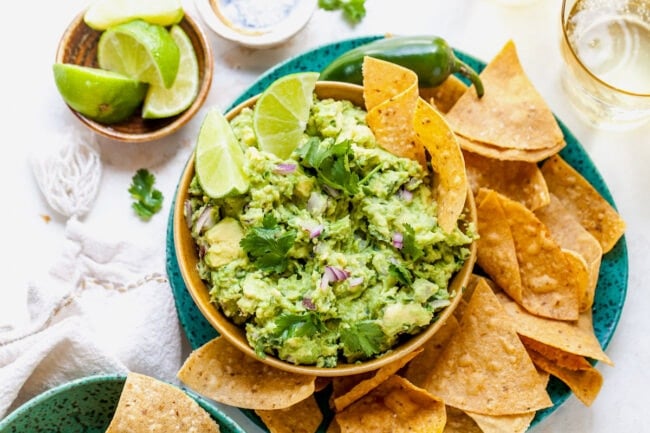 More Guacamole Recipes
This is our GO-TO classic guacamole recipe, but if you want to jazz things up, try these fun guacamole recipes!
3

medium ripe Hass avocados

¼

cup

diced red onion

1

small jalapeno,

minced, seeds removed

¼

cup

chopped cilantro

1

large lime,

juiced

3/4

teaspoon

kosher salt

¼

teaspoon

black pepper
Nutrition Facts
Best Guacamole
Amount Per Serving
Calories 168 Calories from Fat 135
% Daily Value*
Fat 15g23%
Saturated Fat 2g10%
Sodium 299mg12%
Potassium 509mg15%
Carbohydrates 11g4%
Fiber 7g28%
Sugar 1g1%
Protein 2g4%
Vitamin A 217IU4%
Vitamin C 17mg21%
Calcium 16mg2%
Iron 1mg6%
* Percent Daily Values are based on a 2000 calorie diet.
Keywords
gluten free, vegan
Photos by Dishing Out Health