My Easy Marinara Sauce is finally out of the bag! Learn how to make a homemade marinara sauce that goes with tons of meals, freezes easily, and tastes divine!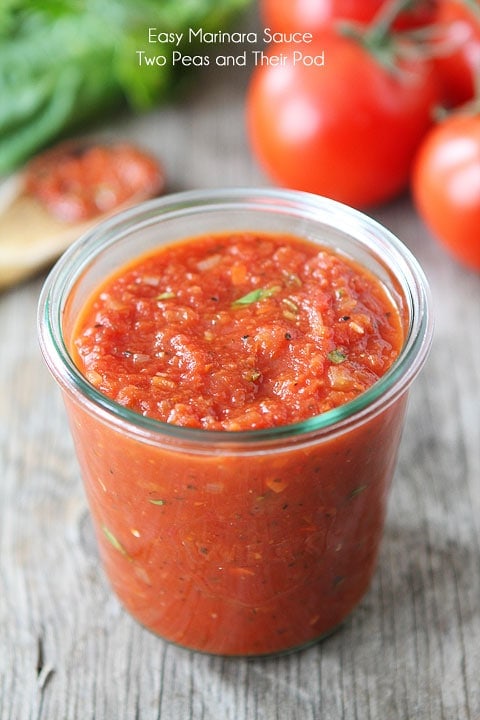 My Not-So-Secret Marinara Sauce
Last week we were making baked pasta for dinner and Josh asked if he could get started on the sauce. I told him he could get out the ingredients, but I would make the sauce. I am the sauce maker in our house. I trust Josh with a lot of things, but not with my marinara sauce recipe:)
Josh went to look the recipe up on Two Peas and Their Pod and couldn't find it. I guess I've never posted my Easy Marinara recipe. Oops! I am so sorry I have been keeping my favorite marinara sauce a secret. I didn't mean to! So, today the secret that wasn't supposed to be a secret is out, I am sharing my recipe for Easy Marinara Sauce.

OTHER RECIPES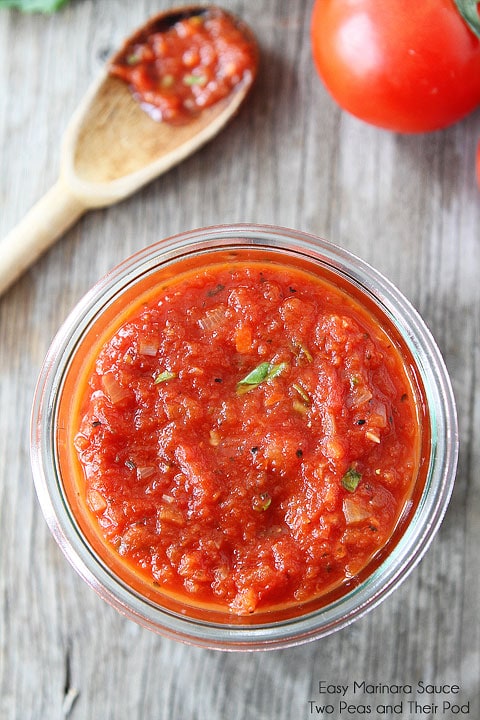 How to Make Marinara Sauce
Get out your aprons and let's get to work. It's going to get saucy in here!
This homemade marinara sauce is made up of basic ingredients: olive oil, onion, garlic, carrot, celery, tomatoes, crushed red pepper, and basil.
I use canned tomatoes because I always have them in my pantry. This is a great recipe to make any time of the year. My favorite tomatoes are San Marzano tomatoes.
My special touch includes a pinch of fennel seed. I learned this trick from my dad. Make sure you just add a pinch because a little fennel goes a long way.
I also add a bay leaf for flavor. Let the bay leaf simmer in the sauce and remove it before serving.
Add a little sugar to cut the acidity in the tomatoes. This is optional. If I am using San Marzano tomatoes, I don't add the sugar because they are lower in acidity, but if I am using regular tomatoes, I usually add a little sugar to cut the acidity.
Use fresh basil. Fresh basil adds a ton of flavor to the marinara sauce.
Let the sauce simmer on the stove for about 30 minutes so all of the flavors can meld together.
This sauce freezes well and I am sure it can be canned, but I am not a canner:) To freeze, let the sauce cool completely and put it in a freezer bag or container and freeze for up to 2 months. Label the sauce and date it so you know what it is in your freezer. Defrost and use!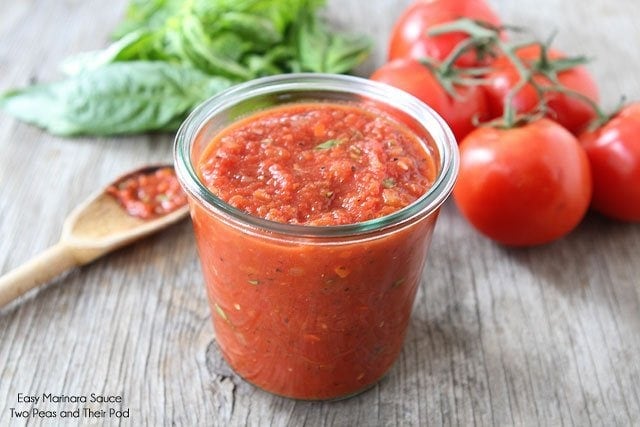 One Marinara Sauce, Endless Possibilities
I make this homemade marinara sauce all of the time. It is a staple in our kitchen and is great to serve with:
It's the BEST marinara sauce and it is so easy to make! A win-win!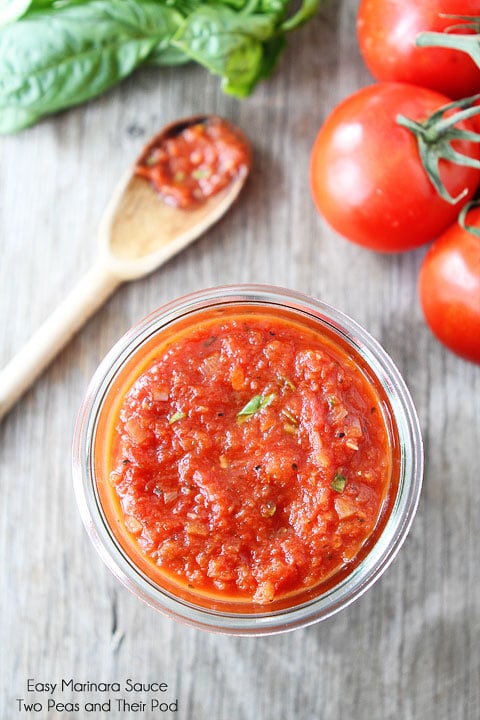 So there you have it, my Easy Marinara Sauce recipe is no longer a secret. I hope you enjoy it as much as we do!
If you like this Easy Marinara Sauce Recipe, you might also like:
Easy Marinara Sauce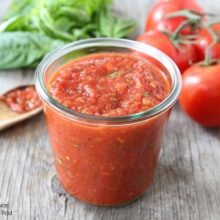 This is my favorite marinara sauce. We make it all of the time! It goes great with pasta, lasagna, polenta, and any other Italian dish you can think of!
Yield: About 4 cups sauce
Prep Time: 10 minutes
Cook Time: 40 minutes
Total Time: 50 minutes
Ingredients:
2 tablespoons olive oil
1 onion, diced
3 cloves garlic, minced
1 carrot, diced
1 celery stalk, diced
Pinch of fennel seed
1/8 teaspoon crushed red pepper
1 bay leaf
2 (28 oz) cans crushed tomatoes
1/2 teaspoon sugar (optional)
Salt and black pepper, to taste
1/4 teaspoon dried oregano
1/3 cup freshly chopped basil
Directions:
In a large pot, heat the olive oil over a medium-high heat. Add the onions and garlic and saute until the onions are translucent, about 5-7 minutes. Add the carrots and celery. Saute until the vegetables are soft, about 10 minutes. Add in the fennel seed, crushed red pepper, and bay leaf.
Stir in the tomatoes. Add the sugar, salt and pepper, and basil. Simmer uncovered for about 30 minutes. Remove and discard the bay leaf. Taste the sauce and season with more salt and pepper, if necessary.
Note-I like to make big batches of this sauce and freeze it. You can also can this sauce. Serve with pasta, lasagna, polenta, chicken or eggplant parmesan, etc.


All images and text ©Two Peas & Their Pod.




Follow twopeasandpod on Instagram and show us what recipes you are making from our blog! Use the hashtag #twopeasandtheirpod! We want to see what you are making in your kitchen!