Easy15 minsQuick
This delicious Everyday Mexican Salad recipe is quick and easy to make, totally customizable with your favorite ingredients, and it can work perfectly as a side salad or main dish!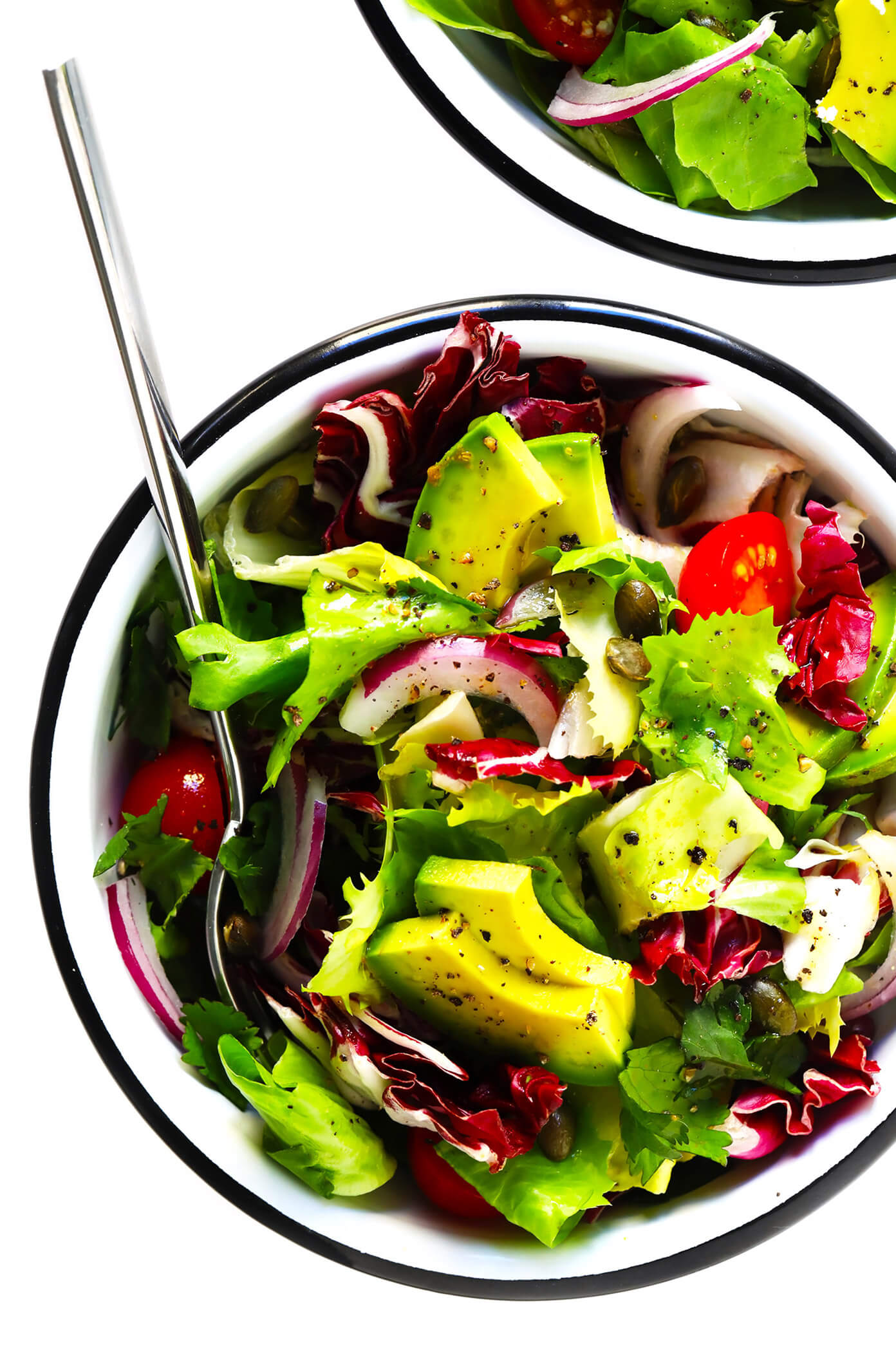 Today officially kicks off side salad week here on Gimme Some Oven!
Because here's the thing — ever since I shared my favorite, multi-purpose, goes-with-pretty-much-everything Everyday Salad recipe with you, tons of you have made and loved it too.  But over time, I've been getting more and more questions about how to mix things up to make slightly different variations for different types of cuisines.  So this week, I have five (brand new!) everyday salad recipes that you can add to your collection, beginning with one of my personal faves.

MY
LATEST VIDEOS
This easy Everyday Mexican Salad recipe. ♡
I don't know about you all, but most of my favorite Mexican entrees (here's lookin' at you, enchiladas, tacos and tamales!) usually include a hefty dose of carbs.  So it's always nice to have a fresh green salad on the side to balance things out a bit.  And this salad in particular is my go-to favorite.
It's made with a bright and zesty cumin-lime vinaigrette that's easy to whip up in a minute or two.  It's totally customizable with whatever greens, veggies, nuts, and (optional) cheese that sound good to you.  It can also easily double as a main dish, which you are welcome to amp with some cooked protein (such as chicken, steak, carnitas, shrimp, tofu), beans and/or extra veggies.  But best of all, this Mexican salad is quick and easy to make and muy, muy delicioso.
We make some version of this salad pretty much every single time we cook Mexican food, and it's always a winner.  I already know you're going to love it!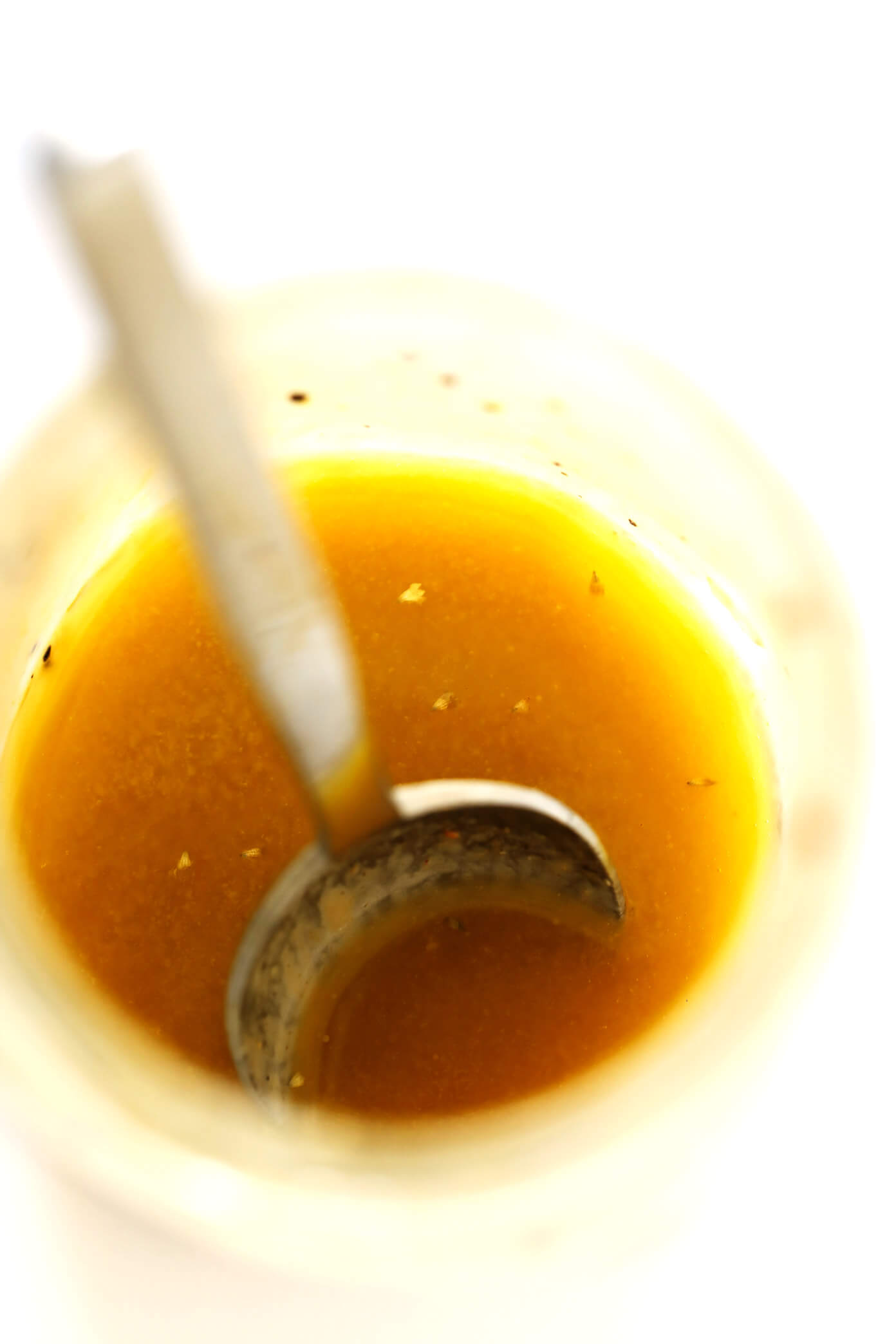 Everyday Mexican Salad Ingredients:
To make this easy Mexican salad recipe, you will need:
Greens: I typically use a bag of mixed spring greens for this salad, but any favorite greens will do.
Veggies: I kept things simple with creamy avocado and crispy red onion here.  But feel free to add in extra salad veggies that you have on hand!
Tomatoes: Any kind of chopped fresh tomatoes would be great here.  Or you're welcome to sub in sun-dried tomatoes too.
Cilantro: A generous handful of chopped fresh cilantro will really brighten this salad up!  If you're not into cilantro, though, feel free to leave it out.
Nuts: Pepitas are always my go-to.  But feel free to toss in almonds, walnuts, or any other nuts that you have on hand instead.
(Optional) Cheese: If you don't mind adding dairy to your salad, some crumbled cotija or queso fresco would be delicious here.  Or see other cheese ideas below too.
Cumin-Lime Dressing: Just whisk up some oil, fresh lime juice, cumin, garlic, salt and pepper for this zesty dressing.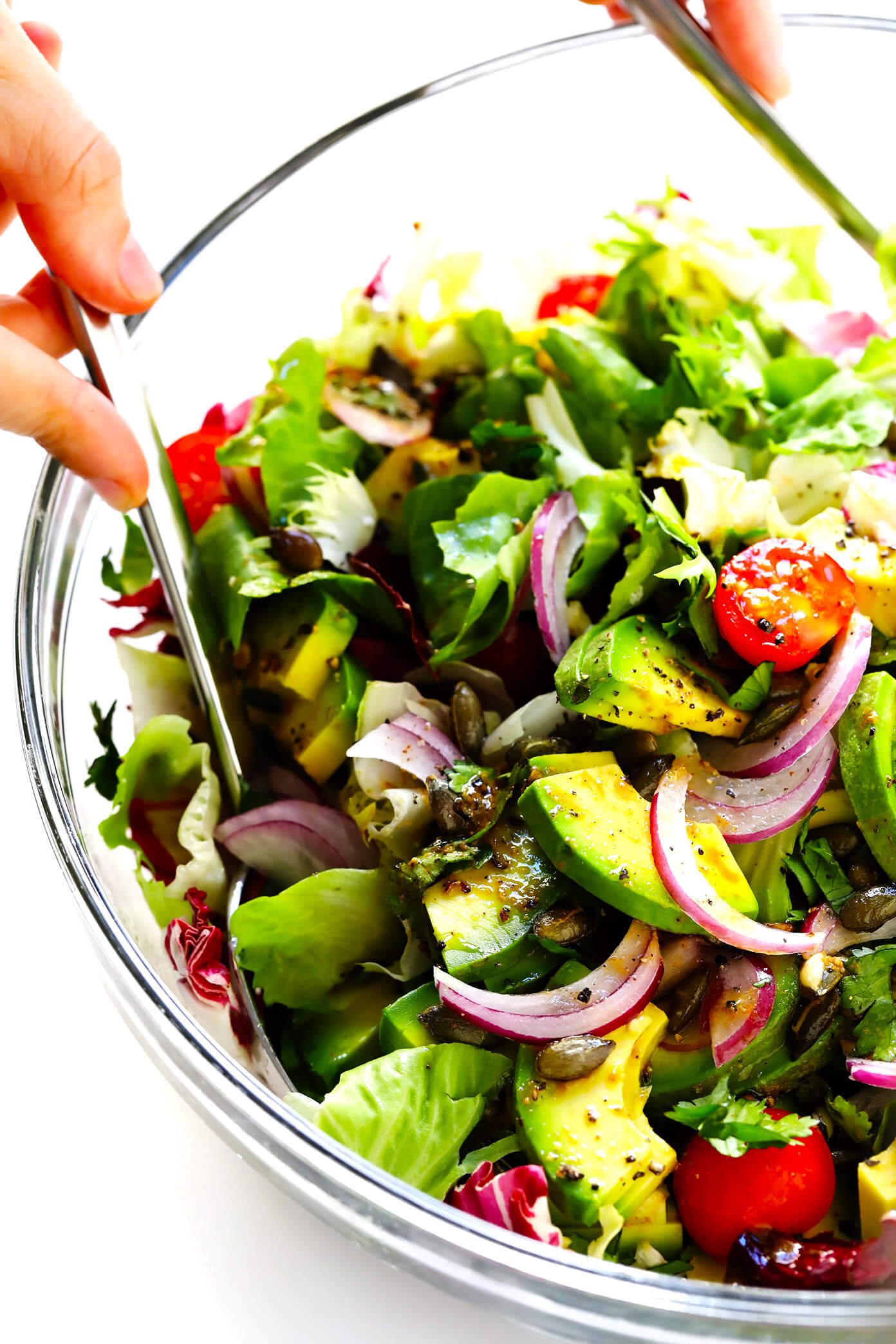 How To Make This Salad:
To make this Mexican salad recipe, simply…
Make your dressing.  Whisk all of the ingredients together in a small bowl until combined.  Or — my preferred method — just add them to a mason jar and shake-shake-shake until the dressing is ready to go.
Mix the salad.  Then combine all of your salad ingredients in a large mixing bowl.  Drizzle evenly with the dressing and toss until combined.
Serve!  And serve it up right away while it's nice and fresh!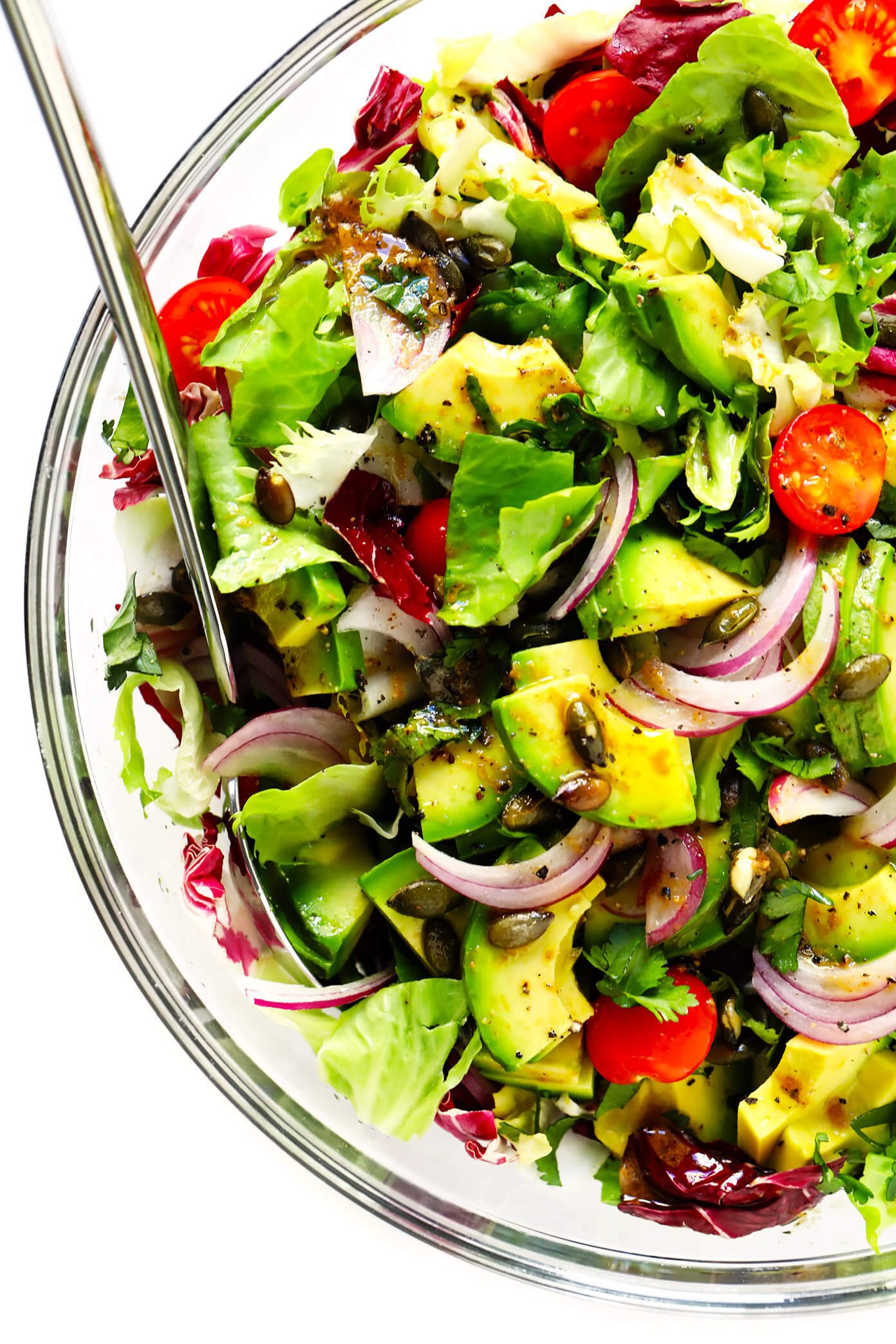 Possible Variations:
There are about a million ways that you can customize this salad.  So feel free to get creative and use what ingredients you love most (or need to use up in your kitchen!) and make this one your own.  For example, feel free to:
Add a protein: Cooked chicken, steak (or barbacoa), pork (or carnitas), shrimp, salmon, tofu (or sofritas) would all be great in this salad.
Add extra fresh veggies: Such as bell pepper, cucumber, jicama, radishes or corn.
Add extra jarred veggies: Such as sun-dried tomato, roasted red peppers, or artichoke hearts.
Add fruit: Such as diced fresh mango, pineapple, orange or grapefruit.
Add beans: A handful of black or pinto beans would also be delicious in this salad.
Add tortilla chips: I love also crumbling a handful of corn tortilla chips into this salad!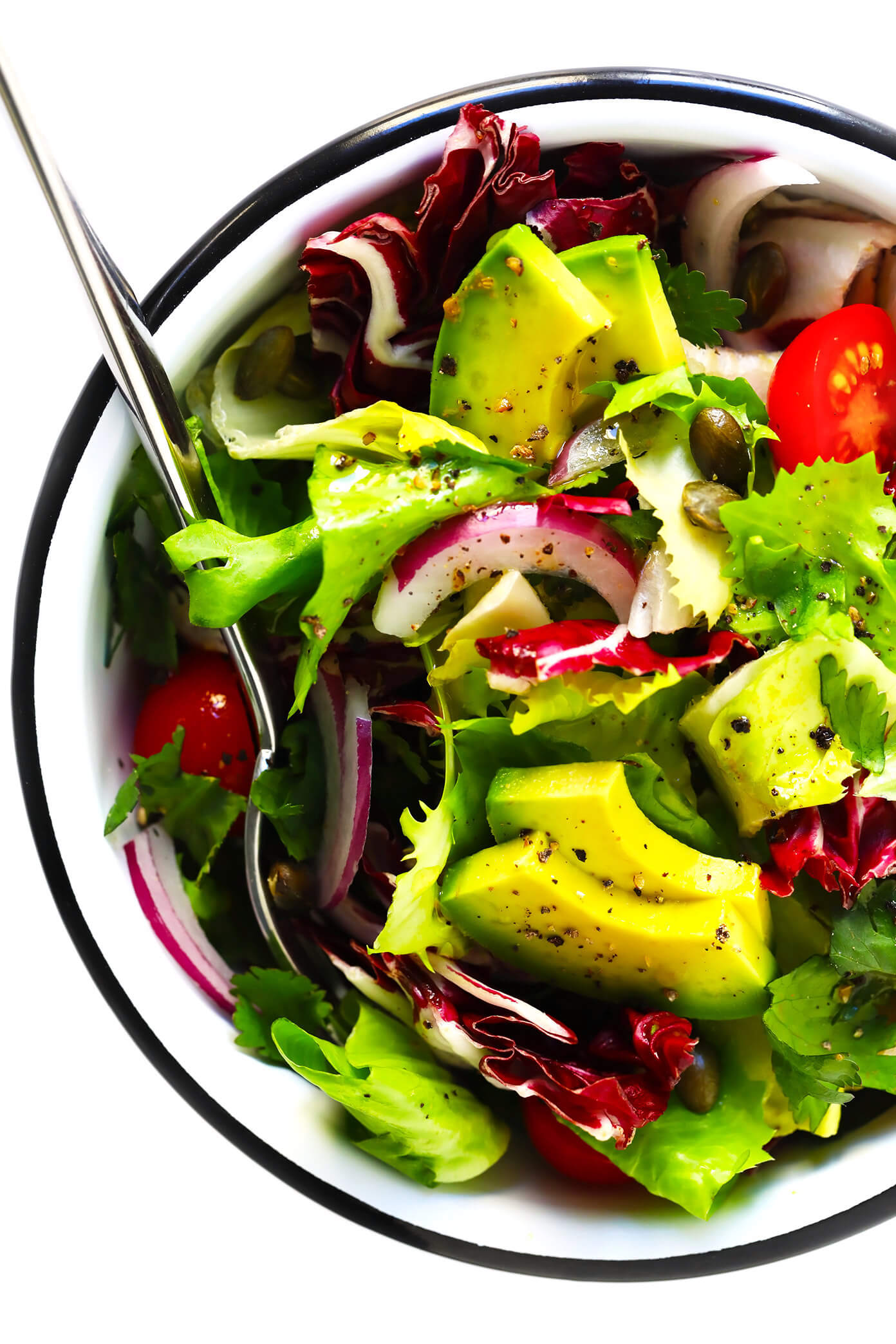 Favorite Mexican Recipes:
Looking for some winning entrees to serve with this salad?  Here are a few of my faves.
More Side Salad Recipes:
Stay tuned as well this week for more great side salad recipes to come!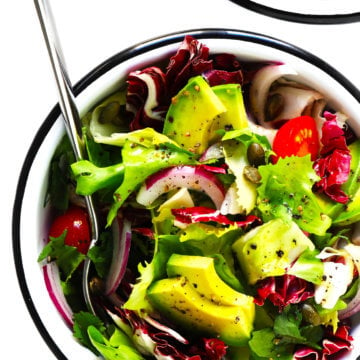 Yield: 4 servings
Everyday Mexican Salad
This delicious Everyday Mexican Salad recipe is quick and easy to make, totally customizable with your favorite ingredients, and it can work perfectly as a side salad or main dish!  See notes above for possible ingredient variations.
Ingredients:
Mexican Salad Ingredients:
5 ounces mixed spring greens (or whatever greens you prefer)
1 ripe avocado, peeled pitted and sliced
half a small red onion, peeled and thinly sliced
1 cup halved cherry tomatoes
2/3 cup roughly-chopped fresh cilantro
1/3 cup pepitas
optional: 1/2 cup crumbled queso fresco or cotija cheese
Cumin-Lime Dressing Ingredients:
3 tablespoons avocado oil or olive oil
1 tablespoon fresh lime juice (or red wine vinegar)
1/2 teaspoon fine sea salt
1/2 teaspoon ground cumin
1/4 teaspoon freshly-cracked black pepper
1 small clove garlic, pressed or minced (or 1/2 teaspoon garlic powder)
Directions:
To Make The Dressing: Whisk all ingredients together in a bowl (or shake together in a mason jar) until combined.  Use immediately or refrigerate in a sealed container for up to 3 days.
To Make The Salad: Combine all ingredients in a large salad bowl, drizzle evenly with the salad dressing, and toss until evenly combined.  Serve immediately and enjoy!
Difficulty: EasyCategory: Quick


All images and text ©Gimme Some Oven
If you make this recipe, be sure to snap a photo and hashtag it #gimmesomeoven. I'd love to see what you cook!
This post contains affiliate links.