posted by Jaden on January 10, 2018
Firecracker Shrimp Recipe is a 3-ingredient recipe with a Mango Ginger Dipping Sauce (ready in 3 minutes). This is a festive way to celebrate Chinese New Year 2018 on February 16th. The shrimp signifies happiness, and the "firecracker" scares away bad luck and bad spirits!
We've partnered with Argo® Corn Starch to bring you this recipe! We're using cornstarch to seal the Firecracker Shrimp, and cornstarch to thicken the Mango Ginger Dipping Sauce.
Mango Ginger Dipping Sauce
First, let's start with the 3-minute dipping sauce. You can serve these Firecracker Shrimp with pre-made Duck Sauce or Thai Sweet Chile Sauce. But it's easy to make your own, starting with your favorite fruit preserves, jam or jelly. We took inspiration from Argo Cornstarch's Plum Dipping Sauce. In addition, even if you're short on time and want to take advantage of prepared or frozen appetizers, you can still use this same dipping sauce (it's particularly great with jumbo cocktail shrimp!)
We chose mango jam, our family favorite (though apricot jam is a close second).
In a small saucepan over medium heat, whisk together mango jam, water, grated fresh ginger, soy sauce, a touch of sesame oil and cornstarch.
Continue whisking until the mixture bubbles a bit and thickens. The cornstarch will thicken the sauce. Serve dipping sauce with Firecracker Shrimp.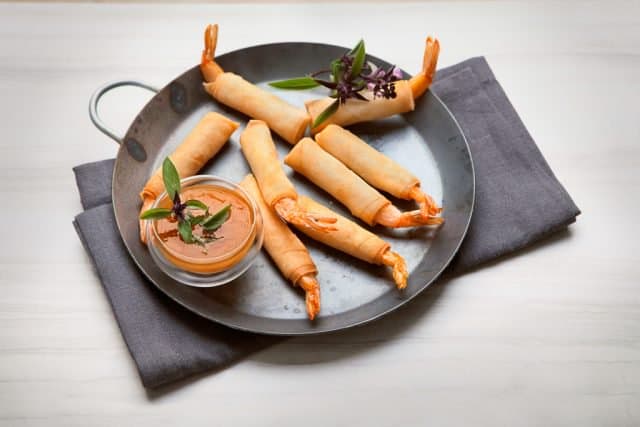 How to make Firecracker Shrimp
There really is only 3 ingredients! Wrapper, tail-on shrimp, and cornstarch.
Wrappers for Firecracker Shrimp
You can find spring roll or egg roll wrappers at any Asian market and most large-chain supermarkets. Here are some tips:
The wrappers found at Asian markets are so much better than ones found large-chain grocery stores. Look for "spring roll wrappers" or "egg roll wrappers" – the terms are used interchangeably. The first ingredient should be FLOUR, not rice. Chinese spring roll wrappers are different than Vietnamese wrappers that are translucent and made from tapioca or rice. My favorite brand is Spring Home (pictured) or Wei Chuan. The wrappers are about 9″ square.
If you aren't near an Asian market, your next choice is your grocery store. First, check the freezer section, just in case your market carries these wrappers! If no luck, look in the refrigerated section, usually near the tofu.
If wrappers are frozen, you'll need to defrost overnight in refrigerator, or on countertop for an hour. Open package and cut the wrappers in half, diagonally. IMPORTANT: Keep the wrappers covered under plastic wrap or a barely damp towel. The wrappers dry out very quickly and will crack.
How to straighten shrimp
The shrimp has a natural curve. We'll use a paring knife to score a few shallow nicks along this curve to straighten out the shrimp.
Take care not to cut through the shrimp, just score a few times in this curve.
Lastly, 1 tablespoon of cornstarch and 1/4 cup of water will create the "glue" or slurry that seals the Firecracker Shrimp.
How to wrap Firecracker Shrimp
Place one wrapper half on dry surface (remember to keep the rest of the wrappers covered up so they don't dry out.) Lay shrimp on wrapper, with tail sticking out.
Roll up the shrimp in the wrapper, stopping halfway.
Fold over the left corner.
Continue wrapping until you reach the end.
Dip finger into cornstarch slurry and paint that tip.
Finish rolling the Firecracker Shrimp and press tip firmly to ensure you have a good seal.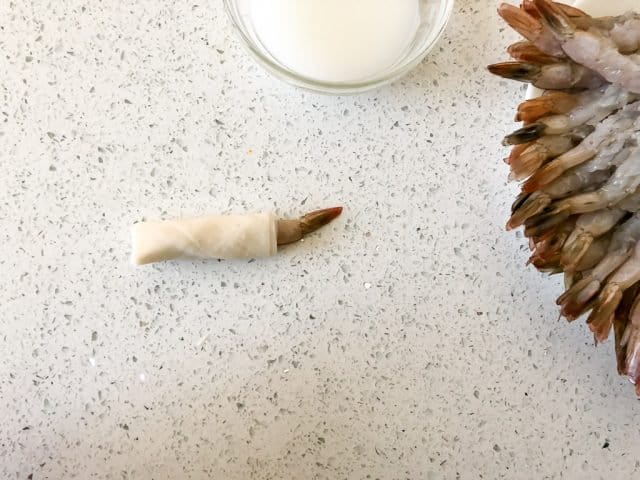 The tighter the roll, the better. Loose rolls will allow lots of oil to seep in. The roll below is a little bit loose.
Make sure the top of Firecracker Shrimp roll is nice and snug.
How to fry Firecracker Shrimp
In a small saucepan, add a 1 1/2″ of cooking oil (vegetable, peanut, canola or any neutral flavored cooking oil.) Here's a tip: the smaller the saucepan, the less oil you will have to use….but you can only fry a few Firecracker Shrimp at a time. The rolls fry fast…each batch only takes a couple of minutes. Alternatively, you can use an Air Fryer (though you'll have to experiment for cooking times, as I haven't had a chance to test. Start with 390F for 4 minutes.)
Chinese trick for checking oil temperature
Deep frying oil temperature should be 375F, however the Chinese trick to temperature requires NO thermometer and a wooden or bamboo chopstick!
Any wooden or bamboo, uncoated chopstick will do. Even those cheap ones from the to-go order will work…or large bamboo skewers. Just make sure the chopstick is uncoated, without the shiny lacquer.
Heat up your oil, and stick one end of the chopstick into the oil. If you see bubbles surrounding the chopstick, the oil is ready.
Not ready yet:
Now it's ready!
Deep fry the Firecracker Shrimp, a few at a time. My small saucepan could fry 5 at a time. Fry for a couple of minutes.
Unit the Firecracker Shrimp is golden brown, and the tail is pink. Lower your heat if the tails start to turn too brown before the wrapper crisps up.
Let drain on rack.
Print
There are usually 25 wrappers in each package of Asian spring roll wrappers. We'll cut each wrapper in half, which makes 50. You can make as many Firecracker Shrimp as you want, I've listed 40 shrimp in the recipe, leaving you with a few "oops" wrappers.
Course: Appetizer
Cuisine: Asian
Servings: 40 pieces
Calories: 62 kcal
Author: Jaden
For the Firecracker Shrimp
40

shrimp

tail-on

1

package

Asian spring roll wrappers (25 count)

defrosted

1

tablespoon

cornstarch

preferred Argo Corn Starch

cooking oil for frying

high heat, neutral flavored
For the Mango Ginger Dipping Sauce
1/2

cup

mango jam

or jelly, or preserves

3

tablespoons

water

1

teaspoon

grated fresh ginger

1

tablespoon

soy sauce

1/2

teaspoon

Asian sesame oil

1

tablespoon

cornstarch

preferred Argo Corn Starch
For the Firecracker Shrimp
Peel and devein shrimp, leaving tail on. Nick the inside curve of the shrimp a few times to straighten shrimp (see photos).

Cut wrappers in half, diagonally. Keep covered to prevent drying. 

In small bowl, whisk cornstarch with 1/4 cup water.

Roll Firecracker Shrimp, as shown in the photos above, using the cornstarch slurry as the "glue". Keep finished rolls covered under plastic wrap to prevent drying. 

Add 1 1/2″ of cooking oil to small saucepan. Heat to 375F. Before frying, double check to make sure each roll is tightly sealed. Paint a little cornstarch slurry to ends, if needed. 

Fry a few Firecracker Shrimp at a time, for 2 minutes, or until wrapper is golden brown and crispy. Don't overcrowd pan. Drain on rack or paper towels.
For the Mango Ginger Dipping Sauce
In a small saucepan, whisk together the jam, water, ginger, soy sauce, sesame oil and cornstarch. Heat over medium heat until beginning to bubble. Turn heat to low, continue to whisk and cook for 1 minute.
Nutrition Facts
Firecracker Shrimp Recipe with Mango Ginger Dipping Sauce
Amount Per Serving
Calories 62 Calories from Fat 9
% Daily Value*
Total Fat 1g 2%
Cholesterol 16mg 5%
Sodium 137mg 6%
Potassium 18mg 1%
Total Carbohydrates 9g 3%
Sugars 2g
Protein 2g 4%
Vitamin C 0.8%
Calcium 1.5%
Iron 3%
* Percent Daily Values are based on a 2000 calorie diet.