Tequila Lime Chicken is one of our favorite grilled chicken recipes in the summer…or all year long! The smoky, citrus marinade paired with the subtle flavor the tequila gives the chicken is a winning combination.
Looking for a great sauce to dip this in? Try my Chicken Dipping Sauce!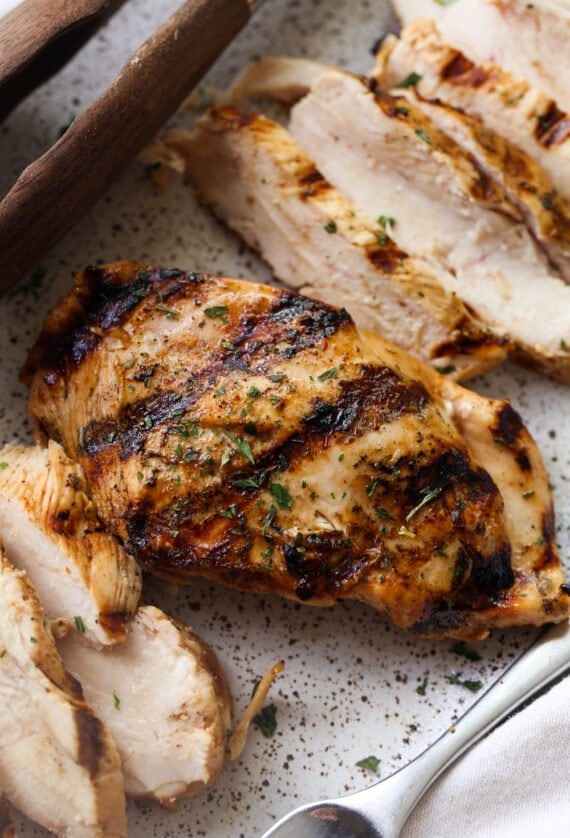 Tequila Lime Chicken Is An Easy Flavor Packed Grilled Chicken Recipe!
We grill chicken all year long. It's our go-to dinner when I I don't want to think about "what we're having for dinner". I make a few pounds at the beginning of the week and we eat it for lunch and dinner over the next few days. It's easy to grab and eat, whether it's warm or cold.
So with that said, I'm always looking for variations of grilled chicken. I make my favorite chicken marinade most often, but when I want to change it up and add in some citrus this Tequila Chicken is a delicious, flavor-packed option.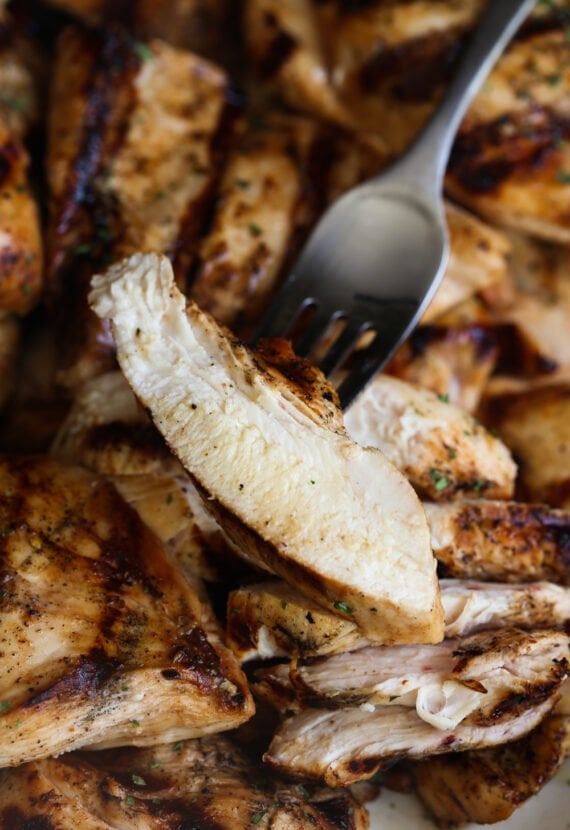 What Ingredients Do I Need For the Marinade?
Minced garlic
Tequila. I use gold tequila, but use whatever you have on-hand.
Lime juice, fresh is best
Orange juice, again fresh is best
Lemon juice…you guessed it…use fresh!
Soy sauce
Salt and pepper
Chili powder
Cayenne pepper for a little heat. You can leave this out if you want…or add more!
Honey
Liquid smoke flavoring
Olive oil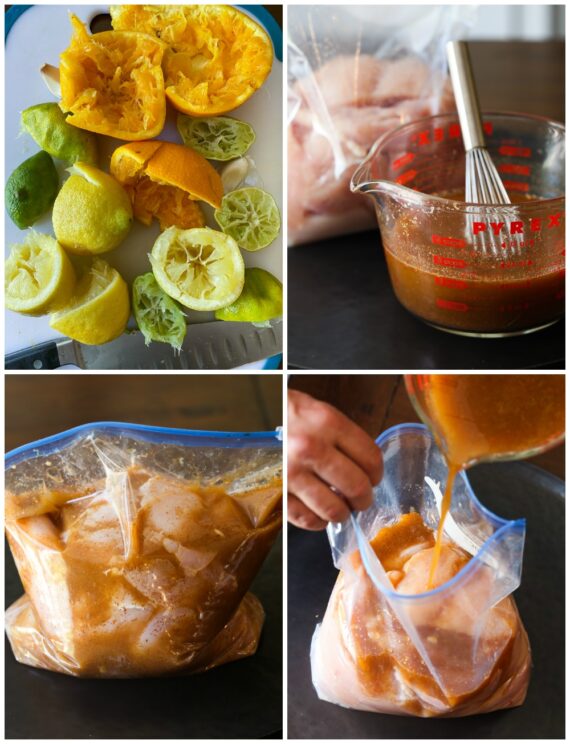 Do You Taste the Tequila?
Not really, no…maybe very subtly, but it's not the main flavor. This is more of a citrus "margarita" chicken than strictly tequila. I am not a fan of tequila, and this is one of my favorite chicken marinades!
Can You Leave The Tequila Out of Tequila Lime Chicken?
Yes you can. It will be a straight citrus chicken marinade, but yes you can. I would sub in 1/4 cup water in place of the tequila.
How Long Do You Marinate The Chicken?
I recommend only marinating this Tequila Chicken for up to 4 hours. Due to the large amount of citrus juice in this, the meat can break down if left too long in the marinade!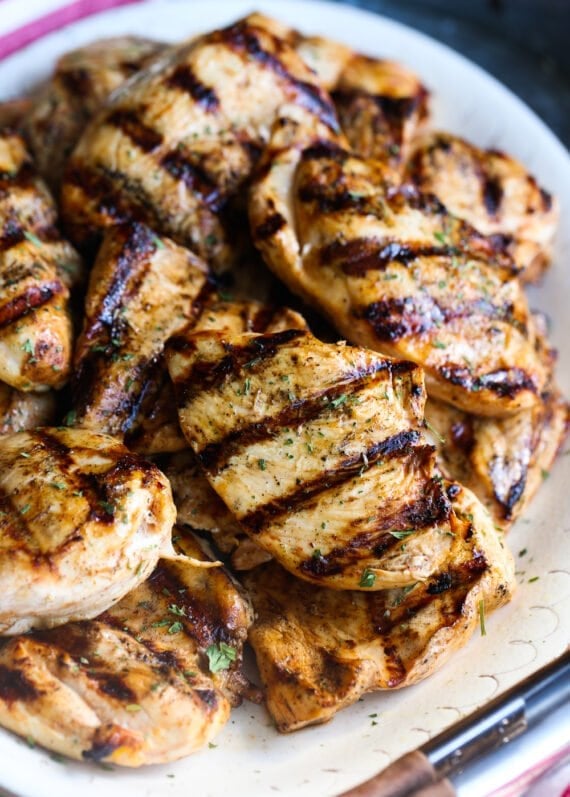 What Can You Serve Tequila Chicken With?
This is a very versatile chicken recipe. You can enjoy this with a vegetable or on a salad for a low-carb option. Or you can serve it with rice or pasta!
Here Are Some Side Dish Options: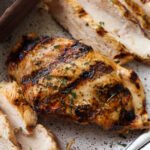 ---
Description:
This easy grilled chicken marinade is delicious and packed with flavor. Simple ingredients make this an easy weeknight dinner idea!
---
Ingredients:
4

cloves garlic, minced

1/2 cup

gold tequila
juice of

4

limes
juice of

1

orange
juice of

2

lemons

1 tablespoon

soy sauce

2 teaspoons

kosher salt

1 teaspoon

fresh black pepper

2 teaspoons

chili powder

1/2 teaspoon

cayenne pepper

1 tablespoon

honey

1/2 teaspoon

liquid smoke flavoring

2 tablespoons

olive oil
up to

4

pounds boneless, skinless chicken breasts, trimmed as desired
---
Instructions
In a large bowl whisk together the garlic, tequila, lime juice, orange juice, lemon juice, soy sauce, salt, pepper, chili powder, cayenne pepper, honey, liquid smoke, and olive oil.
Place the trimmed chicken breasts in a large zip-top bag.
Pour the marinade on top of the chicken in the bag. Seal bag and massage slightly to coat chicken evenly.
Refrigerate for 4 hours.
Preheat your grill to medium-high. Place the chicken on the grill and cook for 4-5 minutes on each side or until the internal temperature of the chicken reaches 165°F. Cook times will vary based on the size and thickness of the chicken breasts.
Transfer chicken to a platter and cover with foil and allow to rest for 5-10 minutes before serving.
---
Notes:
Store airtight in the refrigerator for up to 3 days.
Don't allow the chicken to marinate for longer than 4 hours, as the amount of acid in the recipe will break down the chicken.
Keywords:: cookies and cups, chicken breast, chicken recipe, tequila chicken, citrus chicken, grilled chicken, chicken marinade
Want To Save This Recipe?
PIN for later: