The BEST recipe for homemade broccoli cheese soup, this version is easy and creamy, with tons of cheddar cheese flavor (no processed cheese in sight!).
Everyone needs a fabulous go-to recipe for homemade broccoli cheese soup.
Wouldn't you agree?
Today's recipe is a new and improved version of the broccoli cheese soup that was posted way back in 2008.
It's a wildly popular recipe – pinned almost 100,000 times with hundreds of comments.
So why am I playing with fire and posting a new version?
Well, as has been known to happen more than once, after making a beloved recipe for nine years, I tend to make changes to simplify it just a little.
Read: cut some corners.
And when the result is just as delicious as the original, I feel a fervent need to share those details with you.
I've eliminated a couple pots and pans from the cooking method as well as nixing the butter completely.
It's even simpler than before and equally as delicious.
It is the only broccoli cheese soup we make, and easily the best of the best.
Instead of altering the original recipe, I'm giving this new and improved version a separate post.
I felt like the degree of change warranted that.
And also, I know what happens when recipes that have lived on my site for almost a decade are altered.
The level of reader freakout is…well…large and frightening.
So we'll keep the precious original broccoli cheese soup recipe just as it is. I know it will continue to be made over and over.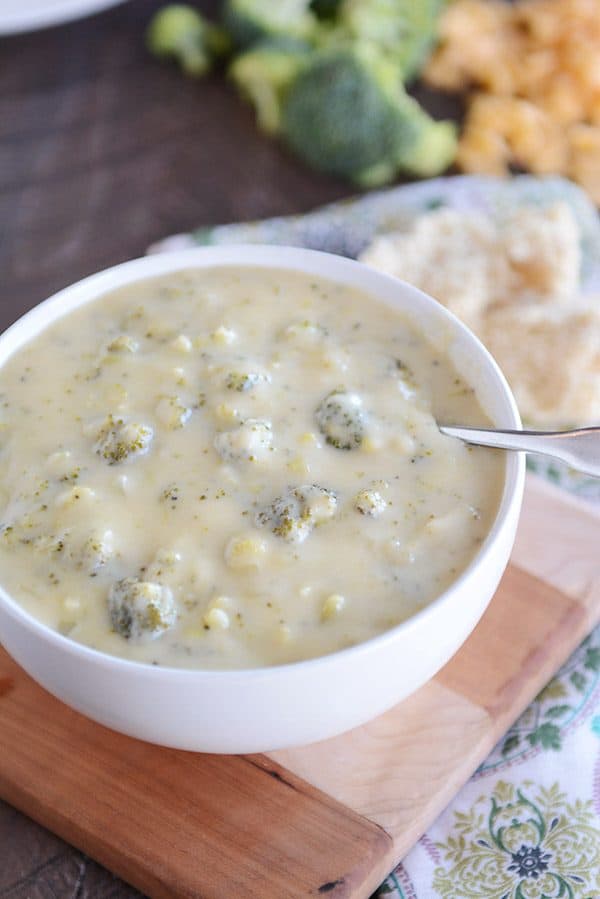 But if you are looking for an easier version (still no processed cheese!), this one-pot-plus-a-blender version is for you.
Broccoli cheese soup is the most requested soup by my kids through the winter, and it's a favorite of mine, too.
When I'm feeling extra motivated, I make our favorite easy bread bowl recipe and we serve the thick and creamy soup in the edible bowls.
But most often, we just eat it in every day soup bowls, and guess what? It tastes just as delicious.
Also, I think this stands a good chance of working in the Instant Pot (taking notes from this IP creamy potato soup recipe).
Hope you love this new version as much as the original!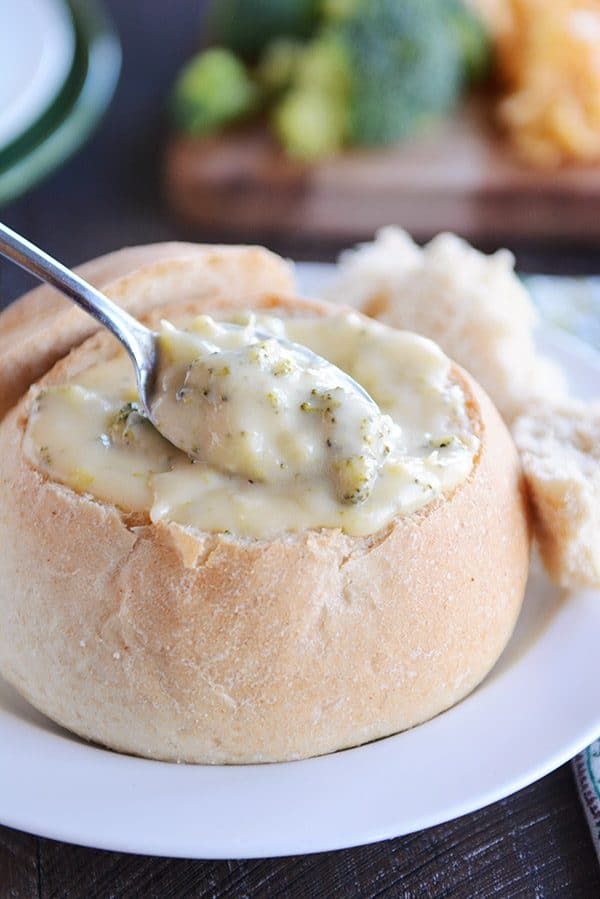 Yield: Serves 6-8
Easy Broccoli Cheese Soup
Ingredients:
3 1/2 cups chicken broth
1/2 cup finely diced onion (white or yellow)
1 teaspoon salt
1/2 teaspoon pepper
5-6 cups (about 30-36 ounces) chopped broccoli (see note)
4 cups milk (I use 2%)
1/2 cup all-purpose flour (use 2/3 cup if you want it extra thick)
3 cups (12 ounces) freshly grated cheddar cheese (see note)
1 cup (4 ounces) freshly grated Swiss cheese (see note)
Directions:
In a large saucepan (6-quarts or so), add the chicken broth, onion, salt and pepper. Bring the mixture to a simmer and add the broccoli (it won't be completely covered with liquid). Cover the pot and cook for 8-9 minutes until the broccoli and onions are tender.
In a blender, combine the milk and flour and process until smooth. Slowly add the milk mixture to the soup, stirring quickly. Bring the mixture to a gentle simmer, stirring constantly, and cook until thickened, 3-4 minutes.
Turn the heat to low and stir in the cheese, one handful at a time, letting each addition melt before adding more. Season to taste with additional salt and pepper, if needed.
Serve immediately (the soup will thicken as it cools).
Notes:
I like the broccoli chopped pretty small for this soup – but you can chop it as small or as large as you prefer.
Also, remember that pre-shredded cheese won't melt as well in this soup thanks to the powdery substance that's added to it to prevent clumping (the powder prevents it from melting as smooth and creamy as block cheese you grate yourself). I prefer sharp cheddar cheese (extra sharp makes the soup a little gritty and mild cheddar cheese doesn't have as much flavor). 
For Instant Pot fanatics, I think this stands a good chance of working in the IP (taking notes from this IP creamy potato soup recipe). Maybe combining the broth, salt, pepper, onions, and broccoli and cooking at HP for 1-2 minutes. Quick release the pressure and then use the saute function when adding the milk and cheese? Just a starting place. 
All images and text ©Mel's Kitchen Cafe.
Recipe Source: based off this old favorite – just streamlined the cooking method to eliminate the butter and use less pots and pans