This post may contain affiliate links. Please read my disclosure policy.
This lemon basil gnocchi with zucchini recipe is made with a cozy garlic butter sauce and comes together in just 20 minutes. Feel free to add in some chicken or shrimp too, if you'd like.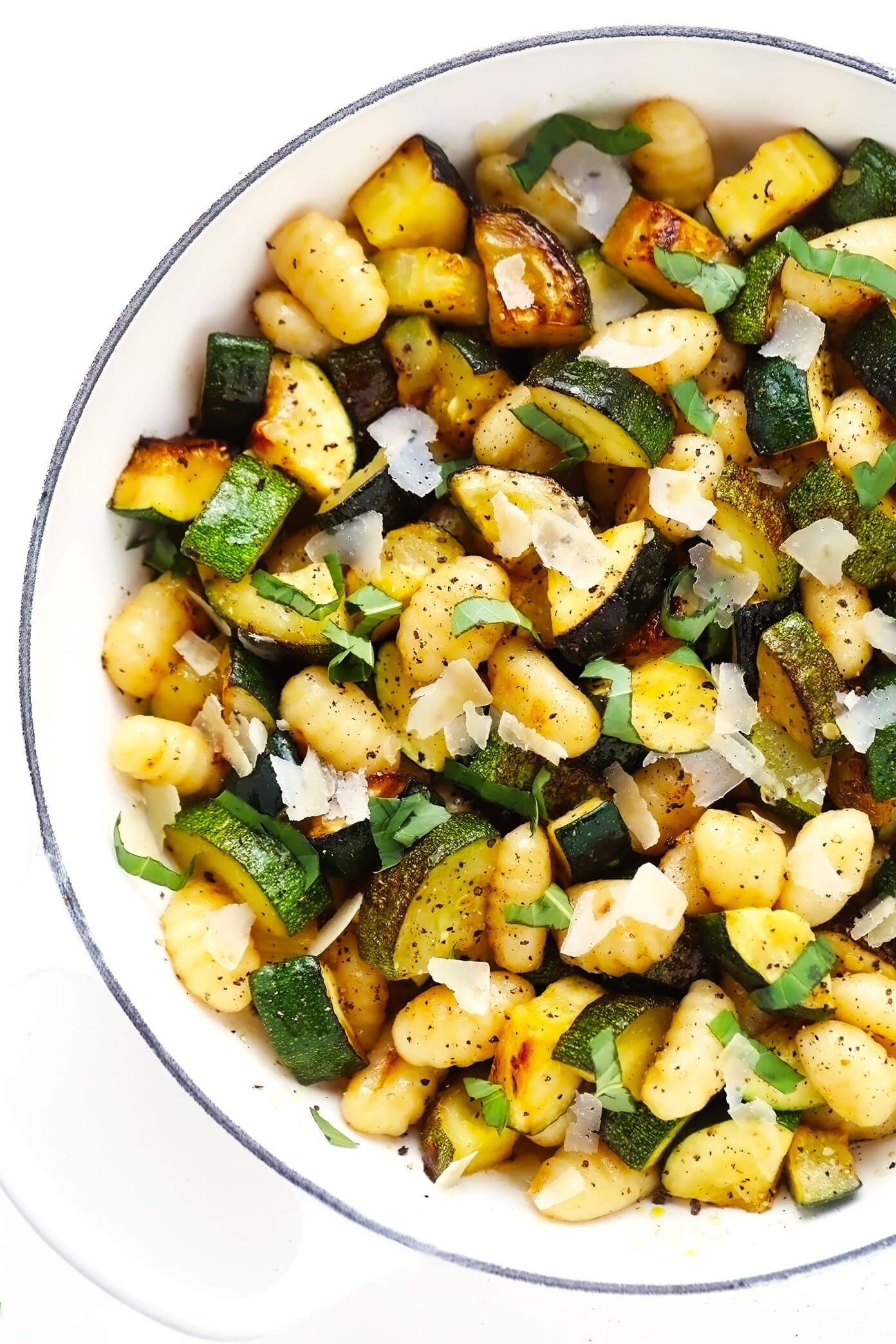 Meet the super-simple summertime meal we've been loving lately. ♡
Fresh zucchini is sautéed in a garlicky butter sauce, then tossed with pillowy soft gnocchi and lots of fresh basil, and finished with a generous sprinkle of Parmesan and freshly-cracked black pepper. It's nothing fancy and takes all of 20 minutes to whip up. But it's light and fresh and seasonal and SO delicious. We've made it a half dozen times these past few weeks while zucchini has been in peak season here in Barcelona and we can't get enough of it!
Feel free, of course, to customize your sauté with any other ingredients you happen to have on hand that might sound good too. For example, sautéed chicken, sausage, or shrimp? Delicious, if you'd like to add some extra protein. A handful of extra greens or veggies? For sure, clean out that crisper drawer! A sprinkle of toasted pine nuts or almonds on top? Always lovely for a bit of crunch. A dollop of ricotta or some melty burrata? Hello, yum.
This is one of those basic flexible recipes that you can take in just about any direction you'd like. But however you make it, I'm certain you're going to enjoy this one!
Lemon Basil Gnocchi Ingredients
Before we get to the full recipe below, here are a few notes about the ingredients you will need to make this gnocchi recipe:
Gnocchi: I just used a package of store-bought potato gnocchi for this recipe to keep things easy. But my favorite homemade ricotta gnocchi recipe would absolutely be delicious here too!
Butter: Half of which we will use to sauté the veggies, and half of which we will add at the end to make the dish extra saucy.
Zucchini: I used zucchini exclusively here, but a mixture of zucchini and yellow squash would also be lovely.
Garlic: Either pressed, minced or thinly-sliced — up to you.
Lemon: We prefer this dish extra-lemony in our house, so I added the juice of an entire medium-sized lemon. But feel free to add more or less if you prefer.
Parmesan cheese: We will stir lots of freshly-grated Parmesan into the dish and then sprinkle some extra on top of each individual serving.
Fresh basil: I highly recommend adding lots of fresh basil to this dish, which you can roughly chop or chiffonade.
Salt and pepper: It's important to generously salt the boiling water to season the gnocchi. And then of course, don't forget to taste and season the final dish with salt and pepper as needed.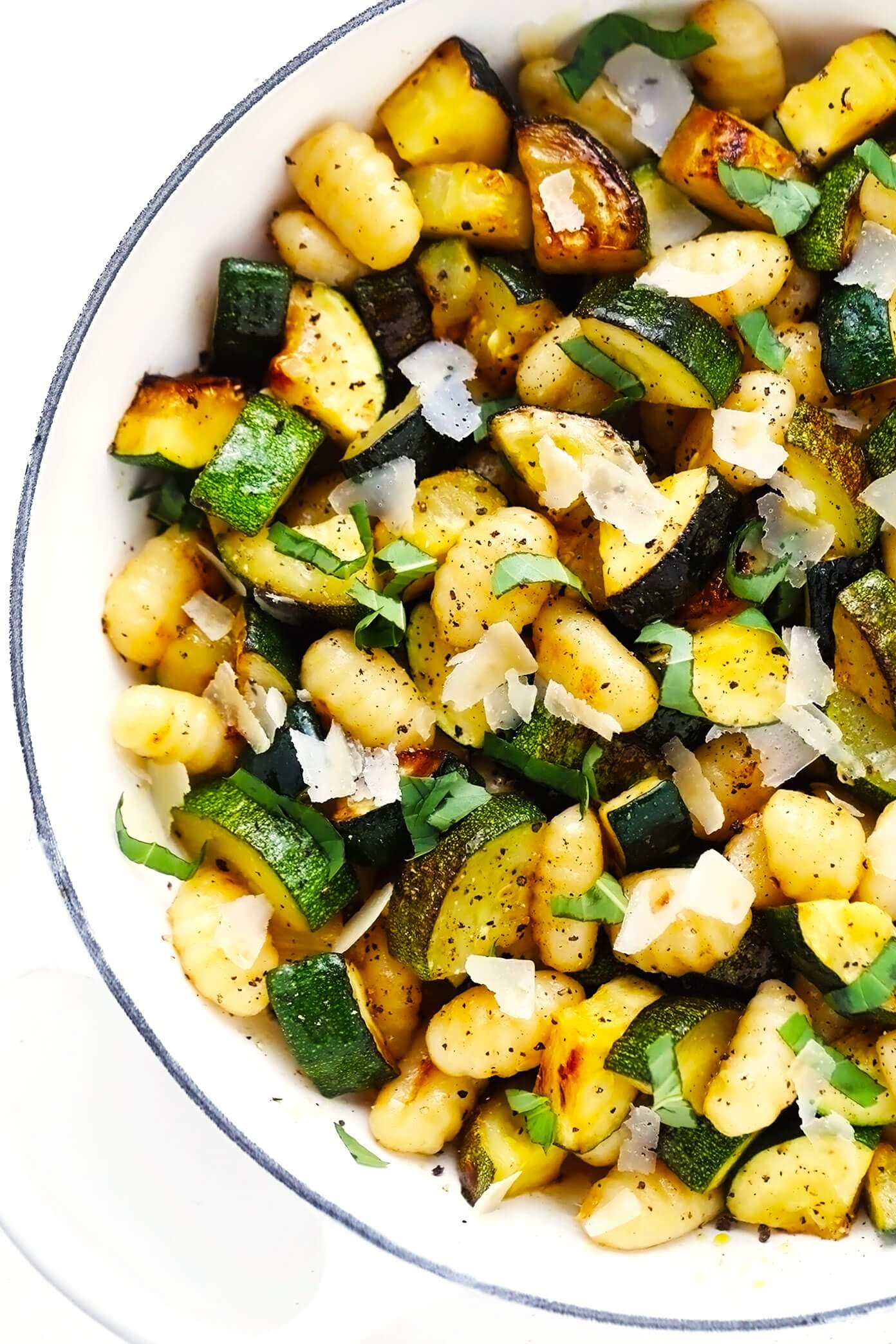 Optional Variations
Here are a few more ideas that you're welcome to try with this dish…
Make it gluten-free: This dish is naturally gluten-free if made with a brand of gnocchi that is certified gf.
Add protein: Sautéed chicken, sausage, steak, shrimp or salmon would also be delicious with this dish. (You may just need to add extra butter, basil and Parmesan to make extra sauce.)
Add extra veggies: Feel free to toss in any other veggies or greens to the sauté too.
Add nuts: Toasted pine nuts, pistachios, or almonds would add a nice extra bit of crunch to this dish.
Add extra cheese: Can't go wrong with adding a dollop or ricotta or some warm burrata to each serving too.
Add cream: Add 1/2 cup of cream to the final dish if you would like to make a creamy sauce.
More Easy Zucchini Recipes
Looking for more delicious zucchini recipes to try? Here are a few of my faves:
---
Description
This lemon basil gnocchi with zucchini recipe is made with a cozy garlic butter sauce and comes together in just 20 minutes. Feel free to add in some chicken or shrimp too, if you'd like!
---
1

(1-pound) package of uncooked gnocchi

4 tablespoons

butter, divided

2

large zucchini (about

1.5

pounds), diced

4

cloves garlic, minced
juice of

1

medium lemon

2/3 cup

freshly-grated Parmesan cheese, plus extra for topping

2/3 cup

roughly-chopped fresh basil leaves, plus extra for topping
fine sea salt and freshly-cracked black pepper
---
Prep the water. Bring a large stockpot of salted water to a boil for the gnocchi.
Sauté the veggies. Melt 2 tablespoons of butter in a large sauté pan over medium-high heat. Add the zucchini and sauté for 4-6 minutes, stirring occasionally, until nearly cooked through and tender. At this point, go ahead and add the gnocchi to the boiling water. Then meanwhile, add the garlic to the zucchini and sauté for 2 minutes, stirring the mixture frequently, until fragrant. Remove sauté pan from heat.
Mix together. Once the gnocchi float to the top of the surface of the boiling water, use a strainer to transfer them to the sauté pan with the zucchini mixture. Add the remaining 2 tablespoons of butter, lemon juice, Parmesan, basil, plus a few twists of black pepper and toss until evenly combined. If the mixture seems a touch dry, add in 1/4 cup (or more) of the starchy gnocchi water.
Season. Taste and season with salt and pepper as needed.
Serve. Serve immediately, garnished with extra Parmesan, fresh basil and black pepper. Enjoy!
---