This Bourbon Chicken Recipe is a dinner recipe I make ALL the time. Sticky, sweet, packed with flavor with no booze at all. I'm sneaky and I leave out the bourbon and replace it with apple juice. A HUGE family favorite!
Serve this Bourbon Chicken with my Fried Rice for a delicious meal!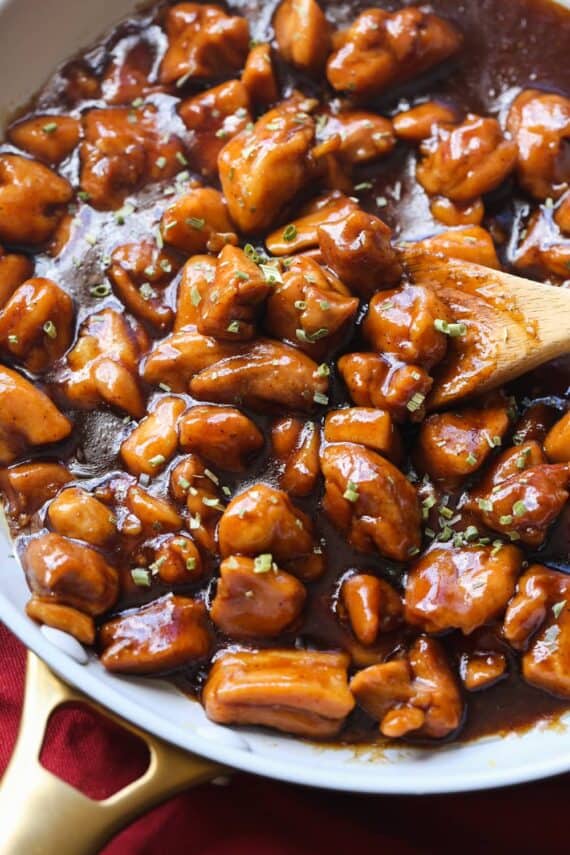 My Bourbon Chicken Is A Spin On The Popular Chicken You Get In the Mall Food Court!
Everyone in my family loves my Not-So-Boozy Bourbon Chicken. Actually we call it "Food Court Chicken" because it tastes just like the little chicken samples they are always passing out in the mall food court.
Traditionally Bourbon Chicken is made with…you guessed it…bourbon. I don't love cooking with alcohol, and I know a lot of people who don't have hard liquor on-hand all the time. OR if you're like my husband, he likes his fancy bourbon and I am pretty sure he wouldn't want me using a few glugs of that in my chicken recipe! So a long time back I replaced the bourbon with apple juice, and have never looked back. The apple juice makes the sauce sweeter and stickier, which replicates food court chicken the best!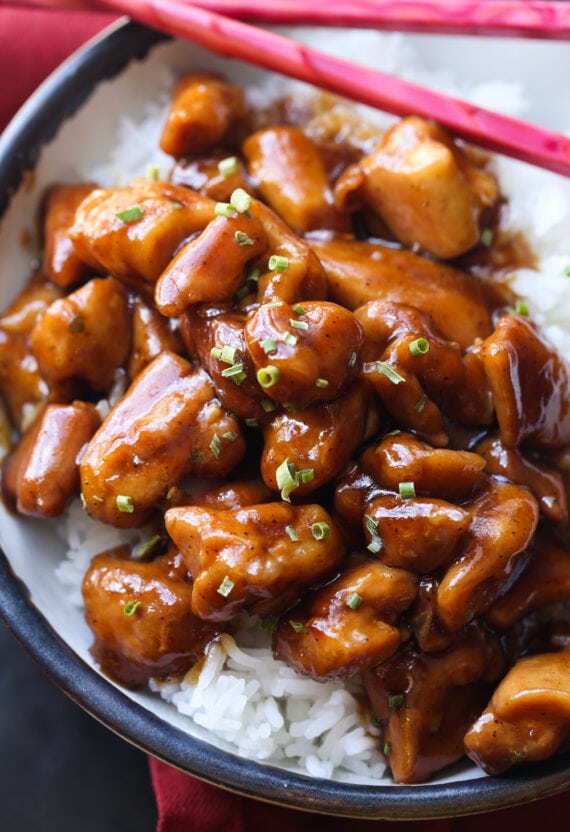 What Is Bourbon Chicken?
Bourbon Chicken is chicken thighs coated in a sticky, sweet Bourbon sauce. It is an Asian-BBQ fusion that is absolutely wonderful. We serve it over jasmine or fried rice and it's an incredibly easy, flavor-packed dish.
According to the internets, Bourbon Chicken is named after Bourbon Street in New Orleans and for bourbon being a key ingredient. Now look, I am sure there has to be more to the story here, but I'm no food historian. I did dive in a little deeper, though, and it seems as though Bourbon Sauce is basically just a type of BBQ sauce made with bourbon, which makes sense in terms of this recipe.
And while my "Bourbon Chicken" omits the bourbon in the sauce and replaces it with apple juice, it tastes remarkably similar. PLUS it's less expensive, and that sounds good to me!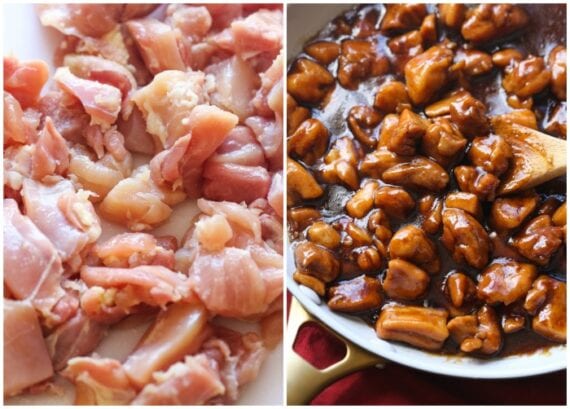 What Ingredients Do You Need?
The ingredient list here is fairly simple, and if you have a well stocked kitchen/pantry, chances are you will have most of the items already!
Brown Sugar and Apple Juice. These two give the sauce sweetness.
Apple Cider Vinegar. You can replace this with red wine vinegar or really any type of vinegar. I like the apple cider vinegar because it enhances the apple juice, while adding acidity.
Garlic and Ginger. These are 2 key ingredients in more asian cuisine and this sauce is no exception!
Soy Sauce. I always recommend using low sodium sauce sauce. And since soy sauce IS higher in sodium you don't need to add any extra salt to this recipe!
Boneless Chicken Thighs. I know you will ask, and yes you certainly can use boneless chicken breasts in place of the thighs. But thighs are dark meat and really give it the traditional food court chicken vibes, while adding flavor. But again, yes you can use breasts 🙂
Cornstarch. This will thicken up your bourbon sauce, really helping it coat your chicken!
How Do You Serve Bourbon Chicken?
Really you can do just about anything with this recipe. Here are a few ways that we enjoy it:
Over Jasmine Rice.
On its own!
With Fried Rice
With a side of broccoli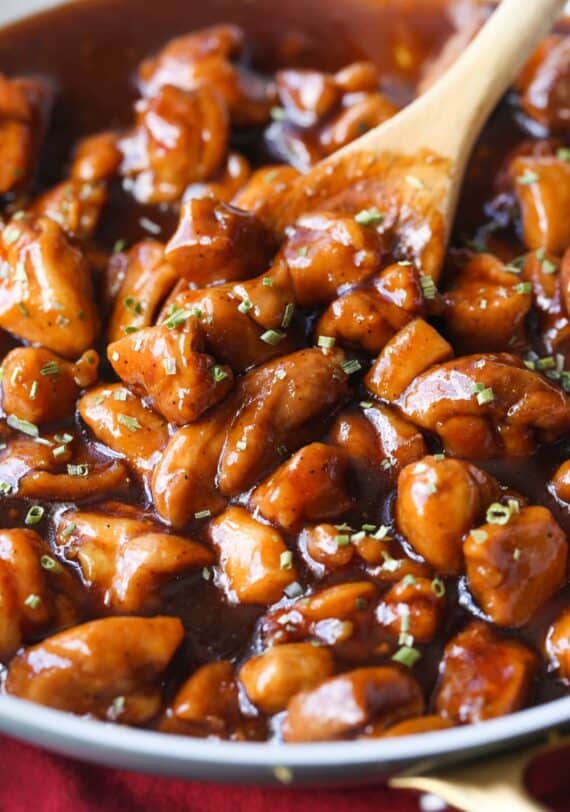 What Can You Add Into This To Make is Different From Food Court Chicken?
This is an EXTRA easy recipe to play around with and adapt. You can add so many things into this base recipe to amp it up. Here are some ideas:
Cashews. I love adding in some chopped cashew to this dish turning into a version of Cashew Chicken!
Veggies. There are so many options here, like broccoli, mixed asian veggies, snow peas, water chestnuts, edamame…the list goes on! An easy way to do this is by using frozen, and thawed veggies, and mix them right in at the end when the sauce is thickened. It will thin the sauce out a little, as frozen veggies usually have some water in them, but it will be fine!
Different Spices! Add in some heat with a pinch or two of cayenne, or garnish with some fresh cilantro!
Looking For Other Asian Inspired Dishes? Try These:
Not So Boozy Bourbon Chicken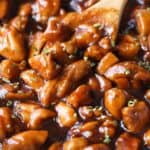 ---
Description:
We call this "Food Court Chicken"! It's just like the chicken they hand you when you walk through the food court on a toothpick!  Sticky, sweet, and delicious!
---
Ingredients:
1/3 cup

low sodium soy sauce

1/2 cup

apple juice

1/4 cup

water

1 tablespoon

apple cider vinegar

1/3 cup

light brown sugar

2 teaspoon

s grated ginger

2 teaspoon

s minced garlic

1/2 teaspoon

ground black pepper

1 tablespoon

olive oil

2

pounds boneless, skinless chicken thighs, cut into

1

– inch chunks

1 tablespoon

cornstarch
Optional – sliced green onions or chives to garnish
---
Instructions:
In a medium bowl, whisk together the soy sauce, apple juice, water, vinegar, brown sugar, ginger, garlic, and black pepper. Set aside.
Heat 1 tablespoon olive oil in a large skillet over medium- high heat.
Add the chicken to the skillet, stirring occasionally until browned and cooked through, 7-8 minutes.
Add in the soy sauce mixture, and stir to combine. Turn the heat down to medium-low and simmer for 15 minutes, until the liquid has reduced by about half.
In a small bowl mix the cornstarch with 3 tablespoons of cold water until smooth. Add this into the chicken and stir to combine. Cook for 1 minute, as the mixture will thicken quickly.
Remove the pan from the heat and serve over rice.
Top with green onions if desired
---
Notes:
Store airtight in the refrigerator for up to 5 days.
Keywords:: cookies and cups, chicken recipe, bourbon chicken, asian chicken, asian recipe
Want To Save This Recipe?
PIN for later: