Pumpkin Snickerdoodles-soft and chewy snickerdoodles packed with pumpkin flavor and fall spices. Everyone's favorite snickerdoodle cookie for fall!
Best Pumpkin Snickerdoodles
Snickerdoodle cookies are my FAVORITE! I love a classic snickerdoodle cookies, but I also love mixing things up. Have you tried my brown butter salted caramel snickerdoodles? Or how about my chocolate snickerdoodles? They are all amazing!
Today, I am introducing you to the perfect fall snickerdoodle cookie recipe, pumpkin snickerdoodles. Oh yes, you heard me correctly, PUMPKIN snickerdoodles! Pumpkin and snickerdoodles combined?? Pretty much the best fall cookie ever!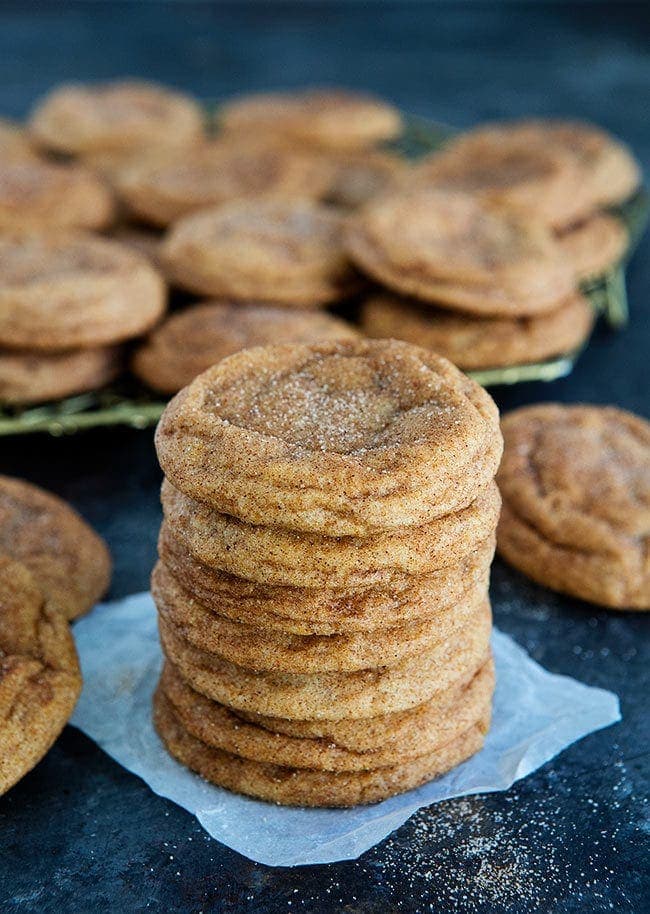 Pumpkin Snickerdoodle Ingredients
All-Purpose Flour-a good all-around flour for baking. I prefer unbleached all-purpose flour.
Cream of Tartar-cream of tartar is the key ingredient in snickerdoodle cookies. It helps activate the baking soda and adds tanginess and chew to the cookies.
Baking Soda-baking soda is a leavening agent and helps the cookies rise.
Salt-I prefer to use a coarse salt when baking cookies, like kosher or sea salt.
Spices-these pumpkin snickerdoodles are loaded with spices: cinnamon, ginger, nutmeg, and allspice. The spices give the cookies lots of flavor!
Butter-for this snickerdoodle recipe, use unsalted butter and room temperature butter.
Brown Sugar-pack the brown sugar in the measuring cup. The molasses in the brown sugar adds moisture and produces a chewier cookie.
Granulated Sugar-I like to use a mix of granulated sugar and brown sugar.
Pumpkin-use canned pumpkin puree. Libby's is my favorite brand. Do not use pumpkin pie filling.
Egg-binds the cookies together and keeps them moist.
Vanilla Extract-use pure vanilla extract, it's the best and worth the extra money!
Cinnamon & Sugar-before the cookies go into the oven, roll them in cinnamon and sugar. A snickerdoodle staple!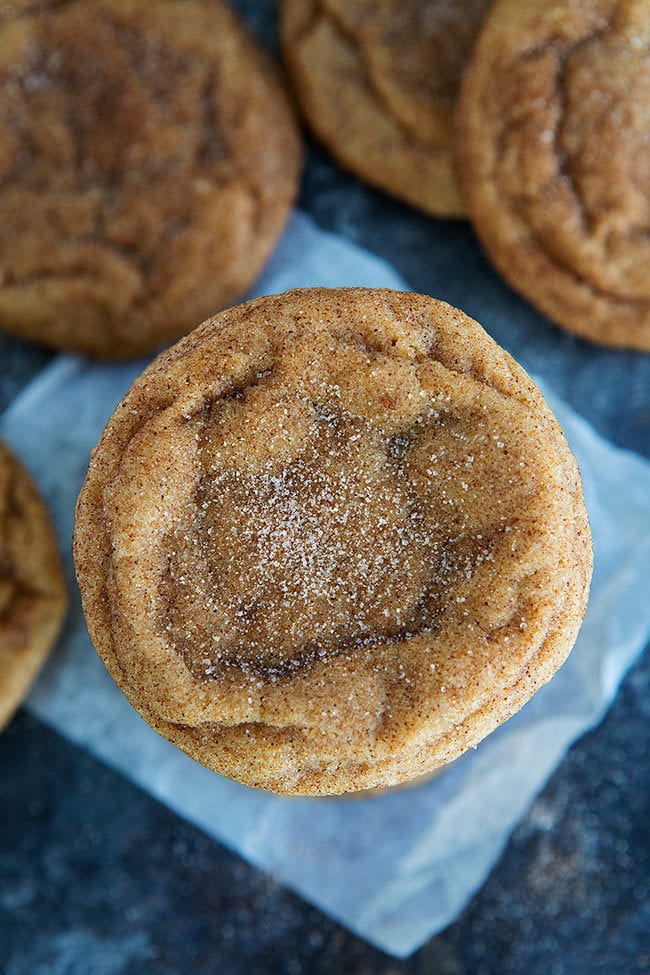 How to Make Pumpkin Snickerdoodles
Don't pack your flour! When measuring flour, don't pack it in the cup. Fluff the flour, spoon it in the cup and then level it off with a knife. If you pack your flour the cookies will be too puffy and dry.
Check expiration dates! Make sure your cream of tartar and baking soda are good. They do expire!
Whisk the dry ingredients! Make sure you whisk together the dry ingredients so all of the spices get incorporated.
Cream the butter, sugars, and pumpkin! Use a stand mixer with the beater blade or a hand mixer, to beat the butter, sugars, and pumpkin together. You want the mixture to be creamy and smooth.
Don't over mix! When you add the dry ingredients, mix on low until JUST combined.
Chill the dough! This is a MUST! I know it is annoying, but SO worth it! Chilling the dough prevents the cookies from spreading AND it brings out the flavors. I like to chill the dough for 24-48 hours so the flavors can chill out! I swear it makes the cookies even better. If you are in a rush, you can chill the dough for 30-60 minutes, but I highly recommend 24-48 hours, especially if you want a chewy cookie. The snickerdoodles are chewier the longer the dough chills out in the fridge. Chilling also makes the cookies easier to roll into balls.
Roll!

Roll the cookies generously in the cinnamon and sugar mixture. Make sure the cookies are well coated!

Don't over bake! You want the snickerdoodles to stay soft and chewy, so don't over bake! They will finish baking on the baking sheets as they cool.
Bang! I always bang the pans on the counter a couple of times right when they come out of the oven. This releases air pockets and creates slightly rippled edges and a chewier cookie.
Set up! Let the snickerdoodles cool and set up on the baking sheet for about 5 minutes. Then transfer to a cooling rack to cool completely.
How to Store
After the pumpkin snickerdoodles are completely cooled, you can store them in an airtight container for up to 4 days on the counter. To keep the cookies super soft, place a piece of bread in the container. The bread will get hard, but the cookies will stay extra soft!
You can also freeze pumpkin snickerdoodles for up to one month in a freezer container or bag. Defrost before enjoying…or you can eat them frozen. I am always up for a frozen cookie.
More Snickerdoodle Recipes: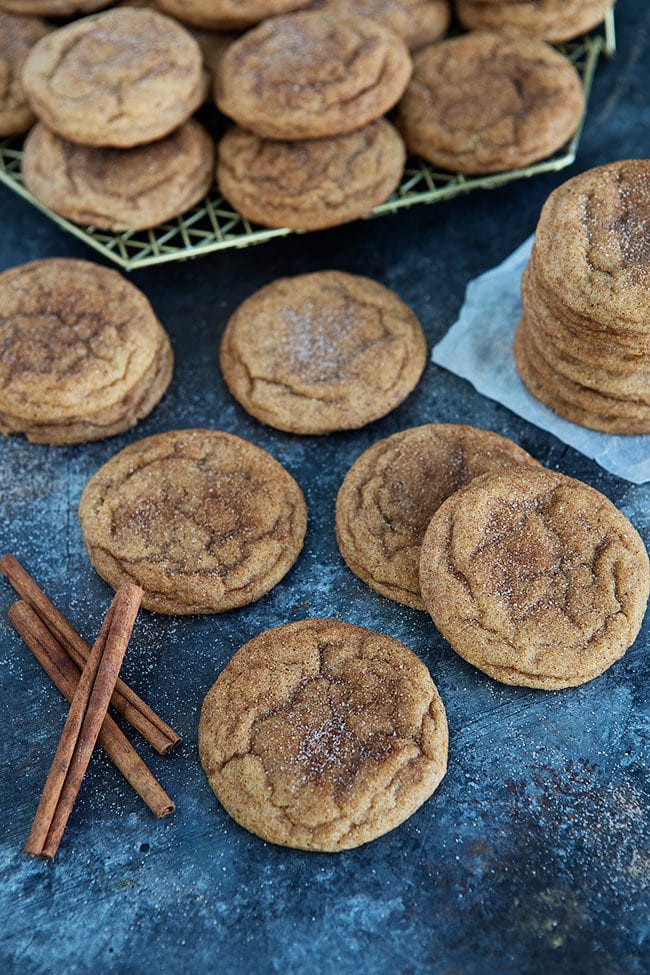 For the Cookies:
3




cups




all-purpose flour

2




teaspoons




cream of tartar

1




teaspoon




baking soda

1/2




teaspoon




salt

1 1/2




teaspoons




ground cinnamon

1/2




teaspoon




ground ginger

1/2




teaspoon




ground nutmeg

1/4




teaspoon




allspice

1




cup




unsalted butter at room temperature

3/4




cup




granulated sugar

3/4




cup




packed light brown sugar

1/2




cup




pumpkin

1




large egg

2




teaspoons




vanilla extract
For the Cinnamon Sugar Topping:
1/3




cup




granulated sugar

1




tablespoon




ground cinnamon
In a large bowl, whisk together the flour, cream of tartar, baking soda, salt, cinnamon, ginger, nutmeg, and allspice. Set aside.

Using a stand mixer or hand mixer, cream together the butter and sugars until smooth, scraping down the sides of the bowl with a spatula as necessary. Add the pumpkin and mix until well combined. Add the egg and vanilla extract and beat until combined.

Wrap the cookie dough in plastic wrap or put in a container. Chill the dough for at least 30 to 60 minutes. I prefer to chill the dough for 24 to 48 hours.

When ready to bake, preheat the oven to 350 degrees Line large baking sheets with Silpat baking mats or parchment paper.

In a small bowl, whisk together granulated sugar and cinnamon.

Shape the cookie dough into round balls, about 2 tablespoons per cookie. Roll the cookie dough balls in cinnamon sugar mixture until generously coated. Place on prepared baking sheets, about 2-inches apart.

Bake cookies for 10 to 12 minutes or until cookies are set around the edges but still soft in the center. Remove from the oven and immediately bang the baking sheet on the counter a few times. This will help remove some air pockets and create ripples around the edges. Let the cookies cool on the baking sheet for 5 minutes. Transfer snickerdoodles to a cooling rack and cool completely.
The snickerdoodles will keep in an air tight container on the counter for up to 4 days. You can also freeze the cookies for up to 1 month. 
Nutrition Facts
Pumpkin Snickerdoodles
Amount Per Serving
Calories 128
Calories from Fat 45
% Daily Value*
Fat 5g8%
Saturated Fat 3g15%
Cholesterol 18mg6%
Sodium 111mg5%
Potassium 53mg2%
Carbohydrates 19g6%
Fiber 1g4%
Sugar 11g12%
Protein 1g2%
Vitamin A 301IU6%
Vitamin C 1mg1%
Calcium 11mg1%
Iron 1mg6%
* Percent Daily Values are based on a 2000 calorie diet.