Roasted Mushrooms are oh so tender, flavorful, and perfect for serving next to so many entrees! Fresh herbs and simple seasonings lend incredible flavor to oven roasted cremini mushrooms while still keeping them simple enough to complement an array of main courses.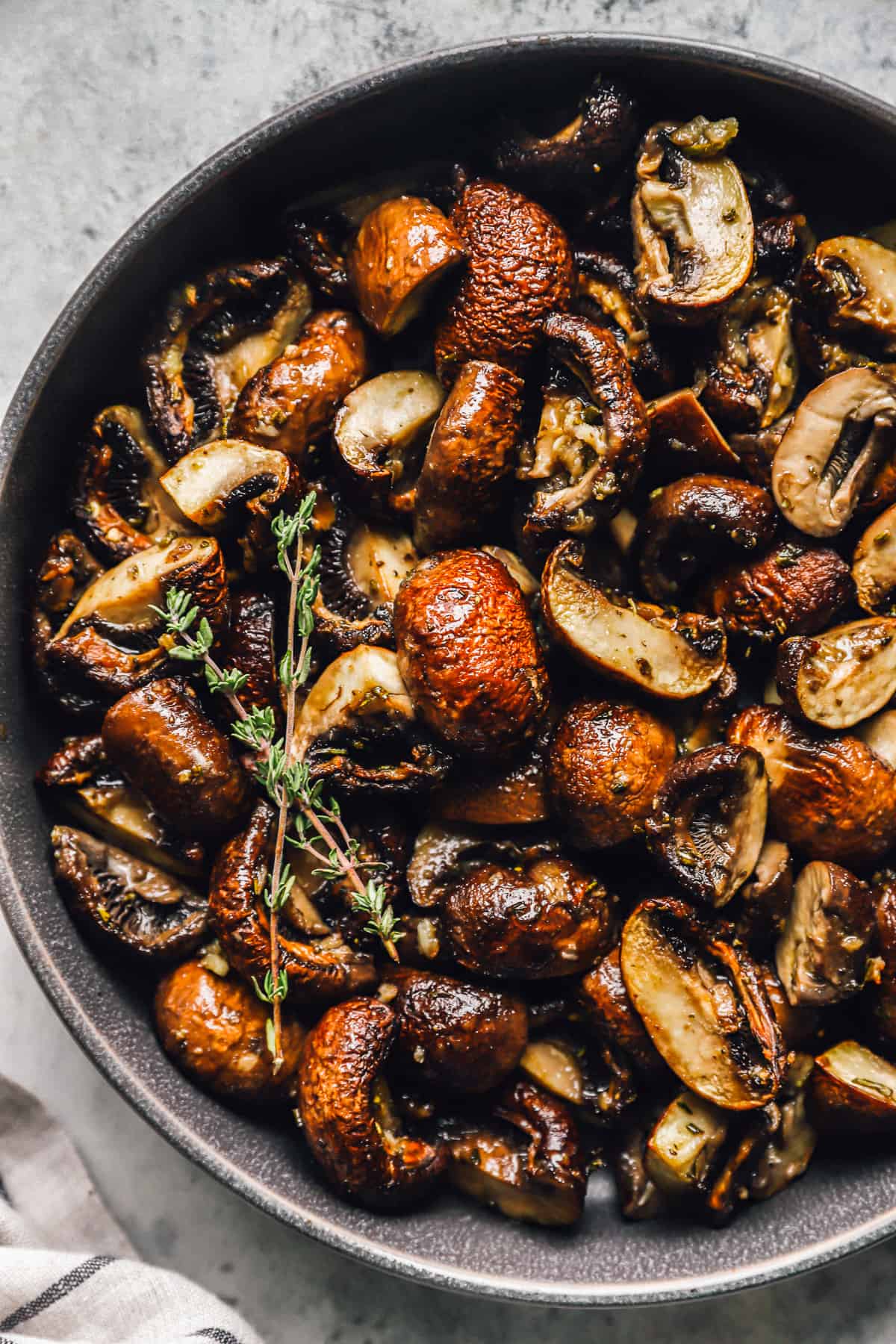 Oven Roasted Mushrooms
If you're looking for the best way to oven roast some cremini mushrooms, congrats – you've found it! These seasoned mushrooms always come out of the oven so tender but never soggy. You can plate them next to any protein, pasta, or entree of your choice because they go well with just about everything. You can even change up the seasonings to better match your mood!
This recipe for roasted mushrooms is one that I gladly give the "foolproof" title to. It's so easy that it's honestly hard to mess it up! Mushrooms are made flavorful in an olive oil mixture before being popped into the oven and cooked to perfection in just about 15 minutes. Even picky eaters may find themselves drooling over these easy to make veggies.
Why You'll Love this Roasted Mushroom Recipe:
Simple: There's something so satisfyingly simple about roasting a veggie all by itself!
Flavorful: Salt, onion powder, garlic, and fresh herbs make these mushrooms flavorful without overpowering whatever they're served alongside.
So Easy: Yes! Just toss your mushrooms with the seasoned olive oil, bake, and serve. It's that easy!
Tender oven roasted mushrooms are perfect for serving as part of your holiday dinner or to complement your easy weeknight entree. There's never a bad time to enjoy them!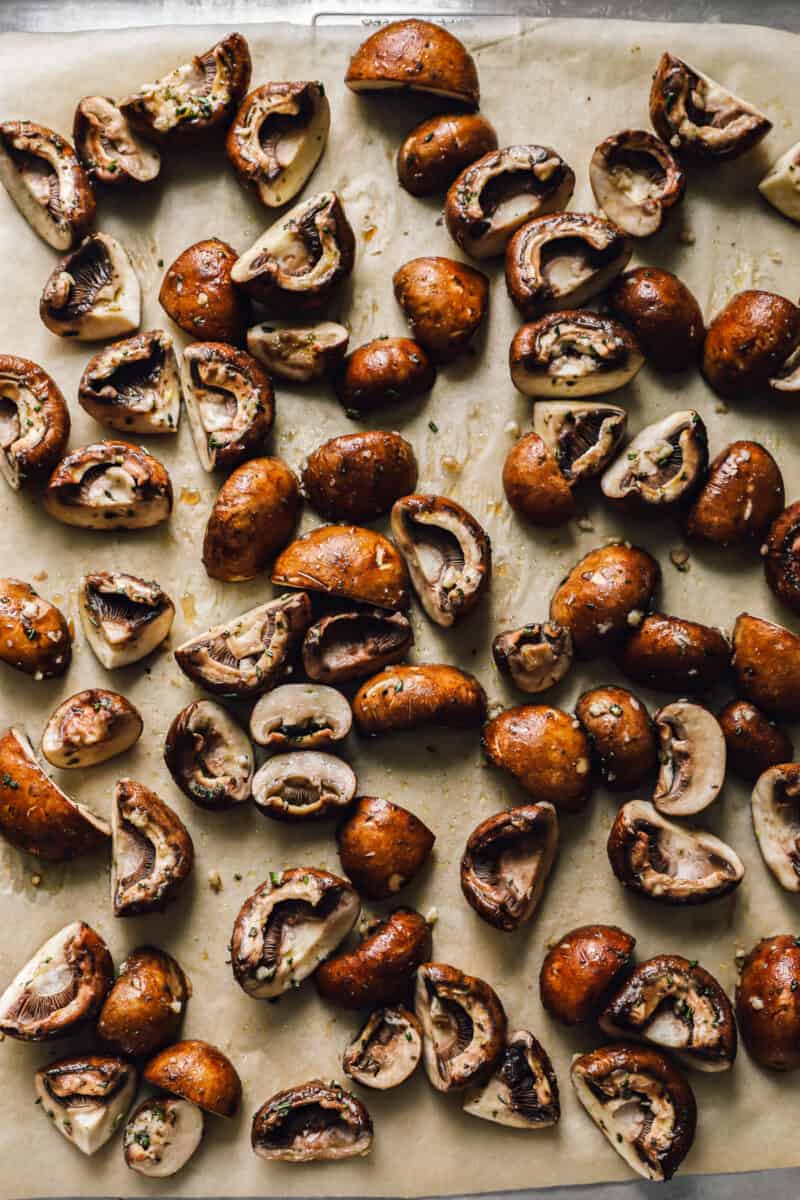 How to Roast Mushrooms
You can jump to the recipe card for full ingredients & instructions!
Mix together the olive oil, red wine vinegar, seasonings, and herbs.
Toss the mushrooms to fully coat in the olive oil mixture.
Spread the mushrooms on a baking sheet.
Roast at 425°F for 12-15 minutes.
Sprinkle with more fresh herbs before serving. Enjoy!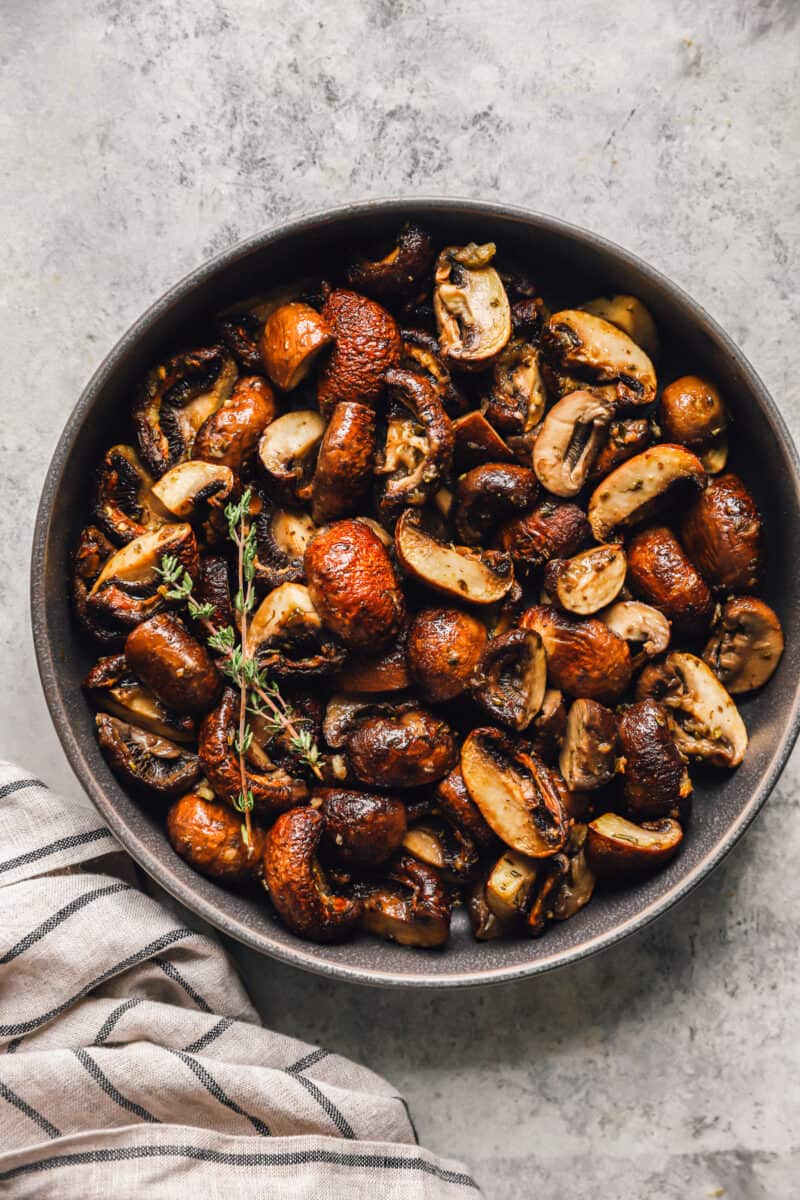 Can you roast mushrooms?
Absolutely! Roasting is a quick, easy way to cook mushrooms.
Is it better to roast or sauté mushrooms?
Neither method is better than the other. Go with what works for you!
What's the best way to clean mushrooms?
The easiest way to clean mushrooms is to rinse them in a colander to wash away the dirt. Gently brush off any dirt, then pat the mushrooms dry.
How long does it take to roast mushrooms?
It only takes about 12-15 minutes to roast mushrooms.
How do I make sure my roasted mushrooms don't end up soggy?
Make sure to fully coat the mushrooms in the oil and seasoning mix and spread them apart on the baking sheet so that they can get extra crispy in the oven!
Serving Suggestions
Here are just a few of my favorite entrees to serve with Roasted Mushrooms! Keep in mind that this list is pretty short and these mushrooms go well with SO much more.
If you're someone who struggles with eating enough veggies, Roasted Mushrooms may just be the help you need! Honestly, they're pretty addictive and usually get more attention than the main course.
Storage Instructions
Store roasted mushrooms in an airtight container in the refrigerator for up to 5 days. Reheat in the microwave in 30-second bursts or in a 350°F oven for 5-7 minutes, until warmed through.
Freezing Instructions
Freeze roasted mushrooms in a single layer on a baking sheet until solid, then transfer to an airtight container or Ziplock bag for up to 10 months. Reheat from frozen for best results.
Substitutions
You can use porcini, shiitake, or white button mushrooms instead of cremini.
You can use melted butter or avocado oil instead of olive oil.
Try apple cider vinegar or balsamic vinegar for a different flavor.
Feel free to switch up the herbs!
Try adding a sprinkle of Parmesan cheese during the last 5 minutes of the roasting time.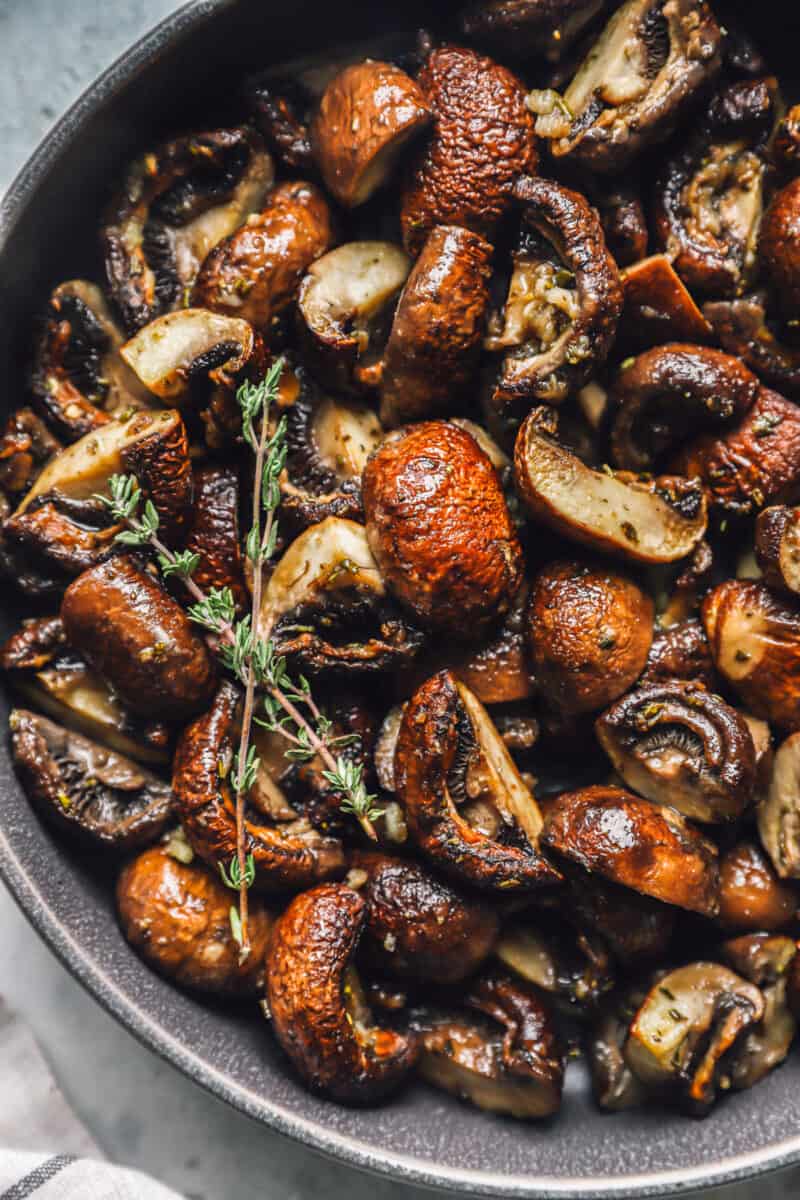 This veggie side dish recipe is ideal for easy weeknight dinners, big holiday parties, and any other time you need a flavorful fix! Roasted Mushrooms are baked to the best tender (and never soggy) consistency and made scrumptious with just the right amount of simple seasonings and fresh herbs.
If you make this recipe be sure to upload a photo in the comment section below or leave a rating. Enjoy! You can also jump to recipe.