This classic and easy Southern Cornbread Dressing is a staple at our holiday table. It's a traditional dressing recipe with a modern twist!
You can use the recipe for my delicious Sour Cream Cornbread for this recipe if you want use homemade cornbread!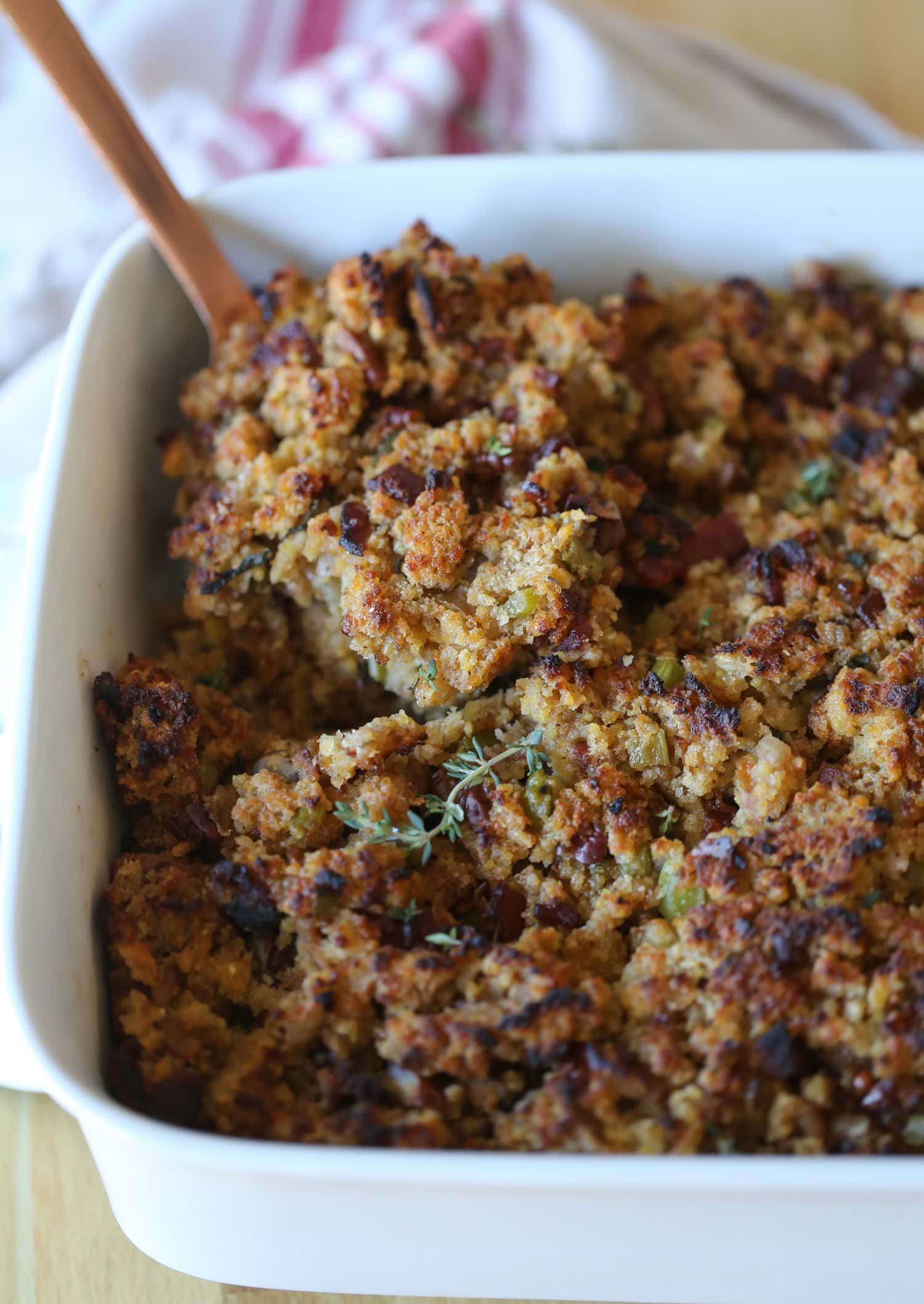 This Traditional Southern Style Cornbread Dressing Recipe Has A Modern Twist!
Cornbread dressing is a holiday tradition at my house. This recipe has made its way onto our Thanksgiving table for years, ever since my youngest son decided he liked to bake his own cornbread! I have included the instructions using dried, package cornbread mix, but making this recipe with  homemade cornbread makes it EXTRA delicious!
This recipe  is for classic cornbread dressing, but with a few extras to make it unique and extra delicious! The addition of bacon and pecans adds tons of flavor and texture. Plus, I love adding a little fresh thyme along with sage. The thyme adds a little brightness that I adore.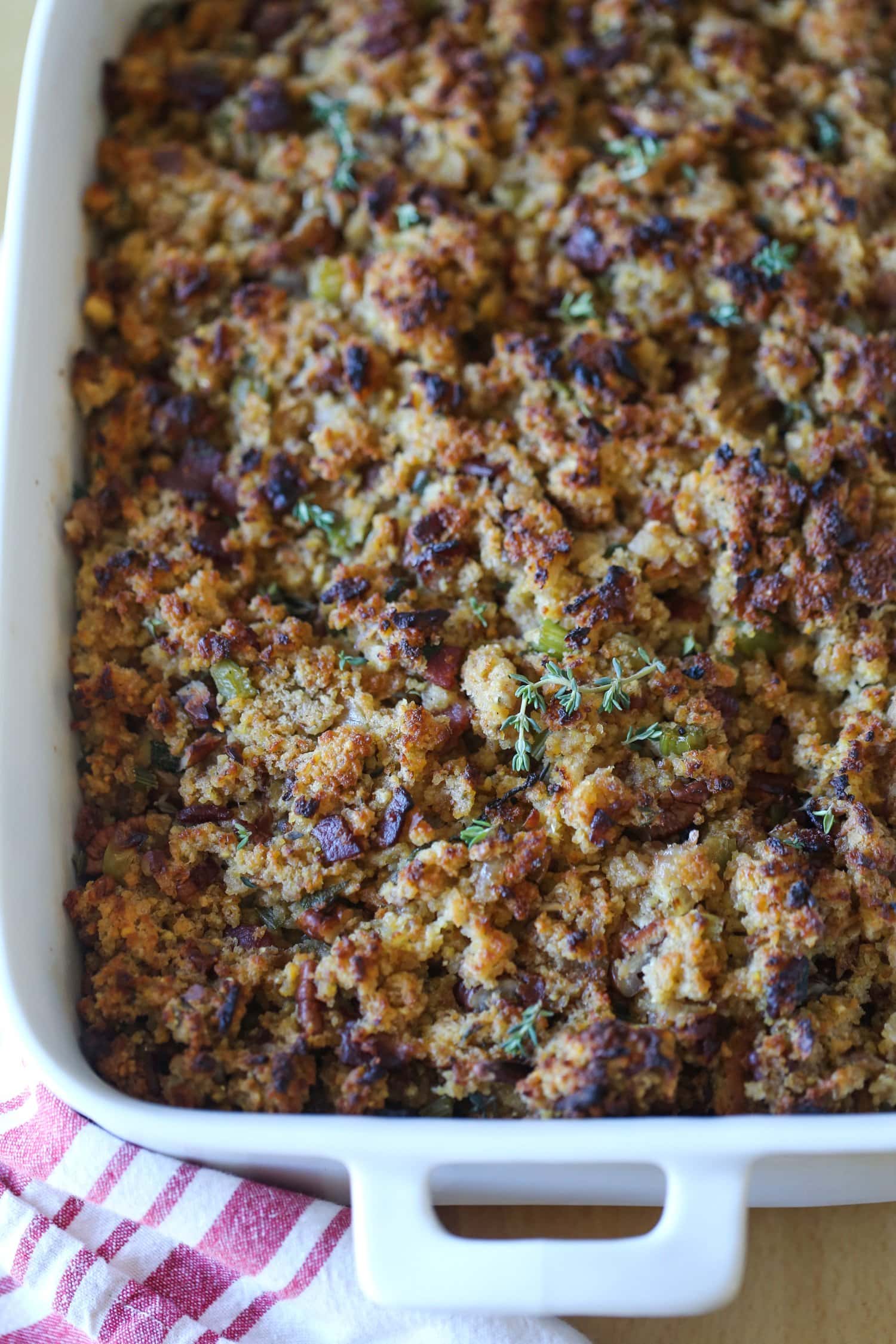 What Is Cornbread Dressing?
Cornbread dressing is the ultimate side dish at the holidays. Turkey, stuffing and mashed potatoes are the holy trinity of Thanksgiving dinner! Cornbread dressing is made from stale cornbread, mixed with seasoning, vegetables, chicken broth. A little melted butter on top makes everything better and it's all baked and delicious! My recipe has a tweaks to the classic to make it really special!
What Is the Difference Between Stuffing and Dressing?
Whether it's a regional distinction, or the actual literal definition, the simple answer is that stuffing is the mix of dried bread and seasonings STUFFED inside the cavity of your turkey or chicken. Dressing is baked separately from the bird, more like a casserole. 
Ingredients Needed for Cornbread Dressing:
Here's a list of all the ingredients you will need for cornbread dressing, but note the full recipe and ingredients with measurements in in the recipe card at at the bottom of the post!
Thick cut bacon. I like to use thick cut for this recipe, but you can use regular if you prefer!
Diced yellow onion
Diced celery
Kosher salt
Ground pepper
Chopped fresh thyme
Chopped fresh sage
Chopped pecans
Dried cornbread stuffing mix
Chicken stock. I 100% recommend using Homemade Chicken Stock in your dressing or stuffing at the holidays.
Butter
How To Make Cornbread Dressing
Preheat the oven to 350°F. Coat a 9×13 casserole dish with butter or nonstick spray and set aside.
Chop the bacon into small pieces and place in a large skillet over medium-low heat. Cook the bacon until crisp. Drain almost all the bacon grease from the pan, leaving about 2 tablespoons. Add the onions and celery to the skillet, turn the heat up to medium heat and cook the vegetables for 6 – 7 minutes, or until soft. Season with salt, pepper, thyme, sage, and pecans and cook for 2 additional minutes. Remove the pan from the heat.