This post may contain affiliate links. Please read my disclosure policy.
My favorite no knead bread recipe is incredibly easy to make, perfectly crusty and golden on the outside, and soft and flavorful on the inside.  Two versions included — one with a traditional (overnight) rise, and one with a faster (1.5-hour) rise.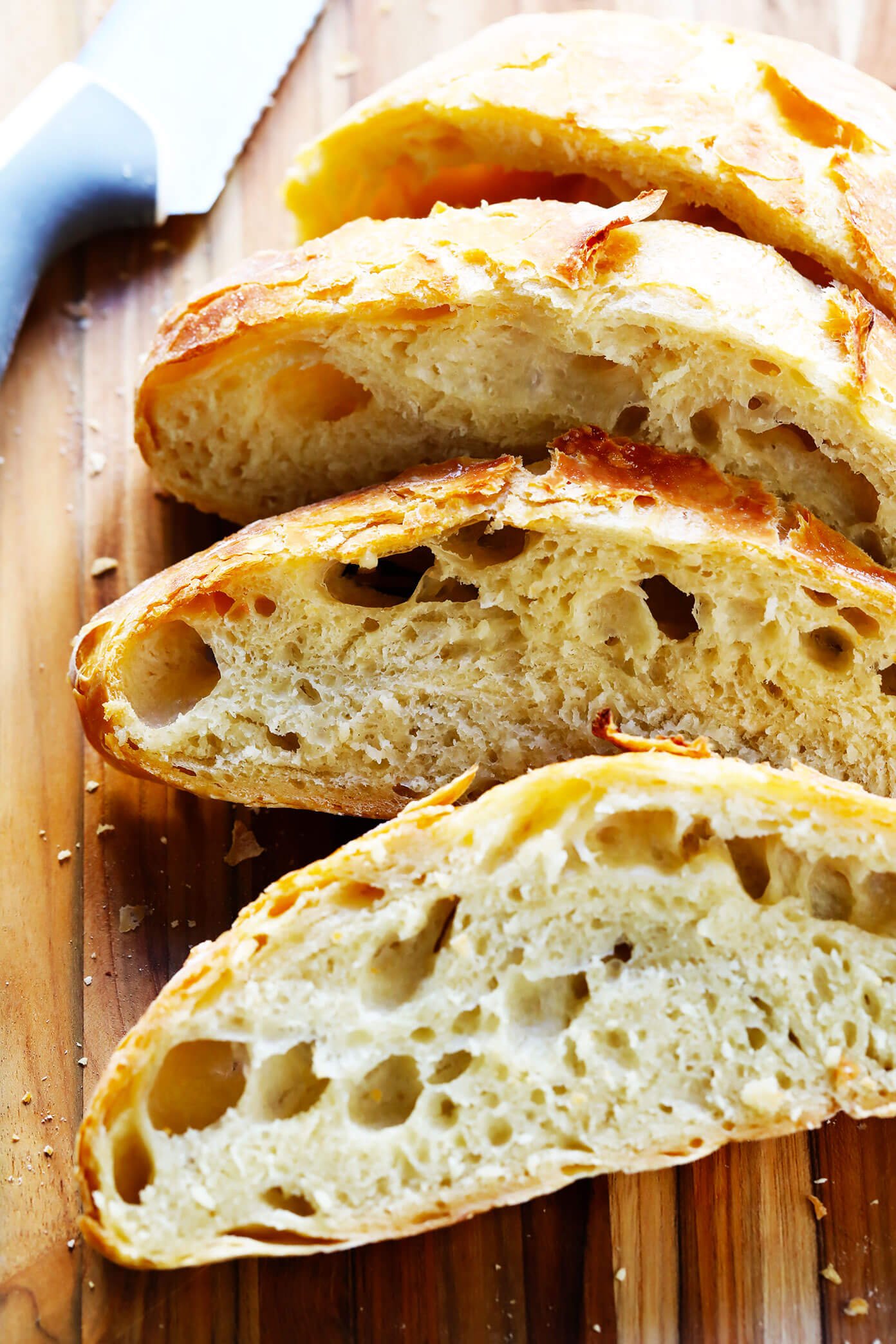 Interested in trying to make no knead bread? ♡
Well today, I thought I would share my two favorite no knead bread recipes with you — the traditional recipe that I like best (which requires the dough to rest 12-18 hours) or a faster method (which requires just a short 1.5-hour rise).
Both of these no knead bread recipes are incredibly forgiving and easy to make, with just 15 or so minutes of active hands-on prep time.  They both bake up magically in the oven to yield artisan-style loaves with the most gorgeous golden crusts and soft, flavorful interiors.  They call for just 4 basic ingredients, plus an extra teaspoon of honey or sugar for the faster version.  They are guaranteed to make your entire home smell like the yummiest, coziest French bakery as they cook.  And best of all, they both taste downright heavenly served warm and fresh outta of the oven.  (And — my breakfast-loving husband would add — fabulous toasted up the next morning too!)
So whether you are brand new to bread-baking, or just looking for some tried-and-tested recipes to add to your repertoire, I highly recommend bookmarking these recipes if you would like to give no knead artisan bread a try!  If you are planning ahead and have the time for an overnight rise, I would recommend going with the traditional version (my favorite) which gives the dough time to develop more of that yeasty, sourdough-like flavor and yields a more airy, porous crumb on the inside.  But if you're pressed for time and just want a hot loaf of crusty homemade bread in a hurry, this faster version is a great option to try too.  Both versions can be made with any extra seasonings that you would like to add in, and baked up with however light or deeply golden of a crust you prefer.
Alright friends, let's make some no knead bread together!
No Knead Bread Ingredients:
The ingredients four base ingredients for these no knead bread recipes are the same — water, yeast, flour, salt — but be sure to note in the recipe below that the amounts differ slightly for each.  The faster version will also include a hint of sugar.
To make traditional (overnight) no knead bread, you will need the following ingredients:
Warm water: I recommend using a cooking thermometer to measure the temperature of the water, if you have one.  It should be between 105-110°F — which will feel quite warm but not hot to the touch.
Active dry yeast: You will need less than a packet (1/2 teaspoon) for the overnight version, and one full packet (2 1/4 teaspoons) for the faster version.  If you only have instant yeast on hand, see notes below for how to modify.
All-purpose flour: I highly recommend using a kitchen scale to weigh your flour, if possible, so that the amount is accurate.  But if you do not have a scale, just be sure to spoon the flour into your measuring cups (instead of scooping the cups into the flour) to make the measurements more accurate.
Fine sea salt: To bring out all of those delicious flavors.
To make faster (2.5-hour) no knead bread, you will need the following ingredients:
All of the ingredients listed above: Warm water, active dry yeast, AP flour, fine sea salt, plus…
Sugar or honey: We add extra sugar to this version to help the yeast do its work a bit more quickly.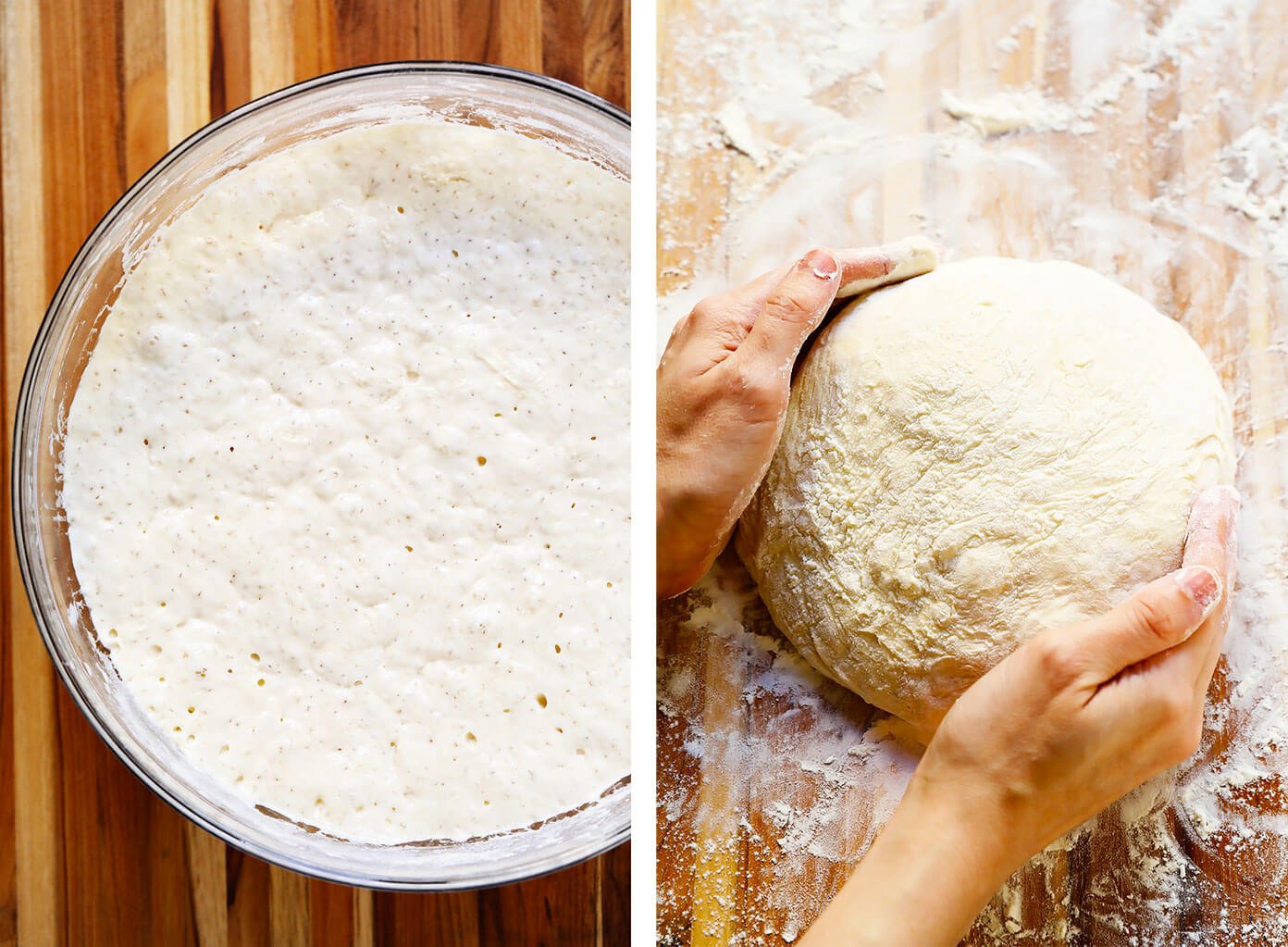 How To Make No Knead Bread:
Here are the basic steps for how to make overnight no knead bread (full instructions in the recipe below):
Mix the dough. Whisk together the dry ingredients, add the warm water, then stir everything together until no flour streaks remain.  The dough will look quite loose and shaggy and won't hold its shape well — which is ok.
Let the dough rise.  Cover the bowl with plastic wrap or beeswrap, and let it rest at room temperature for about 12 to 18 hours.  The longer it rests, the more flavor and better texture it will have.
Shape the dough.  Transfer the dough to a well-floured surface.  Form the dough into a round ball by folding the dough on top of itself.  (Just gently pull the outer edges up and press them into the center of the dough a few times until the dough feels a bit tighter and holds its shape.)  If the dough is sticky or feels too loose at any point, just keep sprinkling on extra flour as needed.  Lightly flour the top of the dough ball, and then carefully flip it upside-down onto a piece of parchment paper, so that the smooth side is on top.  Use your hands to shape the ball into an even circle.  Lightly flour the top of the dough ball, then loosely cover it with plastic wrap or beeswrap to rest while the oven heats.
Heat the oven and Dutch oven.  Place the Dutch oven inside of your oven, then set oven to 450°F.  Wait for 20-30 minutes for the oven to heat, while the dough continues to rest.  (If the dough rises and spreads out more than you would like during this time, just use your hands to shape it into a tighter ball once more just before baking.)
Bake. Very carefully, use oven mitts to remove the Dutch oven from the oven.  (It will be extremely hot – be careful!)  Lift the edges of the parchment to carefully transfer the dough ball (along with the parchment) to the Dutch oven.  Cover with the Dutch oven lid and bake for 30 minutes.  Then carefully remove the lid and bake for 10-20 more minutes, until the crust of the bread reaches your desired level of doneness (as light or as deeply golden brown and crispy as you prefer).
Serve. Remove from the oven, uncover, and then carefully lift up the edges of the parchment to transfer the bread to a wire cooling rack.  Cool for at least 30 minutes, then slice, serve and enjoy!
Here are the basic steps for how to make no knead bread faster (the 2-hour version):
Mix the dough.  Whisk together the dry ingredients, add the warm water, then stir everything together until no flour streaks remain.
Let the dough rise.  Cover the bowl with plastic wrap or beeswrap, and let the dough rest at room temperature for

1 hour

(not 12-18 hours).
Continue on with steps 3-6. As directed above.
Possible Variations:
Want to customize your no knead bread recipe?  Feel free to…
Add in garlic: Mince 1-2 cloves of fresh garlic and stir them into the dough during Step 1.
Add in herbs: Chopped fresh herbs (such as rosemary, tarragon or sage) or dried herbs (or herb blends such as Italian seasoning or Herbs de Provence) would be lovely additions to this bread too.  Just stir them into the dough during Step 1.
Add everything bagel seasoning: One of my personal faves — stir 1 tablespoon everything bagel seasoning into the dough during Step 1.
Add freshly-cracked black pepper: Sounds simple, but tastes so good.  Just stir into the dough during Step 1.
Add in Parmesan: Stir 1/4 to 1/2 cup freshly-grated Parmesan cheese into the dough during Step 1.
Use less salt: If you are sensitive to salt, I recommend reducing the amount of fine sea salt in this recipe by half.  And as always, just a reminder that fine sea salt is very different than table salt!  (And to make things even more complicated, different brands of fine sea salt can taste more/less salty too.)  I like my bread quite salty, but feel free to experiment and use less salt if you prefer.
Top with flaky sea salt: We also love to sprinkle a few pinches of flaky sea salt on top of the bread just before baking.  (If you choose to do this, though, I recommend slightly lowering the amount of salt in the dough itself.)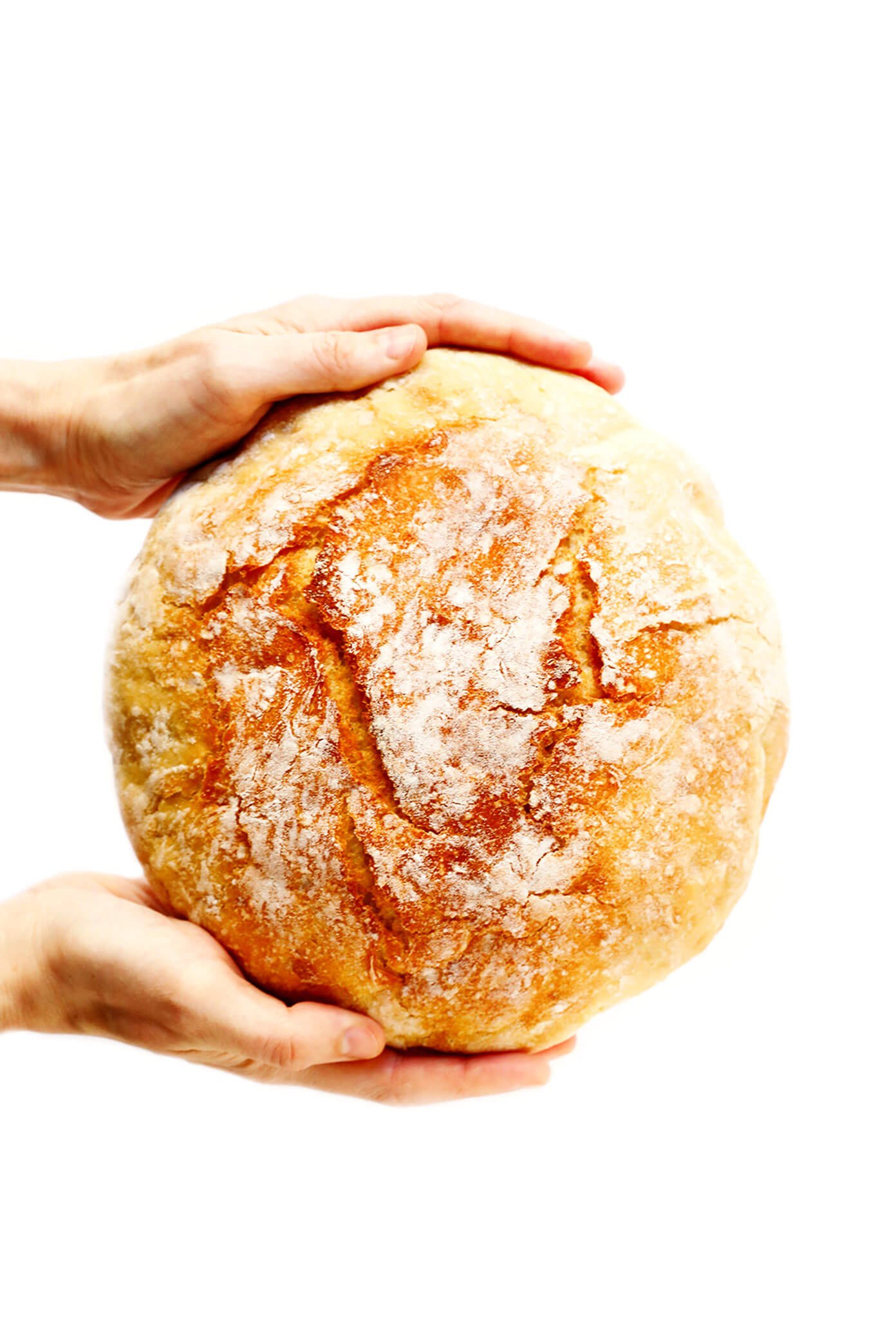 No Knead Bread FAQ:
What if I only have instant yeast at home? No prob, just reduce the amount of yeast by half to use instant yeast.  So for the traditional recipe, you would need 1/4 teaspoon instant yeast.  Or for the fast recipe, you would need about 1 1/4 teaspoons instant yeast.
Do I need to proof the yeast for this recipe? Nope, just mix the yeast right in with the flour, salt and warm water.
Can I make this recipe with ______ flour? I've only tested this recipe with standard all-purpose flour, so I can't speak to any other variations.  But if you give the recipe a try with alternate flours, please report back in the comments!
Help, my dough feels too loose/wet/sticky!  No prob, just add in a bit of extra flour.  That said, when you very first mix the ingredients together in Step 1, know that the dough is supposed to look like a loose blob.  🙂  But once you begin to shape it in Step 3, it should tighten up a bit and be able to hold a round shape.  If not, just sprinkle on some extra flour until it does.
How do I create pretty patterns on top?  If you would like to carve patterns into the top of your loaf, just use a knife to lightly score the top of the bread dough just before baking.
What if I don't like a really crusty bread? No prob, you have 100% control over the doneness and color of your crust.  Bake it for 5-10 minutes after removing the lid…or leave it in there for up to 20-25 minutes if you would like a super-crispy dark golden crust.
What if a piece of the crust pokes up really high and starts to burn? This can sometimes happen with crusty bread!  If you notice that a piece of the crust is raised higher than the rest of the loaf, just carefully place balance a small piece of foil on top to cover that part of the crust, which will help it not to cook as quickly.
Is it safe to use parchment paper at such high heat? Most parchment brands have a heat limit of 425-450°F, so use parchment in this recipe at your own risk.  But I have never had a problem using parchment in high-heat baking, and as Cooks Illustrated verified with leading parchment brands, "using parchment at higher-than-recommended temperatures does not release noxious chemicals, and the paper will not burn."
Why do you need a Dutch oven for this recipe? Basically, the Dutch oven allows us to create an enclosed environment for the bread dough so that it will steam while baking.
Any recommendations for a cheaper Dutch oven?  Definitely!  If you don't want to splurge on a Le Creuset or Staub Dutch oven, there are many cheaper options available on Amazon that work just as well.  Since high heat baking can be hard on enameled cast iron, I would recommend this non-enameled Dutch oven from Lodge.  But if you're in the market for an enameled Dutch oven, I love this one by AmazonBasics (which is available in a variety of colors) or this one from Lodge.  Just be sure to double-check that the knob on the lid can safely be heated up to 450°F.
Important tip for those with enameled Dutch ovens: If you own an enameled Dutch oven (as I do, pictured here), I highly recommend giving it a very good clean before baking.  Any grease or residue that was on the pot can tend to stain when baked at this high of a temperature.  If that happens, these are the tips that I follow for removing stains.
More Favorite Bread Recipes:
Looking for more easy bread recipes to try?  Here are a few of my faves!