These adorable and delicious Watermelon No-Bake Treats are so easy to make and such a fun summer treat!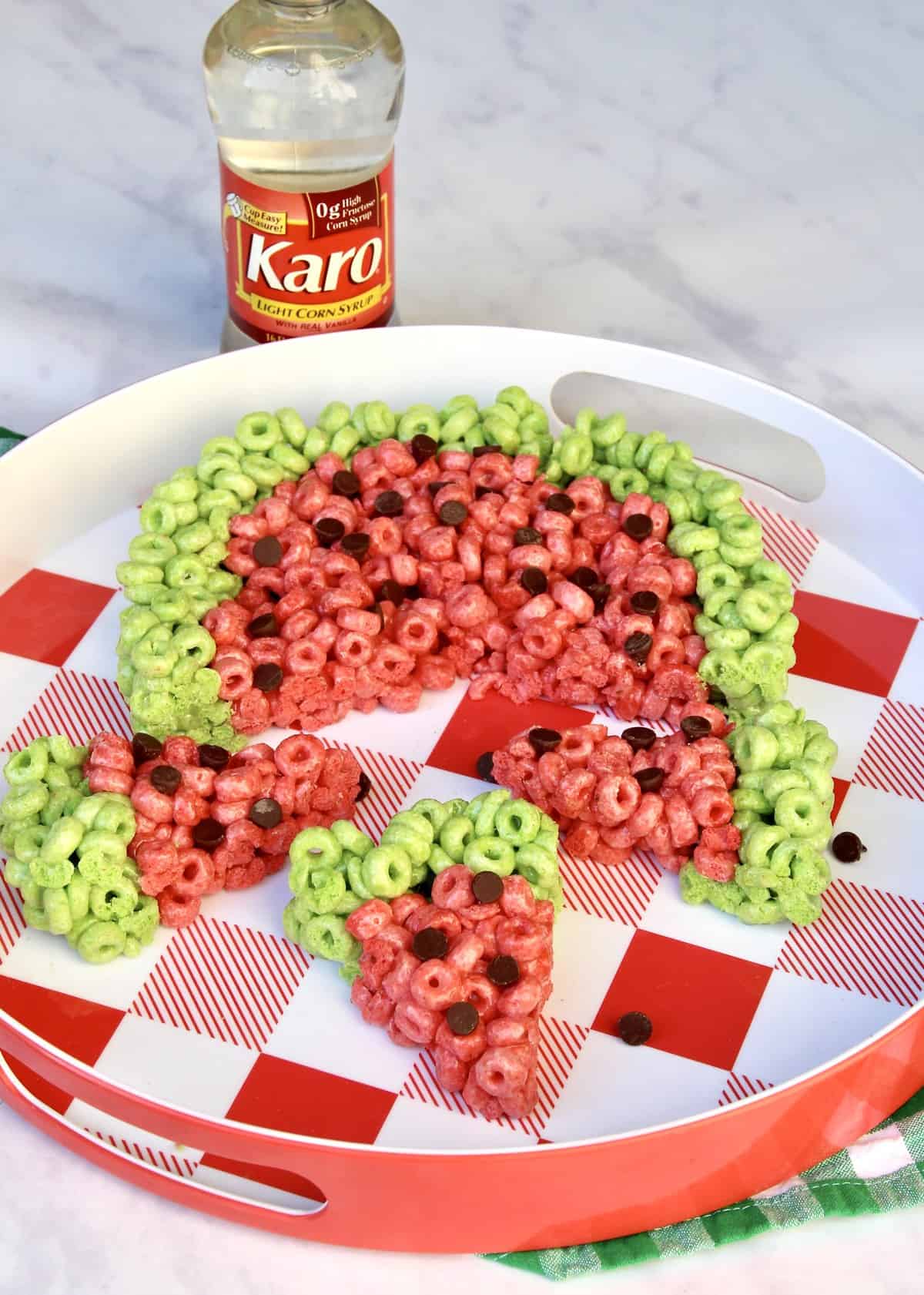 I can't get over how cute and tasty these Watermelon No-Bake Treats turn out each time we make them! They're so perfect for summer when you're looking for a sweet treat to make, but don't want to heat up the house by turning on the oven to bake something. They take minutes to make with simple ingredients and they're so fun to make with the kids!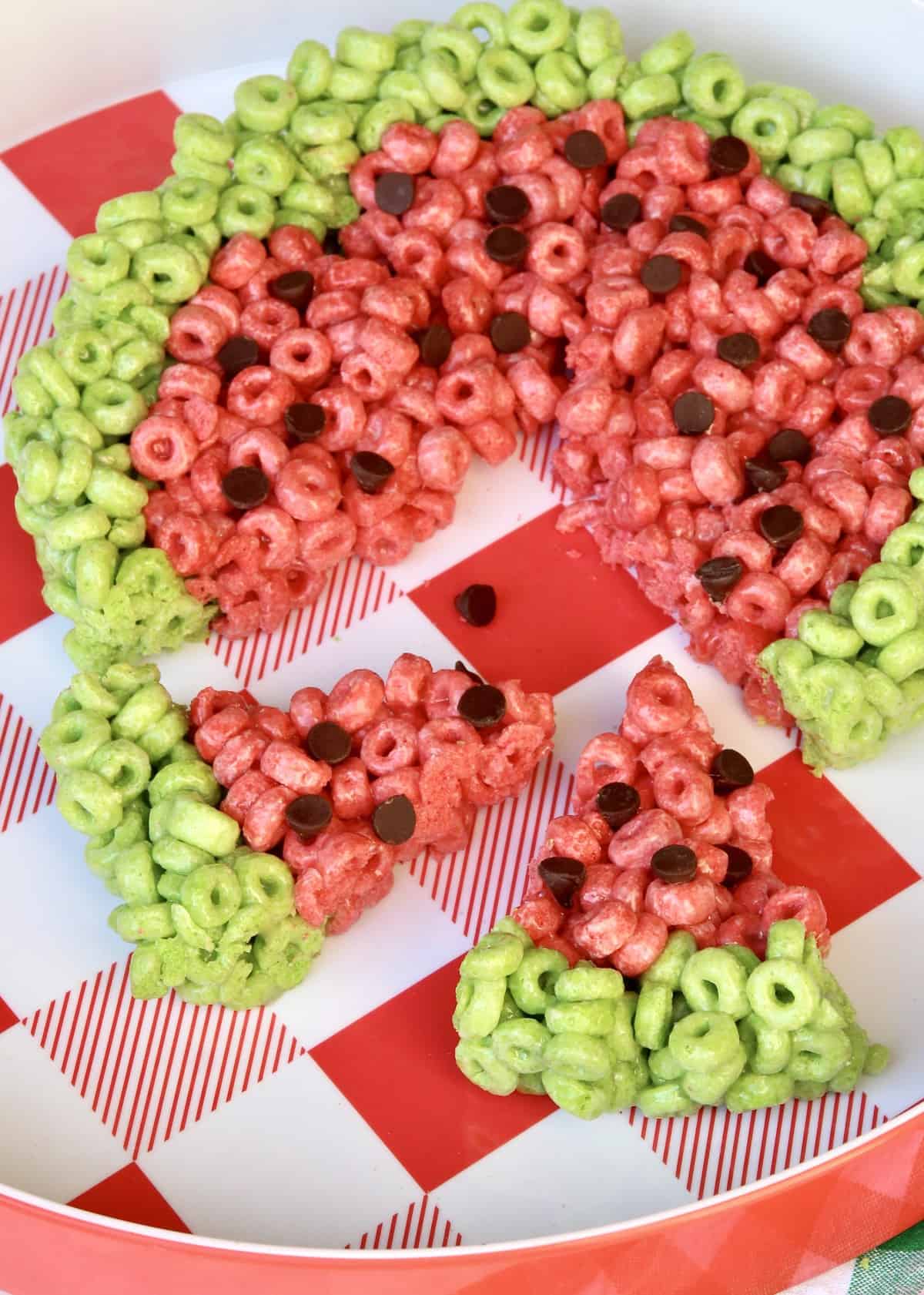 I've partnered with my friends at Karo® Corn Syrups to share another great no-bake treat for summer! A quick syrup made with light corn syrup, sugar and butter is what holds the cereal together in these yummy Watermelon No-Bake Treats. I love using Karo® Corn Syrup for my no-bake treats because I always have it on hand in the pantry and it helps create the perfect textured treats with it's smooth and sweet ability to bind and keep ingredients together. Thanks to Karo® Light Corn Syrup, these Watermelon No-Bake Treats are gooey chewy while the cereal stays colorful and crunchy. Everyone loves them…both kids and kids at heart!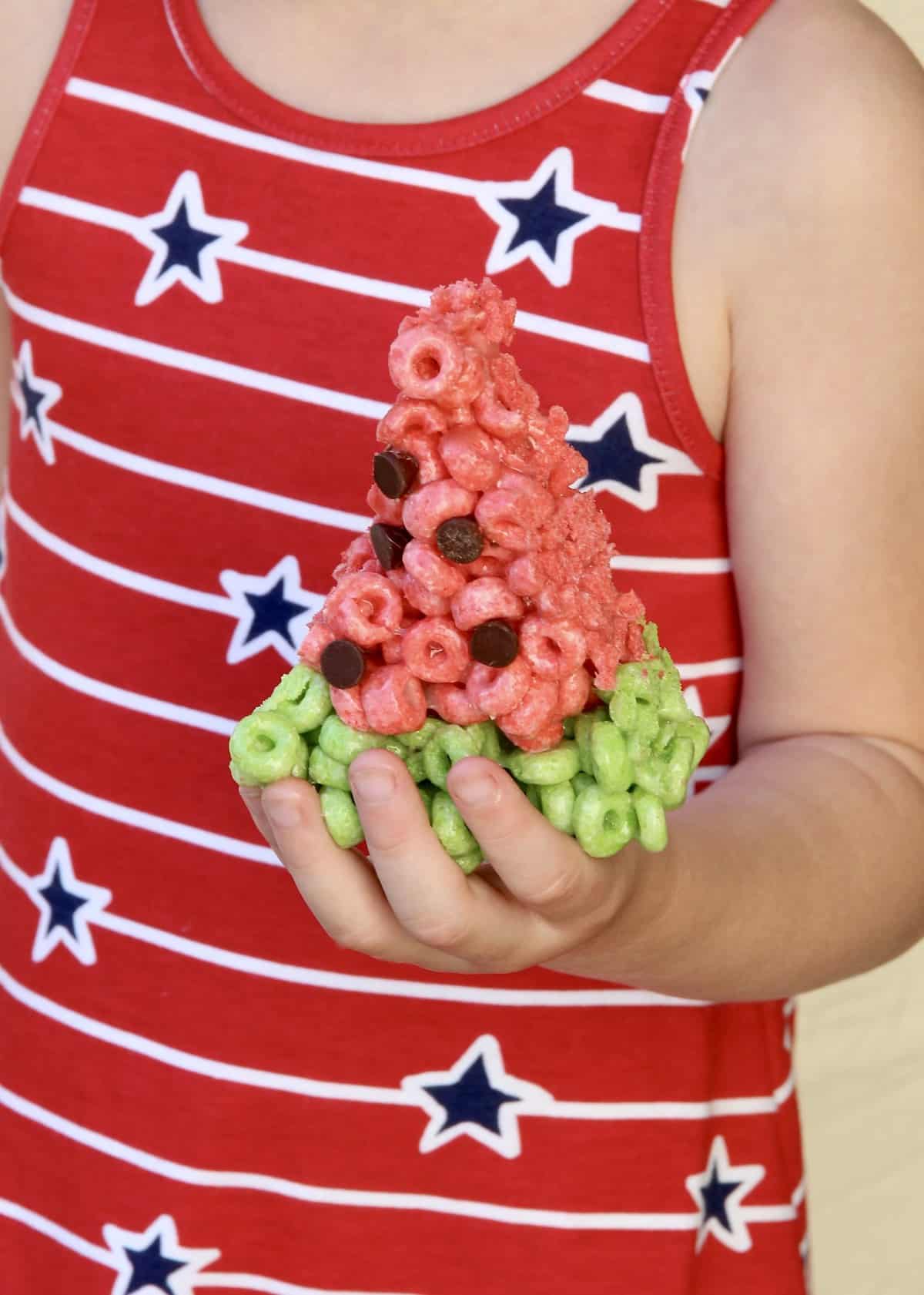 The process of making Watermelon No-Bake Treats is such a fun activity to do with the kids. Watch this video to see how easy they are to make…
It all starts by sorting out the red and green cereals from a family-size box of fruity cereal. The green cereal is used for the watermelon rind look and the red cereal is used for the inside of the watermelon look. No food dies needed to create the perfect colors for these watermelon treats!
Once the cereal is sorted, place 2 & 1/2 cups of the red cereal in one mixing bowl and 2 & 1/2 cups of the green cereal in another mixing bowl. Then bring the Karo® Light Corn Syrup, sugar and butter to a full boil in a small saucepan over medium heat, stirring occasionally. After it comes to a boil, remove it from the heat and pour 1/2 cup over the green cereal and 1/2 cup over the red cereal. Toss each one separately to coat evenly.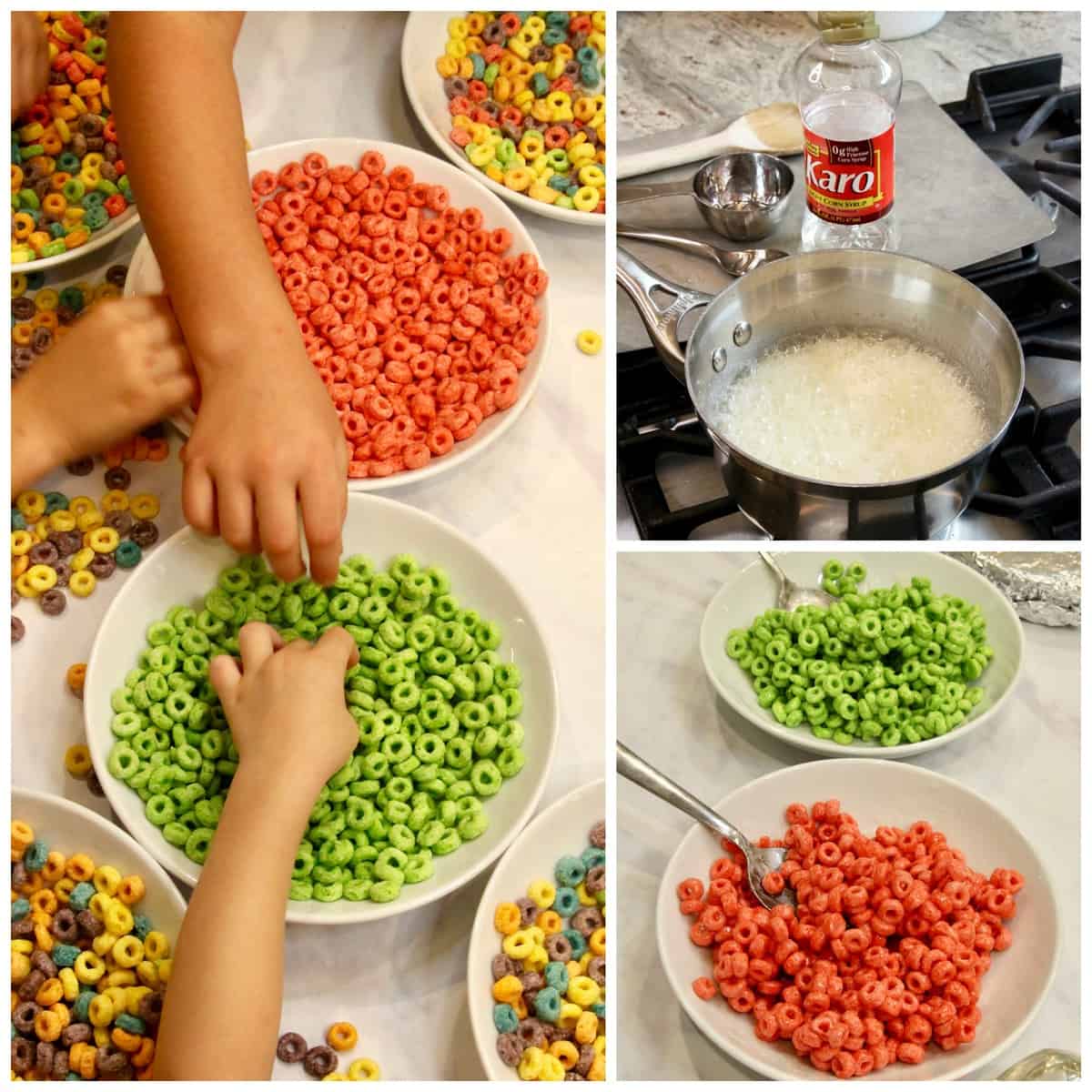 Next, line a 9-inch round cake pan with foil and spray with non-stick cooking spray. Spray your hands with the cooking spray as well and press the green cereal mixture around the outside edge of the cake pan. Fill in the center with the red cereal mixture. Press it all down evenly so the red and green cereals come together. Press some chocolate chips, tops down, into the red section so they look like watermelon seeds.
Let the treats set in the cake pan for at least an hour to fully set before cutting into wedges and enjoying!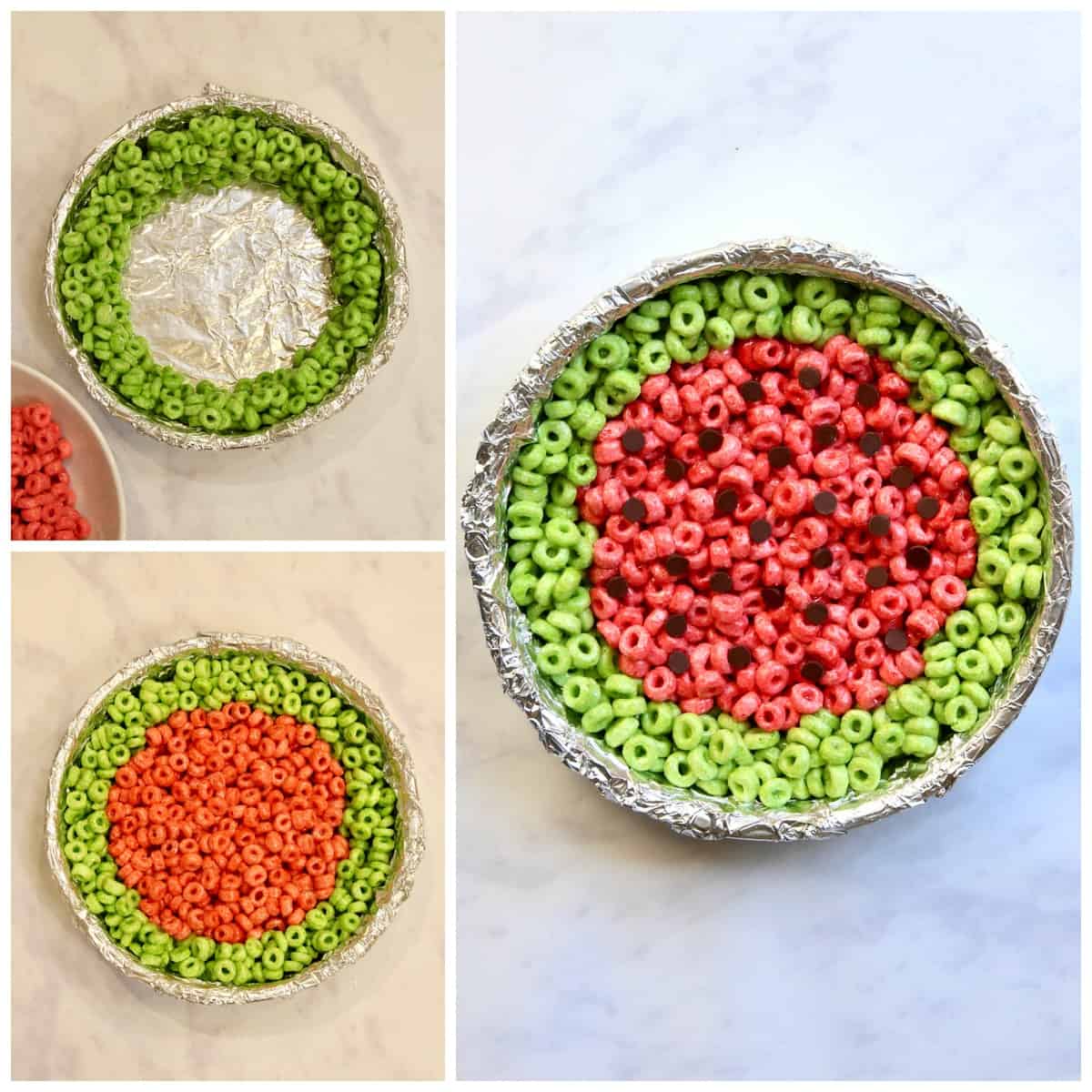 And that's all there is to them! So simple and so adorable. Everyone will ooh and aah over both the way they look and the way they taste. Chewy, crunchy, fruity, chocolate-y deliciousness! If these don't scream summer fun and yum, I don't know what does.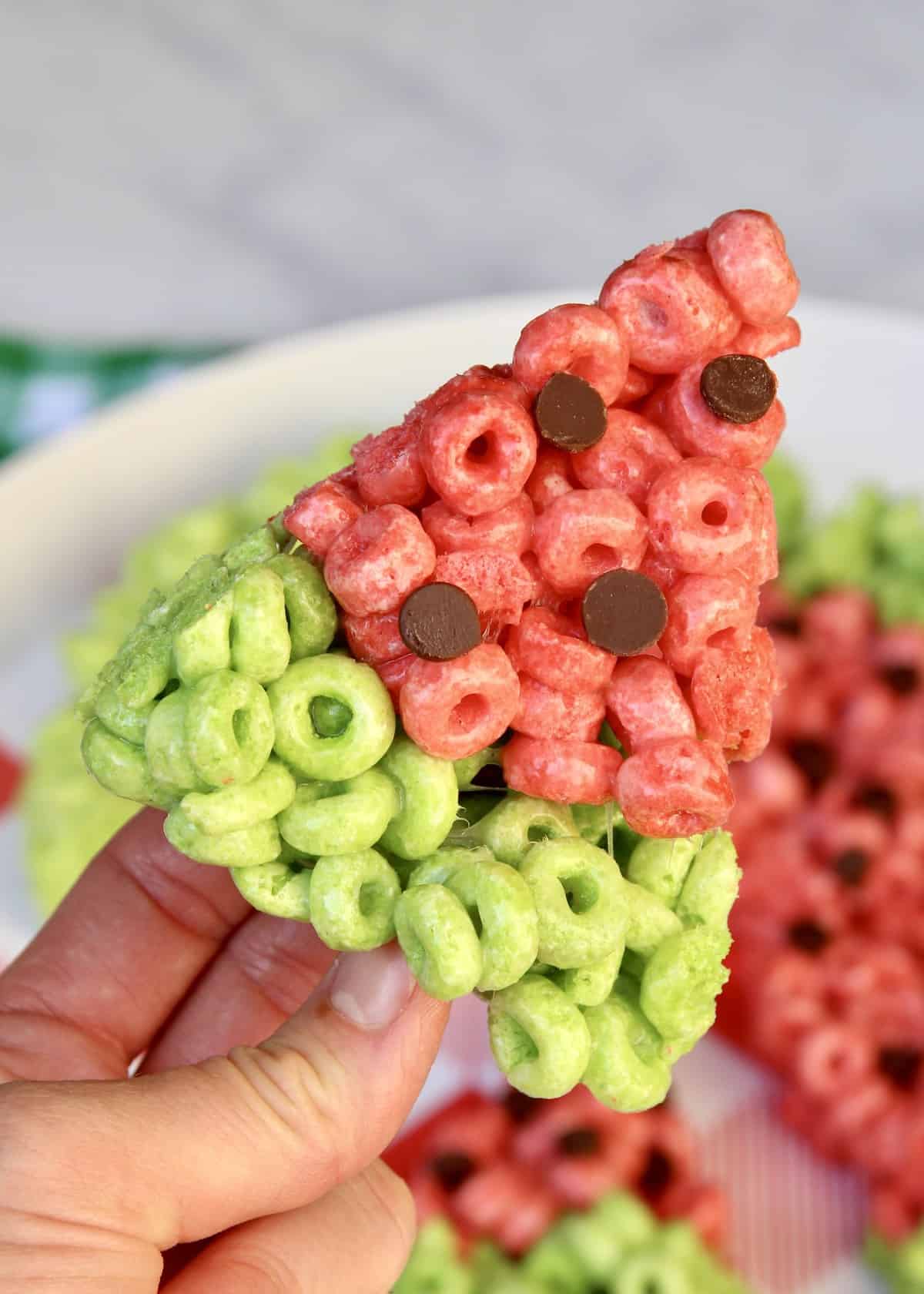 We love having these in our regular summer no-bake treat rotation, because that's what summer is all about. I hope you and your family are able to treat yourselves as well this summer and that you enjoy both making and eating these Watermelon No-Bake Treats as much as we do.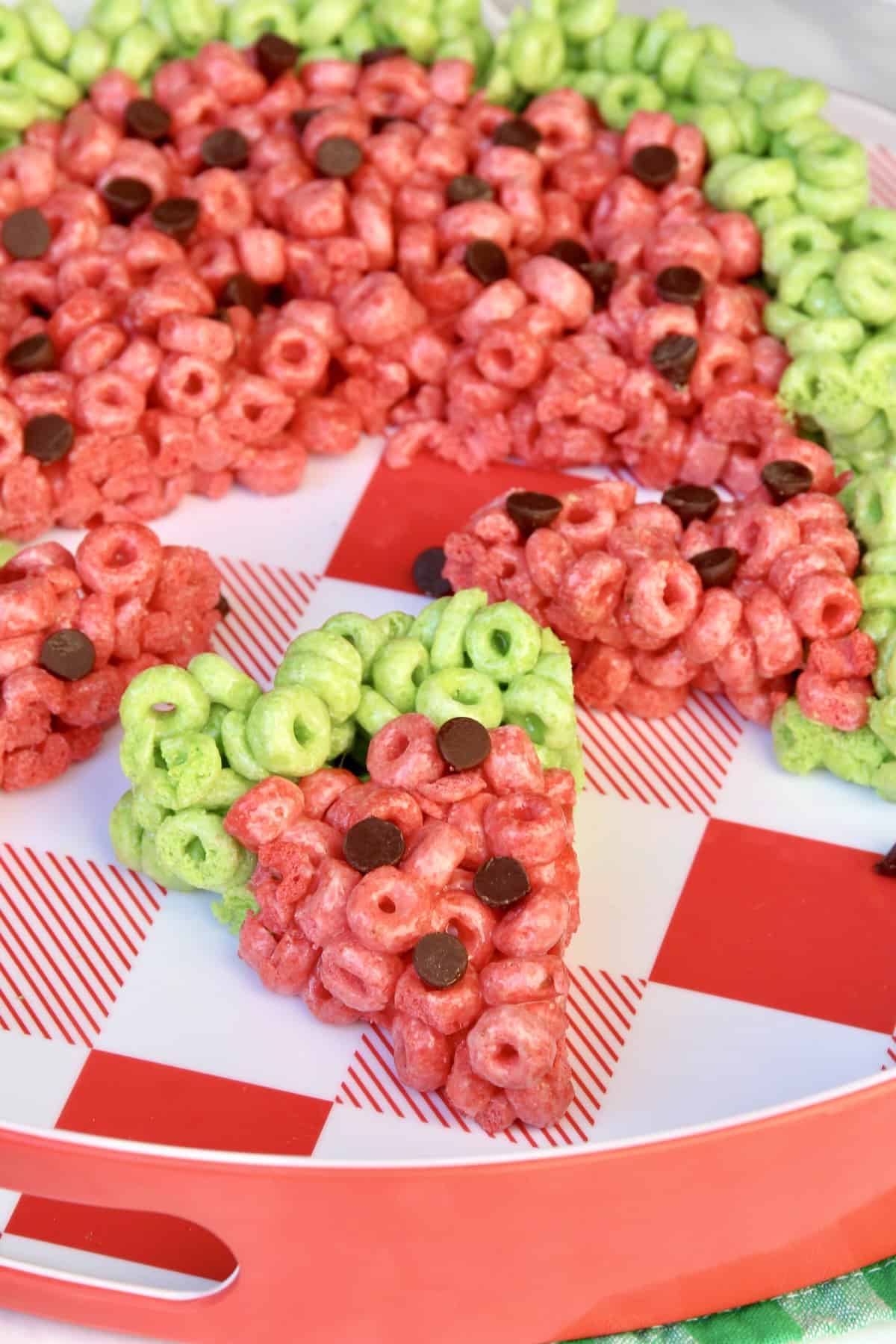 Here's to a great summer, friends!
xoxo,

This post was created as part of my partnership with Karo® Corn Syrups however thoughts and opinions are certainly my own. Thank you for supporting the brands that make The BakerMama possible.