Peanut Butter Chocolate Chip Cookies- Soft and chewy peanut butter cookies dotted with chocolate chips, rolled in sugar, and finished with flaky sea salt. These are the BEST peanut butter chocolate cookies! You are going to LOVE them!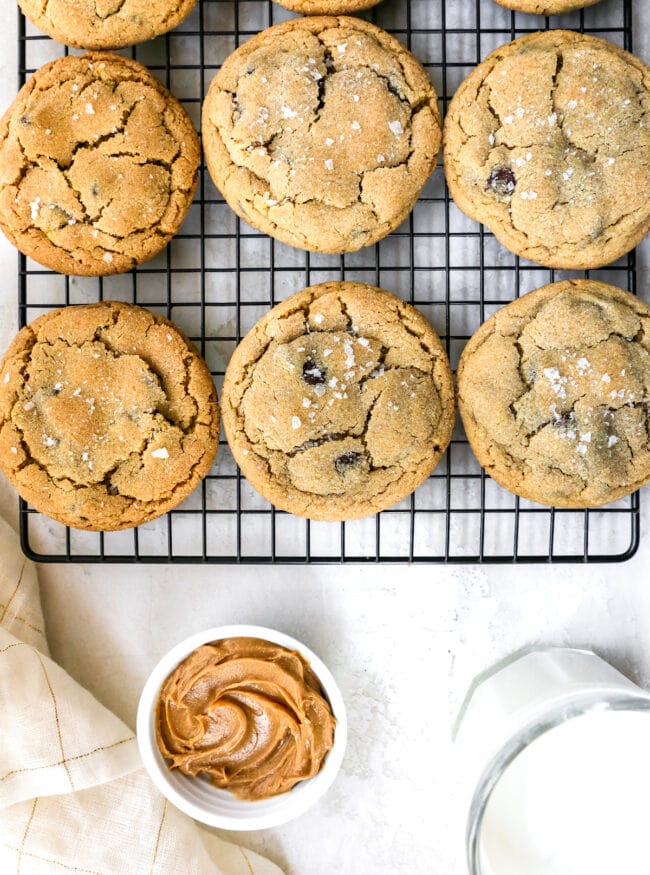 Peanut Butter Chocolate Chip Cookies
Peanut butter and chocolate, two of the very best flavor combinations of ALL time! I am a HUGE peanut butter chocolate fan, especially if cookies are involved. These Peanut Butter Chocolate Chip Cookies are the BEST! Better than any peanut butter cookie I have had at a bakery. They will WOW you!
The peanut butter chocolate chip cookies are big, so they get the perfect golden brown around the outside while staying soft and fluffy in the middle. The cookies are soft, chewy, and have the ultimate peanut butter flavor. And let's not forget about the chocolate, the cookies are dotted with milk chocolate chips that compliment the peanut butter so nicely.
These easy-to-make cookies are comforting, delicious, and always a favorite!
Cookie Ingredients
These are super classic peanut butter cookies, so you probably have everything on hand to make these today! Let's get out the ingredients so we can start baking!
All-purpose flour
Baking soda– Make sure your baking soda is fresh!
Salt
Cinnamon– I love adding a touch of cinnamon. Trust me on this one!
Unsalted butter
Light brown sugar
Granulated sugar
Peanut butter – I use creamy peanut butter (Skippy or Jiff are my favorites!) Don't use natural peanut butter for this recipe!
Eggs
Vanilla extract 
Milk chocolate chips or chunks – I usually prefer semisweet chocolate in cookies, but not with peanut butter cookies. Milk chocolate chips are my favorite when peanut butter is involved. The milk chocolate and peanut butter combination is perfection. I like Guittard milk chocolate chips!
Extra granulated sugar– For rolling the cookies before they go in the oven.
Flaky sea salt– For sprinkling on cookies after they come out of the oven. I love the salty kick!
How to Make Peanut Butter Chocolate Chip Cookies
This peanut butter cookie recipe is simple. I guarantee you will want to make these cookies on a regular basis. They are SO good!
First, do a little bit of prep! Preheat the oven to 350 and whisk the dry ingredients together: flour, baking soda, salt, and cinnamon. Set it aside for later!
I use a stand mixer with a paddle attachment to beat the butter and sugars together for about a minute, until it's smooth and fluffy. Scrape the sides as needed, add the peanut butter, and mix for another minute. You want the mixture to be nice and fluffy!
Add the eggs and vanilla and mix until combined!
Add the dry ingredients and mix on low until just combined. Don't over mix–just incorporate the ingredients! Now stir in the milk chocolate chips or chunks.
I like to make BIG peanut butter chocolate chip cookies! I use about 3 tablespoons of dough per cookie. Roll the cookies in sugar before baking so they're well coated. This gives them a sweet and pretty finish!
Place the cookies on a baking sheet that you've lined with a Silpat or parchment paper. Leave about 2 inches between each cookie! Bake them for 11 to 14 minutes, until they're golden brown on the edges but soft in the middle. Make sure you don't over bake if you want SOFT peanut butter cookies. If you prefer a crispier peanut butter cookie, you can bake a little longer, but watch them closely. Every oven is different. The cookies will set up on the baking sheet as they cool.
Sprinkle the cookies with flaky sea salt right out of the oven. Let them cool and set up on the baking sheet for 10 minutes. After this, transfer them to a rack to cool completely.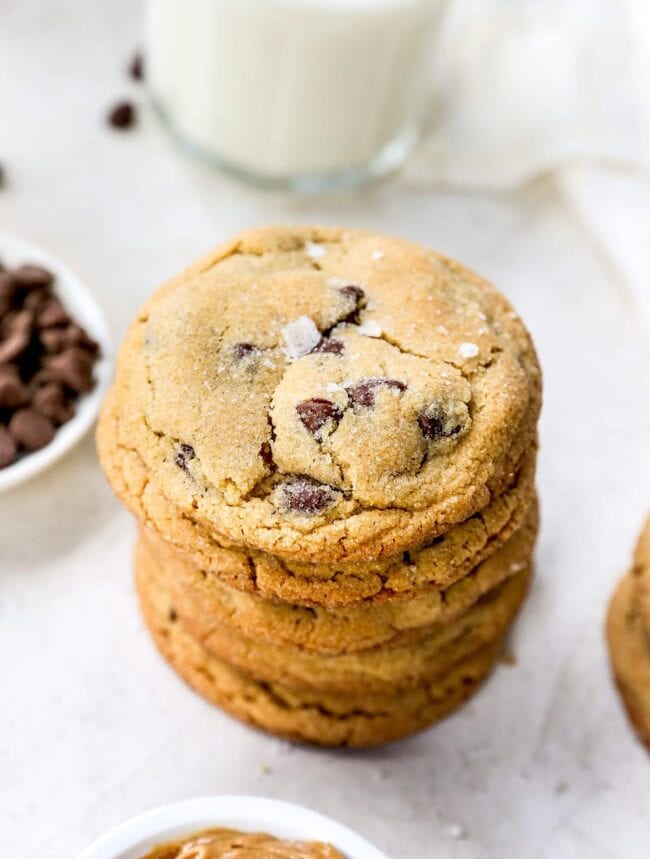 Keep Cookies from Spreading
To keep cookies from spreading, make sure your butter is at cool room temperature. You don't want super soft butter or melted butter.
I also recommend using a silicone baking mat or parchment paper. This gives a much stronger foundation than nonstick spray or butter, which is too slick and will cause the cookies to spread.
You can also chill the dough, but you don't HAVE to for this recipe. I bake right away and they turn out great. BUT If your cookies are spreading, chill the dough for at least 30 minutes and try again. Your butter was probably too soft.
Soft and Chewy Cookies
If you want a soft and chewy peanut butter chocolate chip cookie, make sure you don't over bake the cookies. The secret is in the baking time! They might look a little underdone when you pull them out of the oven, but you'll leave them on the baking sheet for 10 minutes so they can set up.
Every oven is different so I recommend checking them at 11 minutes the first time you bake them. I make bigger cookies, 3 tablespoons of dough per cookie, and my cookies usually take 13 or 14 minutes, but check early to be safe! It is important to become best friends with your oven so you know how it bakes:) If you make smaller cookies, reduce the baking time.
And if you happen to like crispy cookies, you can bake them a little longer, but I personally prefer soft and chewy cookies.
How to Store Cookies
Store the cooled peanut butter chocolate chip cookies in a sealed container on the countertop for up to 5 days. You can place a slice of bread in the container to keep the cookies extra soft. I promise it will work. The bread will get hard and the cookies will stay soft.
You can also freeze the cookie dough and cookies! To freeze the cookie dough, form the cookie dough into balls and place on a baking sheet or tray. Place in the freeze for 30 minutes or until the balls are solid. Transfer the cookie dough balls to a freezer container or bag and freeze for up to 3 months. When ready to bake, pull the dough balls out of the freezer and add a few extra minutes to the baking time. You don't have to defrost the cookie dough before baking.
To freeze baked cookies, let the cookies cool completely and place in a freezer container or freezer bag. Freeze for up to 2 months. Defrost or eat the cookies frozen. I love a good frozen cookie:)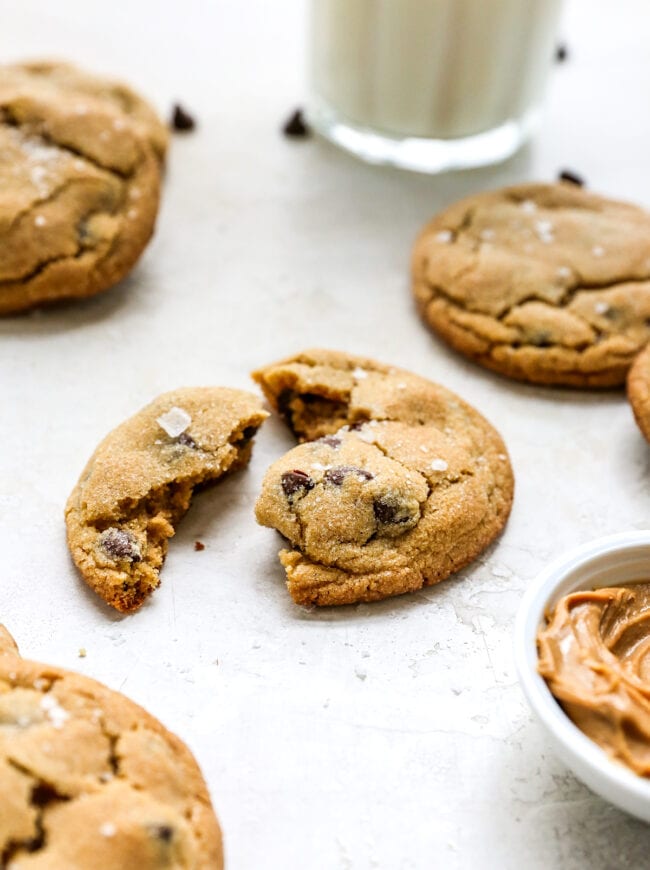 More Cookie Recipes
2 1/2

cups

all-purpose flour

1 1/2

teaspoons

baking soda

1

teaspoon

salt

1/8

teaspoon

ground cinnamon

1

cup

unsalted butter,

at room temperature

1 1/4

cups

brown sugar

3/4

cup

granulated sugar

1

cup

creamy peanut butter

2

large eggs

2

teaspoons

pure vanilla extract

1 1/2

cups

milk chocolate chips

1/3

cup

granulated sugar,

for rolling cookies
Nutrition Facts
Peanut Butter Chocolate Chip Cookies
Amount Per Serving
Calories 384 Calories from Fat 171
% Daily Value*
Fat 19g29%
Saturated Fat 9g45%
Cholesterol 43mg14%
Sodium 279mg12%
Potassium 128mg4%
Carbohydrates 48g16%
Fiber 2g8%
Sugar 34g38%
Protein 6g12%
Vitamin A 338IU7%
Vitamin C 1mg1%
Calcium 40mg4%
Iron 1mg6%
* Percent Daily Values are based on a 2000 calorie diet.
Photos by Molly
Thanks for Sharing!
If you make this recipe, please leave a star rating and comment below! You can also share a picture on Instagram! Tag @twopeasandpod and use the hashtag #twopeasandtheirpod.