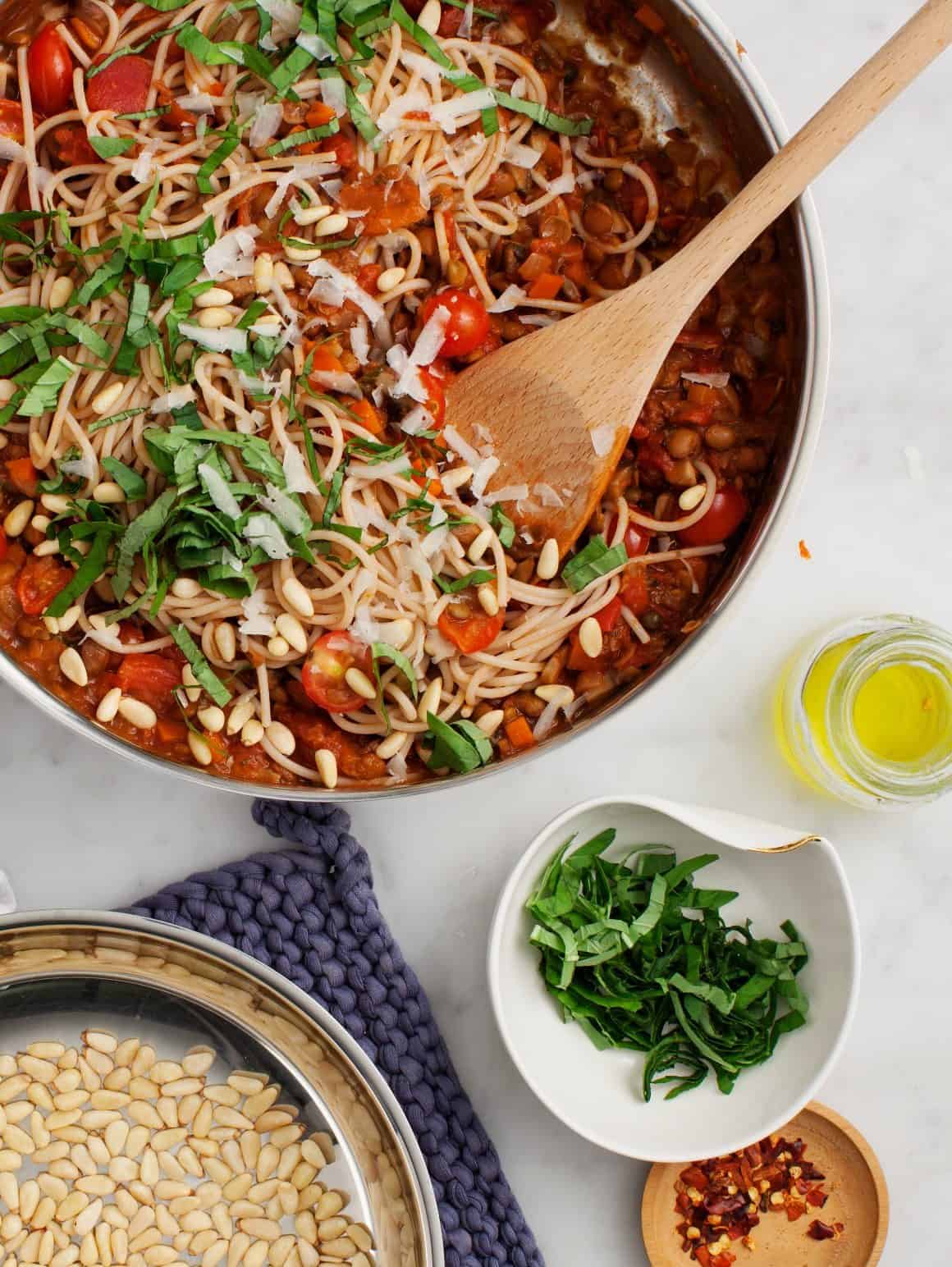 Have you seen those lists of the new 2017 trends? You know, the ones that go around the internet this time of year predicting everything from the popularity of coconut oil to the color of pale pink we'll all be wearing in the spring? One that caught my attention lately is that "they" are saying that staying in is the new going out. And I'm totally on board with that one. If you've had a busy holiday season how good does this sound: Stretchy pants, pasta, wine and and a nice dinner by the fire with twinkly Christmas tree lights in the background?
Ok, just kidding. We don't have a fireplace and we haven't even put up the Christmas tree because if you remember last year it was FEBRUARY before we got around to taking the thing down. But festivity aside, let's make pasta, shall we?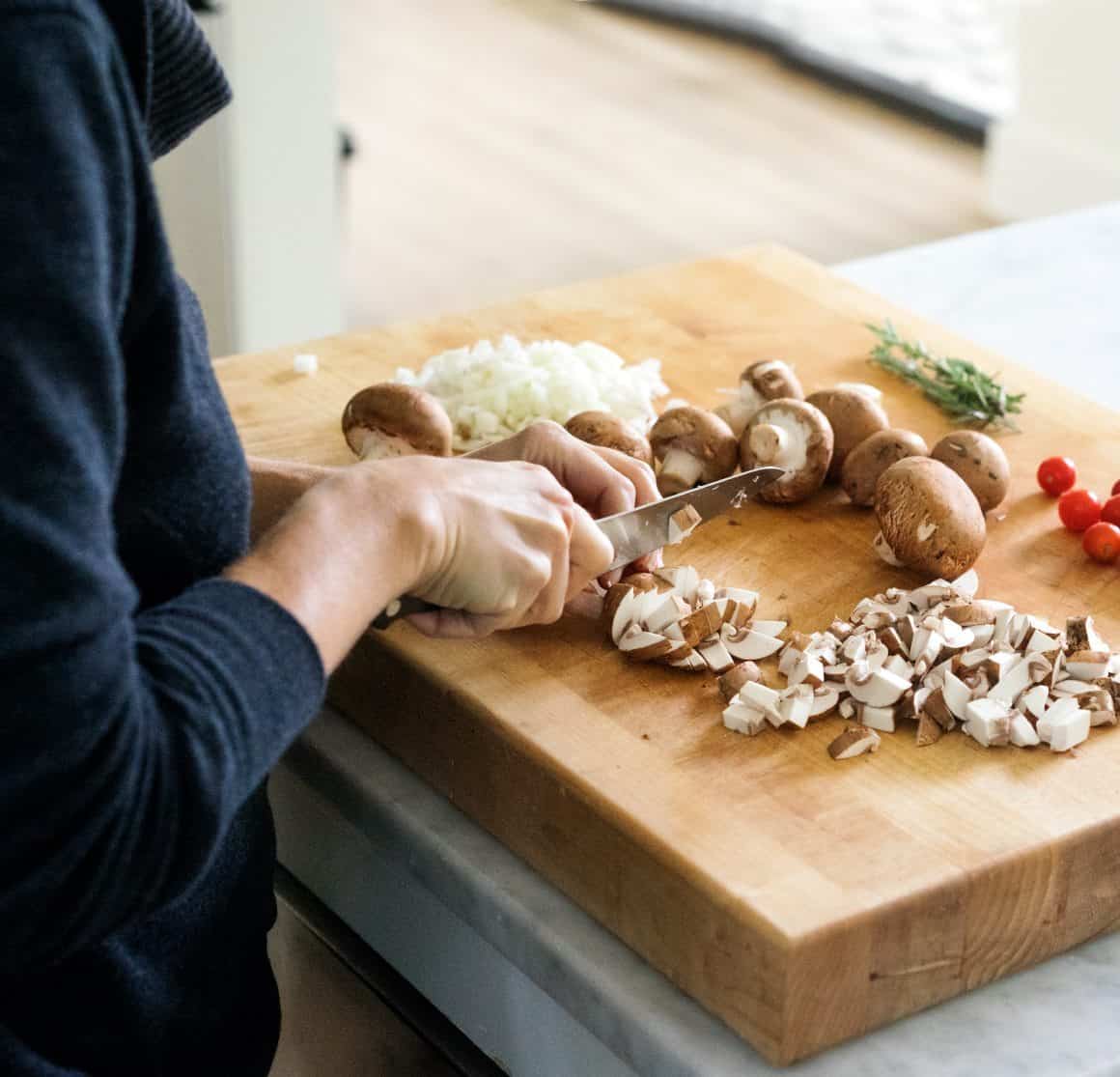 I'm calling this a "Bolognese" although I realize that Italian grandmothers are shaking their heads right about now. A traditional bolognese has meat and other very specific ingredients. So while this is not exactly authentic, this pasta includes a delicious hearty mix of mushrooms and lentils that get all stewy with onions, carrots, tomatoes, and rosemary among other savory ingredients.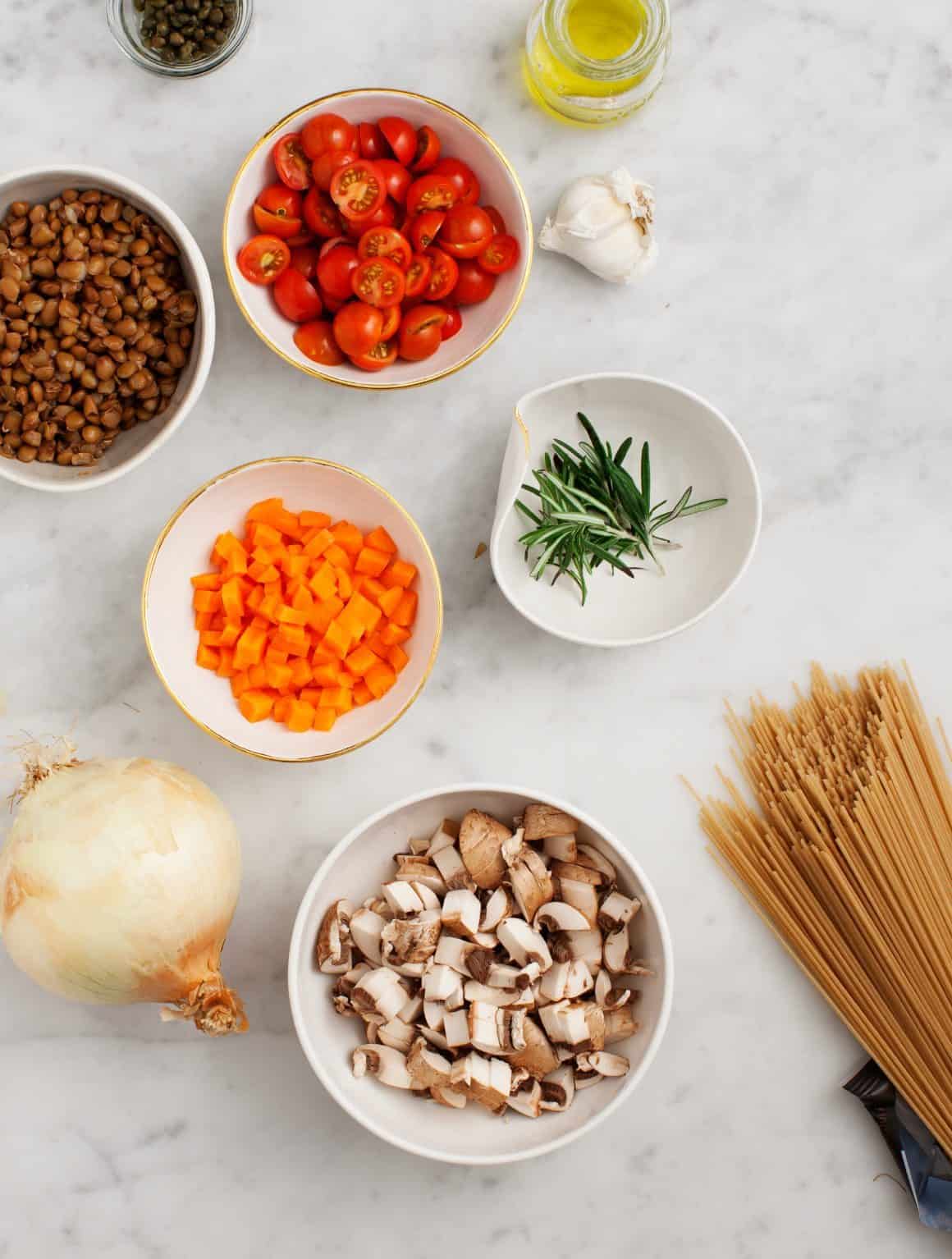 Hidden in this recipe are some unconventional ingredients. I find that balsamic vinegar and soy sauce brings out a rich flavor in the mushrooms. Sage (to me) has a sausage-like scent, so I used a bit of dried sage to bring a depth of flavor to the sauce. In addition to the lentils, I also added some finely crushed walnuts that you won't detect but they add some richness to this no-meat situation.
I used canned tomatoes as the base of the sauce and tossed in some sliced fresh tomatoes near the end for no other reason except that I find brown foods exceptionally challenging to photograph ?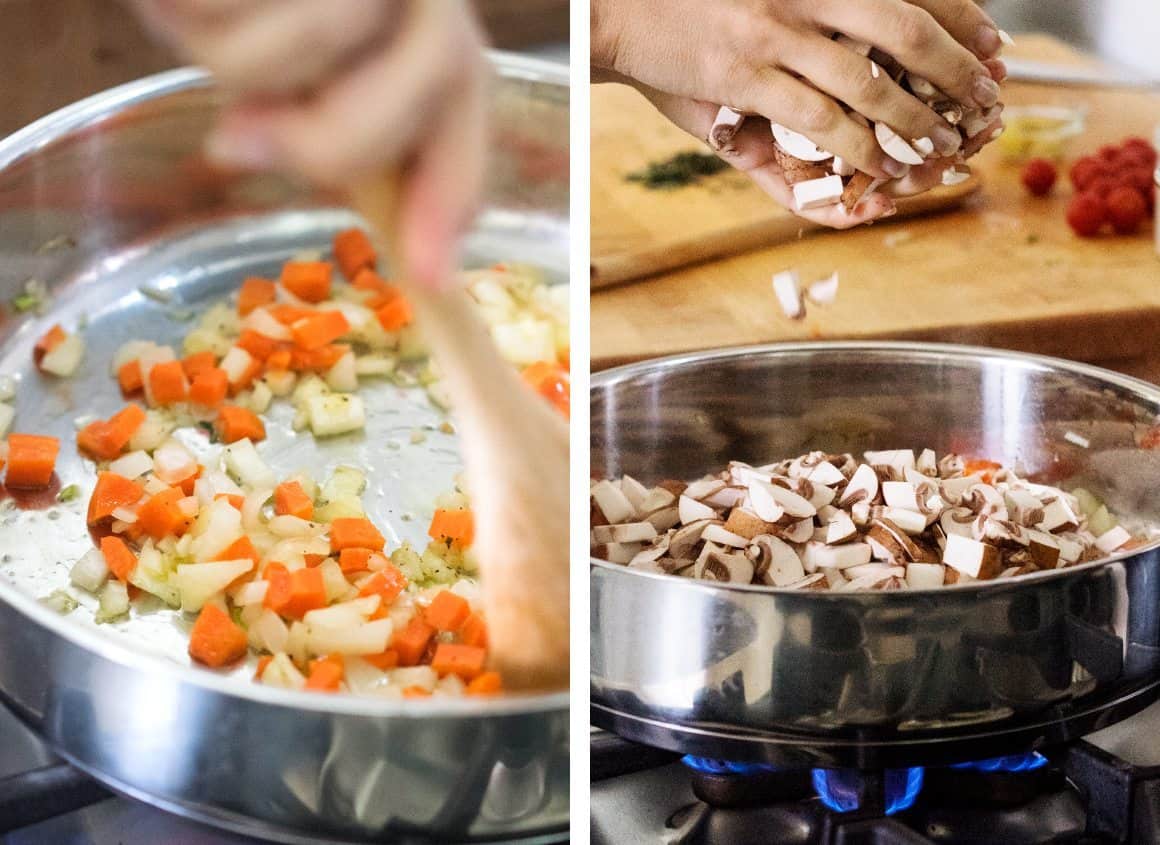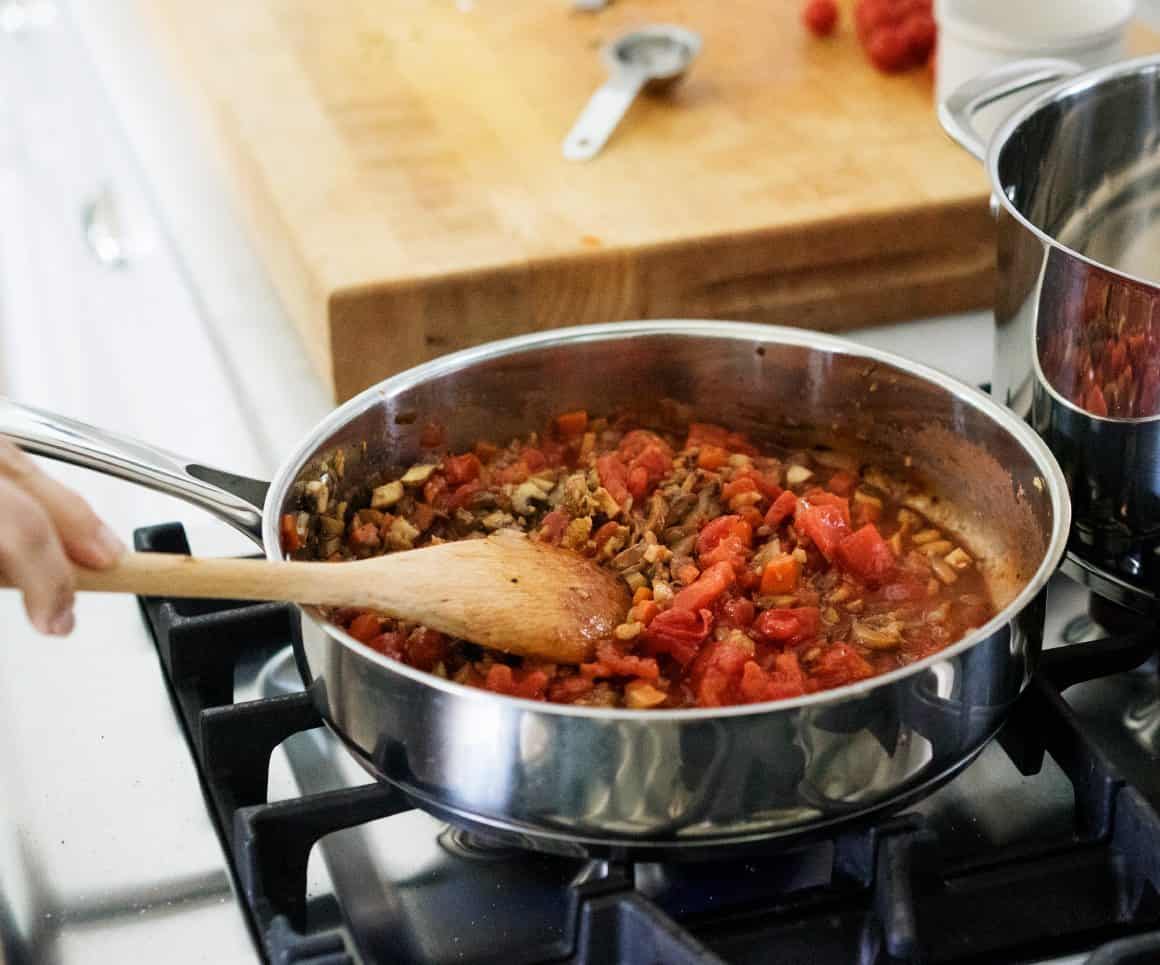 Aside from that whole not having a Christmas tree thing – Christmas came early because I got the chance to cook with KitchenAid's new Stainless Steel Cookware set. The polished stainless steel is so fancy! The 12-inch skillet cooked my stewy sauce perfectly and these pieces were a breeze to clean. Plus, how pretty is this large pot (and Jack's action-pasta drop shot!):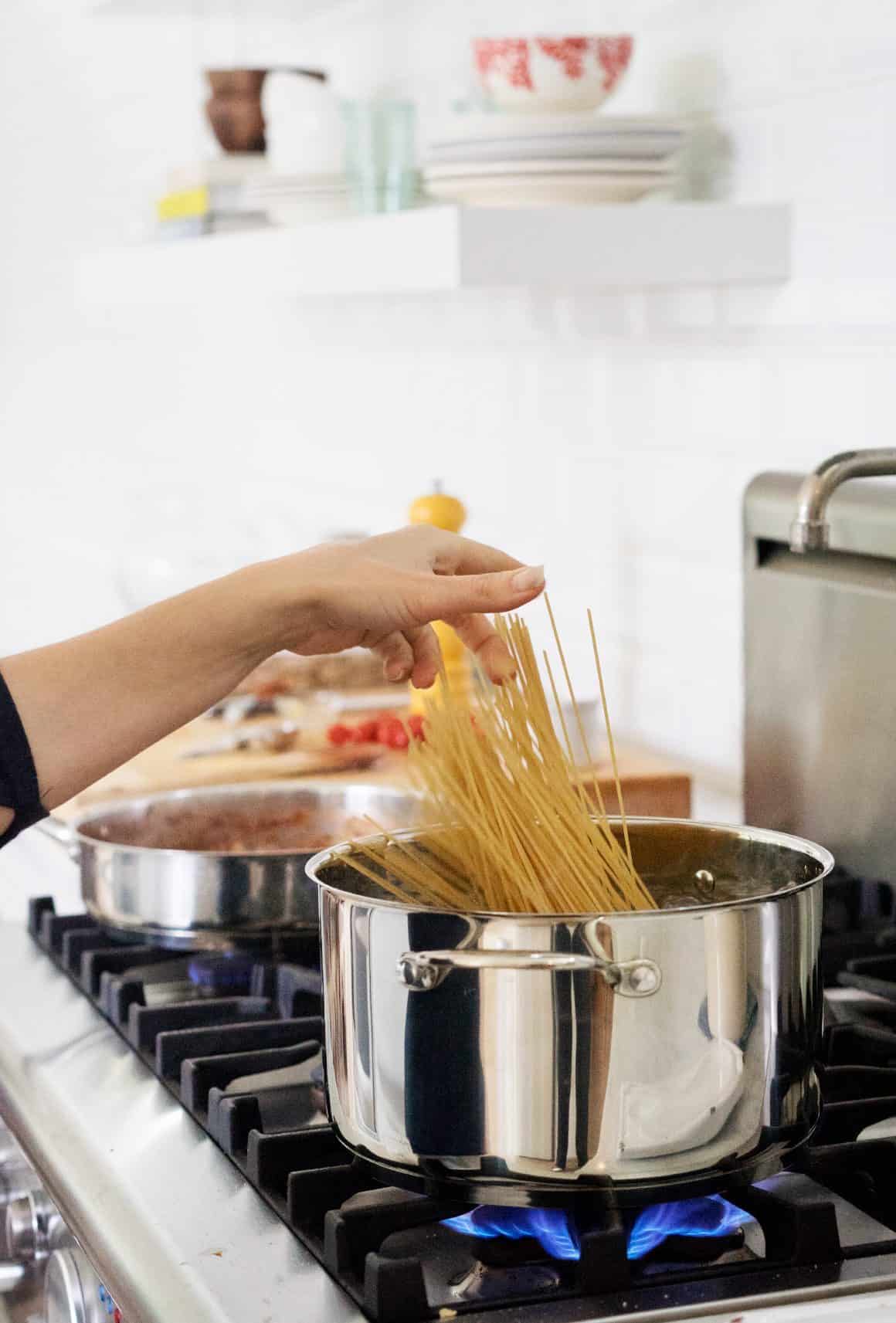 Cook your pasta until al dente, toss it with the sauce and serve it with steamed green veggies if you like!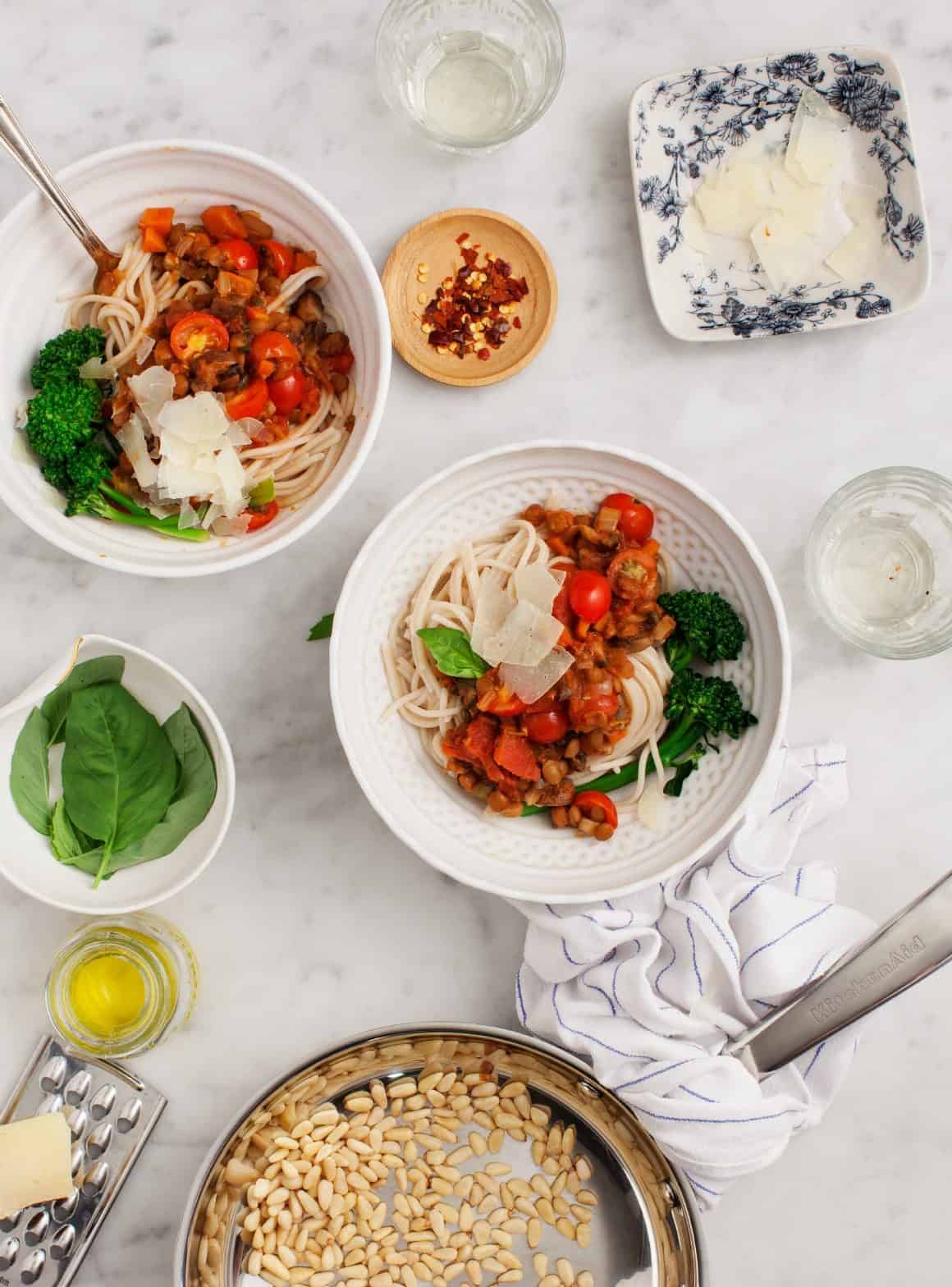 Mushroom Lentil Spaghetti "Bolognese"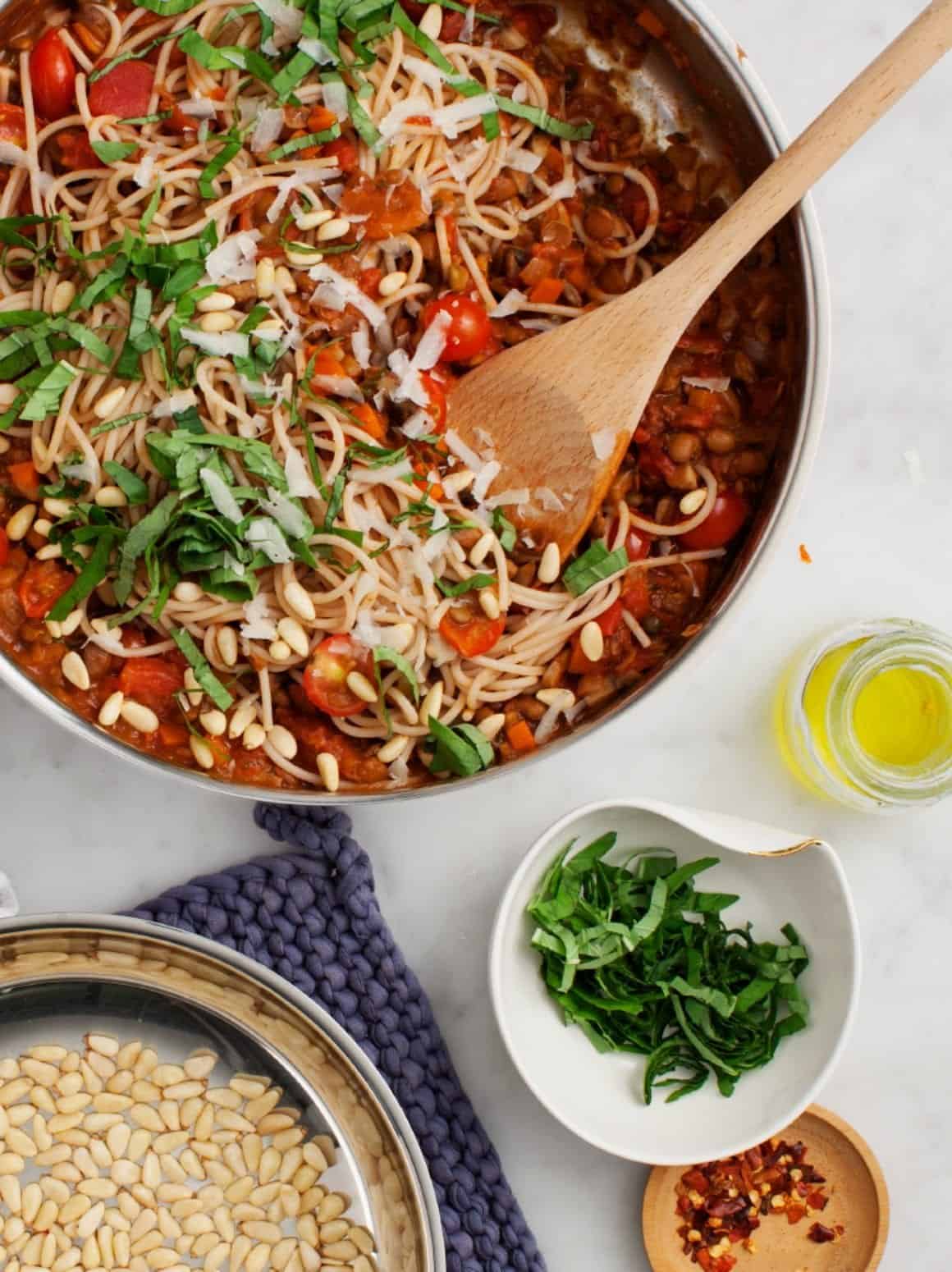 2 tablespoons extra-virgin olive oil
½ yellow onion, diced, about 1 cup
1 medium carrot, diced
4 cups chopped cremini mushrooms
1 tablespoon chopped rosemary
½ cup walnuts, finely crushed*
2 garlic cloves, minced
1 tablespoon balsamic vinegar
1 tablespoon soy sauce
1 (14-ounce) can diced tomatoes
1 (14-ounce) can of lentils, drained
1 tablespoon tomato paste
1 teaspoon dried sage, more to taste
1 cup halved cherry tomatoes, optional
8 ounces gluten-free spaghetti pasta
1 cup sliced fresh basil, optional
pecorino cheese, optional
½ cup toasted pine nuts*
sea salt and freshly ground black pepper
red pepper flakes for serving, optional
Heat the oil in a large skillet over medium heat. Add the diced onion and carrot and pinches of salt and pepper and cook until they begin to soften, about 3 minutes. Add the mushrooms, another pinch of salt, and cook until soft, stirring only occasionally, about 8 more minutes.
Stir in the rosemary. Push everything to one side of the pan to make room for the walnuts. Add the crushed walnuts and toast them for about 30 seconds, then stir everything together. Stir in the garlic, then add the balsamic vinegar and soy sauce and stir to incorporate. Add the diced tomatoes, lentils, tomato paste, sage and fresh cherry tomatoes, if using, and stir.
Reduce the heat and simmer for 20 to 30 minutes. If the sauce is very thick, add water, ⅓ cup at a time, to thin. Season to taste.
Bring a large pot of salted water to a boil. Prepare the pasta according to the instructions on the package, cooking until al dente. Drain and add the pasta to the pan with the sauce. Stir in the fresh basil and a shaving of pecorino cheese, if using. Serve with more basil, cheese, the toasted pine nuts and a few pinches of red pepper flakes if desired.
*If you are avoiding nuts, you can skip the walnuts and pine nuts and the recipe will still be delicious.
Vegan option: skip the cheese.
Gluten free option: Use gluten free pasta, my favorite is this whole grain rice pasta from Delallo.
3.4.3177
This post is sponsored by Kitchen Aid. Thank you for supporting the sponsors that keep us cooking!